A unique multicultural gem.
Christmas Island food in Sydney's Lakema was noodlies, Sydney food blog's first published article for SBS Feast Magazine (October 2011). I hope you enjoy reading about Alimah's remarkable story.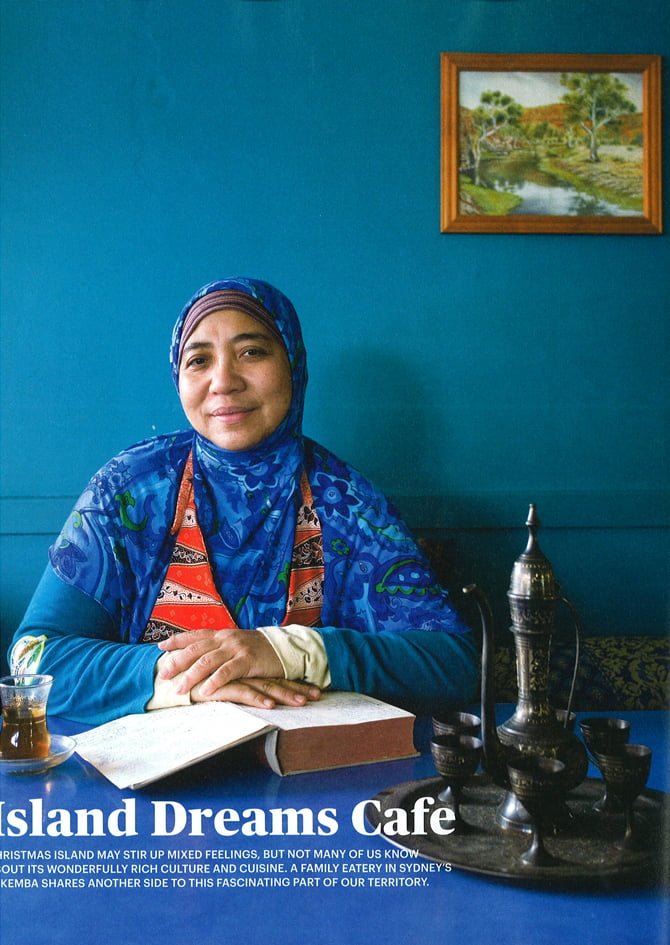 Step inside the family run Island Dreams Cafe and you'll be instantly transported to a tropical oasis. Rattan couches with fluffy cushions beckon you to get comfortable and the serene ocean-blue walls are decorated with paintings of frangipanis and maps of Christmas Island and the nearby Cocos Islands, where the restaurant's' owner, Alimah Bilda Haji Aman, is originally from.
Clichéd as it may sound, the café is a dream come true for 49-year-old Alimah, who came to Australia in 1973. Her family was one of the first to migrate from Christmas Island to the mainland. Despite being from an Australian territory, Alimah says they were treated like foreigners; "My father still had to apply for us to come here," she explains.
The paperwork to three years to be approved. Back then, there was no airport on the islands or on Christmas Island, so they arrived by boat to Bunbury, just south of Perth. Alimah was 10 years old then, but remembers it clearly because she felts so sick. It was August and I was freezing," she recalls.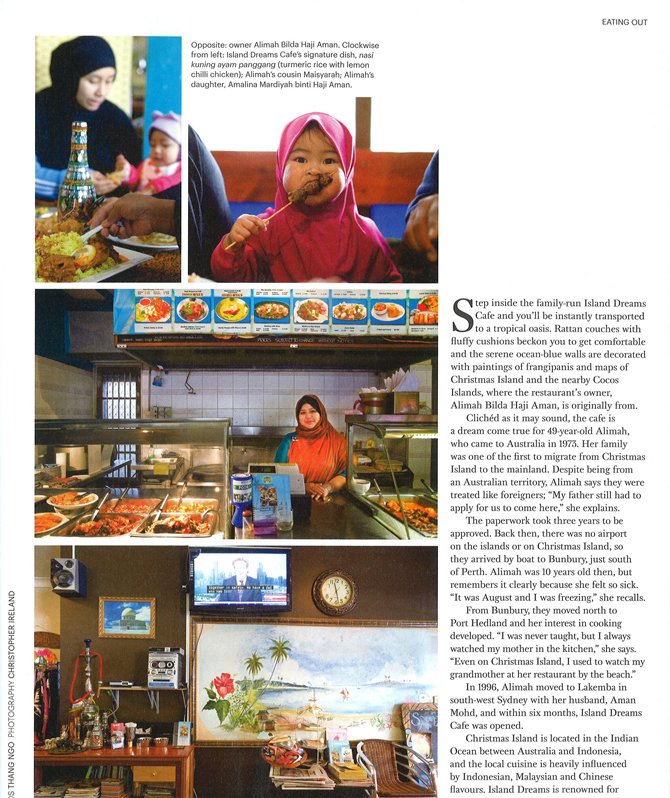 From Bunbury, they moved north to Port Hedland and her interest in cooking developed. I was never taught, but I always watched my mother in the kitchen," she says. Even on Christmas Island, I used to watch my grandmother at her restaurant by the beach."
In 1996, Alimah moved to Lakemba in south-west Sydney with her husband, Aman Mohd, and within six months, Island Dreams Cafe was opened.
In the early years, our food was very foreign, even to the Lebanese community. I just didn't know if I could fit in…
Christmas Island is located in the Indian Ocean between Australia and Indonesia, and the local cuisine is heavily influenced by Indonesian, Malaysian and Chinese flavours. Island Dreams is renowned for its homemade roti and its stuffed variation, murtabak, which is filled with beef, egg and vegetables. The chicken and lamb satays, based on a family recipe, are also very popular. The meat is marinated overnight in a paste of garlic, chillies, turmeric and lemongrass, and the peanuts are roasted, before being blended with spices for the satay sauce.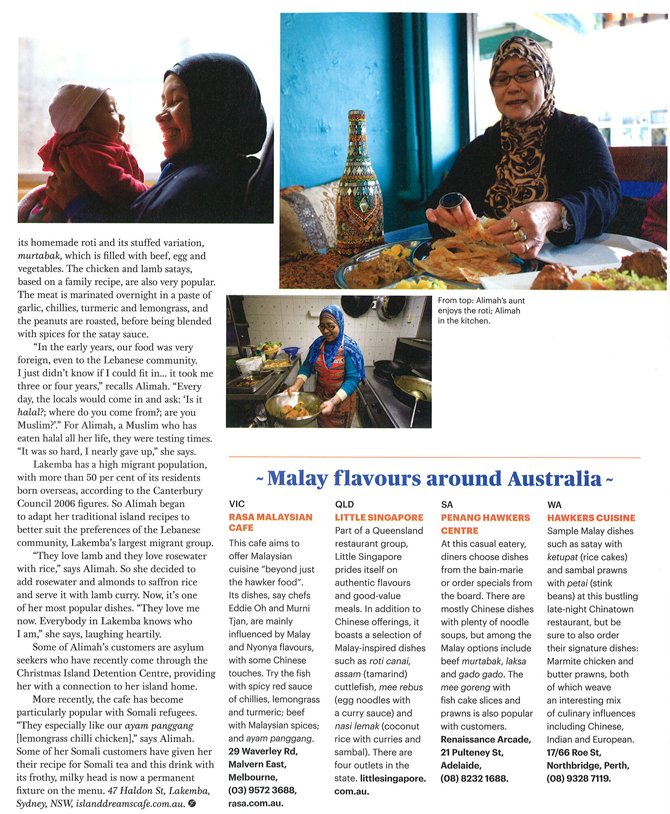 "In the early years, our food was very foreign, even to the Lebanese community. I just didn't know if I could fit in… it took me three or four years," recalls Alimah. "Every day, the locals would come in and ask: 'Is it halal?; where do you come from?; are you Muslim?." For Alimah, a Muslim who has eaten halal all her life, they were testing times. "It was so hard, I nearly gave up," she says.
Lakemba has a high migrant population, with more than 50 percent of its residents born overseas, according to the Canterbury Council 2006 figures. So Alimah began to adapt her traditional island recipes to better suit the preferences of the Lebanese community, Lakemba's largest migrant group.
They love me now. Everybody in Lakemba knows who I am.
"They love lamb and they love rosewater with rice," says Alimah. So she decided to add rosewater and almonds to saffron rice and serve it with lamb curry. Now, it's one of her most popular dishes. "They love me now. Everybody in Lakemba knows who I am," she says, laughing heartily.
Some of Alimah's customers are asylum seekers who have recently come through the Christmas Island Detention Centre, providing her with a connection to her island home.
More recently, the café has become particularly popular with Somali refugees. "They especially like our ayam panggang [lemongrass chilli chicken]," says Alimah. Some of her Somali customers have given her their recipe for Somali tea and this drink with its frothy, milky head is now a permanent fixture on the menu.
Island Dreams Cafe
47 Haldon St, Lakemba
Words: Thang Ngo.
Photography: Christopher Ireland.