How does the Lenovo Yoga Book shape up after 12 months?
Noodlies, Sydney food blog has put this intriguing device to the test for over a year. Has the shine worn off, or not?
The Yoga Book launched in 2016 to overwhelming positive reviews. Though the industry couldn't pigeonhole this device. They keyboard confounds; it appears at a touch of a button or disappears to become a creative canvas. Laptop or tablet, both or neither? No one was sure.
And I reckon that's just the way Lenovo likes it, after all, they are the company that's all about #differentisbetter.
Not surprisingly there's been much talk about the remarkable sketching ability of the Yoga Book (see above). I love to indulge my creativity as much as the next person, but this slim thing is so much more than that. I love this device because it's an ultra-portable, all-in-one productivity and entertainment device. It's with me everywhere, versatile enough for my differing needs.
How so? Read on to find out. I've even used my Yoga Book to plan this post, watch the 1 minute video below to see how easy it is. 
And below is the result of the mind map plan of this post. These notes can be saved in Dropbox, Google Photos, One Drive or shared on social media or email. I use the Android version, but you can also get a Windows Yoga Book.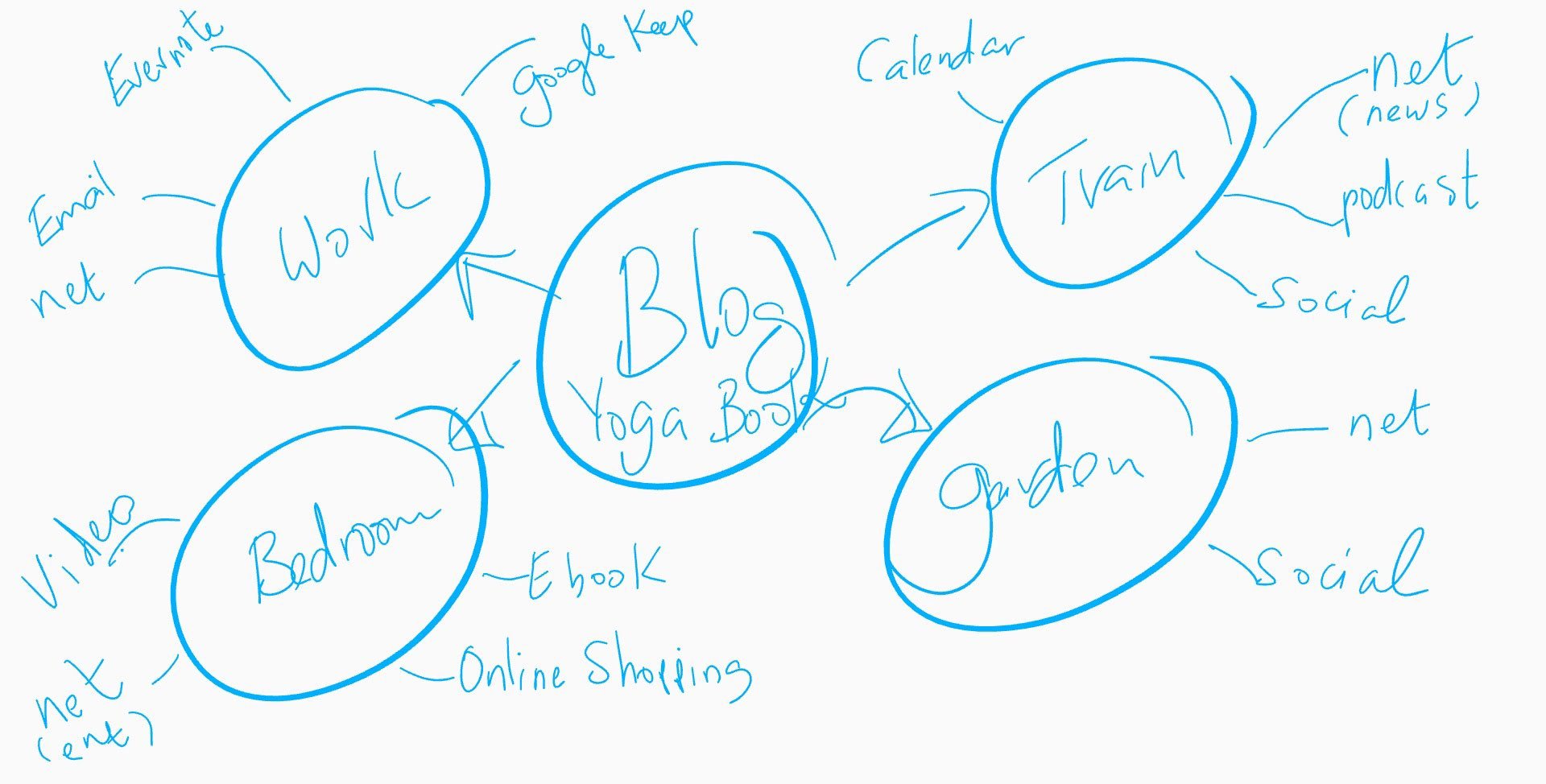 Morning Train – Daily Commute
It's in my backpack on the daily commute. In the morning, I use it to prep for the coming day, I check emails, calendar, read news or listen to podcasts (Social Media Examiner is a favourite). Afternoons is all about relaxing and winding down – so it's music on Spotify and surfing the net.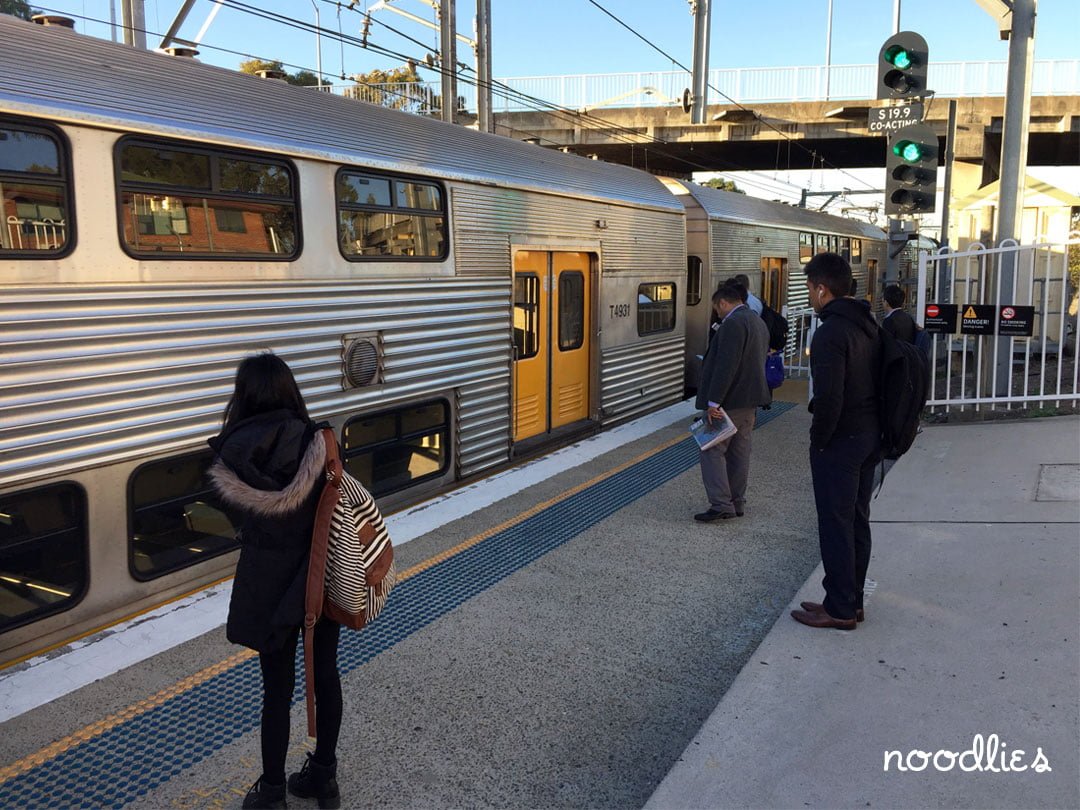 Working Nine to Five (or much longer)
Yoga Book and Google Keep are a formidable combination. My to-do's are saved in Google Keep's check box format, categorised by topic and project. Google Keep supports hand drawn notes – I used to type meeting notes using the halo keyboard, but recently I've started to draw them free-hand in Google Keep. When I'm brainstorming an idea, I usually mind map them – you can see some of them below. Having the Yoga Book is extra handy if I want to look something up during a meeting, one tap and I've opened Chrome to search.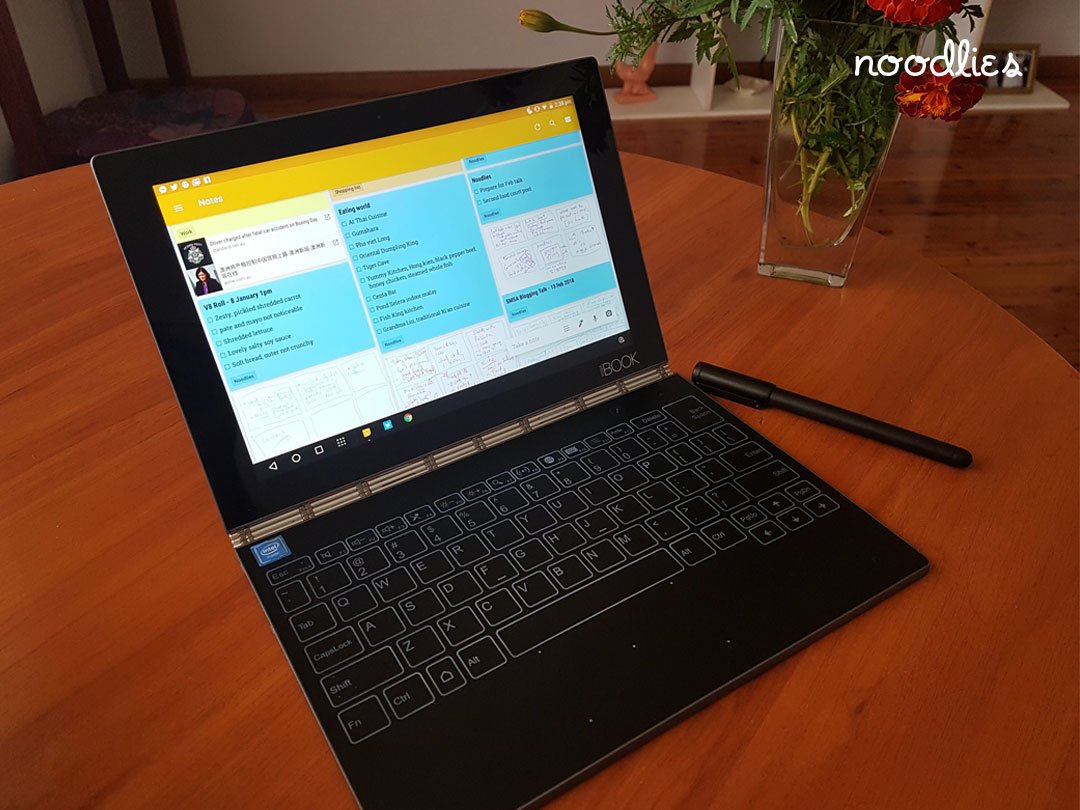 And because it's so compact – only 4.55 mm thin when opened and weighs just 690 grams, the Yoga Book is perfect to take on overnight business trips. It uses the same charging port as my Samsung S7, which means I only have to bring one charger.
Sweet Dreams are Made of These
Lenovo's hinge technology means I can use the Yoga Book like a laptop, fold it completely over to use like a tablet, stand in tent mode or flip it up as below to watch videos in bed.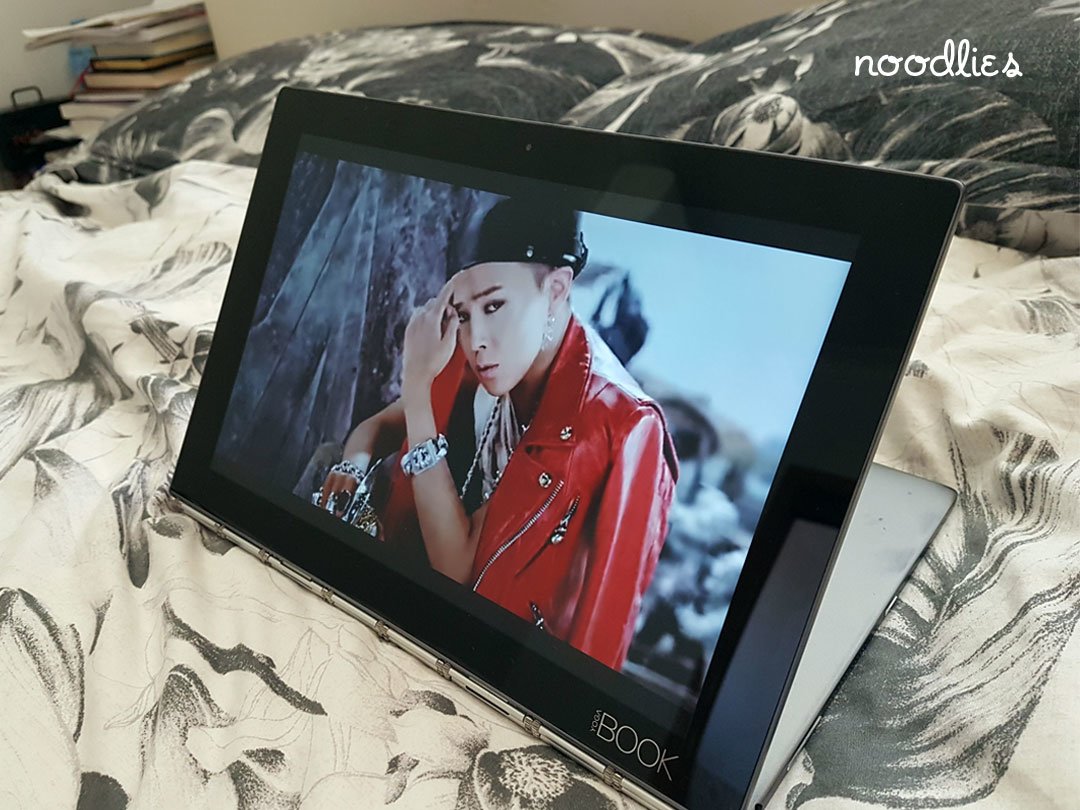 Weeknights or weekends, it's a perfect companion in bed.

Coffee, tea or…?
When I'm chillaxing at my fav local cafe, the 10.1 inch screen is lot easier on the eye than a mobile phone screen. Be warned, the Yoga Book turns heads and neighbouring tables will ask you for the make and model! So perhaps not ideal if you want some peace and quiet.
Those of you who have been following me on instagram will recognise my new found love for gardening.
On weekends, I'm often on the veranda enjoying the fruits of hours of back breaking gardening – planting from seeds is fun and rewarding but it is a lot of physical effort! You'll find me with a cup of English Breakfast, smelling the flowers and surfing the net with my Yoga Book.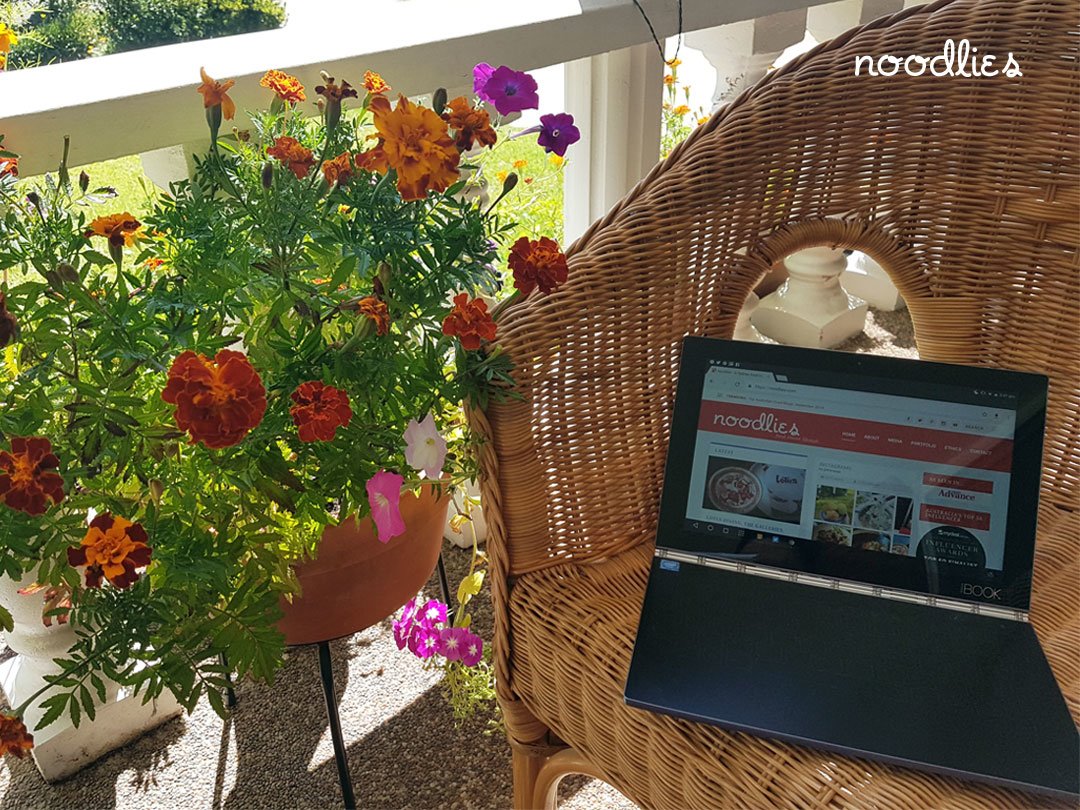 But it's not all roses
As you've worked out, I love my Yoga Book, my constant companion. But there are niggling issues you'll need to know:
Claimed battery life is around 13 hours, but if you're using multimedia it's much less than that, my experience is around 8-9 hours.

It's uses an Intel Atom x5-Z8550 processor, so don't expect it to replace your gaming machine. For day to day tasks, I had no problems, there were no annoying lags or freezing.

There's no where to put the supplied pen so you'll need to get a cover with clip for the pen. 

It's easy to scratch the exterior, especially if you use it as much as I do. Another reason to get a cover. I got one on Ebay for not much dough.

When you switch to drawing mode, Lenovo's default drawing app opens. I prefer using Google Keep, so it's annoying to have to close the default app each time.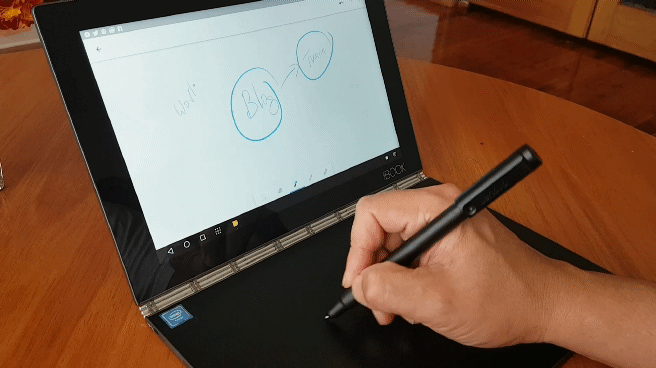 If the niggles above aren't an issue, then I'd strongly recommend the Lenovo Yoga Book. RRP is $699, which is a steal in my opinion. Don't try to pigeon-hole it and you'll be fine. Just think of it as a versatile, compact device that adapts to your needs. Believe me, #differentisbetter.
Do you already use a Yoga Book? I'd love to hear your productivity tips.
Disclosure: I'm an enthusiastic Lenovo Ambassador. This Yoga Book was supplied by Lenovo. I did not receive payment for this post. All views, opinions are mine.