Arriving and departing in uber-comfort.
Noodlies, Sydney food blog checks out two of Cathay Pacific's Business Lounges in Hong Kong.
Airport lounges are a god send. Perfect for business class productivity, but as noodlies has discovered, also ideal to ensure leisure travellers depart and arrive in comfort.
But all Business Class Lounges are the same aren't they? Secluded oases where you can relax away from the hoy-poloii, where you can grab a shower and freshen up and where you can snack and sip bubbly before boarding.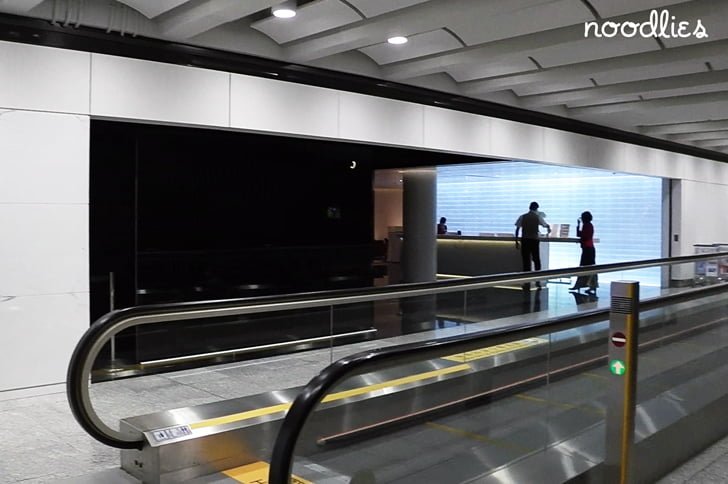 Cathay Pacific's flagship lounge, The Wing tries to distinguish with a deliciously simple idea, a focus on food – Asian noodles to be exact.
Located near gate 2, The Wing is an enormous lounge taking up two floors. And The Noodle Bar takes up a significant amount of real estate on the far end of the top floor.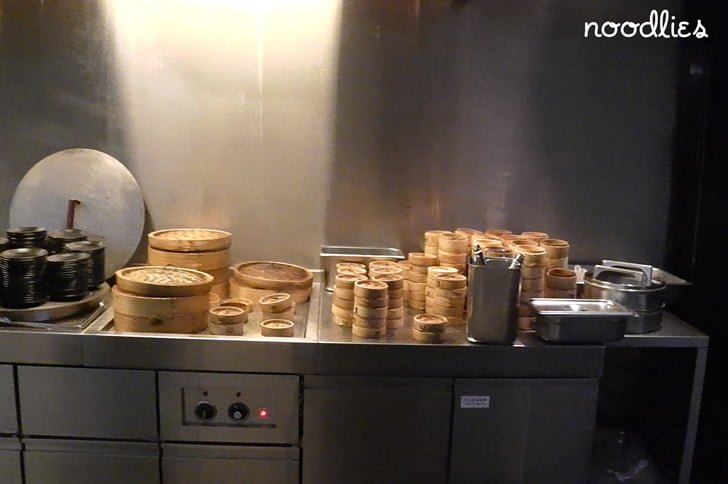 There's a long open kitchen which really makes you feel like you're ordering from a Hong Kong eatery and there's a changing selection of Asian noodles which are prepared upon order. Place your order, take the remote buzzer, take a seat and collect your noodles when your noodle is ready.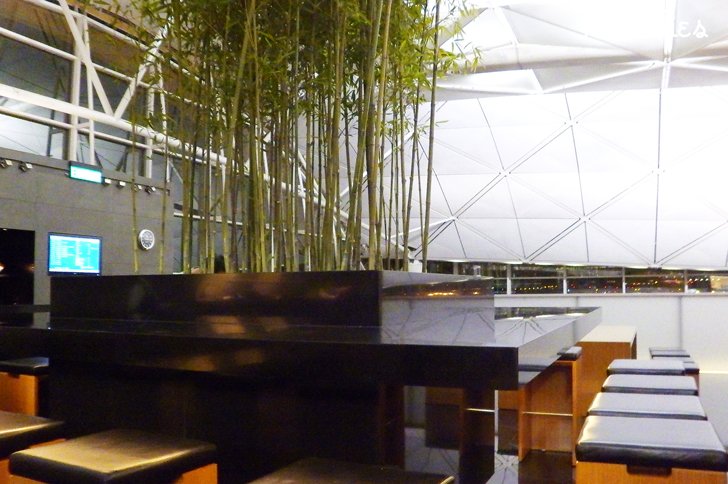 The Noodle Bar's dining area is zen, simple, wooden furniture punctuated with tall bamboo. Choose from stool, bench and booth seat options.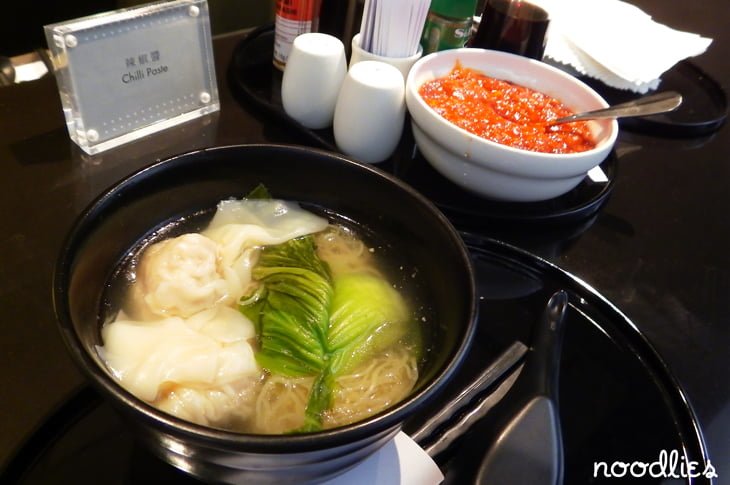 Tonight, that Hong Kong classic, won ton egg noodle soup (above) is on the menu. The noodles are served in an elegant black bowl.The broth is piping hot, clear and subtle, the noodle springy. The won ton is lively with plenty of prawn flavours.  Perfect for a pre-flight snack.
READ: Best won ton egg noodles in Hong Kong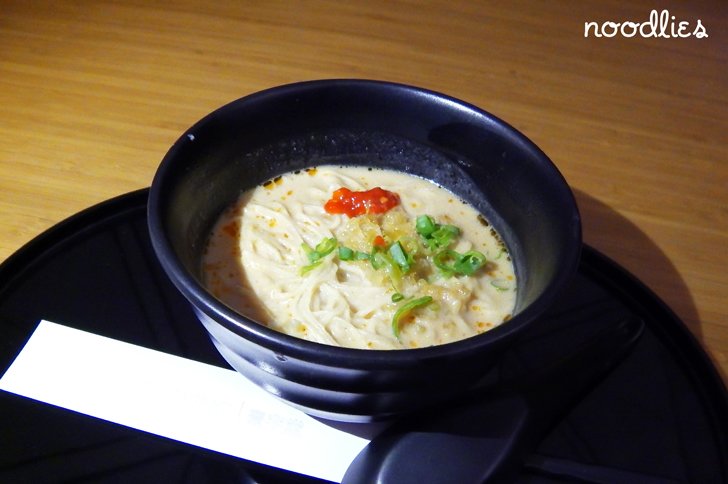 Noodlies, couldn't resist sampling a bowl of dan dan noodles. In a recent article, The Best Food in Asia for the Good Weekend, I wrote the following about dan dan noodles:
A street food classic, it's named after the carrying pole used by street vendors to balance baskets containing noodles and sauce on either end. This spicy, complex dish is made with wheat noodles, chicken broth, mince pork, preserved vegetables and chilli oil.
Dan Dan is made fresh to order at The Noodle Bar in selected Cathay Lounges around the world, where handmade noodles are boiled and placed in a bowl, broth is added and topped with preserved vegetables, crushed peanuts and chili oil. Each day, Cathay Pacific serves 600 bowls of piping hot Dan Dan to satisfy hungry travellers.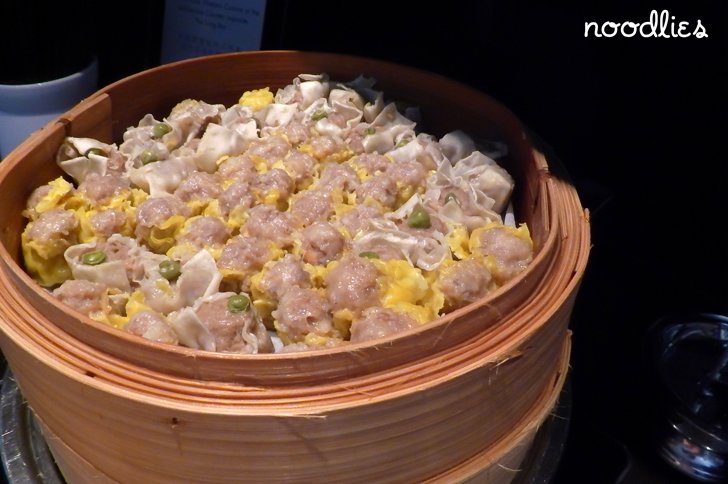 It's not just noodles, there's also a buffet with fried rice, sieu mai (above) and other Asian quick fixes. Watch the noodlies featured video above to see the selection available at the buffet and for noodlies' walk-through of The Noodle Bar in the Wing.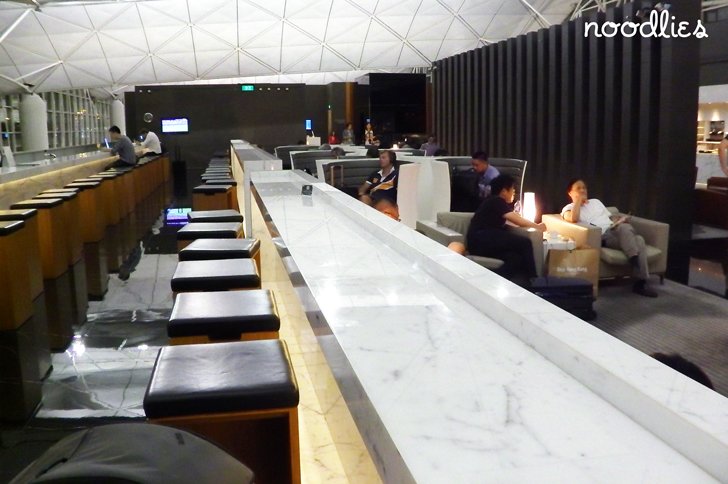 Before you get to The Noodle Bar, you'll pass a bright section with couches, long work area as well as a long bar.
On the ground floor are several rest areas, more buffet food and drinks, showers and a computer room in case you didn't bring a laptop to use with the comp wifi. Watch the noodlies video above for an overview of The Wing Business Class lounge.
The Foster + Partners designed Solus Chair  (above) is a particularly comforting and productive hub. After long periods of travelling in Asia, all you want is privacy from countless eyes and all the noise, and these space age pods are particularly effective.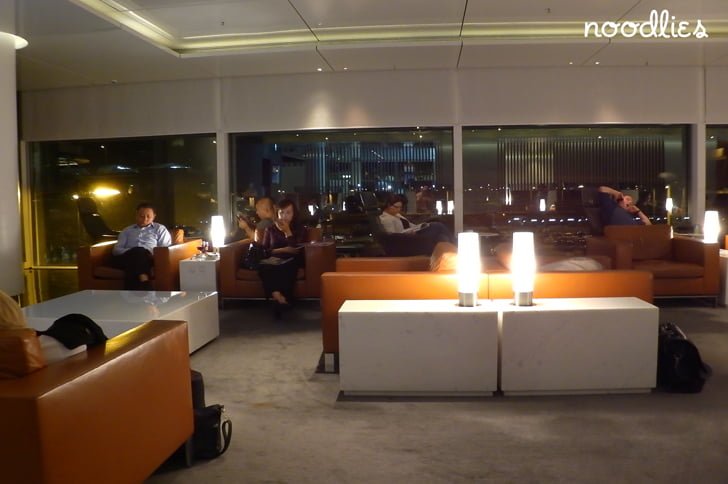 Designed by British architect, Lord Norman Foster, Hong Kong's cavernous airport spans 1,225 hectares. It's one of the world's largest and busiest airports carrying over 50.9m passengers each year and employing around 65,000 people. Located within five hours flying time from half the world's population, the airport has two runways and two terminals that serve around 100 airlines from all over the world.
Home carrier, Cathay Pacific has no less than five airport lounges in Hong Kong, their flagship The Wing (First Class and Business Lounges), The Pier (First Class and Business Class), The Bridge, The Cabin and The Arrival lounge for travellers arriving in Hong Kong to refresh.
The Cabin
A smaller lounge, The Cabin is more intimate with subdued lighting – a significant proportion of the back section is taken up with solus chairs.  The Health Bar at The Cabin is a unique twist on the traditional Long Bar, offering freshly squeezed juices and Chinese herbal teas in addition to the standard alcoholic menu.
See the noodlies video above for a walk through of The Cabin.
Cathay Pacific Business Class, Sydney to Hong Kong return
And what better way to travel to Hong Kong than business class with Cathay Pacific (there's currently no First Class service between Sydney and Hong Kong on Cathay). There's extra luggage of up to 32kg, which is perfect for all that shopping. As you can see in the noodlies video above, the seats are spacious booths giving passengers plenty of privacy and private space.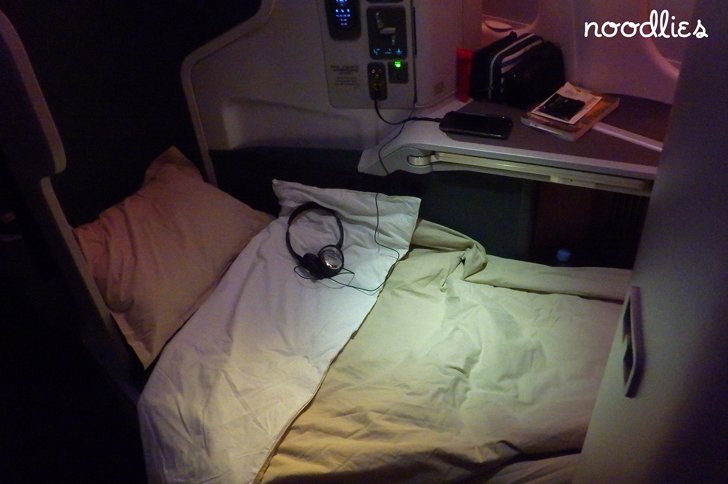 The seats fold flat and, with bedding and quilt, feels homely. And there are lots of bench space, nooks and crannies for your laptop, books, toiletries and the kitchen sink, which means you don't have to raid the overhead compartment every half an hour.
There's even space to hang a jacket or shirt in your seat area.
The 15″ screen is huge for the given space and there's a plenty of latest Hollywood movies to choose from as well as a decent range of world movies (see video above).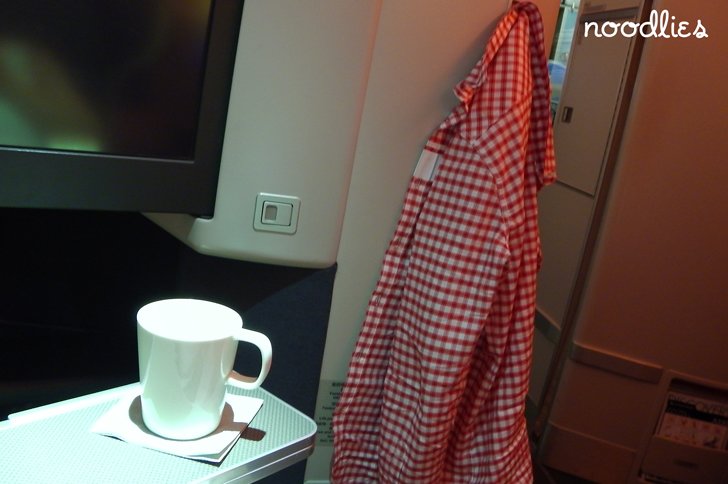 And it goes without saying, Cathay Pacific has thought about food.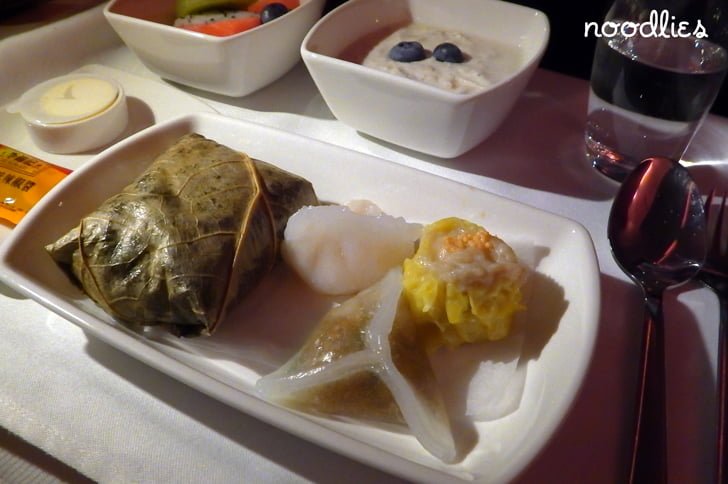 There's a range of Western or Eastern food and noodlies is particularly excited at the yum cha selection available on selected flights. These yum cha favourites; piping hot har gau, sieu mai, dumplings and sticky rice were served on the return flight. They left me with a smile and I started to reminisce about the lovely Hong Kong holiday.
Oh, and if you want a real-deal yum cha experience in Hong Kong, visit the Mongkok branch of Tim Ho Wan, the world's cheapest Michelin star restaurant (below).
Food is such a perfect feature for Cathay Pacific, after all, food – delicious dumplings and noodles are almost synonymous with the fragrant harbour city. The airline is obviously too aware and they've made it a delectable (and very welcomed) point of difference.
Noodlies, Sydney food blog can't wait to experience it all again.
Cathay Pacific, the 2014 Skytrax airline of the year is offering foodies the chance to win two return Economy Class flights to an Asian food capital from the airline's vast network that includes 20 destinations in China alone. Good Food Month's signature event, the Night Noodle Markets, brings delicious cuisine from around the world in one buzzing spot and this year Cathay Pacific, the official airline partner of Australia's largest food festival, will bring the world even closer with its Taste Asia with Cathay competition.
To go in the running, entrants will need to take a picture of their favourite Asian food or flavour, and share it with the hashtag #TasteAsiaWithCathay and of the destination they would like to visit (for example, #Shanghai) via Twitter, Instagram or Cathay Pacific's Facebook at facebook.com/cathaypacificAU.
Visit the Taste Asia with Cathay competition page for more details.
Good luck, loyal readers!
This Noodlies, Sydney food blog was courtesy of the deliciously lovely folks at Cathay Pacific. Thank you for a delectable time.