Lucky feasting for the Year of the Dog.
Classy Chinese doesn't have to be in Chinatown. Noodlies, Sydney food blog samples a prosperous Lunar New Year menu in Sydney's CBD.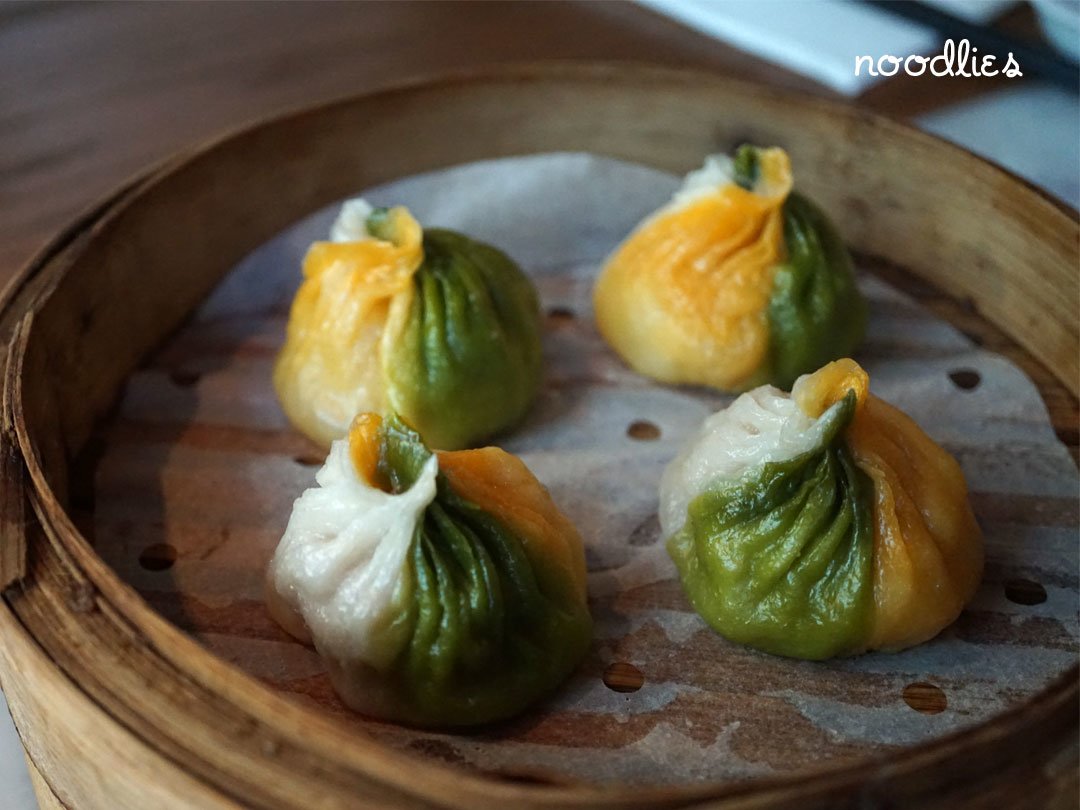 Lunar New Year triggers the world's largest mass migration. In China, some 385 million people leave the larger cities and head back to their home town for the annual family reunion. The Lunar New Year feast is all about family and aspirations for the year ahead – happiness, health and prosperity are top of mind. Dishes on the menu at this time are all about attracting good luck for the new year.
READ: 8 Lucky Lunar New Year Foods
Spring rolls and dumplings are popular new year starters because their shape resembles money bags or gold ingots. Juicy, steamed jade prawn dumplings (above) are a cut above standard dumplings in keeping with the auspicious occasion.
When you spy diners at neighbouring tables sucking their noodles, don't fret. Noodles symbolise longevity; the longer the noodles the better, which explains why noodles are served in long and abundant strands. Folks suck, flick and shove noodle strands in their mouth to avoid cutting short longevity. Naturally, the noodles in the signature crystal noodles with chilli, black vinegar and peanuts dish are long and lively. It's a zesty, fresh mouthful that's on the sweet side, to attract a an exciting, sweet life.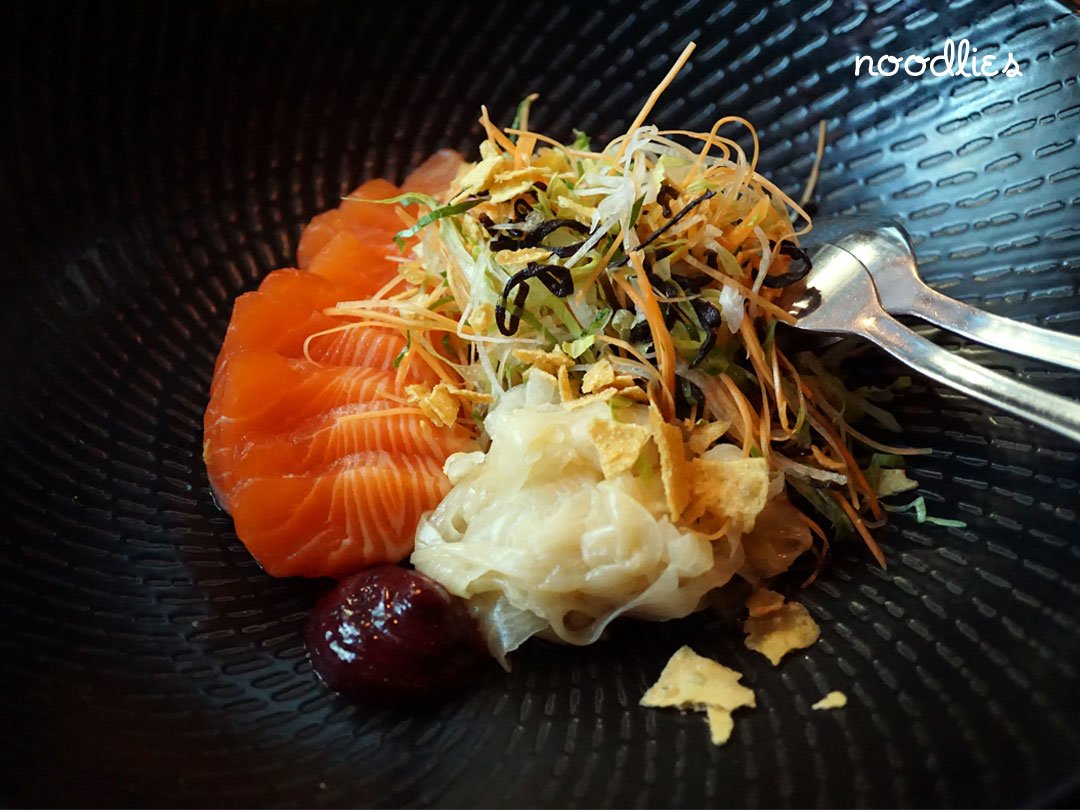 In Chinese, fish sounds like "abundance" and you'll find it on every New Year menu, especially whole fish – a wish for prosperity all year 'round. New Year menus are often full of symbolism and fancy descriptions. So I usually avoid reading them to resist from being swayed by flowery and symbolic prose. The arrival of New Year raw fish salad by Chui Lee Luk silences the room. I might have let out an audible sigh at the first mouthful. It's elegant to behold, exciting colours framed beautifully in the black spiral plate. All the colours and textures translate into an abundant but harmonious combination of fresh, punchy flavours. It's an arresting dish and the standout of the evening.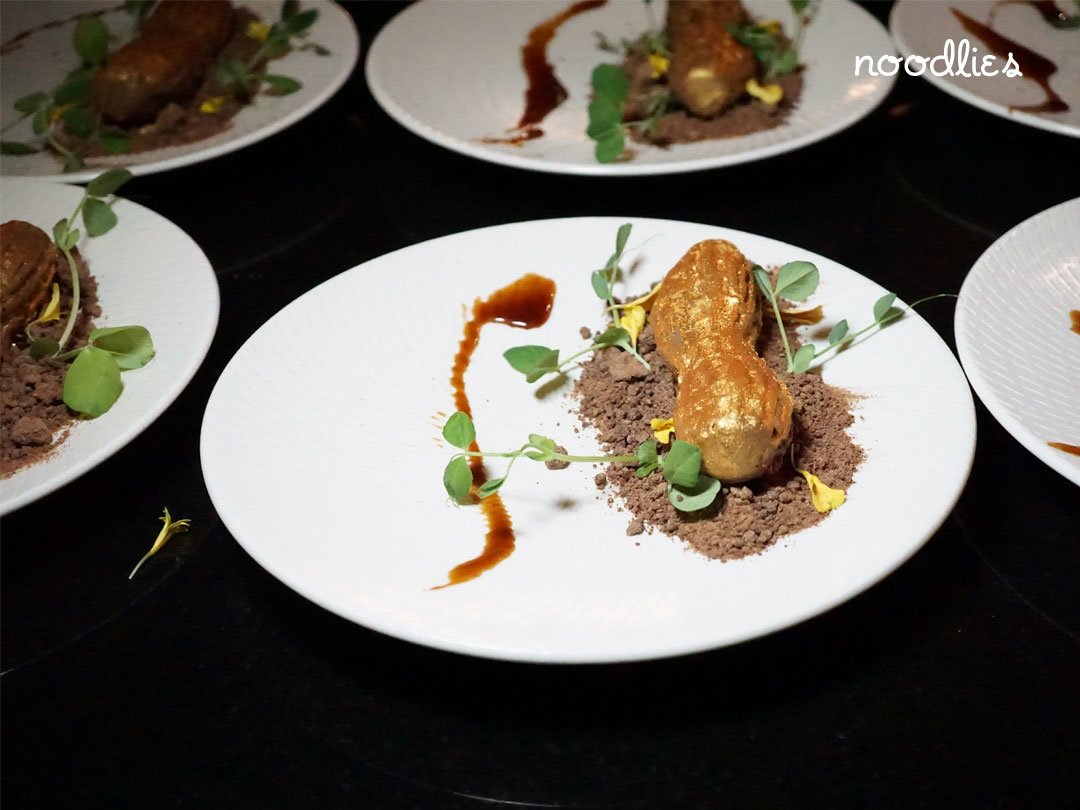 We end with the most intriguing dish of the night – the peanut of prosperity. The gimmicky name elicited much humour at our end of the table. Why has the humble peanut been so elevated? It's news to me and I had to look it up. For Chinese, they symbolise vitality, longevity, riches and honour. Who doesn't want that in the new year? But this is no ordinary peanut, it's a golden peanut – a collaboration between Lotus Dining, Black Star Pastry and Valrhona. Business people, many of Lotus Dining's clientele, will be rushing to order this! Enthused in loving detail as "crisp shell of Caramelia chocolate peanut butter mousse, gooey red bean caramel centre on chocolate soil with peanut flowers and tendrils". I don't think I can do better than that breathless description, except to add that it's a decadent bookend to our fantastic 12-course Lunar New Year dining tour de force.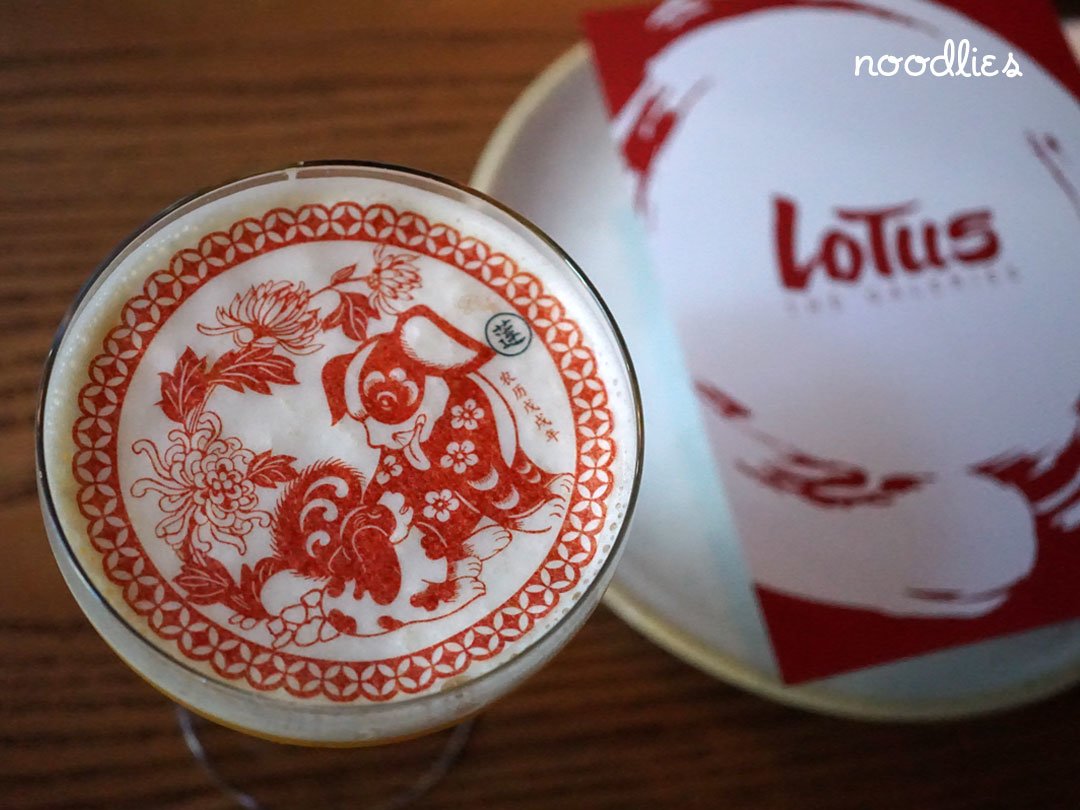 Special mention for the Year of the Dog Cocktail, Hong Kong Baiju, ginger beer reduction, passionfruit, citrus, egg white, wafer paper. Think moreish spiced ginger beer dialled up with head spinning alcohol. You gotta try it!
If you want to start of the Year of the Dog on a lucky note, check out Lotus Dining Chinese New Year Banquets. It on for a very limited time. So book now or miss out! Details below.
Chinese New Year Banquets
Lotus Galeries hosts a week of feasting to celebrate Chinese New Year and the Year of the Dog. Indulge in a decadent selection of Lotus favourites such as calamari with native spiced salt and zesty dressing; crispy skin duck pancakes with sweet miso and cucumber; West Lake-style whole fish with black vinegar sauce; and of course, mouth-watering steamed jade prawn dumplings.
Head chef Chris Yan puts on a show with three different Chinese banquet menus: The Lucky Lantern Feast ($68pp), Golden Dragon Feast ($88pp), and The Imperial Feast ($128pp); all fit to feed an emperor.
Lotus' dessert maestro Tiffany Jones serves up a sweet series of desserts to match the three banquets. The Golden Dragon Heart dessert: miso and passionfruit cheesecake topped with crystal gold glaze is a satisfying finish to the Golden Dragon Feast banquet. Cheers to good fortune with the Year of the Dog cocktail: Hong Kong Baiju, ginger beer reduction, passionfruit, Citrus, egg white, wafer paper. If you're game enough, try the snake, dragon and monkey tipples too.
When: 12 – 18 February
Where: Lotus at The Galeries, Level 1, 500 George Street, Sydney
Price: Banquets range from $68-$128 per person
Bookings: 02 9247 6868 (bookings are essential)
Website: www.lotusdining.com.au
Chinese New Year dessert degustation
Lotus Dining, Black Star Pastry and Valrhona join culinary forces to create an interactive dessert degustation to celebrate the Lunar New Year. Tiffany Jones (Lotus Head Pastry Chef) and Sam Yeo (Black Star Pastry Executive Chef) heavily feature Valrhona chocolate across the menu to push all boundaries of the perception of Asian desserts. The degustation includes several sweet treats including a silky white chocolate custard centre of the 'Dumpling of Abundance' and the crunchy bite of the 'Peanut of Prosperity'. Running for two afternoons in February this is an event dessert lovers should not miss.
When: 17 and 18 February
Time: 12pm – 2pm or 2.30pm – 4.30pm
Price: $96.80
Book tickets here.
All photos taken with a Sony A6000 digital camera. What do you think of the quality? Love to hear your thoughts.
Noodlies, Sydney food blog and guest dined as guests of Lotus Dining, The Galleries. All opinions are my own.