Quick sushi fix, grab a pew!
Noodlies, Sydney food blog does suburban sushi train.
Remember that Spandau Ballet hit?

Round and round it goes
And oh don't you know
This is the game that we came here for
Round and round it goes
And oh don't you know...
Yep, watch the sushi go round, mesmerising sushi and sashimi spin in a rainbow of colour.
It was a stinking hot Summer day in early January, one of those days that shot over 40 degrees, turning concrete surfaces into frying pans and cars into ovens. What else do you do to escape the scorching heat but hit the local shopping centre?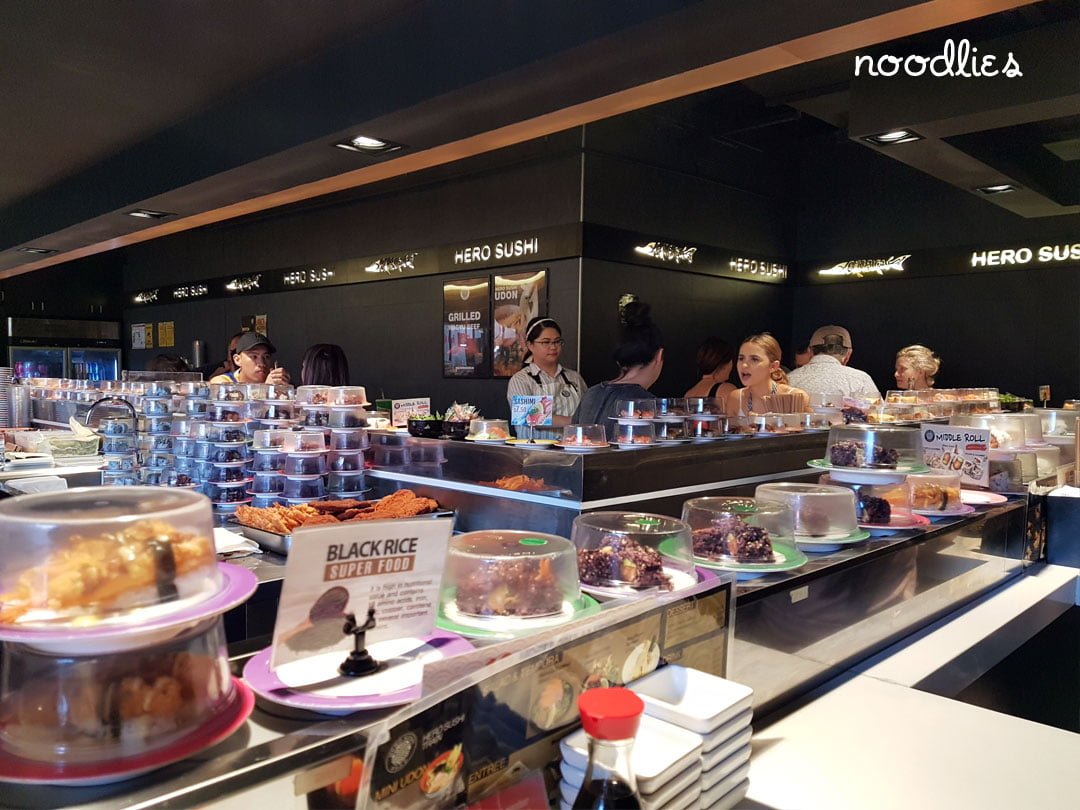 Today, even Stockland Wetherill Park's air-conditioning was struggling. Sadly, no chilly sting in the air. Too frantic to think, we fell into Hero Sushi because it wasn't yet crowded. Immediately through the door we heard the usual welcome scream from staff coming from all direction, disconcerting really. What wasn't, was the cold air, lovely cold air.
Things looked up from there.
It's funny how humans become more civilised when their body temp drops from fire to chill. Sushi trains aren't really my thing, but it was nice to watch the colourful plates, single and double stacked go by. No pressure to order, we could just pick what we wanted, when we wanted. All sushi $3.50 fixed price. Even the coke was ice cold. This place was heaven on earth.
And we ate, and ate.
We didn't plan it, but Japanese was perfect in a heatwave; cold, individual dishes with subtle flavours were easy to swallow. We ordered the usual classic combos, white rice sushi with tuna and avo, sushi with chicken, vego sushi and then some with black rice, which was more substantial in texture. My favourite was thinly sliced wagyu beef sushi in a rich, sweet sauce with white rice.
They have udon, agedashi tofu, prawn tempura and a few udon choices to choose from if you wanted more options. But truth be told, they could have served up anything, in that cool, comfortable environment and I would have loved it.
Round and round it goes
And oh don't you know
This is the game that we came here for
Round and round it goes
And oh don't you know…
Hero Sushi
Shop 248, Stockland Shopping Centre 561 – 583 Polding St, Wetherill Park, NSW