Sponsored Post
It's Moon Festival and noodlies wanted to throw a party. So we invited 10 lucky readers to Cabramatta to share a Moon Festival Feast – five classic Vietnamese dishes made with Aussie lamb.
Noodlies readers will remember I shared a pretty personal post about how food and lamb became the bridge that helped to bring a refugee family closer to our neighbours. With the noodlies Moon Festival Feast, I wanted to see if we could do it again almost 40 years later in Cabramatta.
The idea was to bring noodlies readers from across Sydney together over a great lamb lunch. I partnered with three of the most loved and long established Vietnamese eateries in Cabramatta. The brief was to reflect Australia's rich and successful cultural diversity on a plate by re-interpreting classic Vietnamese dishes with iconic Aussie lamb.
As we dine, we'd get to know each other more, appreciate our similar values and understand our differences. Readers would also get to hear the fascinating stories behind these Vietnamese restaurants and understand more about our culture and celebrations.
Moon Festival, also known as Mid-Autumn or Harvest Festival, is a time of celebration and feasting after the northern hemisphere harvest. The hard work is over, it's a time of sitting back and reaping the rewards. While Moon Festival is the second biggest event in many Asian cultures, including Chinese, Vietnamese and Korean, it's much less well-known than Lunar New Year.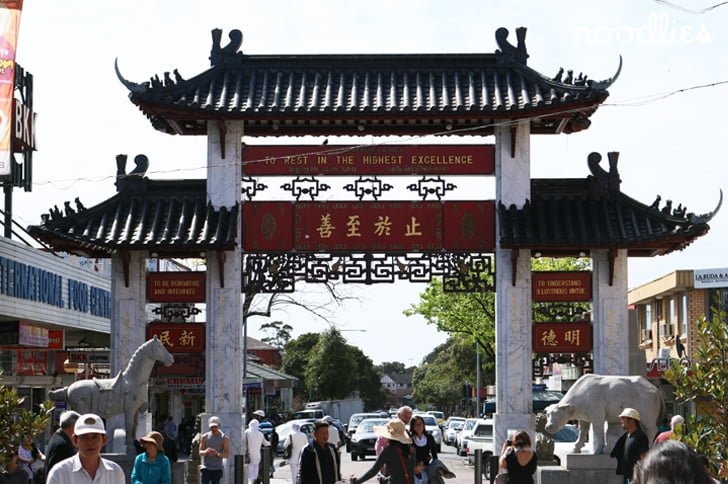 Cabramatta is home to more people from a Vietnamese background than any other suburb in Australia. So it was the ideal location to bring together ten lucky noodlies readers to celebrate the Cabramatta Moon Festival Feast.

To be selected, the diners shared why they love diverse food and culture on FeedUp, a fantastic platform for pop-up community dining:
"I'm passionate about diverse food & culture… it brings a glow to our heart, mind and belly, and reminds us we share this great world of ours together" – Sasha
"I love diverse food and culture; it brings different communities together through telling stories of family and tradition over meals" – Angela
"I love Cabra and its vibrancy, as well as (of course), its food. Eating under the iconic gate with tantalising cuisine would be AMAZING" – Chris
As it turns out, the diners were diverse themselves, English, Lebanese-Chinese, Indonesian, Vietnamese, Chinese and Australian-born. We had journalists, marketers, authors, media executives, bloggers and public servants.
The location couldn't have been more vibrant – under the iconic Cabramatta gate, built by the local refugee community to mark their successful search for freedom.
While we were excited for the five course lunch, the question on everyone's lips was "how would classic Vietnamese dishes taste with Aussie lamb as their hero"?
Then we met Ngan Vu and her mother Yen from Vinata's…
There wasn't a dry eye in the house when Ngan spoke about her mother's sacrifice to start their Cabramatta hot bread business over a quarter of a century ago – the 4am, seven days a week grind and the back-breaking long hours on her feet.
Our fascination turned to wonder when Ngan revealed a colourful picnic basket containing Vinata's lamb banh mi; zesty pickled carrot and radish, coriander, chilli and slow cooked pulled lamb wrapped in Vinata's famous crunchy bread roll.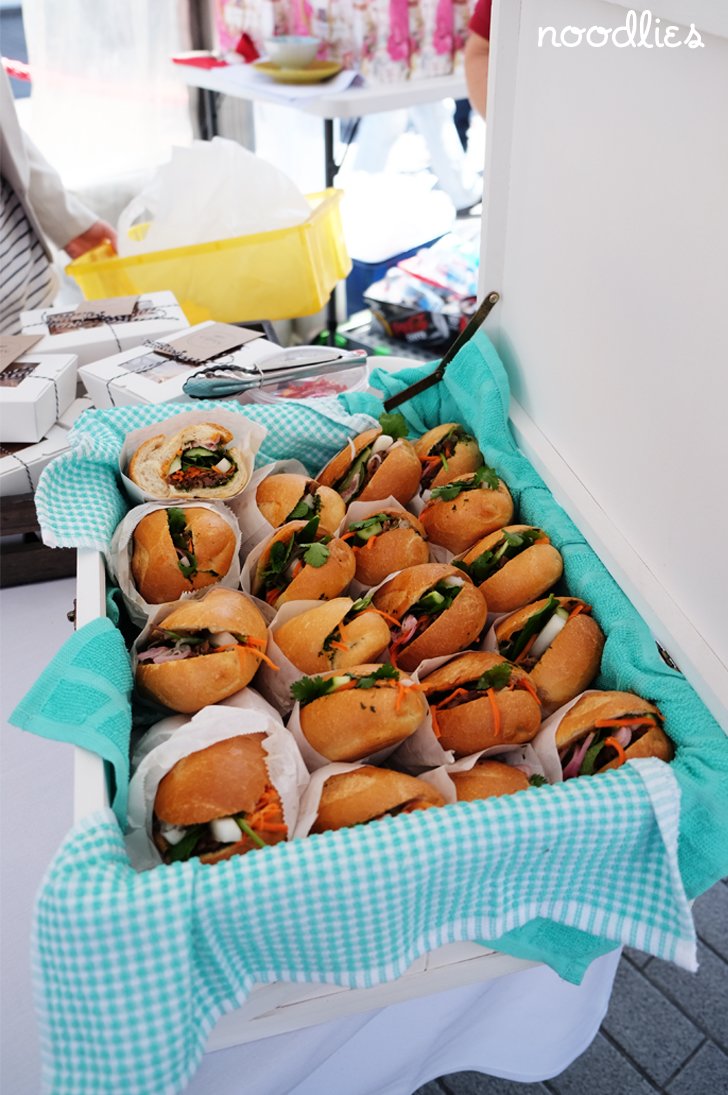 Like all good ideas, we wondered why no one had attempted a lamb banh mi before? The table conversation turned to the multicultural make up of banh mi. It's the ultimate east-meets-west food. French-introduced baguette, pate and mayonnaise married with Vietnamese ingredients; three different meat fillings, coriander, shallots, pickles, fiery chilli and an addictive soy-based sauce. Introducing Aussie lamb to this heady multicultural mix suddenly made sense. It adds another rich cultural layer to one of Vietnam's most famous food exports.
Second course was courtesy of dynamic restauranteur, James Tran of Huong Xua. He shared an Aussie take on a Vietnamese home-style favourite – bun truu; lamb and vermicelli with Vietnamese fish sauce.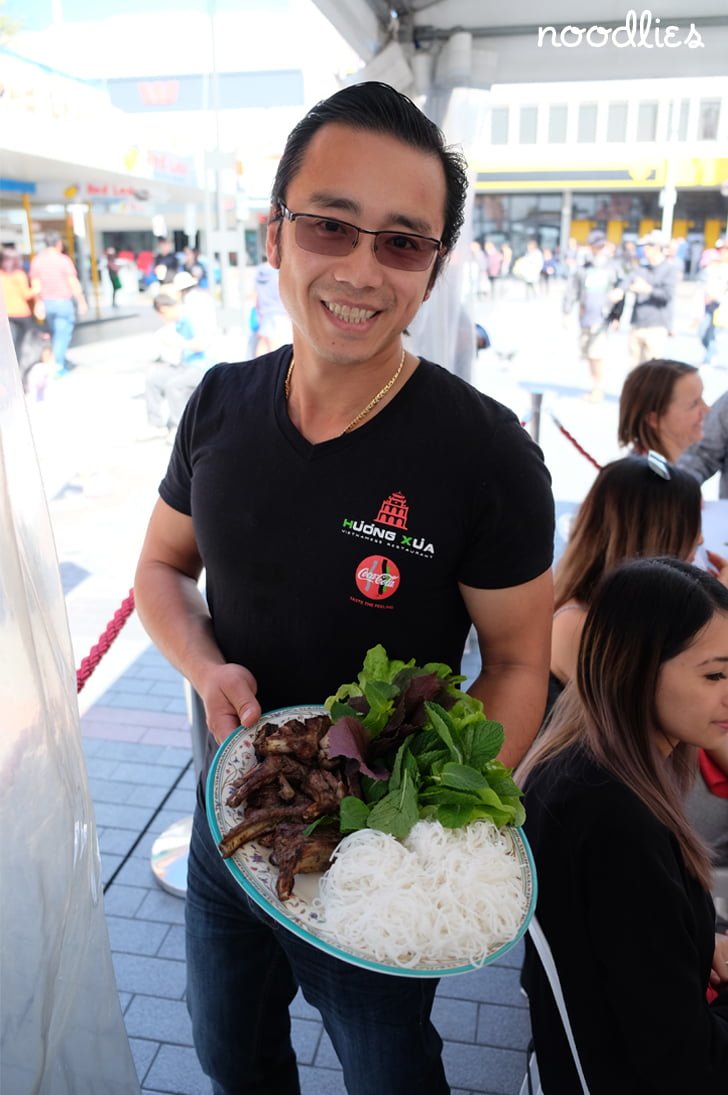 Vietnamese food is known for its freshness and for being a tactile experience. Ingredients arrive at the table for you to combine to taste. In this case, it was freshly steamed vermicelli, a range of mints including purple perilla leaves and chargrilled lamb cutlets. James told us to drown them in fish sauce. His food hails from Northern Vietnam where fish sauce is much lighter, allowing you to use it like a dressing.
Asian noodles and mint with grilled Aussie lamb cutlets – like multicultural Australia, they combine brilliantly.
Michael Thai from Bau Truong, one of the oldest restaurants in Cabramatta, took a typical Vietnamese take on the brief. Noodlies asked him to contribute a dish to the Feast, but he wouldn't stop at one. Three glorious lamb dishes were served and all wowed in presentation and taste.
The first dish was Doi truu; lamb sausage, with triangles of zesty pineapple and pickled leeks on Vietnamese rice paper crackers. The lamb added extra intrigue in texture and taste.
Goi truu tai chanh (lamb salad) celebrates spring time brilliantly. Vibrant shades of green lit up the plate – lime slices, tropical fruit, shredded Asian mints and lime cured lamb created an explosion of zesty flavours. It briefly stopped conversation by igniting a feverish Instagram frenzy.
"Oh my god, that tastes amazing"
"This dish looks so beautiful"
Our final dish was Cari truu; lamb shanks that fell off the bone, cooked for hours to absorb a curry with a profound depth. More discussions ensued at the table with guests debating their favourite dish of the Feast. We don't reach consensus. But we do heartily agree that this has been a brilliant experience with amazing food and great company under a culturally-rich Sydney landmark.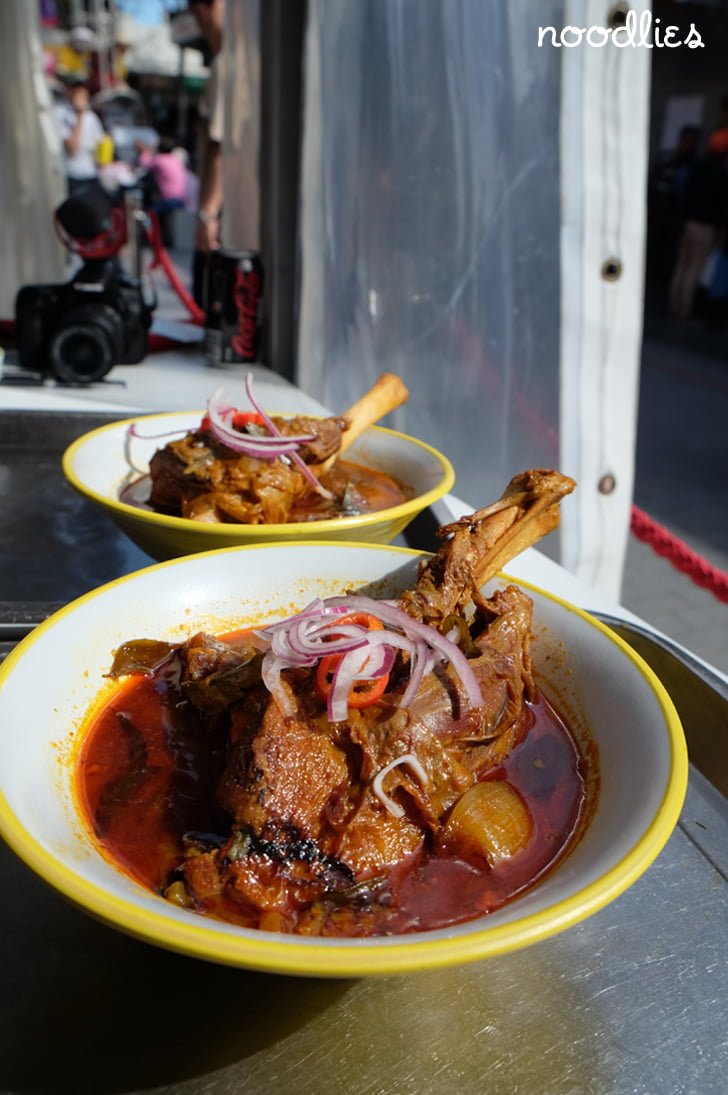 Our dessert was appropriately moon cakes, an assortment of traditional Hong Kong Emperor lotus paste moon cakes and more contemporary Casahana flavours like green tea & apricot and espresso chestnut.
"The lunch of the year" says a media agency executive, a foodie who has dined at all the top restaurants in town.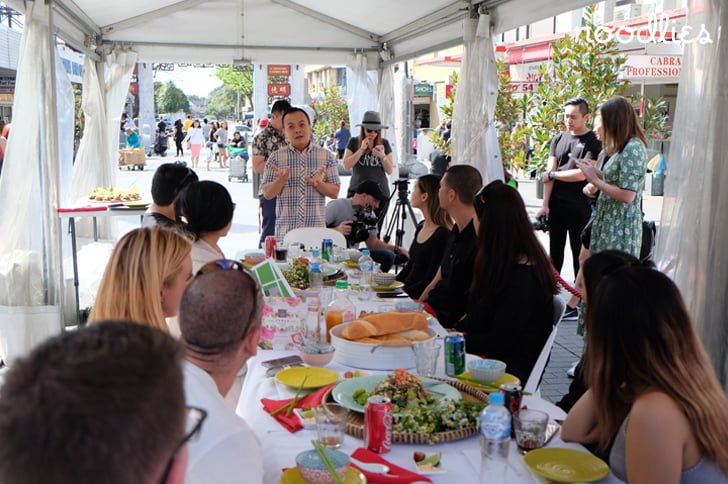 We met as strangers, but left knowing more about each other and with a greater appreciation of different cultures. While the Feast was great, hearing inspiring stories from these Cabramatta heroes made the experience so much richer and the lovingly-prepared food taste even better.
Food. Bringing people together.
Noodlies Cabramatta Moon Festival Feast
Sunday, 11 September 2016, 11.30am
Freedom Plaza, Cabramatta
YOUR TURN
If you want to host your own lamb gathering, make sure to visit FeedUp – it's simple, easy and a great way to explore your community through food.
WITH THANKS
This event designed to showcase Australia's cultural diversity could not have happened without the support of local Cabramatta eateries; Vinata's, Bau Truong and Huong Xua, Amyson, Fairfield City Council: celebrating diversity and Australian Lamb, the meat that tastes good in any language.
In addition to noodlies' Instagram pics, credit for the photos in this blog goes to Justin Truong and Charlotte Berry.