They say there's a first time for everything and I'm glad it happened in Ashfield, Sydney.
You could say I eat for a living (or very partial living). For almost seven years, since October 2009 I've been blogging here, on noodlies, about food.
Exactly 1,110 posts later, sitting in a Chinese eatery at the city end of Ashfield, this happens….
I found myself so absorbed in a dish that I became one with the food. Nothing else mattered; not the Chinese ballads pipping through a cheap, tinny speaker, not the steady conversation of kitchen staff grabbing late lunch behind me, nor the persistent honking of Liverpool road traffic just outside. Not even the social media messages flashing on and off on the screen of my phone, which also sets of earnest vibrations on my wrist via my Pebble smartwatch.
But my wrist was otherwise preoccupied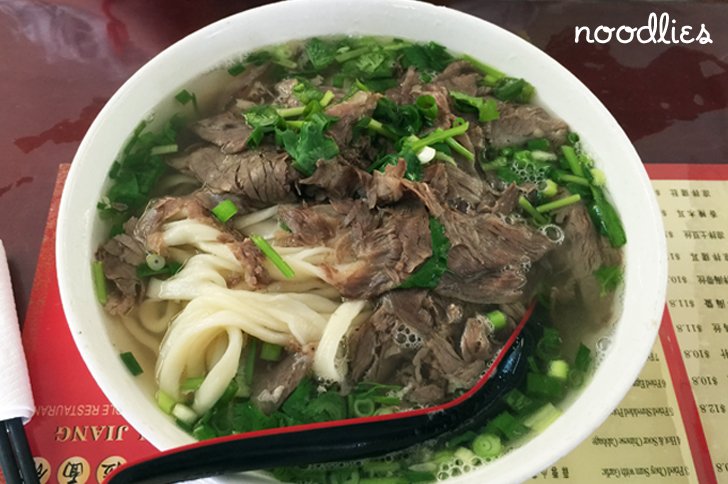 I've had the #1 on Xin Jiang's menu; hand made beef noodle soup a dozen times before (pic above was from an earlier visit). And I've loved it. As with many soups, pho included, it's the broth that separates a champion from the many also-rans. And I've had my fair share of soups, this blog isn't called noodlies for nothing!
O-M-G, and I'm blaming Brexit for this, today when the first spoonful sexed my tongue, it sets off a heady rush – an uncontrollable explosion. That is one deceptive broth with more levels than the Empire State Building. Seductive sweetness is the first emotion and it sets me off like an out of control elevator from an action thriller, snapping from the top of Empire State and plummeting down, down, down.
Moments later, the sweetness lingers but it's superbly balanced by an umami tingling which comes from extended, slow cooking of bones and likely the addition of MSG. Remarkably subtle the fifth taste is just enough to make sure the broth isn't sweet syrup but not enough to make you die from thirst an hour later.
Spring onion, added just before serving tones down raw onion sting to a mellow love bite. Beef comes in big pieces, is well cooked and sliced impossibly thin, so it melts into meaty strands that satisfies and gets stuck between your teeth like a clingy first date.
All the while the soup satisfies bewitching my senses deeper and deeper.
Sure, the pristine white handmade noodles don't really have a taste, like white bread doesn't really have a taste. But it's there for texture and to be a substantial foundation that makes sure you're full in addition to the satisfaction, like the mattress at the love motel, these strands act as an enabler, of sorts.
Before I know it, and I'm not sure if it's five minutes or half an hour, my head lifts from between the rims of the bowl to find everything gone. Demolished. Devoured. Consumed.
I eat out almost every night, and I LOVE my eating. The scene may change, humble ethnic eatery here, hipster cafe there, mid-range restaurants and sometimes the occasional fine dining (invite or for day time work), but the act remains the same – sit, order, devour.
Today was something special, I can't remember the last time I left so satisfied. And to think, it was a $9.90 bowl of noodles.
So sexy!
Xin Jiang
205 Liverpool Road, Ashfield, NSW
02 9799 9989