Where are the Lunar/Chinese New Year Festivals in Sydney in 2016?
"2016 Lunar New Year Festivals in Sydney, a complete list" [click to tweet and spread the New Year happiness]
Want to experience the fun and excitement of the Year of the Monkey?  This year, Chinese New Year, Tet, Lunar New Year falls on Monday, 8 February 2016.
While the City of Sydney's "Chinese New Year" celebrations are the biggest – there are plenty of other celebrations around town that also celebrates the diverse Asian community in Australia including Chinese, Vietnamese and Korean.
This year, Chinese New Year, Tet, Lunar New Year falls on Monday, 8 February.
There are at least 14 celebrations held across Sydney – Parramatta, Fairfield, Bankstown and Cabramatta in the west, Rockdale, Kogarah and Hurstville down south, Chatswood and Lane Cove up north, Burwood, Marrickville and Eastwood in the inner west and Sydney CBD. Read on for the full list compiled by noodlies, Sydney food blog.
READ: Lunar New Year traditions my dad taught me.
Dragon and lion dancing, visits by the god of wealth, art exhibitions, fireworks and of course, lots and lots of food – the noodlies video below, from the 2011 Lunar New Year Celebration in Hurstville, gives you a sense of the excitement and colour.
Here's a list of Sydney's major Lunar New Year festivals in 2016. Enjoy!

30 Jan: Forrest Road, Hurstville, Lunar New Year Festival, Hurstville Council
Hurstville City Council will welcome in the Year of the Monkey with a spectacular Street Festival to be held on Saturday, 30 January 2016. Full program.
30 Jan from 4pm: Saigon Place, Bankstown, Lunar New Year Festival, Bankstown Council
All of the traditional elements will be there including lion dances, lucky envelopes given by the God of Good Fortune, New Year flower making and the annual eating competition. The event will see Saigon Place transformed into an exciting, loud and colourful arena of music and festivities to celebrate the year of the monkey.
READ: 8 lucky foods for Lunar New Year
5 Feb: King Street Place, Rockdale: Lunar New Year Festival, Rockdale Council
Lunar New Year (formerly known as Chinese New Year) is held annually in King Street Place, Rockdale in celebration of the City's Australian-Asian community. The event features Dragon and Lion Dances, stalls, traditional performances, authentic food and children's activities.
5 Feb, 2:30pm – 4:30pm: Marrickville Town Hall: Lunar New Year Festival, Marrickville Council
Tai Chi performance and Chinese painting and calligraphy, with special guest artists and Tai Chi masters. Guests will get to take home their calligraphy. Light refreshments – Chinese and Vietnamese food – will be provided at this celebration of culture. No bookings required.
5 – 7 Feb: Fairfield Showground, Smithfield Rd, Prairiewood, Tet/Lunar New Year Festival, Vietnamese Community (Entry fee)
Organised by the Vietnamese Community in Australia (VCA), this is an annual fundraiser for them and the largest Vietnamese celebration in the state, attracting over 60,000 visitors. This is the one to go to if you want to see how the Vietnamese celebrate new year (noodlies video round-up from the 2011 Festival below). This year there will be TET Factor, pho eating competition and lots of live entertainment.
From 6 Feb: Chinese New Year Festival, City of Sydney
The 2016 program will encourage visitors to wander from Circular Quay, to Chinatown and beyond taking in the breathtaking sights and stopping in Chinatown for a meal as part of Lunar Feasts. In addition, the Sydney Harbour Bridge, Sydney Opera House, Circular Quay Station, Sydney Town Hall and the Capitol Theatre will be illuminated red thanks to Principal Partner, Westpac. In Chinese culture, red symbolises good fortune and joy. It is believed to be an auspicious colour for warding off evil and also represents vitality and celebration.
Sydney Opera House will glow lucky red for three nights from Saturday 6 February through to Chinese New Year's Eve on Sunday 7 February, and Chinese New Year's Day on Monday 8 February. Sydney Town Hall along with the Capitol Theatre will be illuminated for the entire festival.
WATCH: Best Chinatown food courts in Sydney
6 Feb, 10am – 5pm: Burwood Park, Burwood: Lunar New Year Festival, Burwood Council
Join the community for a day of entertainment including: main stage with performances from the Sydney Youth Dragon and Lion Dance Troupe, Happy Dance Group, Sunny Performing Arts, Pop-up performances by Kenton Opera, Martial arts, Opera workshops, Calligraphy demonstrations, 100 food and information stalls.
11 Feb, 6pm – 8:30pm, Kogarah Town Square, Chinese New Year Festival, Kogarah Council
This annual celebration showcases the Chinese and wider community through song and dance with the traditional 'dotting of the eyes', lion dance and crackers provided by Yau Kung Mun Performers.
READ: Best restaurant in Cabramatta
13 Feb, 11am – 5pm: Chatswood Mall: Chinese New Year Festival, Willoughby Council
The Chinese Cultural Centre of NSW, and proud sponsors Willoughby City Council, invite you to join in the festivities on Saturday 13 February 2016 in Chatswood Mall and The Concourse. Celebrate the Year of the Monkey with a variety of performances, market stalls, entertainment and food.
13 Feb, 3pm – 9pm: North Rocks Park: Sydney Hills Lunar Festival, The Hills Shire
Young and old alike will be fascinated by fan dancing, traditional Lion Dance and God of Fortune- who will be handing out red envelopes. You'll be amazed by fruit carving and cooking demonstrations. And be delighted by amusement rides, stilt walkers and fireworks.  Image below and featured image are from The Hills Shire website.
13-14 Feb: Cabramatta Freedom Plaza: Lunar New Year Festival, Fairfield Council
A lower-key event compared to the Council's huge Moon Festival, this one has a Vietnamese flavour. Fairfield City Council will welcome the Year of the Monkey by hosting two days of celebrations at Freedom Plaza, Cabramatta, on 13-14 February, 9am–4pm each day and at Canley Heights Town Square on 6 February between 4pm and 10pm.
13, 20 Feb: Eastwood Plaza, Eastwood Lunar New Year Festival, City of Ryde
Last year over 10,000 attended the celebrations, jointly organised by City of Ryde and local Chinese and Korean communities. In 2016, the local community is planning to stage even bigger celebrations, with a crowd favourite, the Cooking Competition on Saturday 13 February, and the flagship event on Saturday 20 February where a large number of performances will be held at Eastwood Mall.
19 Feb, 4.30pm – 9:30pm: Centenary Square, Parramatta: Lunar New Year Festival, Parramatta Council
Get in touch with your inner monkey at Lunar Land – packed with interactive games and workshops. Meet Curious George and make your own monkey mask! Join family and friends for games of Mah-jong or Barrel of Monkeys, hold a ping pong tournament, learn calligraphy and make some lanterns to add to the lantern garden. Pick up your lucky red envelopes from the God of Fortune and don't miss the dragon and lion dance performance and spectacular fireworks at 9.30pm!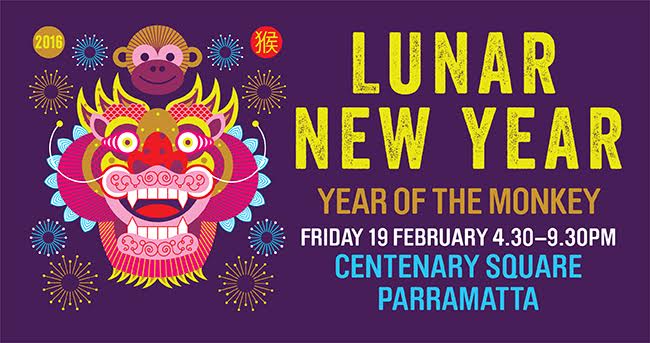 19 Feb, 4:30pm – 6pm: Lane Cove Plaza, Lunar New Year Festival, Lane Cove Council
Help bring in the year of the monkey at this special Lunar New Year celebration. The event will include a host of live entertainment including a Chinese lion dance, k-pop dancing and monkey craft. Children will also receive their own lai see (lucky red envelope) for good luck.

"2016 Lunar New Year Festivals in Sydney, a complete list" [click to tweet and spread the New Year happiness]
Which Festivals will you be enjoying this year?
Are there other Lunar New Year Festivals in Sydney to add to this list?
Please let me know in the comments section below.
Have a monkey of a time, everyone!