Diversity will tickle your taste buds.
Noodlies, Sydney food blog was lucky to sample a one-off, Taste Cultural Food Tours' Merrylands experience, today.
As a "thank you" for supporting Taste Cultural Food Tours' crowd-source funding project, the peeps behind this social enterprise took us on a one-off food tour of Merrylands, a suburb that has been intriguing noodlies, Sydney food blog for ages.
Kabul House – Afghan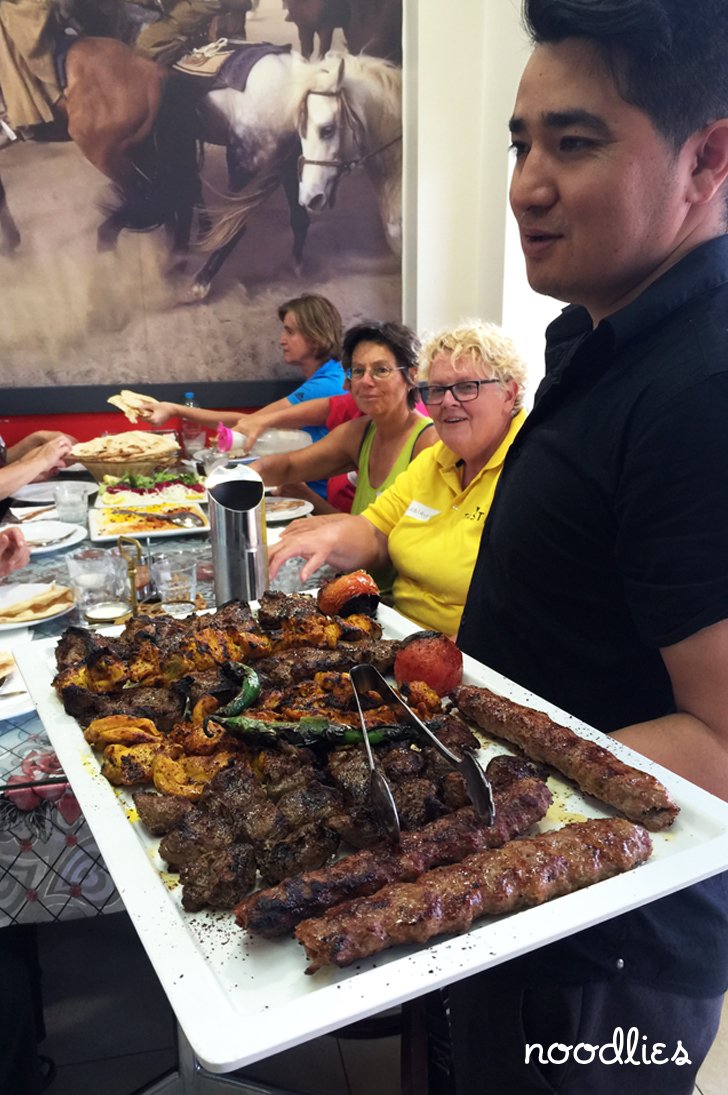 How could you say "no" to a plate of grilled goodness?
Here, the mixed plate is equal portions of spiced lamb, beef and chicken. They allow the flames to lick their meat a touch longer, leaving a moreish charcoal zing. Sides are generous, huge fluffy bread, zesty colourful pickles and yogurt and crimson sour sauces that prove highly addictive.
Kabul House serves up the best of Afghan food. Their spiced lamb mantu in yogurt sauce is brilliant, too.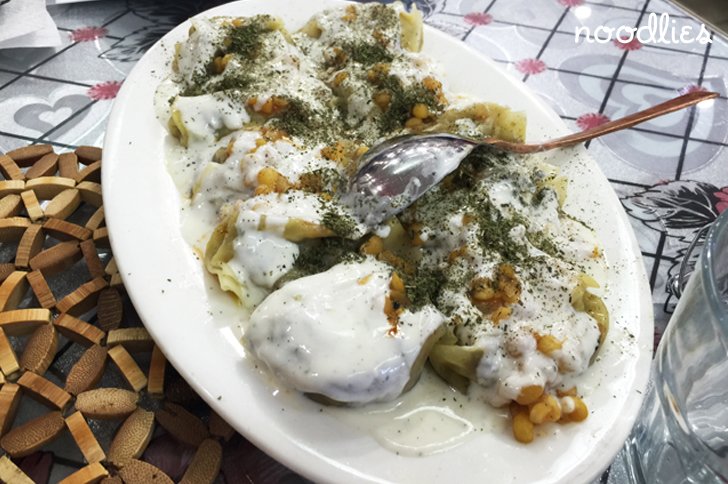 It's popular, so come early to avoid the queue. Check the noodlies, Sydney food blog video above to get a sense of the buzzy atmosphere inside.
Ryyan Supermarket – Iran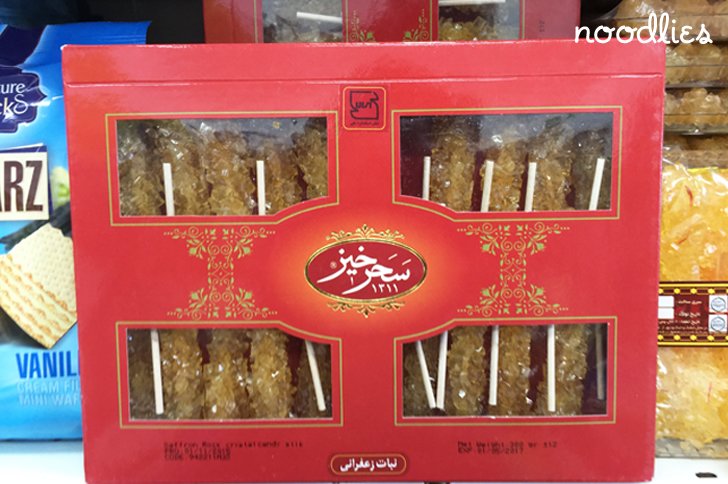 These golden crystals wrapped around a lollipop stick stole my attention. It's obvious these are attractively packaged for gift giving.
But what are they?!
The helpful staff at Ryyan Supermarket explained they are made for dipping into tea; it's a convenient, and very attractive sweetener. Needless to say I grabbed one, and a box of tea spiced with cardamon. Having tried both as soon as I got home, from experience, I can say they work brilliantly together.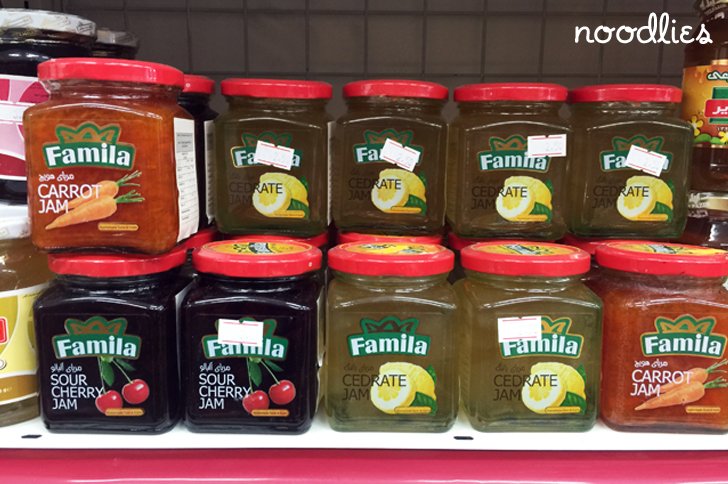 I love meandering through supermarkets from different cultures. Inevitably, there are common items like tomato sauce, sugar, milk, etc. But, you're also bound to find fabulous curios.
I regret not buying a jar of Famila jam.
I have no idea what cedrate is, except it's well stocked and obviously popular. Sour cherry and carrot jam both sound intriguing. Kicking myself I didn't walk away with a jar of each.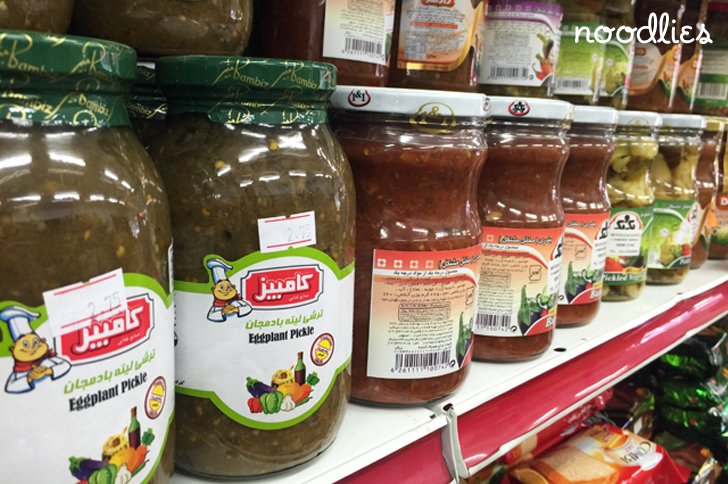 I should have brought home a jar of eggplant pickles too. Regrets, I have a few…
Aaboll Cafe – Ethiopian
I've been to Aaboll Cafe before and walked away devoted to their sour and spongy injera, as well as tender kye sega wot (beef cubes). Vegos rejoice, their vegetarian spread (below) is a delight to the eye and palate.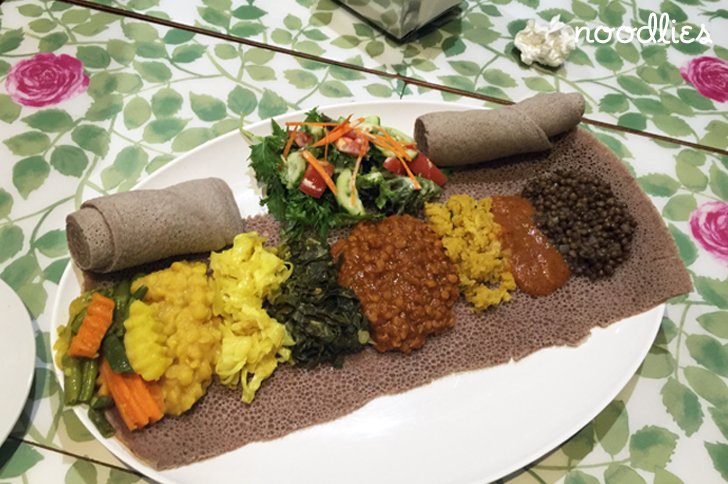 But let's talk coffee.
Coffee is Ethiopia's biggest export, accounting for around 60% of total exports. And today, we're lucky to, literally get a taste of Ethiopian coffee and experience a coffee ceremony. The beans are roasted before our eyes, invading the restaurant with a heady aroma.
Eventually the thick coffee lands on the table in small cups. It's thick, strong and perfect with a touch of sugar.
One in three people in Sydney speak a language other than English. That diversity you can see on public transport, on the roads and in the office.
You can taste that diversity too, through a Taste Cultural Food Tours' experience.
About Taste Cultural Food Tours
Taste Cultural Food Tours Inc. is a social enterprise aiming to build strong social connections and cross-cultural understanding by bringing the wider community together through their unique food tours.
TASTE began in 2010, and was launched with the support of The Benevolent Society, Australia's first and oldest charity. Taste Tours is now an independently-run, not-for-profit operator known as Taste Cultural Food Tours Inc.
Visit their website for a calendar of delicious tours from Lakemba, Eastwood, Bankstown, Cabramatta, Greenacre to Haymarket, and more.
Kabul House
186A Merrylands Road, Merrylands, NSW
(02) 9682 4144
Ryyan Supermarket
148 Merrylands Rd, Merrylands, NSW
0415 709 933
Aaboll Cafe – Ethiopian Eatery
140 Merrylands Rd, Merrylands, NSW
(02) 8840 9076