Joh Eun Nal Lidcombe is hard to say, easy to love.
Haven't heard of it? Can't find a review online? Noodlies, Sydney food blog takes a first look.
If you haven't heard of this restaurant, that's probably because it's a new Korean eatery in highly competitive Lidcombe. And probably because that name is a mouthful. Joh Eun Nal is on the carpark side and towards the end of the villagey section. If you've been to Lidcombe before it's where Crispy Cluckers used to be, next to another of noodlies' favourites, Gwanghwamun – Banjum.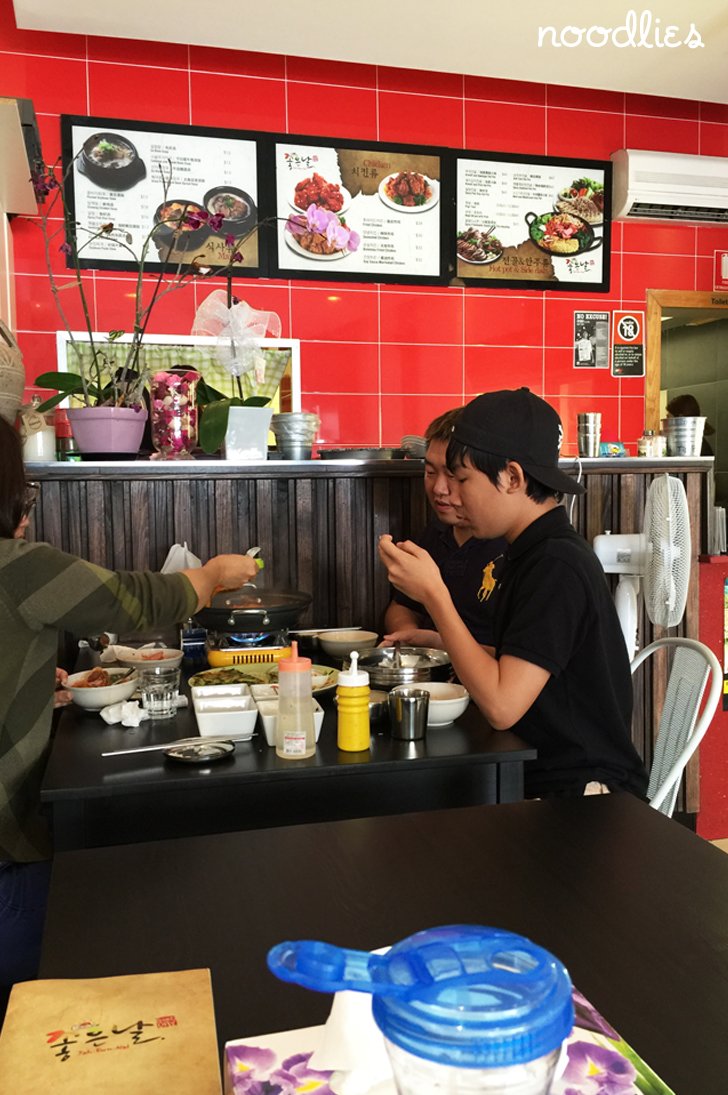 It's a small eatery with around 10 tables stacked along both walls. Tables and chairs are pretty modular and can be joined for big groups or separated for couples. Behind the counter at the back is a striking red tiled wall with a triptych of elegant looking picture menus. It's more for artistic value because it's impossible to read from your table. Service is too leisurely for my liking and staff, while friendly, tend to have their eyes averted or turned towards the kitchen. Make sure you have your persistent hat on.
Well it used to be a KFC (Korean fried chicken) joint so it'd be wrong not to order. It seems to be their specialty too, prominently featured on the menu. You get four options, fried,  seasoned (mild chilli), boneless and soy sauce. Prices start from $28 which is a total, absolute bargain considering you get something like a dozen big, meaty pieces of chook. We left with a full takeaway container.
The flesh is Macleans white, well cooked but not too dry.
The chicken is brilliant here; not too oily and the sticky sauce is sweet with a low hum of spiciness. The flesh is Macleans white, well cooked but not too dry. Hard to fault. Though it's good to to chase mouthfuls down with cubes of pickled radish that comes as a side. You also get a convenient mini bone bin to discard pesky bones.
KFC is much loved, but as with any classics, there are hit and misses. Here, it's definitely a hit.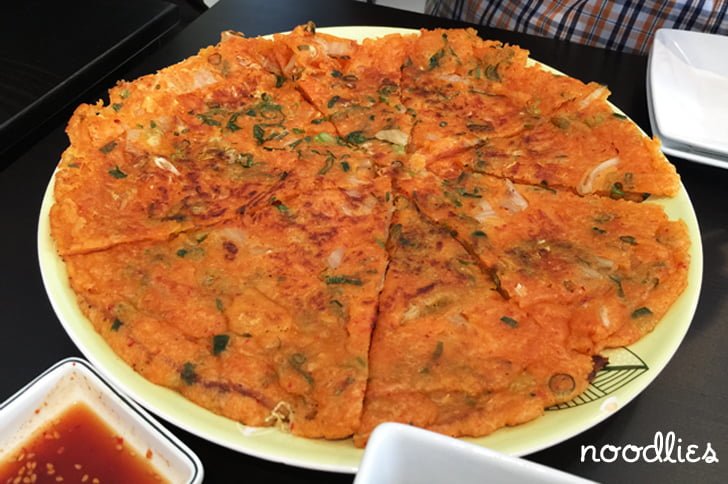 If you like Korean pancake but not a fan of the lurking seafood, then consider kim chi pancake (kim chi jeon).  The orange coloured pancake is meat free; a little sour thanks to the pickled cabbage, but still very enjoyable when dipped in the side sauce.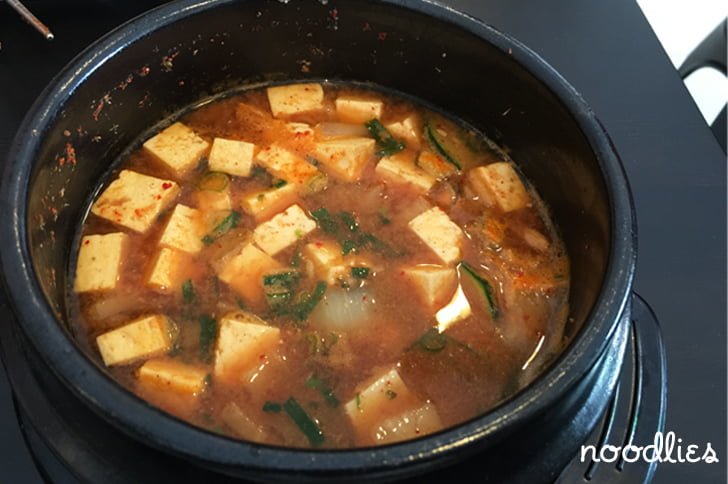 And if kim chi soup (kim chi jjigae) is too sour for you, try the soya bean soup version. The doenjang-jjigae is less face-squinting sour, it's more earthy, subtle thanks to soy bean paste. When it's too watery, the soup is just tasteless. No problems here, the broth is thick, dark and flavoursome. One of the best around. Best with a bowl of rice.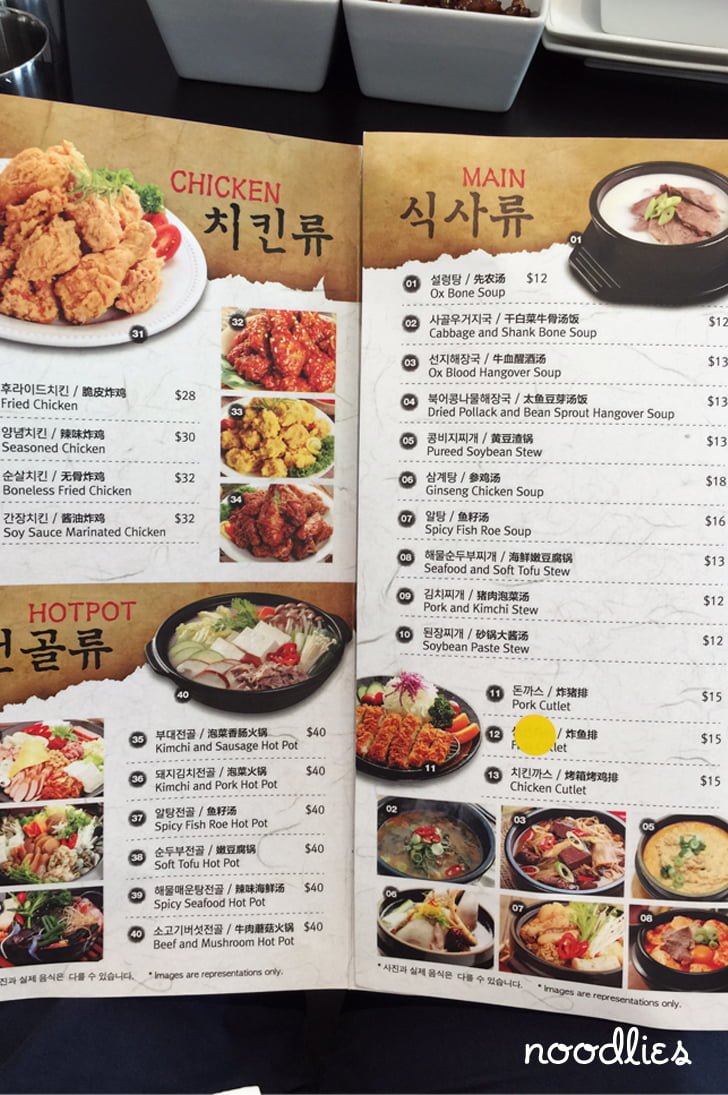 Typical of Korean restaurants, the soup selection is extensive. When I'm in a more adventurous mood, ox blood hangover soup (Haejangguk) will be on the order list. And gingseng chicken soup (Samgyetang) is on the wishlist for next time. Though I'd be a little apprehensive, having had probably the best Korean chicken soup at Tosokchon in Seoul, I fear no other version will stack up.
Joh Eun Nal might be a Johnny-come-lately when it comes to Korean restaurant crowded Lidcombe, but it holds its own against the competition. Prices are reasonable, most soups are $12-$13 and the generous plate of KFC is a bargain from $28. The so-so service is the only significant let down. There are already queues outside this, admitted small, eatery – maybe that's because it's new and the locals are test driving a new eatery. But I'd be happy if I was the owner.
It's also open on Sundays, a day when some other Christian owned restaurants are closed, giving the punters another option.
Joh Eun Nal 
20 Joseph St, Lidcombe, NSW
(02) 9649 8282