Why so many vegetarian restaurants in Cabramatta?
Noodlies, Sydney food blog explores the another vegan eatery.
Vietnamese have many reasons for eating vegetarian; elderly widows find solace from loneliness at the local temple then chose to adopt Buddhist vows including a vegetarian diet, other Buddhists eat vegetarian during full and half moon cycles and the younger generation, with a Western outlook eat vegetarian for environmental and moral reasons.
As a result Cabramatta is home to at least seven vegetarian establishments.
At the top of John street towards the station, Loving Lien is a humble eatery, narrow and long, furnished with two rows of basic white tables and chairs.  It's a low overhead business with minimal staff, today there's a cook/owner and a young waiter.  Most vego restaurants in Cabramatta are run by someone from the Supreme Master Ching Hai group, a sect founded by an ex- Buddhist nun from  Thich Nhat Han's Plum Village. Loving Lien seems to be one of a few that's not run by a Ching Hai follower.
Effort goes into making Vietnamese vegetarian taste good, super fresh ingredients, bean curd meat that has an uncanny taste and texture of meat (particularly chicken) and a liberal use of MSG especially in soups – my vegetarian bun mang vit (duck bamboo noodles) is a case in point.   The soup is on the sweet side, the saltiness doesn't have the same depth that you'd get from fish sauce, but this is still one tasty, lively vermicelli noodle broth.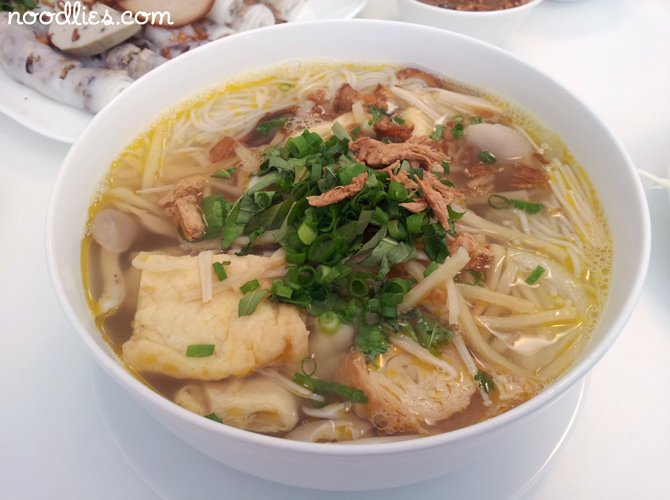 Walter orders vegetarian banh cuon, the meat version consists of minced pork in soft pillows of rice noodles on a bed of chopped mint, thick strips of cucumber, bean sprouts and topped with nem (cured pork) and cha lua (Vietnamese pork devon).   Instead of banh cuon, most places, vegetarian and non-vegetarian offer banh uot, basically the same dish but without filling – it's less work.  This vegetarian banh cuon works pretty well, lots of flavour and texture from the variety of ingredients, instead of mince pork filling,  it's little cubes of bean curd mock meat and mushrooms which do a pretty good job.  Traditionally chilli fish sauce is poured over the dish, and again, while the salt-based vegetarian fish sauce does a successful job, it lacks the fish sauce punch.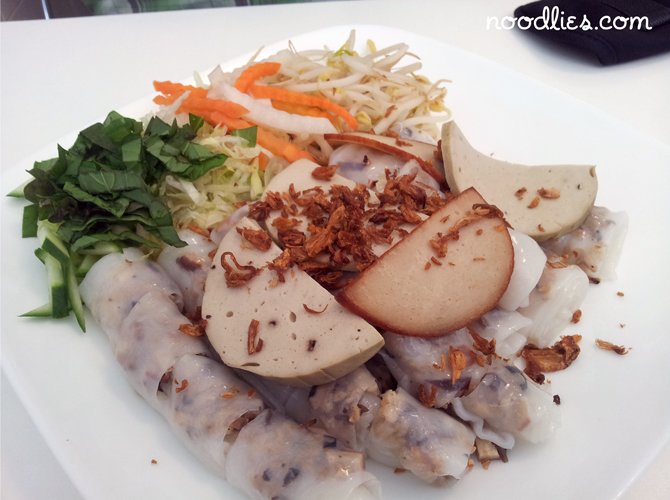 When it comes to vegetarian, Cabramatta is spoilt of choice.
Loving Lien Vegetarian Restaurant
8B John St, Cabramatta, NSW
(02) 8730 8839