Cafe de Palm in de Cabramatta town.
Ice cream and [Vietnamese] coffee; what's not to like? Noodlies, Sydney food blog takes a first look.
Many have tried and so far most have failed to make this huge corner site work. My Thuan, Dong Ba and most recently Igloo have all thrown in the towel. Locals reckon the size of this place is too big, and therefore rent too high, for any restaurant to make a respectable return. Others have speculated that people don't want to cross the road to this destination location.
The latest incarnation of 117A John street is cutely named Cafe de Palm. The new owners have put a bit of dosh into the refit, neutral stone-look walls, wooden tables, colourful chairs – heck even a water curtain by the entrance (I wonder if that's a feng shui thing to ward off previous bad luck here).
There's certainly a bright and breezy outlook to the place, breezy… some might say palmy!
Catering to the middle aged Vietnamese locals, there's a bewildering range of Vietnamese coffees, iced, hot, blended ice, black, condensed milk or regular, 'light' milk. The traditional ice coffee comes in a tall glass filled with ice, the coffee, made with condensed milk, fills up half the glass. Stir through to evenly shift the condensed milk and chill your coffee quicker.
Watch the noodlies vine video below for a close up of this addictive beverage.
If you fancy western style coffees the choice is equally plentiful: espresso, macchiato, piccolo latte and of course, cappuccino, latte and flat white. But in Cabramatta, coffee doesn't make you money. The folks here love to sip their coffee and leisurely chase it all down with bottomless tea. The problem is, they could be sitting there for hours bring the yield down.
Ice cream and other add-ons is what will pay the bills. The target here is the second generation, who will pay $9 for two scoops of ice cream – that's when the commercial model starts to work – it's almost the same price as a bowl of pho locally. There's a wide range of ice cream both western (vanilla, caramel, cookies) through to Asian and tropical (mango, green tea, azuki bean) etc.
Today I'm having Asian flavours; azuki bean and mango, while Walter indulges the Western ice cream option of cookies and caramel (click play on the instagram video).
The first thing you'll notice is how big the scoops are. Even those with a sweet tooth will have trouble finishing two scoops. It's rich, the mango essence is dialed sky high while the azuki bean is especially creamy.
I'd recommend taking up their 'coffee gourmet' offer, Vietnamese coffee and a scoop of ice cream for $8 – it's cheaper than having them separately and two scoops is just too much.
If you're feeling adventurous there's a couple of interesting east-meets-west options like sweet potato latte or de Palm's affogato – instead of vanilla, why not experiment with matcha green tea, azuki bean, black sesame or even rainbow ice cream? (Though some might say why?). I'm going to give them a go next time…
If you're more into fruit, then there's a bewildering range of shakes, smoothies and frappes.
bo ne; beef, egg and a chunk of pate in a sizzling plate served with a Vietnamese bread roll
As we leave, I notice a limited range of savoury dishes stuck to the wall. One of them caught my eye and made my glands automatically salivate. They call it beef and egg with bread, I think it's bo ne; beef, egg and a chunk of pate in a sizzling plate served with a Vietnamese bread roll. I still dream of the bo ne I loved at a local eatery in Quan Tan Binh in Saigon, Vietnam (below). I'm desperately hoping it is because I've not been able to find a place in Sydney that serves it.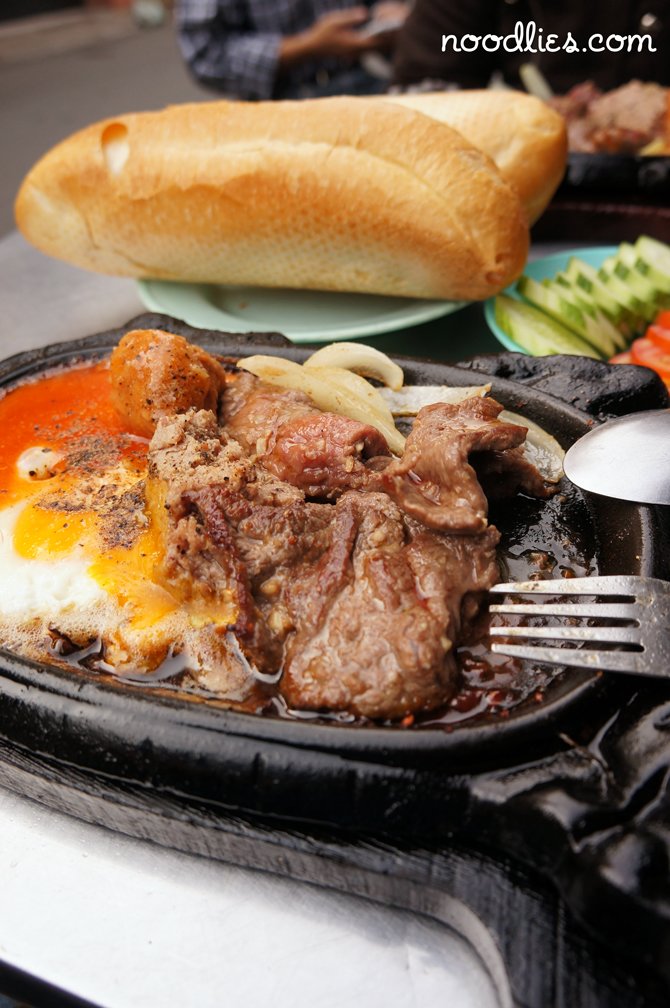 Cafe de Palm Cabramatta, I'm excited! Noodlies, Sydney food blog will be back and report if it is indeed bo ne.
Cafe de Palm1
117a John St, Cabramatta, NSW
(02) 8764 3374
8am – 11pm