Civic Hotel gets real food.
Reality stars to shine at one of Sydney's favourite watering holes. Noodlies, Sydney food blog does a double take.
It's a Friday night and you're unwinding at the local with mates after another week of nine-to-five. The beers are hitting the spot but after a couple of hours the stomachs are grumbling. Sure you can grab a plate of wedges, sour cream and Thai chilli sauce, but heh, it's been a hard week and you deserve more than that. That's when your posse debates the merits of Thai, Italian or Chinese and head off to the nearest.
If you're sitting in the Civic Hotel, they're hoping to hit your hungry tummies with a dose of reality. Reality TV that is.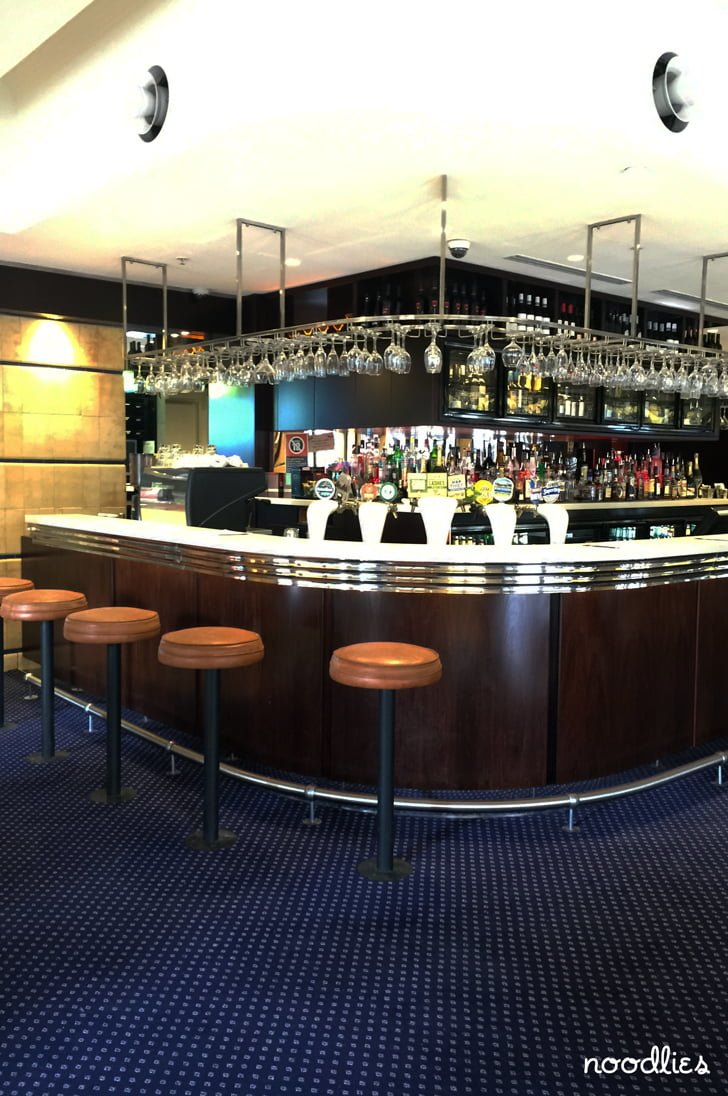 TWOFOLD in the Civic Hotel is by 2014 My Kitchen Rules finalists, identical twins Helena and Vikki Moursellas. Opened in last month, the idea is to keep patrons in their seats with star food and perhaps attract a few new punters. With an open kitchen stage and intimate dining space, the bubbly sisters will be in your face, serving up reality realness; Vikki will light up the floor while Helena shines in the kitchen. In the shadow of the dynamic duo is affable head chef, Robert Taylor (ex Swine & Co). Tona Inthavong of Green Peppercorn upstairs is their main backer.

While the girls are proud of their Greek heritage, they'd readily admit TWOFOLD isn't a Greek restaurant. It's more modern Australian food with Greek influences. Lamb pie moussaka, spinach haloumi sausage rolls (below) and plentiful seafood featured give the menu a Mediterranean twist, but they sit along side familiar gastro pub favs like steak and chips and grass fed angus beef burger.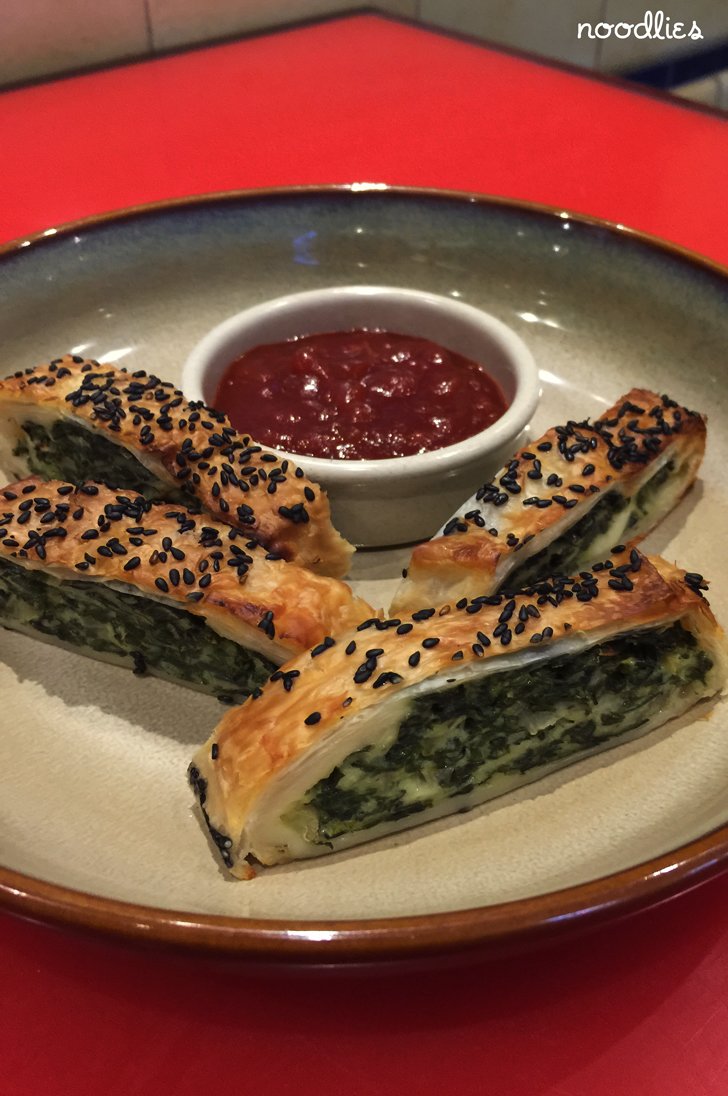 There's a few other cheeky twists to remind the punters this is not your average pub grub. Freshly shucked Sydney rock oysters with watermelon and mint dressing is a case in point. This sweet and savoury combo might sound a tad odd on paper, and it's still not 'normal' in your mouth, but the combo works to challenge and wake up the palate, ready for the coming courses.
Cured fish (ice cream) cones takes the challenge from your palate to your eyes. Erect in a bowl of long grain rice, you'd suspect the plating influence comes via the Lao/Thai resto upstairs, rather than from Athens. Filled with pomegranate, coriander, finger lime and white anchovies – it might sound a little heavy handed for the taste buds. Sure it's a mouthful of fun, but not remotely close to being over the top.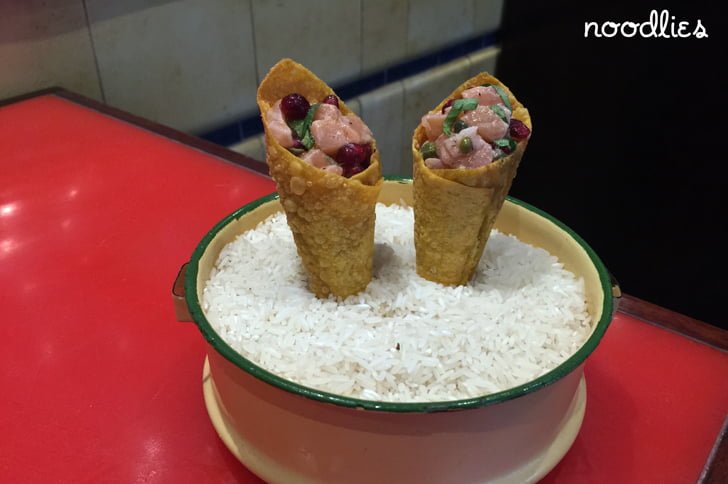 The surprise of the visit, and my favourite dish of the day, is grilled giant Clarence River octopus marinated in oregano, chilli and lemon. O-M-G, I was expecting rubbery goodness but instead am greeted with a tender, fleshy consistency that resembles white meat, especially in the larger tentacles. The first taste is literally a double take moment. The smoky ends add additional seductiveness as does the easy to swallow greek yogurt dipping sauce.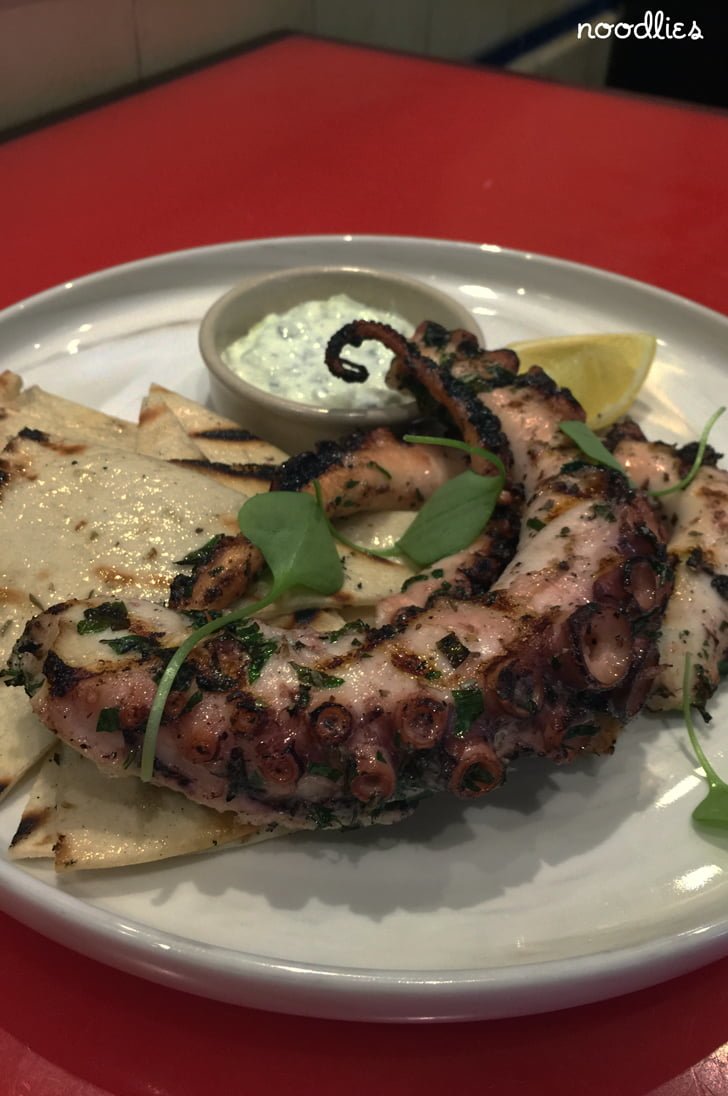 For those familiar with Green Peppercorn's hand made Lao sausages from upstairs, please remember, these hand made sausages are not meant to be those – so don't expect lemongrass, garlic and chilli zest. What you do get is very more-ish and more traditional sausages stuffed with pork neck, red onion and parsley.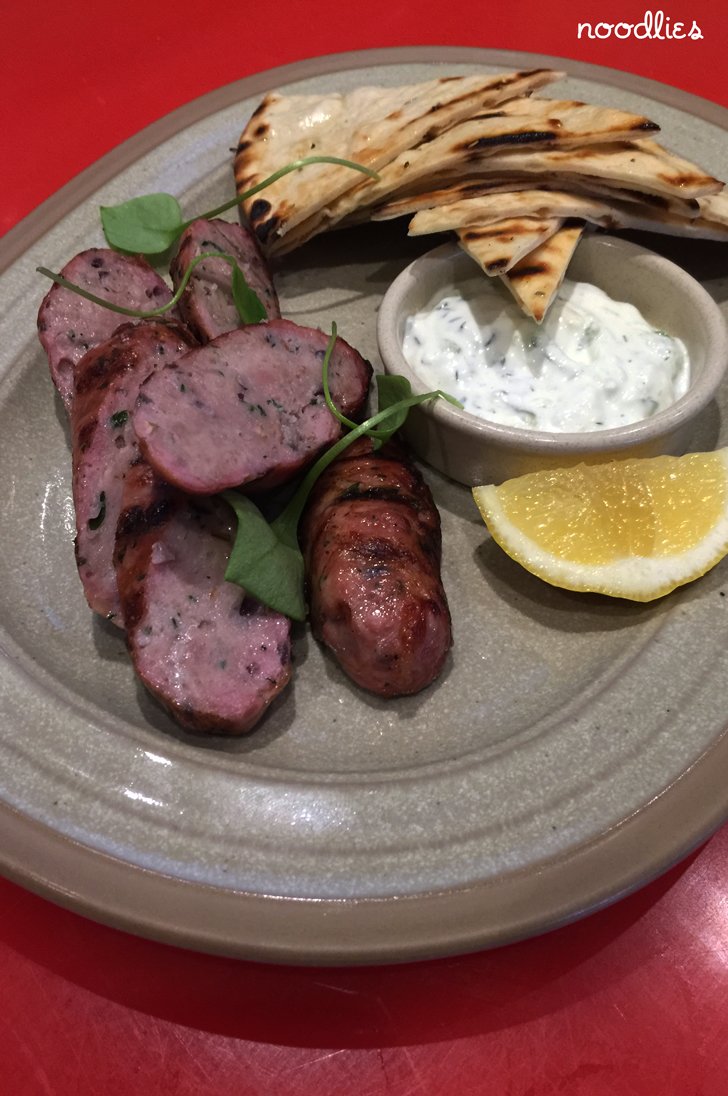 The Civic Hotel people don't even want you to have afters elsewhere, either. TWOFOLD serves up a trio of three breath-taking dessert choices; chocolate brownie, revani semolina cake and baklava ice cream sambo (below). The ice cream sandwich is a spectacular thing to behold, wrapped in pistachio fairy floss and finished with sliced figs, dates and rose petals. Lots of textures here, but working together harmoniously – no component too sweet or too plain. It's a brilliant, must order dish.
So you're at the pub with mates to unwind after a punishing week. TWOFOLD food politely taps you on the shoulder to say 'stay, why head off for good food when it's all here?'.
Sure, the menu is cheeky at times but it's quality, hearty and possibly classier than the food you would have had if you went somewhere else. Besides, why would you want to move on with Helena and Vikki entertaining you?!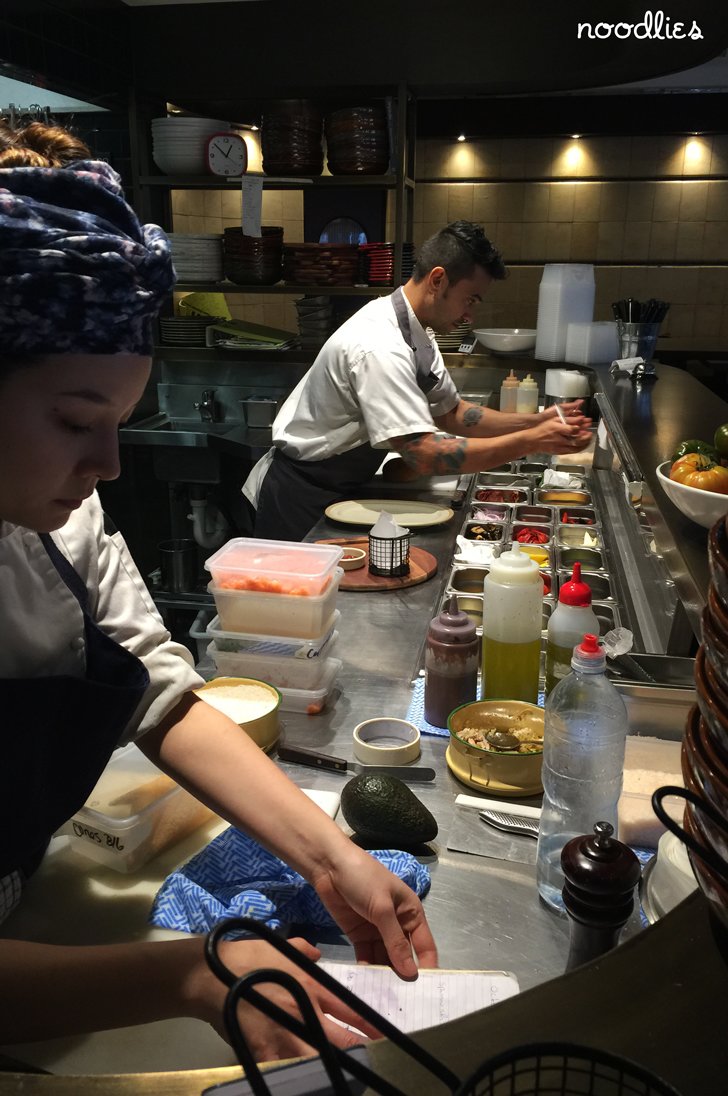 TWOFOLD by Helena and Vikki
Civic Hotel
388 Pitt Street, Sydney
(02) 8080 7000
This noodlies, Sydney food blog first taste experience was courtesy of the wonderful folks at TWOFOLD.