A million reasons to love this home town favourite.
An up-market restaurant that's only 10 minutes from Noodlies, Sydney food blog. Now that's worth a look.
The Fairfield local government area is probably more known for its south-east Asian community in Cabramatta, the middle eastern community in Fairfield and Smithfield as well as the Spanish speaking community in Fairfield. But let's not forget the area was home to a large number of post-war Italian migrants; think the Marconi club in Bossley Park, Brescia furniture in Cabramatta, Frank's in Fairfield and others.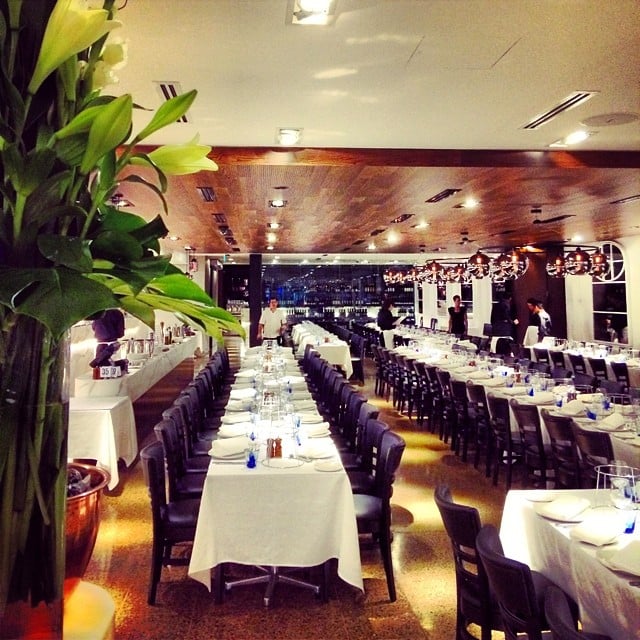 After a multi-million dollar recent facelift, Candelori's, the grand dame of Italian restaurants in the area, is looking lean and fabulous. The main dining room now features a dramatic 17-metre marble-clad open kitchen, giving diners visual access to the heart of the action. Candelori's extensive collection of Italian and local wines are displayed across sleek, glass-encased wine towers located throughout the venue. Contemporary touches include bulb lights, elegant glass faux-windows and brushed metallic accents (photo above from Cadelori's Facebook page).
The main dining room now features a dramatic 17-metre marble-clad open kitchen.
We dine early, at 6pm last Saturday to avoid the queues and noise – a cavernous restaurant full of happy punters can pierce the ear drums. But by 6.30pm Candelori's is full, what surprised me is that while noisy, it was remarkably bearable – some thought must have gone into noise management during the re-design. Well done guys.
Opened in May 1999 by owner Ross Candelori, it quickly built a reputation as a fine dinner for Sydney's south west – that special place locals can celebrate in style without having to traverse into the CBD or even Five Dock and Leichhardt. But the roots go much deeper. Before Candelori's, Ross worked in his parents' restaurant, Sartana in John street, Cabramatta. That restaurant traded for a decade; a labor of love from Italian migrants Tina and Umberto Candelori.  They're from the central regions of Italy, Tina from Lazio and Umberto hails from Abruzzo. Today, Ross' wife Gina, and sons Robert and Christian all work at Candelori's, making it a truly family business.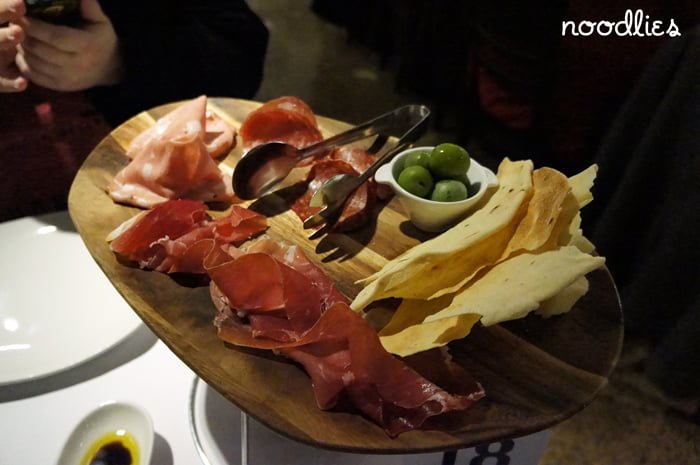 The menu is jaw-dropping with over 100 dishes from pasta, woodfired pizza (a specialty) and grilled meats, covering pretty much all regions of Italy.
We go the antipasto route to ease ourselves in, there are five to chose from. We pick the antipasto board (above) which is pretty much the antipasto 'with the lot' including San Daniele prosciutto, fennel salami casareccia, bresaola, juicy Sicilian green olives, Sardinian crisp bread and a very tasty parmigiano reggiano (the cheese is hidden under our crisp bread).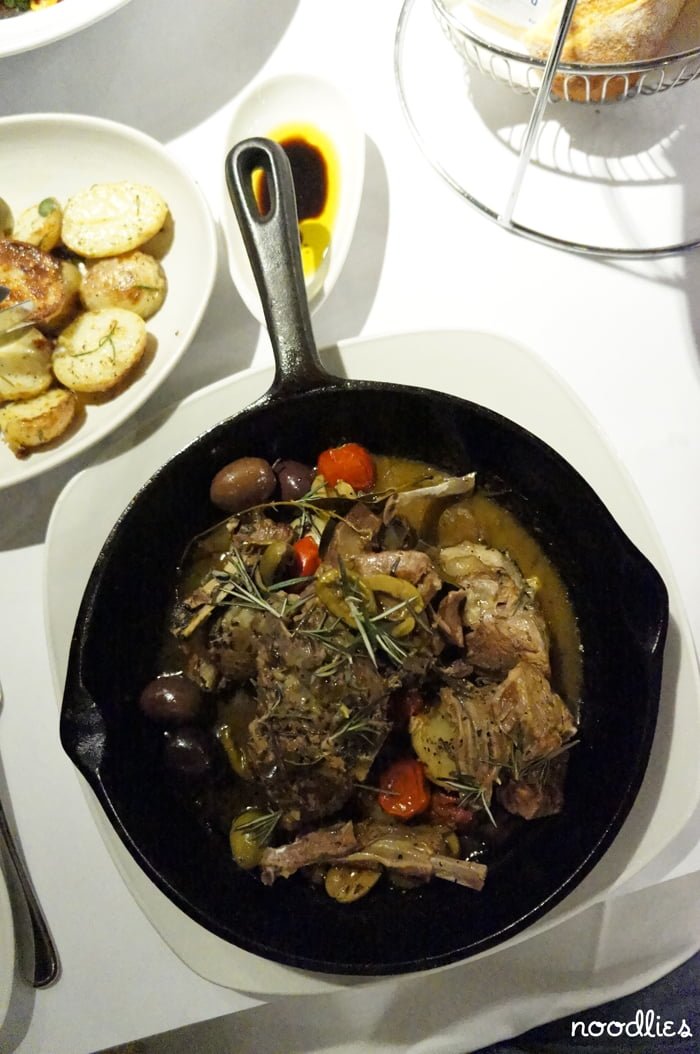 From the mains or 'secondi' section, I choose rosemary baby goat with garlic, extra virgin olive oil, sage, rosemary, white wine, potatoes and green olives. It's a dish from Abruzzo, where Ross' father comes from – apparently it snows in the mountains. It's a perfect dish for this windy and cold Sydney winter evening; a generous serve, the goat is tender to the touch and amazingly fragrant.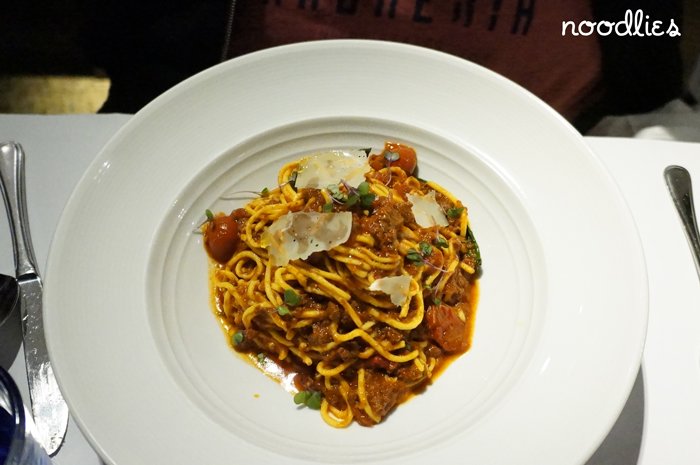 Walter picks a nostalgic theme for his mains; chitarra ragu bolognese: housemade spaghettini with a slow pot braised veal and pork Bolognese. It's a stunningly presented dish, plenty of colour, it's set off wonderfully against the elegant white plate.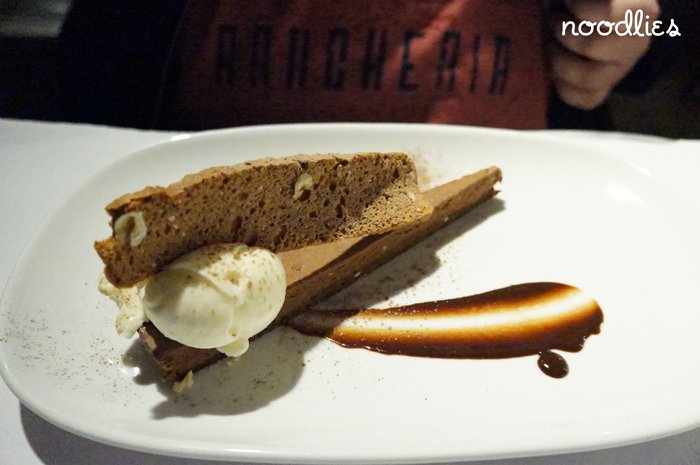 He finishes the evening with nougat toblerone consisting of crumbed biscuit base filled with soft cream cheese, toblerone chocolate and crushed nougat served with white chocolate gelato (which Walter still raves about), warm dark chocolate smudge and house made almond biscotti.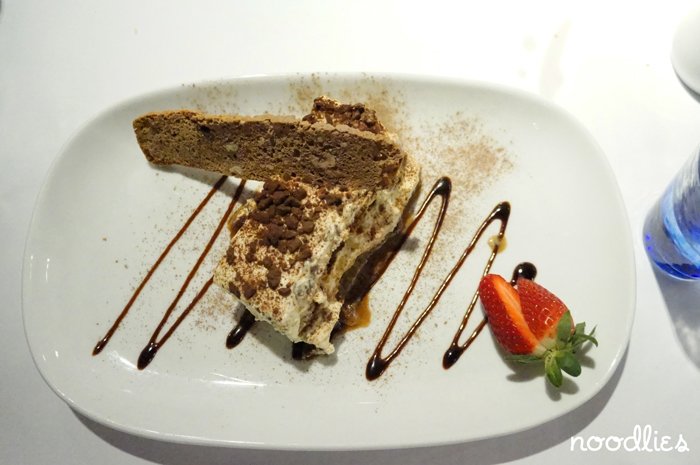 I also go for a traditional fav, moist tiramisu; layered savoiardi biscotti dipped in espresso, zucchero and vecchia romagna brandy, finished with mascapone and shaved dark chocolate. It's ultra rich though manages to feel light probably due to the more-ishly addictive alcohol.
Candelori's is a family restaurant that's still going strong after three generations. With the new facelift, the grand dame is looking spick, perfect for a business lunch or that special dinner celebration. As a local, I'm loving that we can get decent, authentic grub matched with stellar surrounds and good service, all within a few minutes drive from home.
What's not to like?
Candelori's
685 The Horsley Drive, Smithfield.
Phone (02) 9729 1155
Open Monday – Friday, 12.00pm – 3.00pm, 6.00pm – 10.00pm.
Saturday – 6.00pm – 10.00pm
Noodlies, Sydney food blog and friend dined as guests of Candelori's and Wasamedia.