A magnificent refugee success story
Noodlies, Sydney food blog is proud to uncover a hidden gem.
The story behind this much-loved Canley Heights eatery in Sydney's south-west is as captivating as the food it serves – traditional Lao and Thai dishes packed with a whole lot of significance for the Inthavong family. SBS Feast Magazine, May 2013.
Read the full Holy Basil story.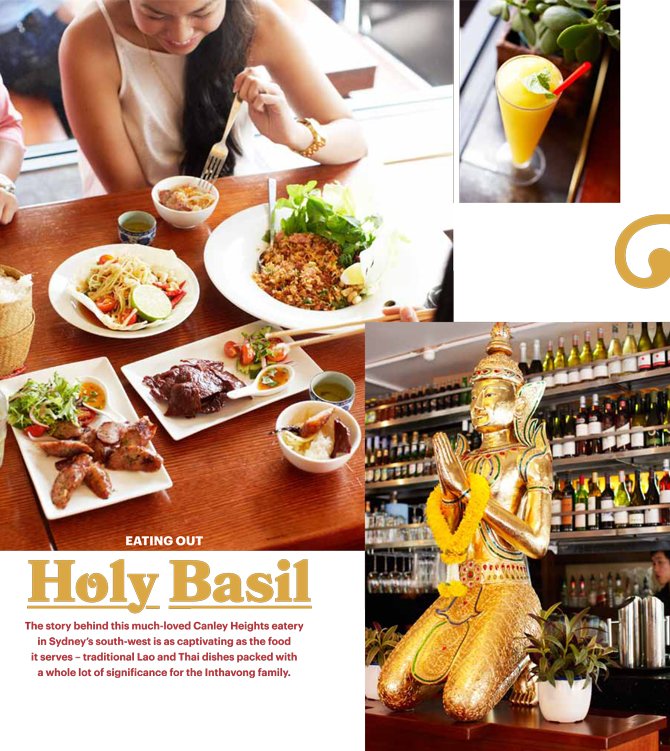 When the editor of SBS Feast magazine asked me to write a feature on Holy Basil for their Eating Out section, I had no idea that it would uncover a totally engrossing and inspiring story of this Australian migrant family.
Much has been recorded about the end of the Vietnam War, but there's relatively little about the Laotian Civil War which ended December 1975, the same year as the end of the Vietnam War.
Looking at this joyful photo of the Inthavong family, the people behind Holy Basil and Green Peppercorn, it's hard to comprehend the hardship they went through before making Australia their home.  During an engrossing four hours they told me how Khambao (mother) took the children, including 8-month old Anna, on a harrowing 400km journey from hometown Thalat, Laos to the Nakhon Phanom Thai refugee camp.  There was hardship and hunger at the camp, where Tony, owner/chef of Holy Basil earned his nick name of mah wat, temple dog.  There were challenges in Sydney too, with Tony, a precocious 19yo, finding initial success in a business venture before losing it all a few years later.
Today, after finding success, Thongsy (father), tells me in broken English:
When my sons opened up the restaurants, I said, 'Give all the workers food to eat so they are not hungry'… They can have breakfast, lunch and take home dinner if they want. We don't know their family situation and we were hungry before and people gave us food. SBS Feast Magazine.
Throughout each phase of their lives and struggles there was a dish that had a special significance, all of these dishes now appear on the Holy Basil menu, from Laos sausage to beef jerky.  I hope you'll get the chance to read their gripping and inspiring story in the current issue of SBS Feast Magazine.
I feel privileged to be able to tell the story of the Inthavongs.  If you get a chance to read it, I'd love to hear your thoughts.
Som tum is a Thai salad which most of us would have had.  If you're visiting Holy Basil, give the Lao version a go, but be warned it contains fermented crab (pic above), which may be too pungent for some.  The noodlies video below shows som tum Lao being made at a local Lao temple during their New Year festivities.
Holy Basil
233 Canley Vale Rd, Canley Vale
(02) 9725 7585