Ok, it's a Vietnamese pho restaurant, but I reckon their bun bo hue is the highlight and one of the best in Sydney. Pho Lam is almost exclusively for locals, the shop front is too narrow and discrete for many visitors to Canley Heights.  For me, both Pho Lam and bun bo hue are undiscovered gems.

Bun bo hue rates is my top six Vietnamese dishes to try.   It's a dish you graduate to after the relatively accessible pho and goi cuon (fresh rolls).  Bun bo hue is fierce! Lemongrass and chili dominate, that red isn't from tomato paste!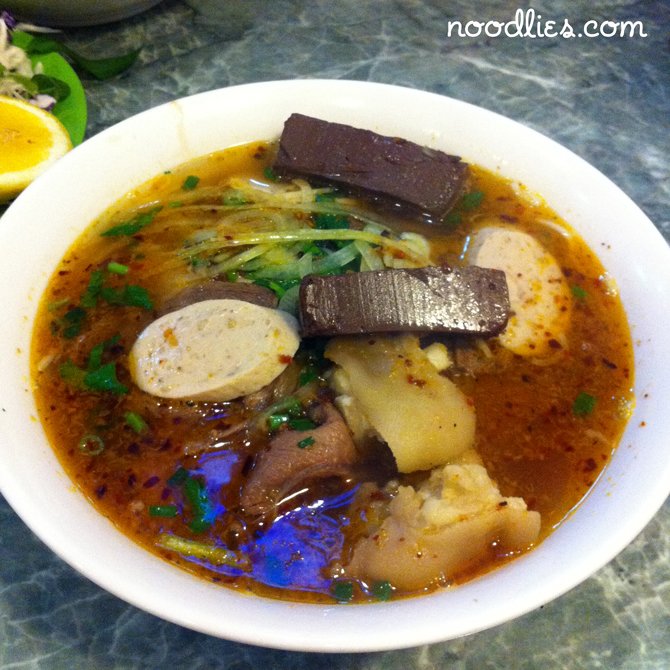 There are several types of meat, including beef, pork, pork devon, but it's the congealed pork blood as well as pig trotters that may be challenging for some.  The blood is the black pieces adorning the bowl and the trotters are the bone pieces with skin.  Knowing what they are might put some off, but they do make the dish, bun bo hue is a celebration of the extreme and they're a major contribution to it. ironically, they both have relatively mild flavour, but that's just the point, they work with the amazing spicy soup.
Of course, you can ask for a bowl without congealed blood or trotters, but I highly recommend!
Go on! Try a bowl and tell me what you think!
Pho Lam
210 Canley Vale Road, Canley Heights
(02) 9723 6626