By Walter Mason
If there is a target audience for the Best Exotic Marigold movies I suspect that I am precisely it. It is almost the perfect film franchise for the first half of the 21st century: exotic, colourful locale; a cast of stellar actors that you don't hear much from anymore; and heart-tuggingly manipulative plots that bore down on everybody's fears about ageing and losing love and usefulness.
I was late to the first film, catching it only when it went to television, and I stayed up unduly late to watch it. In love from the first scene and, inevitably, sobbing by the last. The chance to see the sequel, The Second Best Exotic Marigold Hotel, early was too great an opportunity to pass up, and I wasn't disappointed. I was thoroughly, almost decadently entertained, an experience that is increasingly rare in this age of cinematic comic-books where CGI takes precedence over plot, affection and humanity. This is a movie unashamedly made for everyone over 40, and its producers, dierctor and script writers know exactly what they're doing.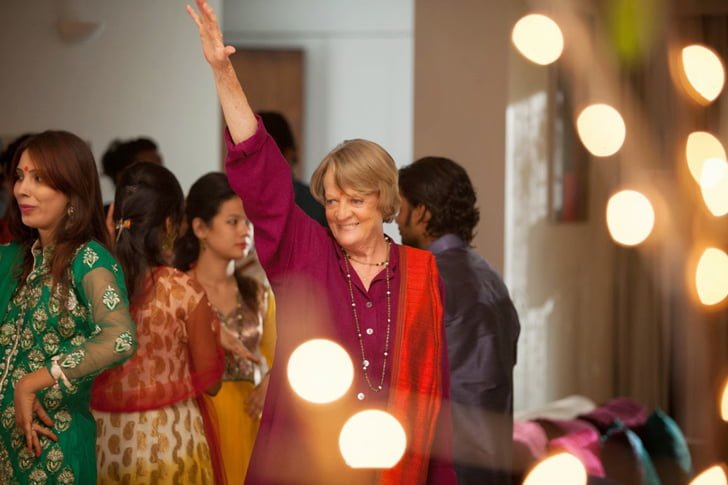 First to the cast, which is so outrageously good and famous that the initial thrill of the film is in waiting for all of your favourites to pop up, as they do, one by elegantly grey-haired one. Oh look, there's Dame Judi! And there's Maggie – heavens she's looking old. This second film makes much more of the youthful male lead Dev Patel, who seems transformed here into a very unlikely sex symbol. I found myself quite taken with his goofy but very handsome face, and almost swooning at his slim-hipped dance scenes. He has an understated sexiness which he is entirely conscious of, and it is employed to great effect in this film.
The premise of the plot, such as one is needed, is that Sonny (Patel) has decided to extend his business of caring for retired people from the West in crumbling elegance in Jaipur. So he travels to San Diego with Muriel Donnelly (Maggie Smith) and cue Maggie's goggle-eyed one-liners about tea and Americans. What's charming about the film isn't its originality or its daring sociological insights into post-colonialism. It is an old-fashioned set-piece, basically an English farce with an Indian backdrop, and that is probably what makes it so damn satisfying. No one makes films this unfashionable anymore.
Everyone behaves exactly as they should, and one's anticipation is richly rewarded. Jaipur looks splendid, and surely these films will be responsible for an influx of elderly expats to India. Maggie Smith is the female star, and really is superb, though I am puzzled sometimes by the accent – perhaps I have just become so used to seeing her as the Dowager Duchess on Downton Abbey and so can't be reconciled to her using working-class tones. There is more Downton Abbery, too, in the return of Penelope Wilton as the somewhat chastened shrew who comes back to get divorced from her husband and let him get on with it with Judi dench.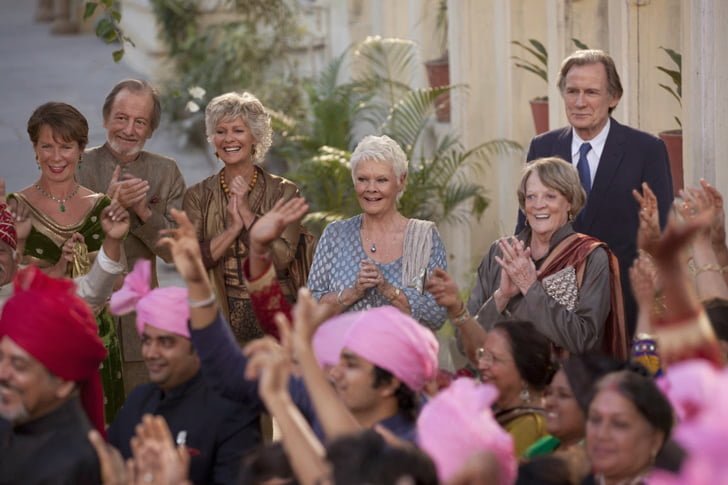 Judi dench looks superb in her casually-elegant, Indian-inspired outfits, gorgeous linens and diaphanous scarves casually tossed over shoulders. She is the very model of how a woman her age should look, with her snowy hair and comfortable figure, and if I were in India I should fall in love with her as well. You see, elderly romance is a key theme in this film, and while it is one rarely encountered in 21st century culture it makes for a genuinely fascinating topic of cinematic exploration, and Dench does it perfectly, avoiding all the while the temptation to camp it up, which can't be said for all the cast. Maggie Smith's character decides to descend into elegance in the end, too, wearing a dazzling red scarf that made me ache to possess it. You can tell you're getting old when the outfits of elderly actresses are your major source of fashion inspiration.
The fact is the Second Best Exotic Marigold Hotel makes me dream of India, and if this film wasn't heavily subsidised by the Indian tourist bureau it definitely should have been. Richard Gere gets a look in, though I could just as easily have done without him, that whole plotline being something of a stretch of credibility. He does look dashing though, the gorgeous old thing, and the whole idea of him being there to write his long-dreamt-of novel does inspire a slight twinge of jealousy. What a simply brilliant idea.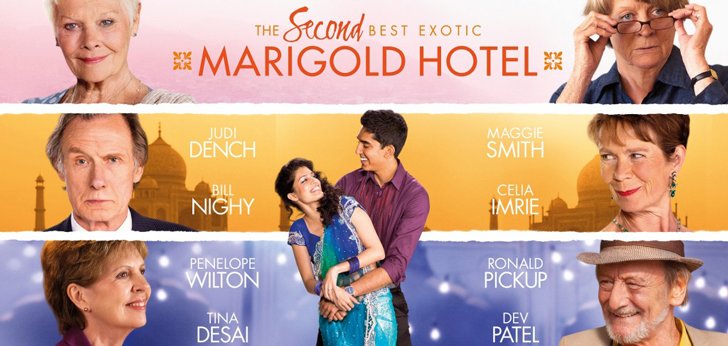 The Second Best Exotic Marigold Hotel is wonderfully frank, and sometimes even stark, in addressing the realities of ageing and the costs of abandoning your dreams and goals. When the septuagenarian Dench character wavers about embarking on an affair a merchant gazes at her and says gently: "How much time do you have?" How much indeed? Each of the characters is on a quest to make the most of what few years they have left, and this is a terrifically inspiring film that I think would cause even the very young to take stock of where they are headed in life.
There is a slight, but very satisfying, tinge of melancholy in this second film that I don't thin was there in the first. It makes it a much more mature and even philosophical effort, and in spite of the campery, the razzamatazz and the lush Englishness of it all I was also intellectually and emotionally stimulated. Ultimately it is a film urging viewers to really consider their own path in life and to avoid at all costs the pain accompanying meekness, avoidance and playing small. "How many new lives can we have?" asks one of the characters in a moment of soliloquy, to which she answers: "As many as we want."
And after this I want to see many, many more Exotic Marigold movies. But for now I have to settle for just this one. Go and see it – you won't be disappointed.
Guest review by Walter Mason, a writer, speaker and scholar, author of Destination Saigon and Destination Cambodia. My loving partner of almost a quarter of a century.