Perfect Christmas present, or another passing fad?
Noodlies, Sydney food blog takes a look at one of the hottest items this year.
I'm the heaviest ever.
Kind friends suggest it's all the restaurant and bar openings. But truth is, I rarely go to them – these events rarely give you a realistic experience of the venue (and I'm a homebody anyway). Alas, my weightier profile is due to getting older while exercising less.
Judging by the sales of fitness band trackers, I'm not alone.
Why did I choose the Fitbit Charge?
Jawbone and Fitbit are probably the two leading specialist brands in the market. But it's an increasingly crowded market with Nike, Garmin, Samsung, Microsoft all in play. And that's just the specialist fitness tracker market, don't forget smart watches with their own fitness tracking capabilities from leading players include Samsung, Sony, Pebble, LG and soon, Apple.
After a bit of research, I narrowed down to a shortlist of three:
While the Jawbone is very highly regarded and many praise it for having the best app, I felt the open-ended clasp wasn't secure, additionally you need to manually turn sleep tracking on and off each day which is annoying. And it didn't have a display.
The Vivosmart, close to $200 was on the expensive-side compared to around $150 fro the Fitbit Charge. I really like discreet nature of the Charge – the Vivosmart was just too showy.
Actually, I reckon you can't really go wrong with any of these devices, in the end it just comes down to subjective preference.
For me, the Fitbit Charge is the best fitness tracker of 2014.
Key features of Fitbit Charge
It vibrates to wake you up. I found it a much more pleasant experience than a booming alarm which wakes everyone in the house.
I'm not going through the full features list, you can check that out at Fitbit. I'm focusing on what I have found are the best features of a Fitbit Charge.
Discreet: right now only black is available (though more colours are coming), but I'd go for black anyway, it blends in nicely with whatever you're wearing.
Display: ultra clear mono with the time, steps and other key stats at a push of a button. Link to your smartphone via blueetooth (iPhone and late model Androids) and when someone rights, it buzzes as well as displays the number or name of the caller – perfect for when you're in meetings and your phone is on silent, or for times when your phone is in your pocket.
Alarm: no more waking your partner – it vibrates to wake you up. I found it a much more pleasant experience than a booming alarm which wakes everyone in the house.
Sleep tracking: the Fitbit Charge automatically monitors your sleep and lets you know how long you've slept, including the number of times and minutes you've woken up and have been restless. I found this feature weirdly addictive – it's the first thing I check each morning. See below for the results of my sleep last night.
App and PC Dashboard: simple and elegant – all key data are presented in a visually attractive layout.  See my desktop dashboard for today above (over 12,000 steps already!).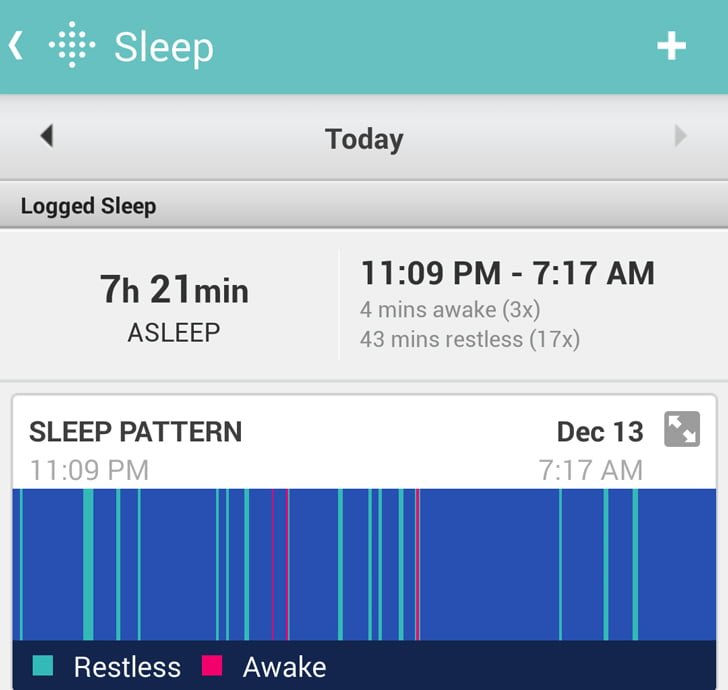 Did it make a difference?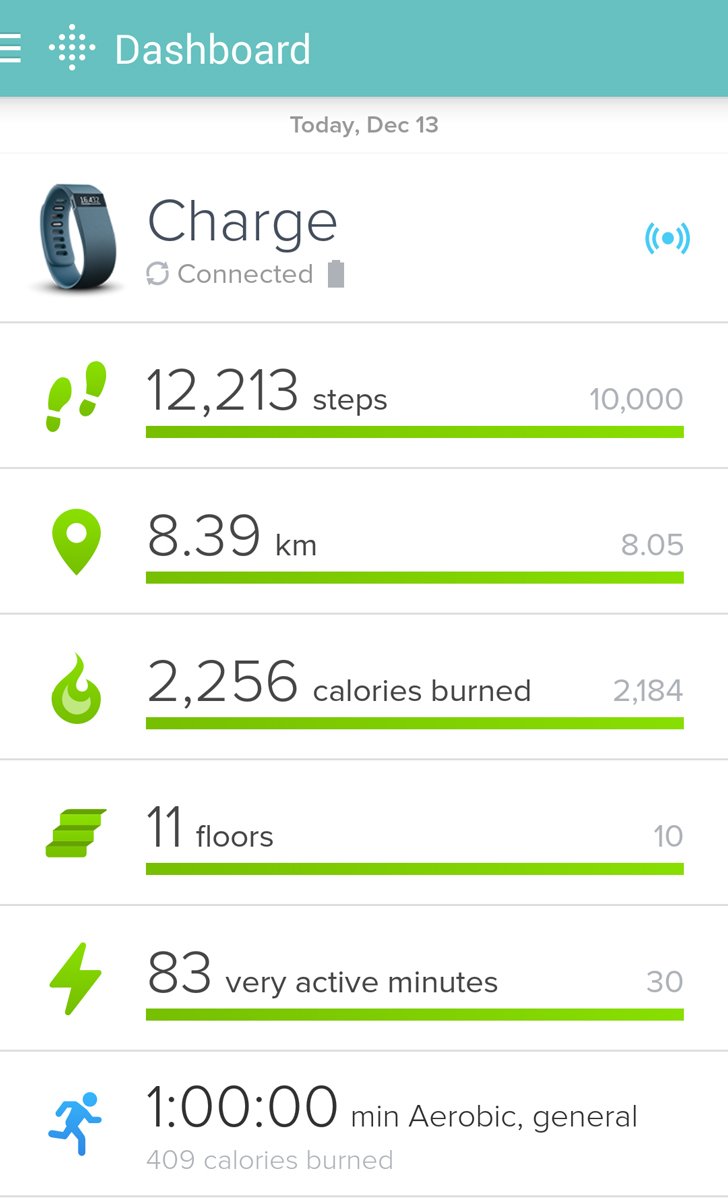 Yes, while I did a bit of research before buying one, the results were much more impressive than I imagined:
I've clocked more than 10,000 steps most days because it was so easy to monitor progress. The data above is from the app on my smartphone.
I've exercised more because I'm now motivated to achieve the step count.
I'm drinking more water because I'm shamed by how little I drink.
I go to sleep earlier because I'm mindful of how few hours I sleep each night.
These days, I sleep better because I'm exercising more.
Overall, I feel fitter and perform better because I'm exercising and sleeping more.
Things to look out for
Obsolescence: as with any technology, the minute you buy it, another model is just around the corner:
FitBit Charge HR: yep you guessed it, HR is for heart rate monitor and it has a more secure watch-like clasp.
Fitbit Surge:  with GPS tracking and looks even more like a traditional watch.
Jawbone Up3 that looks more like a piece of jewellery and will have built in heart rate monitor.
Skin irritation: In February this year, Fitbit was forced to recall all Fitbit Force after reports of skin irritation. The Charge is made from different materials and I've had no issues after a fortnight. However, Alyssa Bereznak, from Yahoo Tech claimed she had skin irritation while testing a Fitbit Charge.
Is it a fad?
I don't think so.
We all remember when we bought GPS devices in droves and attached them to our car windscreens. But as GPS became standard in more newer cars the market for stand alone devices collapsed. Sure smart watches will include fitness and sleep tracking functions as well as offer even more features, but I doubt we will want to wear bulky watches in bed.
I'm really impressed by these bands and as I said, you almost can't go wrong which ever leading model you buy. Get to know the features and pick the right one for you.
In short, just buy one.
Credit: Fibit Charge featured image from Fitbit website. Happy snaps of proud Fitbit Charge owners from Instagram.