Noodlies, Sydney food blog contributor, Evie Chataway investigates whether Aldi is cheaper for your Christmas food needs, and whether the range offers any luxuries.  
Earlier this year I wrote a piece called 'Aldi, is it really cheaper and is it any good', which seemed to catch people's attention. With the festive season almost upon us I thought it might be a good time for a follow up piece focusing on where you can get the cheaper Christmas offerings at Aldi for your yuletide table.
When it comes to Christmas food, can Aldi beat Coles and Woolies when it comes to getting more bang for your buck?
Before we start, let me outline the rules of the game. There are tonnes of Christmas products out there, and the list I've put together is of course nowhere near exhaustive. But it does include some key items many of us will be buying for the Christmas table. This list is to help identify the best value options in the shops' festive ranges. When it comes to looking at ham and smoked salmon, I've looked specifically at the ranges the stores have brought in for Christmas, not the ones you can buy all year round.
To compare prices, on Tuesday, 9 December 2014, I visited Aldi, Coles, and Woolworths, all in Bondi Junction, to see what was on the shelves, and the prices being offered on that day.
Mince Pies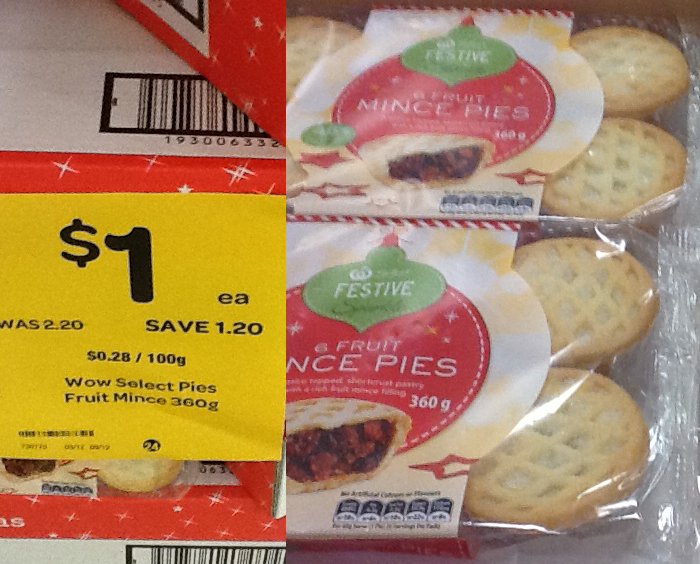 If you buy mince pies out of obligation every Christmas, and they never get eaten, then it's probable you're going to want the cheapest ones available. On the day I went shopping that award went to Woolies, at just $1 for 6 lattice topped pies. However, that was because they were on special and this is one of the interesting points I found straight off, Woolies and Coles appear to be more aggressively pricing this year in terms of short burst offers.
Supermarket specials are great in terms of being able to grab a bargain, however it can make it tricky in terms of knowing where you can bag the best price.
When not on special,Woolies mince pies come in at $2.20 for six, which is much dearer than the Coles and Aldi offerings, at $1.50 and $1.49 for six respectively. Seventy cents difference might not mean you pay off your mortgage early but it can make a hell of a difference if you're buying multiple packs for a charity fundraiser.
If you're looking for something from the more luxurious end of the scale, the most affordable that were available in store on the day I visited were the Shortcrust Pastry Mince Pies from Aldi, a pack of six for $4.99. In second place came Woolies Gold Range Mince Pies with Scotch Whisky costing $6.50 for six, and Coles Finest Fruit Mince Pies come in at $7 for six.
Cheapest Mince Pies – Woolworth Lattice Topped Pie $1 for six on special offer (usual price $2.20)
Most Affordable Luxury Mince Pies –Aldi Shortcrust Pastry Mince Pies $4.99 for six
Christmas Pudding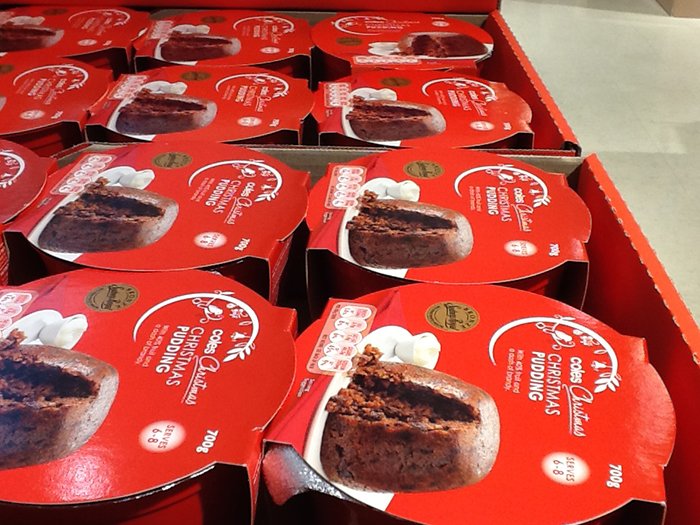 Christmas pudding is another like or loathe Christmas day tradition. I'll put my cards on the table, I love the stuff. Back home I'd make a pudding with my Mum and enjoy the tradition of stir up Sunday. Nothing can compare to a homemade Christmas pudding, but in our warmer climate I'm not so sure why you'd feel the need for it. I have embraced the Aussie tradition of a Pavlova at Christmas, but to each their own, so if you feel the need to set fire to a pudding on Christmas day (perhaps imagining it's the head of that relative who's been driving you mad all day) there are a lot of options.
The cheapest Christmas pudding I could find on the shelf was from Coles at $3.50 for 700g. Ideal if you want it mainly to set it alight with some brandy.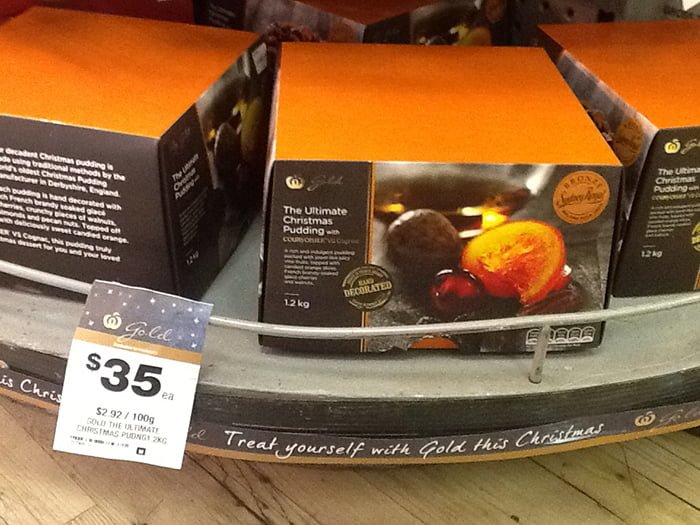 When it comes to the premium options, then Aldi's Champagne Christmas Pudding comes up trumps at $12.99 for 900g. Coles' Australian Finest Vintage Christmas Pudding was on special when I visited the store for $13.50, but when not discounted, the price shoots up to $18 for 900g. Woolies like the others had a whole wealth of different puddings to pick from.
The most expensive option from the three stores was Woolworth's Select Range 'Ultimate Christmas Pudding with Cognac, at $35 for 1.2kg.
Cheapest – Coles Christmas Pudding $3.50 for 700g
Most Affordable Luxury – Aldi Champagne Christmas Pudding $12.99 for 900g
Most Expensive – Woolworth Select Range Ultimate Christmas Pudding with Cognac $35 for 1.2kg
Ham
Looking at the festive ranges available at each store, Aldi comes in cheapest again at $9.99 a kilo, while Coles' Gold range is $12.50 a kilo, and Woolies the dearest at $13 a kilo.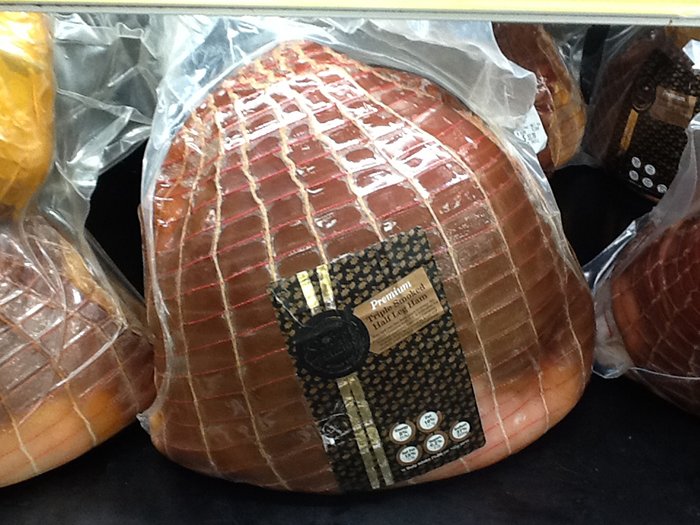 I haven't yet touched upon the celebrity offerings from the supermarkets. Jamie Oliver for Woolies doesn't appear to have a ham offering for us, but Heston Blumenthal for Coles has come up with the Miso Glazed Ham for your Christmas table. Which is priced at $30 per kilo. $30 PER KILO?! How on earth did they come up with that figure for a ham with a flavoured glaze? Is it a special pig?
Was it treated to a final meal at Tetsuya's before it was slaughtered, you know, to help get it in the mood for the miso treatment?  One hopes it tastes pretty spectacular to demand that kind of price hike.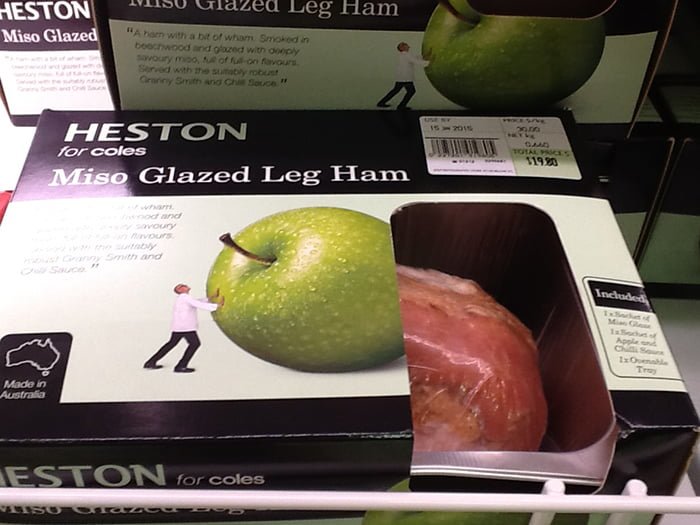 Most affordable festive ham – Aldi, $9.99 a kilo
Most expensive festive ham – Heston Blumenthal for Coles, Miso Glazed Ham, $30 a kilo
Smoked Salmon
Smoked Salmon with a glass of bucks fizz on Christmas morning is a wonderful way to start the day, but out of the festive ranges who offers the best bang for your buck? Well, yet again it's Aldi with it's Scotch Whisky Cured Smoked Salmon at $9.99 for 200g. I've tried it and it was a great taste, fresh and light with nice Christmassy kick from the Whisky, and very luscious when served with creamy scrambled eggs.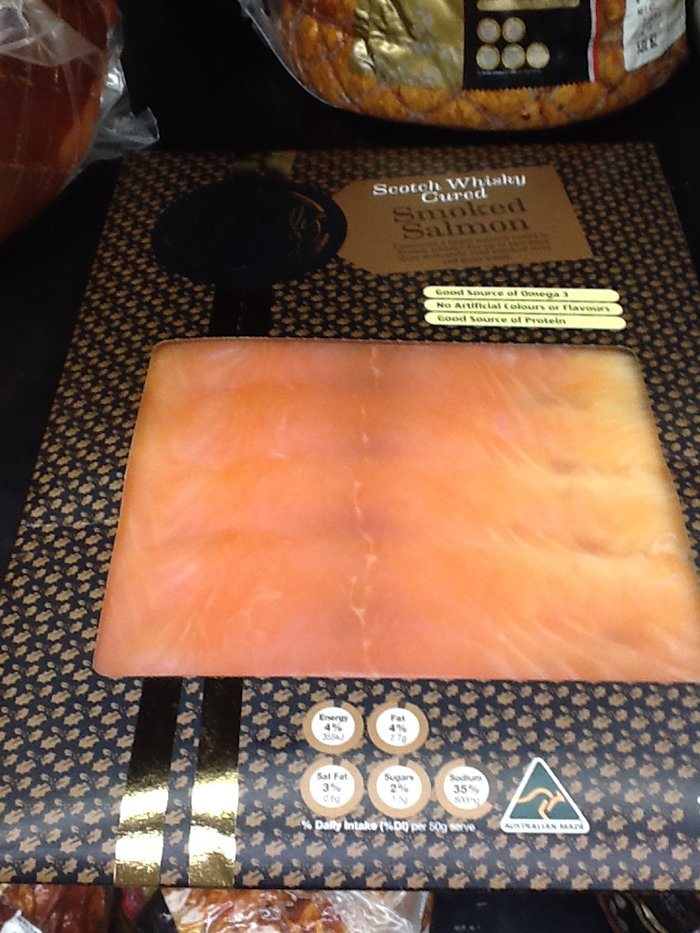 Cheapest Festive Smoked Salmon – Aldi Whisky Cured Smoked Salmon $9.99 for 200g
Mixed Nuts

Whether it is to stuff in the bottom of a stocking or to shove in a bowl on the coffee table, when it comes to mixed nuts, Woolies is the price winner, coming in at just under a fiver for 500g. Aldi was the most expensive at $7.99 for 500g but the results are slightly false as they have chucked in a pair of nutcrackers in the box. Handy if you haven't got any I guess, but irrelevant if you have.
Cheapest Mixed Nuts – Woolworths Mixed Nuts $498 for 500g
Festive Flavoured Cream
A must on Christmas day to accompany dessert are festive flavoured dollop creams. You may want to make your own, but considering the sheer amount to do, it can be a quick and easy shortcut for you (and cheaper if you don't have any appropriate spirits to add to the cream).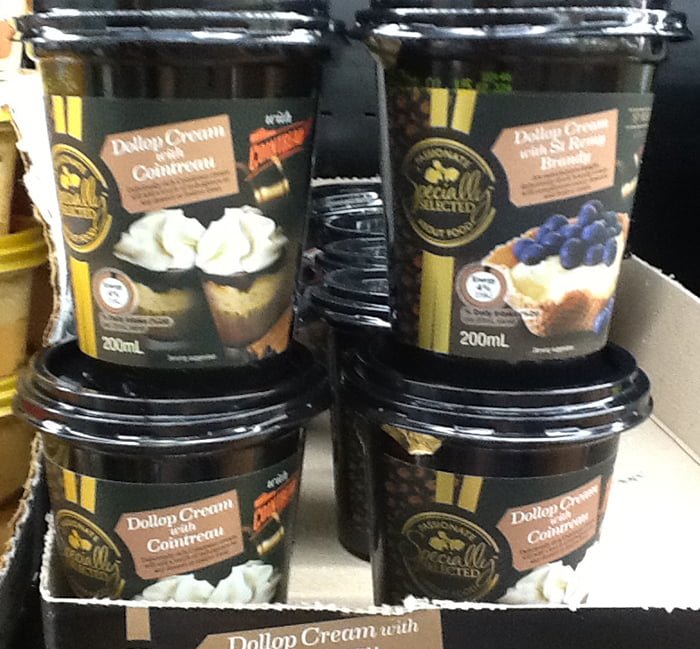 Cheapest again is Aldi. Aldi's dollop cream comes in Cointreau flavour or St Remy Brandy, and is $2.79 for 200ml. Coles and Woolies are both offering dollop cream with St Remy, Coles $2.99 for 200ml and Woolies $4.99 for 300ml.
Cheapest Festive Dollop Cream – Aldi Cointreau or St Remy Brandy Dollop Cream, $2.79 for 200ml
Champagne
Now I am not denying there are some wonderful sparkling wines produced in Australia, and I will certainly be enjoying some of them over the Christmas period. However, for the purpose of my Christmas morning with smoked salmon, I wanted to check out the price of real deal Champagne.
Now I'm aware that you can't buy Champagne off the shelf in Coles and Woolies, so I've checked out the price in their sister bottle shops, Liquorland and BWS.
Aldi has long been offering non-vintage for Champagne for just under $25; I've tried it and it is excellent. Aldi's liquor department is great value, but when I dropped in it seems everyone had caught on and stocked up for the festive season because I was greeted with empty shelves when it came to Champagne. While it is great value, if you go into the store and find an empty shelf the price tag is pretty much redundant.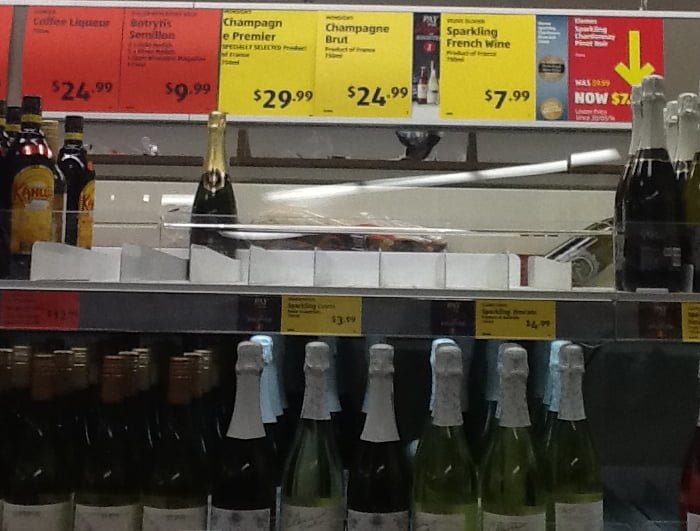 Breaking the rules slightly and looking outside Aldi, Coles and Woolies, Dan Murphy has to be mentioned offering outstanding value with Aubert Et Fils Brut Champagne for just $24.90. This combined with Aldi's Champagne has spurred at least one of the big two to look at its prices.
Liquorland is now offering Moutard Brut Grande Cuvee Non Vintage Champagne for $25.
BWS seems to be the only ones resisting the trend, it's cheapest Champagne is still over the thirty dollar mark.
Cheapest Champagne – Aldi / Dan Murphy / Liquorland, $25 or just under.
Specials
The main thing to bear in mind this year is that it seems both Woolies and Coles are doing quick bursts of offers to try and get the edge over each other.
Aldi meanwhile seems to be keeping its prices fixed permanently low which makes it easier when shopping there as you don't have to fret that anything will be going up or down in price.
To get the best deal with Coles and Woolies  you're going to have to keep your eyes peeled to so you can pick up what offers suddenly crop up. Not the easiest thing to do at the busiest time of year.
Seafood
Seafood is part of a traditional Aussie Christmas. And here's the thing, for Christmas you're going to want fresh seafood from the fish counter, and Aldi doesn't offer that. I live up the road from the Sydney fish market, so I would probably head there (along with the world and his wife of course), and I know many others would much rather order their seafood from their local suppliers.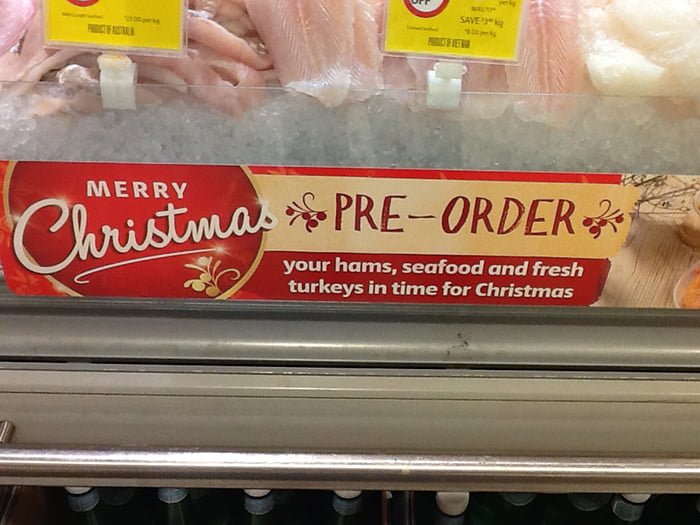 But those who are time poor and wanting to get the shopping done all in one go can pre-order their seafood at Woolies or Coles (something Aldi does not offer). I've not included it in the price comparison because it is too early to show the offers that will be relevant to the Christmas day table.
Internet Shopping and Delivery
Another negative some people will remember from my previous article is that Aldi does not offer internet delivery, which is often so much easier for people in terms of getting their weekly food, let alone their festive shop. However, having looked at the Woolies website, I was disappointed to find hardly any of the festive range I saw in-store available to order from the online shopping site.
As Woolies was the shop which was nearly always more expensive than it's two competitors, you'd hope it would want to maintain it's main advantage of internet shopping over a discount store like Aldi
Perhaps in a week's time festive food will be on there, but at present, aside from the odd Mince pie and Cadbury's Christmas ranges, there isn't much festive food to choose from which is a is fairly unimpressive.
Celebrity Chef Ranges
I've briefly touched on Heston Blumenthal's miso glazed ham for Coles, and of course Jamie Oliver is manning the celebrity chef helm over at Woolworth. If you are wanting a celebrity chef created product for your Christmas table then obviously Coles and Woolies win over Aldi, as Aldi offers nothing like this (and I doubt ever will).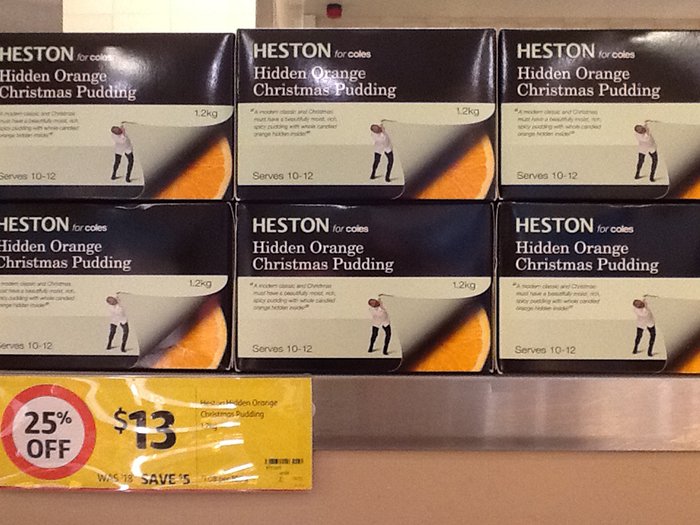 In among the offerings is Heston's Hidden Orange Christmas Pudding which was surrounded with a fair amount of hype last year. I've had this back in England (it's been part of the Waitrose Christmas range for a while over there) and, for me anyway, it was very overrated.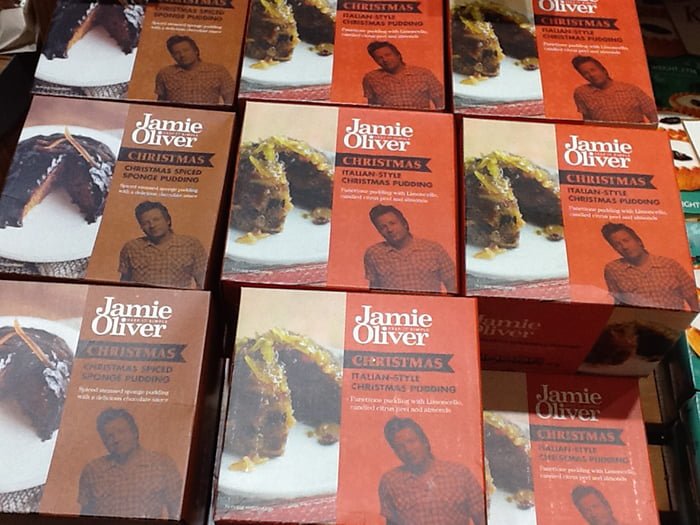 And if I'm truthful I think often some of the celebrity ranges don't live up to expectations. Just because their face is on the pack it doesn't mean that it will be like eating in their restaurant. You're paying a premium for the name. If you really love the sound of their product over the supermarket's own premium product, then go for it, but don't shell out for it just because you think it might be better as their name is on the pack, you could be very disappointed.
So, who is the best then?
Looking at the most affordable luxury festive items on my list, and breaking down the cost for the items per kilo, the basket which won was Aldi.  The Aldi festive basket worked out 21 % cheaper than Coles and a whopping 28 % cheaper than Woolworths.

What is most surprising is that the Christmas range at Aldi boasts a lot of luxury items to rival the big two supermarkets, it isn't just everyday staples which are cheaper.  Shopping with Aldi for Christmas doesn't mean you have to settle for 'bog standard' Christmas pud, it has certainly focused on producing a decadent range to rival that of Coles and Woolworths. However, I would venture to say that you would probably have to supplement your shopping with a visit to the two big supermarkets, or your local shops when it comes to your Christmas seafood and seasonal fruit and veg.
Wherever you end up shopping this Christmas, it's the perfect time of year to eat, drink and be merry, so tuck in and don't feel guilty about that extra serving of Christmas pudding or glass of Champagne. After all, if you've shopped wisely, you won't have broken the bank.
Prices checked on Tuesday, 9 December 2014 at Aldi, Coles and Woolworth in Bondi Junction. All products mentioned in the article were found on shelf that day.  Discount prices applicable at the time were used.  Any products sampled were purchased independently.