Eighty glorious cakes to die for.
Captivating new recipes from an Australian icon.
I have a confession make from the off, I have a soft spot for the cookbooks of The Australian Women's Weekly. There's a great nostalgia factor involved, which makes no sense really, seeing as I'm not Australian and didn't even grow up here. In fact I've only been a Sydneysider for the last few years.
Even so, for some reason I love their books and trust them.  It was a happy day when I found a box full of books outside a neighbours' house with a sign saying 'please help yourself', and I did, to five original 1970s Australian Women's Weekly cookbooks. I've even trawled the markets and picked up some vintage 1950s and 60s magazines to try out retro recipes, including the Australian Women's Weekly.
So when I was offered the chance to review The Australian Women's Weekly's latest release, Indulgent Cakes, I was very excited.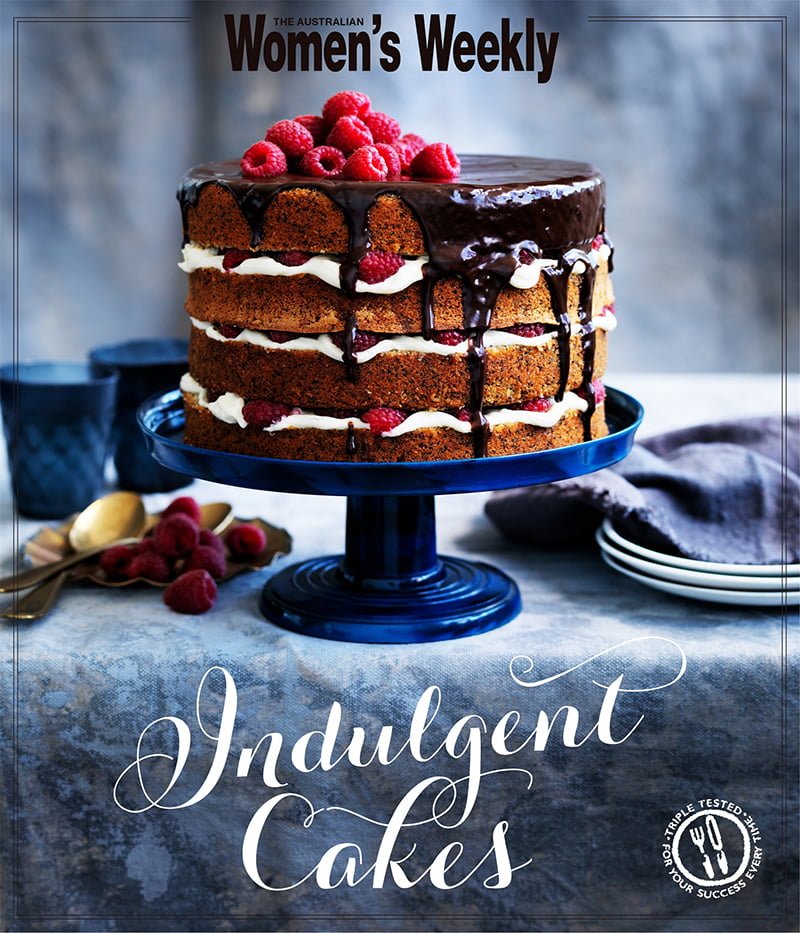 For anyone imagining that this book is for train-shaped kid's birthday cakes or just a classic Victorian sponge on the front cover, think again.
This slick, beautifully designed publication is a world away from that, packed full of luscious photographs and offering cake recipes for serious bakers. The book has been split into chapters by pairings of flavours, including Chocolate and Coffee, Caramel and Nuts, Flowers and Syrups, and Ginger and Spice. The recipes themselves are not for the beginner baker, but aimed towards the enthusiast keen to produce some wow-factor cakes and perhaps learn some new techniques such as making crème pâtissière or lime curd.
You can forget tray bakes or the humble butter cake loaf, the tone of these offerings is distinctly more sophisticated.  From Earl Grey Meringue with Syrup-Soaked Figs, and Raspberry and Rosewater Pink Velvet Marshmallow Cake, these are very much 'grown-up' occasion cakes.

In fact the main problem I had when coming to review the book was choosing which recipe to make for an office taste test. The decision was made a little easier by opting for a cake which could be made the day before serving. Factoring in this aspect cut down the options considerably.
After much procrastination, the Cookies and Cream Cake was selected, with the deciding factor being one of the ingredients, Oreos, were on special when I went to the supermarket – it was meant to be! The recipe itself is easy to follow; you just need to be sure you read everything through before you start (which is always good practice anyway).
These recipes have been triple tested by The Australian Women's Weekly for a reason – to give you precise instructions for fail-free cakes.
If you pay attention to the recipe you should have no problems.  Step-by-step my cake mixture came together as described. Baking for an hour, the smell of butter and vanilla filled the house and it was ready to the very minute the book detailed.
The crème pâtissière also worked perfectly when adhering to the recipe which was a relief as previous attempts in school home economics class ended with a curdled scrambled egg mess. The key thing when cooking with this book is that you can do so with real confidence.  So what if you've never made crème pâtissière before, or never had a go at candied kumquats, armed with the tried and test methods in this book you feel that you can do it.
The important question though, did it pass the taste test with the hungry workers at the office?
The answer it would appear was a resounding 'yes'. One taster made the astute observation that it was a 'special treat cake', and certainly this is not something you would make or eat every day. Many commented they liked the texture of the cake, as well as the different layers of patisserie and finally the contrasting crunch of Oreos on top. A couple of people found the crumb a little dry in places, though this could be due to the fact the cake was baked 24 hours before it was finally eagerly gobbled up (more the fault of the cake baker, ummm me!).
With an RRP of just under $50, it's not the cheapest Women's Weekly publication, but with its decadent recipes and beautiful design, think of it as a coffee table book.
Folks, don't forget, Mother's Day is fast approaching, and if Mum is a Queen of Baking this could be an ideal gift. And it could be a win-win, you could end up getting many indulgent treats in the future.
The gorgeous review copy of the Australian Women's Weekly Indulgent Cakes is courtesy of the lovely folks at Bauer Media Group.