Cabramatta food court feeds
On weekends hordes of foodies flock to Cabramatta for fantastic Vietnamese, unbeatable pho, crispy chicken noodles and more. Just off the Cabramatta gates is a tiny but hugely popular food court. The longest queue is for Papaya Kitchen, taking up two stalls towards the carpark end.
It's pretty popular for locals as well as out of town Thais who come to Cabramatta for their groceries. Noodlies, Sydney food blog is here just about every second week, despite the crazy weekend crowds. It's zany and crazy and the punters don't queue properly but at least the menu is in pictures and the staff are generally helpful.
Even at medium heat, the tom  yum burns your soul making your eyes weep and forehead break a cold sweat. It's face-twisting sour too with lots of woody mushroom earthiness and lemongrass zing.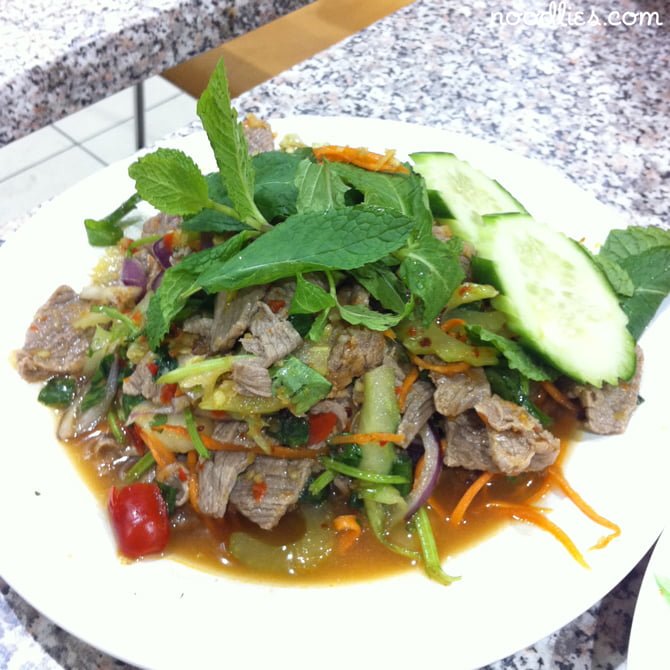 Tok tok (Thai beef salad) is one dish we always order. There's a fair shake of the fish sauce bottle, though nicely balanced by fresh vegetable zest, particularly from onion, mints, cucumber and celery (an Australian innovation surely?). The beef is almost too well cooked, though soaked in that rich sauce, it's easy to swallow. There are plenty of strong flavours but the genius from the ladies in kitchen means these home-style dishes work moreishly well.
Beef larb is deceptively dangerous, on the dry side but this little plate is brilliantly spicy-hot. There are no tell tale chilli signs, nothing to ring the alarm bells, but this is feisty and fiercesome – despite being medium hot.
I'm told sticky rice is meant to help cool down the palate. The first hot mouthful seems to make things worse, although things do settle down nicely a few seconds later. In any case, $2 for this huge serving is a steal.
Thai food is not top of mind when you think of Cabramatta (Fairfield is a better bet), but for a cheap, fast fix of honest home-style Thai-Lao, this little undiscovered gem is worth a visit.
Oh while you're in the food court, make sure you pick up some buns from the vegetarian buns stall. There's only a few types to choose from, our pick is the mustard hot, chives buns – ask for extra sweet soy sauce and chilli paste.
Papaya Kitchen
BKK International Food Court
53 Park Road, Cabramatta NSW 2166
(02) 9728 3181