Waist-bulge fighting secrets
Noodlies, Sydney food blog's useful tips for keeping the kilos down.
One of the most common comments on my blog and facebook timeline is something like:
"Thang, how do you stay so slim with all the food you eat?!"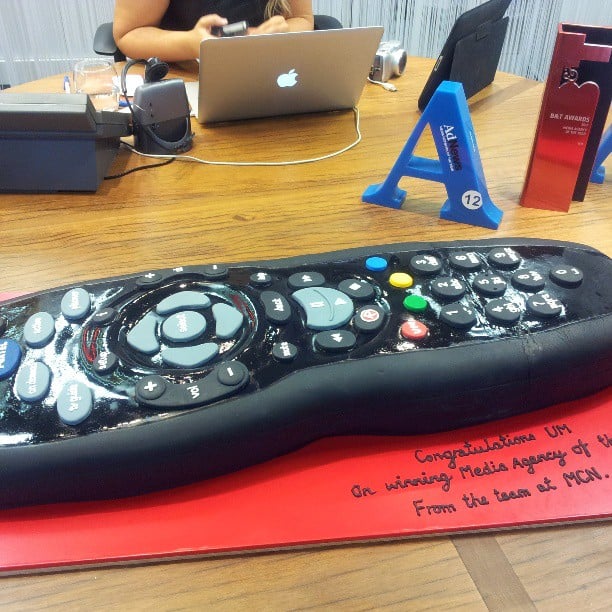 Well let's debunk that myth, while slim, I'm considerably heavier than a decade ago; a combination of age and a sedentary office job.  Though it's true I'm eating more than ever, I blame:
Working: at media agency means lots of entertainment and that means rich food and lots to drink –  I'm very partial to both beer and wine. And when I'm not eating out media suppliers send all sorts of tempting treats to the office, cup cakes, macarons, the most recent and stunning example is a gigantic remote control chocolate mud cake (above).
Food blogging: We've always eaten out rather than cook at home, but as a food blogger, the invites to food and drink events just means more calories.
Festivals and Markets: I love the colour and excitement of all the cultural festivals around town, Lunar New Year, Campsie Food Festival, Moon Festival, Lao/Thai/Khmer New year and of course, with that comes more food excesses – you have to try all the food on offer right?  For example, how do you say "no" to puffy poffertjes, with a generous dusting of icing sugar (below) from Fairfield Markets?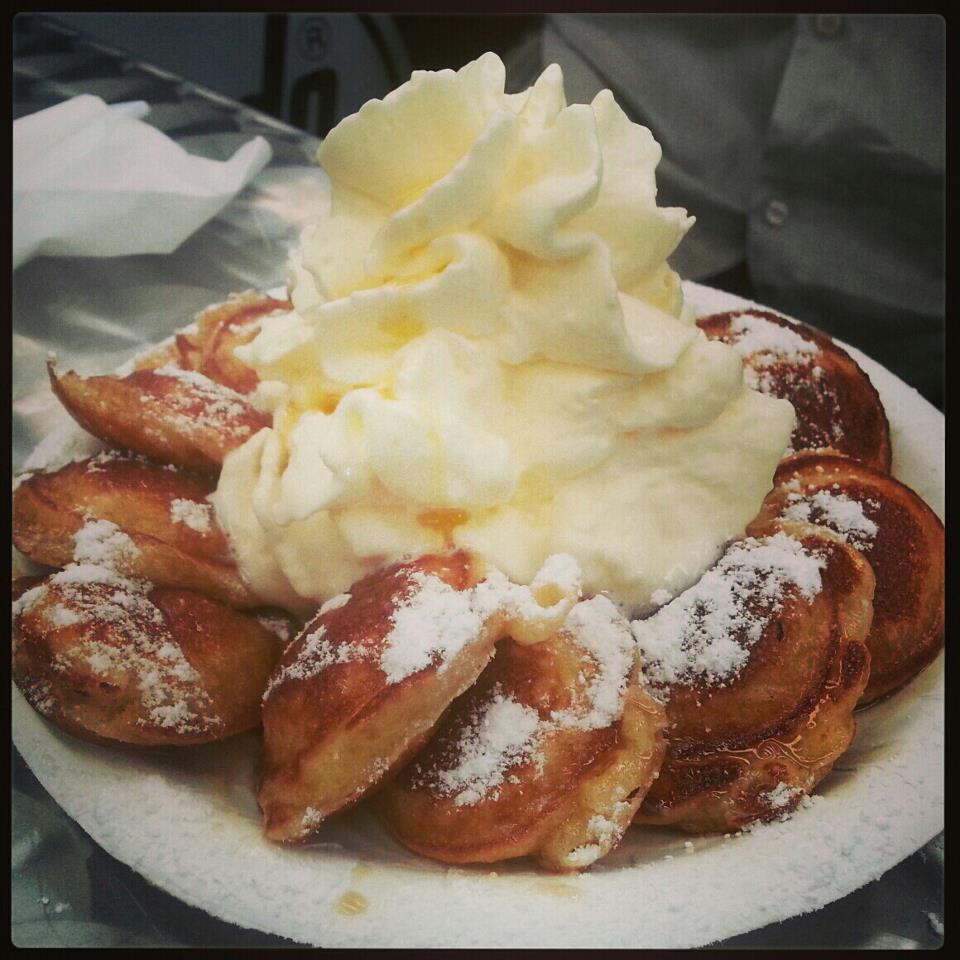 While I'm no svelte, slender thing, over the years, I've developed a few tactics to fight the bulge.  You might find them useful:
Variety not quantity: at  functions consciously take smaller portions – the idea is to taste everything on offer, having too much will reduce your enjoyment of the latter dishes.  You could end up eating 50% less this way while enjoying the food a lot more.
Skip a course (or two): At dinner, I rarely eat all three courses. If dessert looks good, skip entree and if I'm not too hungry, I'm happy with one main.
Food is communal: When in a group, I'm often happy with one main – I can still try a variety of food because we share our orders.
Do you really need to have that many drinks? At functions and events, it's easy to regularly sip a drink as your security blanket – but, really do you need a drink in your hand at all times? Develop the confidence to keep both hands free, use them to express yourself! And if you must cling to something, alternate your drinks between alcoholic and water – keeps the calories down and you'll feel lots better the day after!
Lunch time walk: how many of us are guilty of eating our lunch at our desk? At least twice a week I go for a short walk at lunch, it's good to clear your head (and get away from the PC monitor!) and get some fresh air.
Get a dog: apart from the loyal, unconditional love from man's best friend, you have to walk it daily.
The stairs are your friend: my work is on the second floor and I often use the stairs instead of the lift. Though I'd caution against using the stairs all the time, lifts can be a social thing, an opportunity to chat to work mates you don't normally collaborate with on day-to-day.
Exercise: I know, I know, we all know this, but how many of us join the gym, then don't end up going? For the past six months I've been addicted to personal training. Sure it may cost more than a gym, but at least I end up going, by contrast I rarely turn up to the gym.  I have to turn up to personal training because it's a social (and financial) contract – there's someone waiting for you.  My trainer, Thien from Hard PT is mobile: he comes to the park across from my work or the one near my house. It's also more personalised, the program is developed especially for me and more importantly, Thien is on my case 100% of the time – no opportunity to slacken off.  Finally, not using gym machines means I have to use more of my muscles and be more coordinated – case in point, sledge hammer work this morning is a full body and coordination workout.  So, which is better: a PT session that costs more but you turn up or a yearly or monthly gym membership that you don't use at all?
If you find these tips useful, please like and tweet etc to share.  And if you have other tips, please put it in the comments section to share your experience with other noodlies, Sydney food blog readers, so we can all enjoy our food while beating down the kilos!