Penang is on the northwest coast of Peninsular Malaysia by the Strait of Malacca.  As noodlies, Sydney food and travel blog has been told several times during this visit, Penang is named after the local areca nut palm, locals call it Pulau Pinang, which means island of the nut palm.  Chinese make up the largest proportion of the population – around two in five, closely followed by Malays.
It's home to major industry as well as being one of Malaysia's most popular tourist destinations.  Tourists flock to Penang for the stunning English colonial architecture and wonderful food.
Here are some highlights of noodlies recent visit to this fascinating destination.
Chew Jetty
It's a clutter of houses built on stilts by Chinese migrants of the "Chew" clan who worked near the port during the nineteen century. Many of these immigrants came from the Fujian Provence of the south-eastern coast of China.  Like all migrants they came in search of a better life. Today, Chew Jetty is still home to hundreds of people living in this area.  For me, it's a wonderful example of the migrant experience, the struggle, the pain and ultimately, success.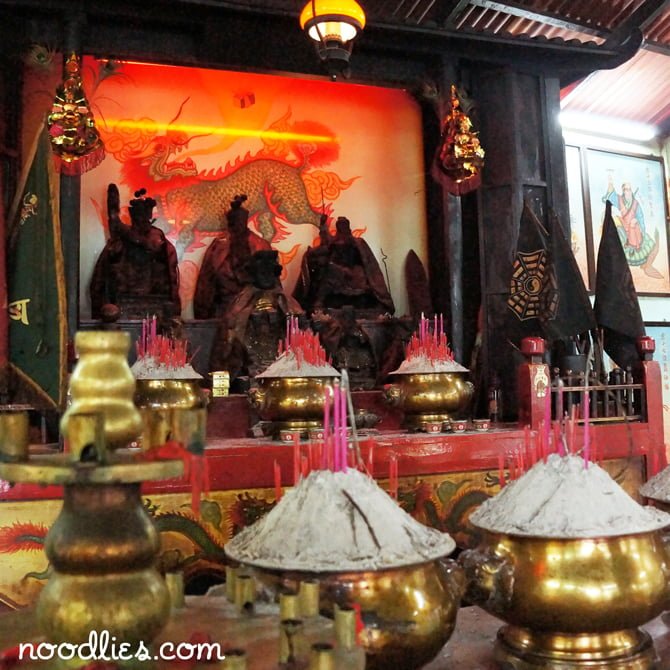 For luck and prosperity, the Chew clan built a Taoist house temple.  This place is rich with history, heavy with hopes and prayers of migrants over the years – thousands of incense sticks burnt, thousands of festivals celebrated.  You see that in the walls, the darkened roof, blackened tapestry and charcoal coloured statues.
Ernest Zacharevic Murals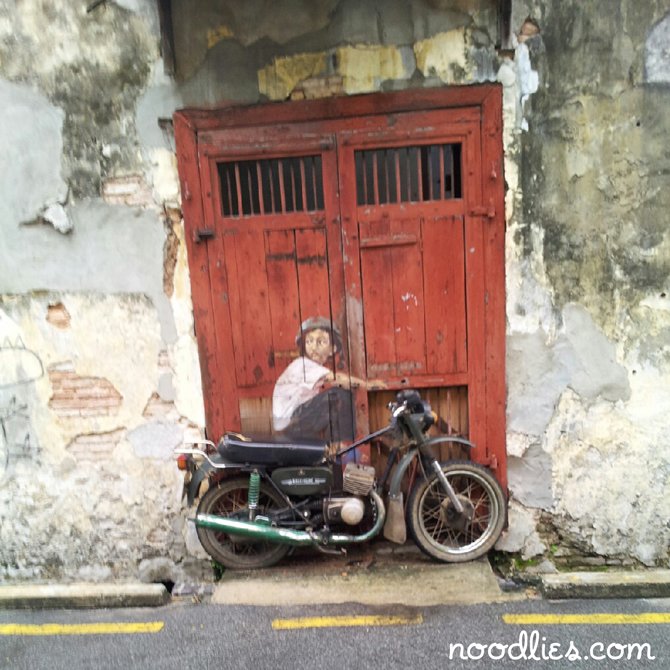 You'll see murals by Ernest Zacharevic, a young Lithuania-born artist, scattered all around George Town.  These works, both two and three dimensions, are from an art project known as Mirrors George Town which was commissioned as part of the George Town Festival 2012.
Children in a Boat can be seen at Chew Jetty and above is one of his most popular, Boy on a Bike.  Whimsical, provocative – I found them, ultimately very cheeky.
Hawker food
Char dway teow, kueh sweets, satays, rojak… and so much more can be had at local stalls all around Penang.  But you must have assam laksa, different from curry laksa, it's a dark, flavoursome soup that bounces with flavour; tamarind sourness, prawn paste pungency, Vietnamese spearmint freshness and intriguing freshness of torch ginger flower.  It's around RM3.50 or around A$1.20 for a delicious bowl.
Moon Cakes
Moon Festival is the second biggest event in the Chinese calendar and occurs usually in September after the Hungry Ghost Festival.  Noodlies is lucky to see moon cakes being made at the Hock Lok Siew Bakery in George Town.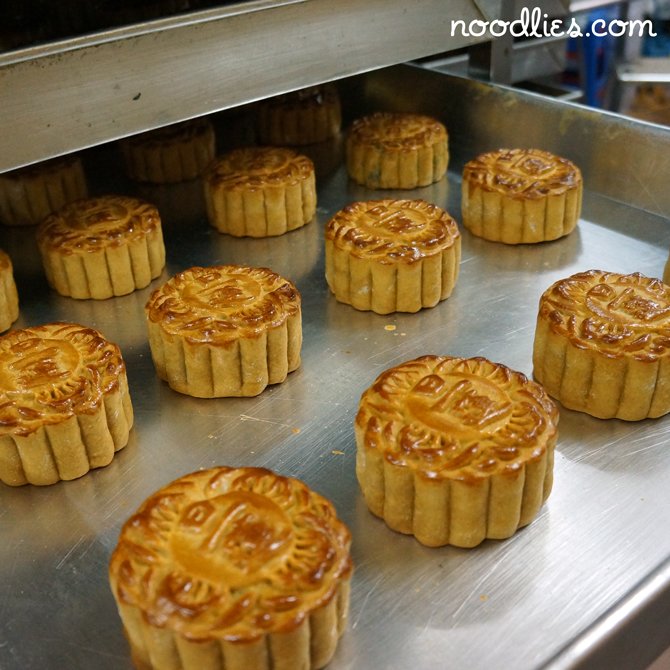 So much history, beauty, friendly people and fantastic food.  Penang is so worth a visit.
This noodlies, Sydney food and travel blog Malaysian experience (#discovermalaysia) was courtesy of Malaysian Airlines and Tourism Malaysia.