Lets Go on a Petaling Street Heritage Food Walk.
If you don't have much time, a food tour could be just about the best way to immerse yourself in the local food and culture.
Take a look at that roti tissue!
What about rambutan, longans and other seasonal tropical fruit?
How's about a hot cup of kopi cham (coffee, tea and milk)?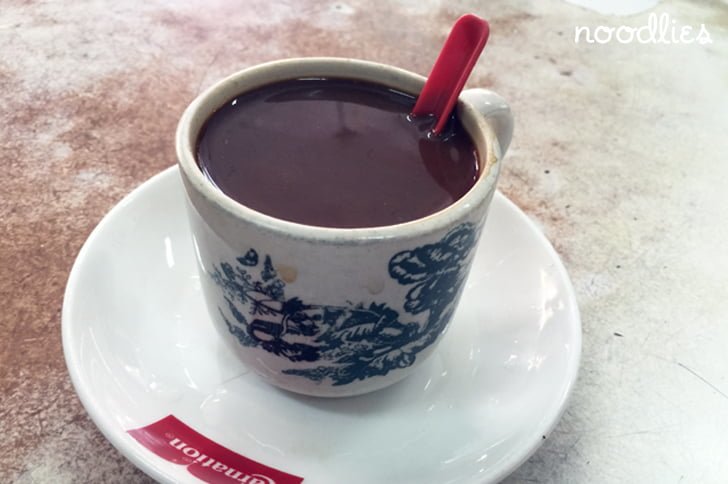 You can research the internet, email your Malaysian friends, send for help on social media. Or you can book a Simply Enak food tour. There are other food tours, but this one is featured in Lonely Planet and has been going for a long time. It's always good to know you're in the hands of experts.
Kedai Kopi Lai Foong, Chinese
Since 1956 Lai Foong has been wowing hungry diners with beef noodle soup. Some describe it as the best in KL. The restaurant was started by a Chinese immigrant from Hainan. So many bowls of soup flew out of the kitchen that, before long, he bought the whole building. The founder has since returned to China but his children continue the popular legacy.
Today, it's more of a food court with other stall holders providing more choice for punters, including steamed buns, BBQ pork and other glistening meat, char kway teow (CKT) and more.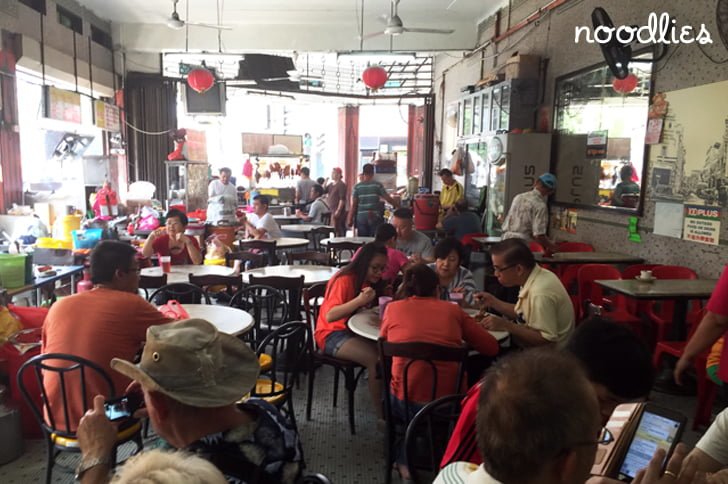 Of course, the signature Lai Foong beef noodle soup is still as popular as ever. Our group sampled the two versions, the soup as well as dry, soy fried fat noodles with side soup. The smokey CKT is another highlight.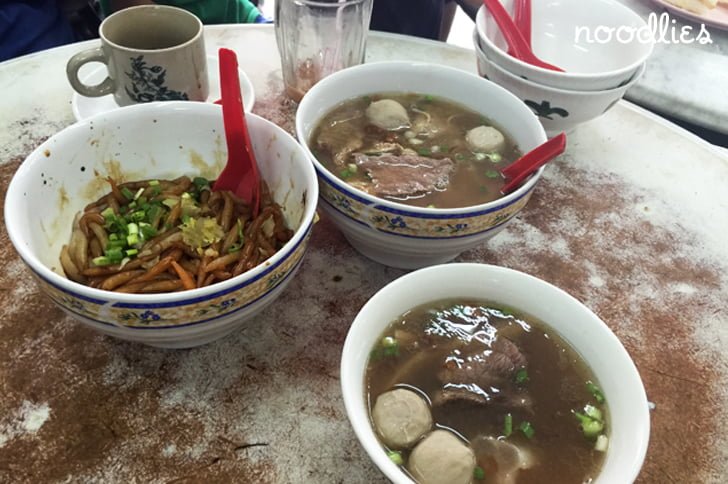 Here, we also had the kopi cham, a brilliantly satisfying thick brew consisting of three parts coffee to seven parts milk tea together with kaya toast; a popular breakfast combo. Kaya, also known as srikaya, seri kaya, is a jam made of eggs, coconut milk, sugar and infused with the fragrant aroma of pandan leaf.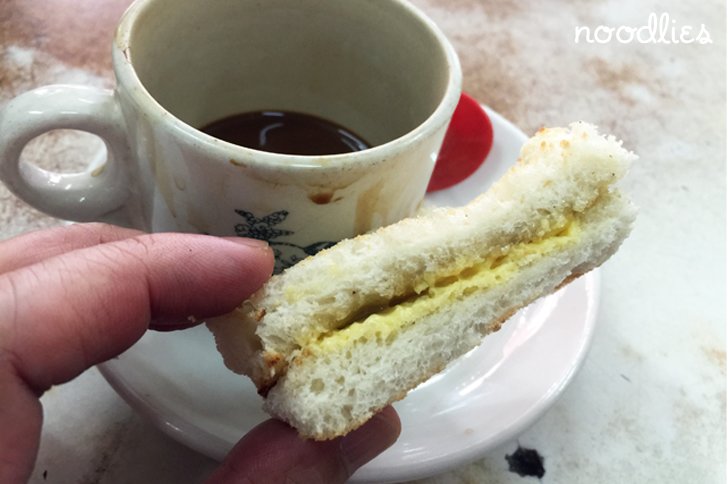 Yusoof Dan Zakhjr, Indian
A short walk towards Central Market and we arrive at the next stop, Yusoof Dan Zakhjr.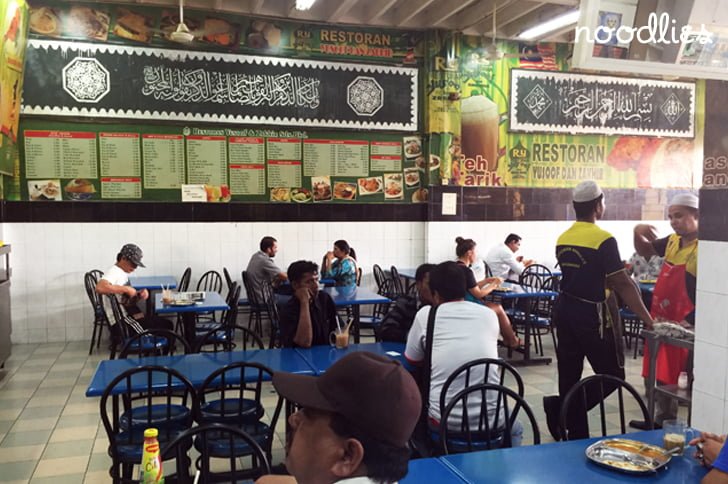 It's a huge restaurant stretching across three or four different rooms. We're ushered into the air-conditioned space at the rear. And that's where we confront the jaw-dropping roti tissue tower; feather light, it's dripping with condensed milk.
Speaking of condensed milk, the yellow nectar seems to appear frequently in Malaysian food, from roti to kopi…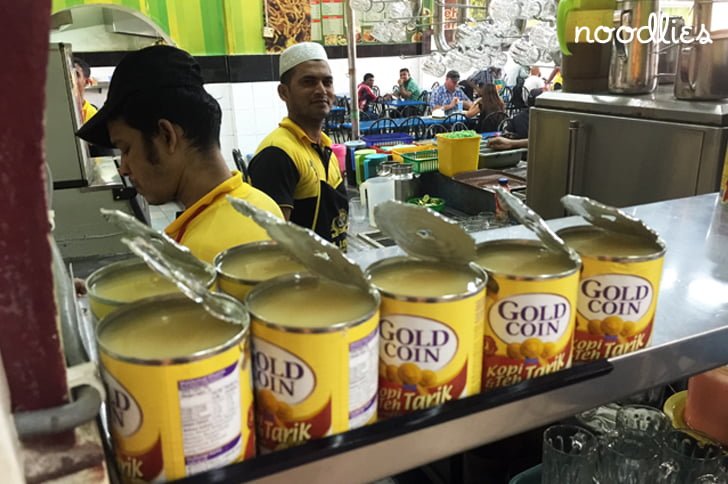 Our guide, Mimi tells us this restaurant is open 24 hours, ready for hungry diners. She says this one is also popular a host of foreign workers. These eateries are called mamak restaurants. We feast on roti canai and a attention grabbing maggi goreng mamak. It looks simple enough, but this fried noodle dish just hums, on and on, completely satisfying and moreish – and yes, it's name after the flavouring sauce, Maggi. I wash it all down with teh tarik (pulled tea) – more condensed milk.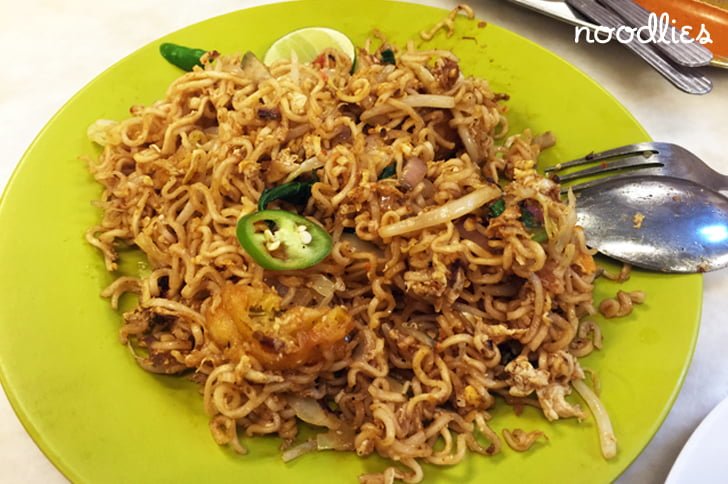 On the way out we spy a buffet of colourful curries and fried goodness. It must be so good to be confronted with a smorgasbord of deliciousness to choose as many and as much as you feel like at the time.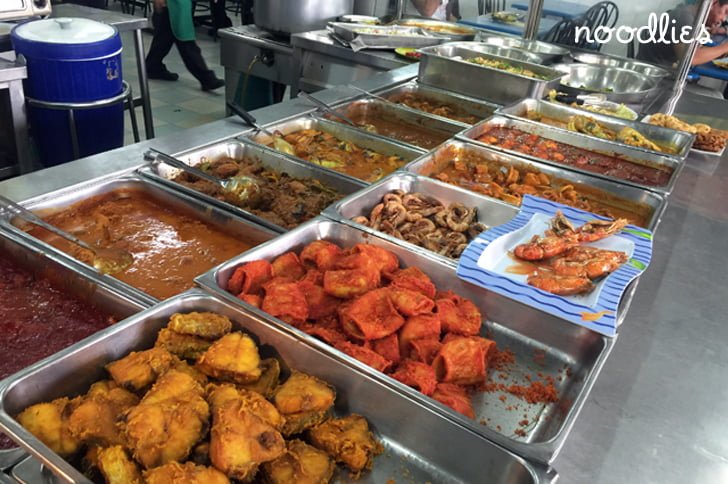 Fruit and sweets
Surely tropical fruits are some of the most attractive and delicious on the planet. We stop at a stall to sample longans, dukong fruit, rambutan and probably the most sensational looking of them all, mangosteen (below).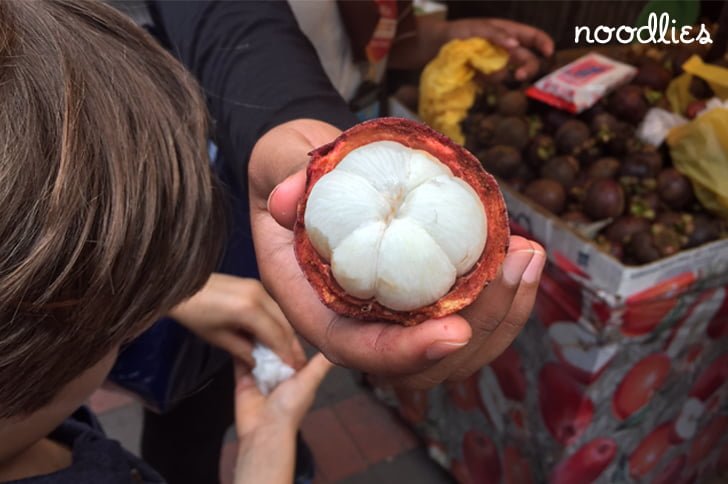 Durian, an "aromatic" tropical fruit that is popular across south east Asia isn't in season right now. But Mimi takes us to sample durian puff. Made with fresh durian, it's amazing how the cream takes on the taste and texture of durian.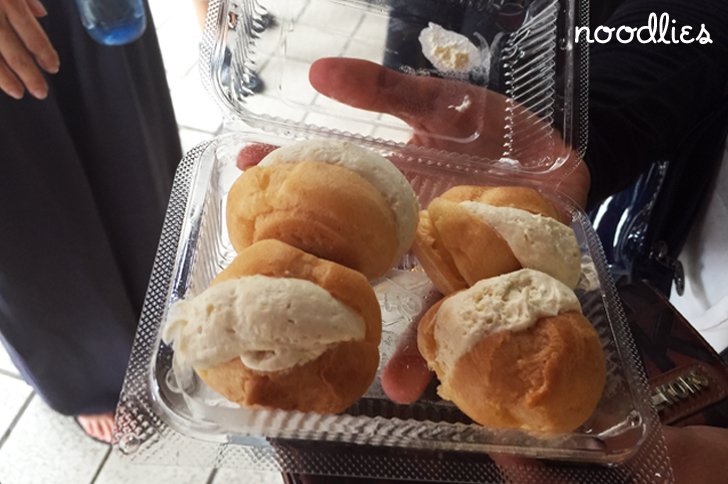 Ali, Muthu & Ah Hock
The name comes from is three popular boys' names – from Malay, Indian and Chinese cultures to illustrate Malaysia's multiculturalism. It's decor is designed to look like there's been no design. And the locals are lapping it up.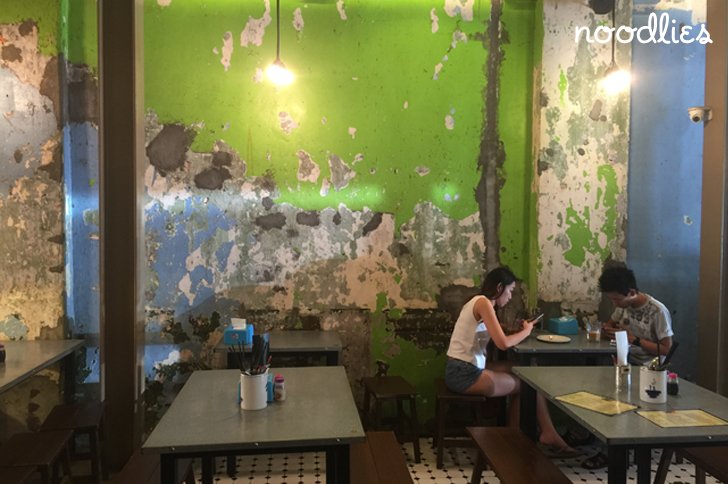 Nasi lemak is particularly popular here. Though I'm won over by the thick, crumbly battered fried chicken and nasi goreng (fried rice). Curry chicken is a close second, with mee goreng (fried noodles) and rendang chicken close behind.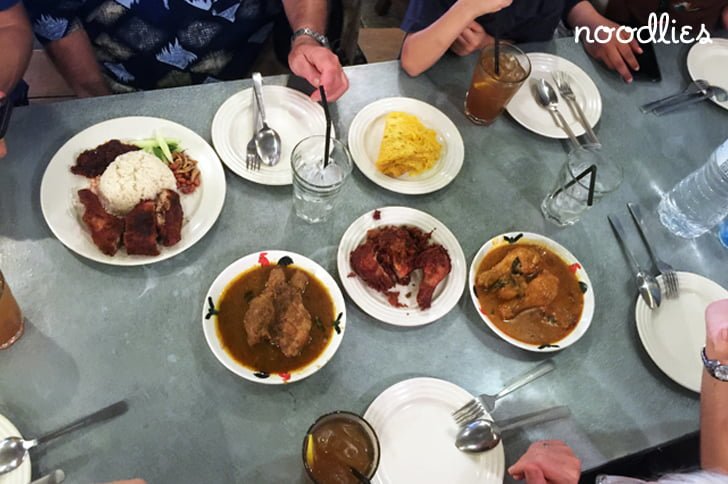 In three hours, we walk, talk and feast on some of the best Malaysian food, while host, Mimi unravels the thick tapestry that is Malaysian food and culture.
She's bubbly, enthusiastic, knowledgeable and manages to engage our diverse group, which includes seniors, children and snap happy foodies like me.
The tour goes starts at 10.30am which is a productive way to spend a morning as most shops in KL don't really open in until after noon.
For other KL and Penang food tours check our the Simply Enak website.
Simply Enak Food Experiences
+6017 287 8929
[email protected]