The past 12 months have been my busiest ever in terms of overseas travel; 6 countries and 8 cities – all within Asia. It's made me appreciate traveling lightly, all that packing and unpacking can be a pain.  It's a challenge to travel light when you're a blogger – as a minimum I bring four devices: laptop, camera, phone and tablet.
Recently, with the help of my friends at Lenovo, I now travel with a Lenovo ThinkPad X220, an amazingly powerful 12.5″ lappy with up to 15 hours of battery life that weights in at 1.3kg – that's more than half the weight of my previous Asus.  I love my lappy so much, it has a name: "Junior" goes with me where ever I go.  I've also swapped my Canon DSLR for a compact Sony NEX-5N, which takes DSLR-like photos with a much smaller form factor and of course, it's much lighter – thanks Sony!
This noodlies, Sydney food and travel blog trip to Malaysia is especially challenging, I'm flying Air Asia to Kuala Lumpur with a strict 20kg checked luggage and 7kg cabin luggage limit.  Like all low-cost airlines, go over and you're whacked with extra fees.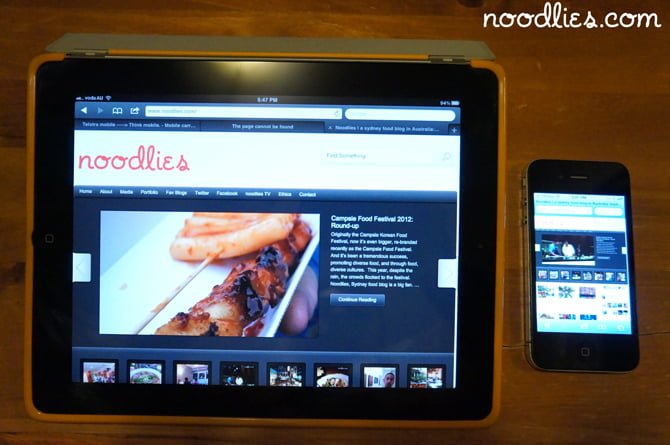 I usually bring an iPad 2 to surf the net or check my emails during those long hours at the airport and my iPhone 4 to keep in contact.  The combine weight is around 800gms including the iPad case and cover, the iPhone alone weights in at 140gms.  If you have an new iPhone, it's another 40gms heavier.
So, is there a way to travel even more efficiently?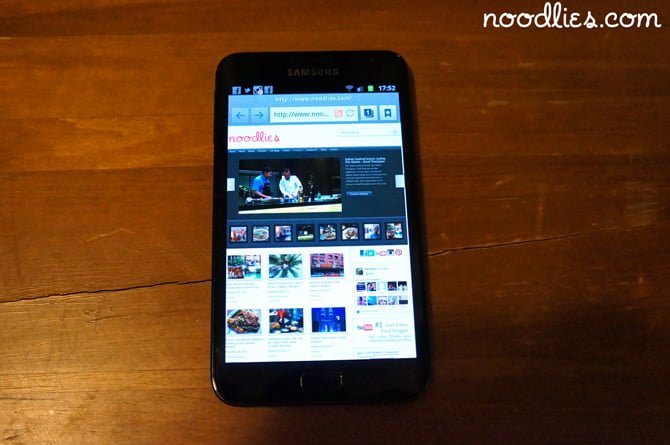 Enter my friends at Samsung with a Galaxy Note; they call it a phablet – a word you won't find me using.  It's claiming a new category: being both a phone and tablet and sized in between.  It sports a 5.3″ screen compared to an iPad (9.7″) and an iPhone (3.5″).  Importantly, it weights in at 178gms which is a quarter the combined 800gms weight of an iPhone and iPad.
So, for this Malaysian trip, I'm leaving the Apples at home and taking just a Samsung Galaxy Note.  For the full video review see the featured noodlies video above.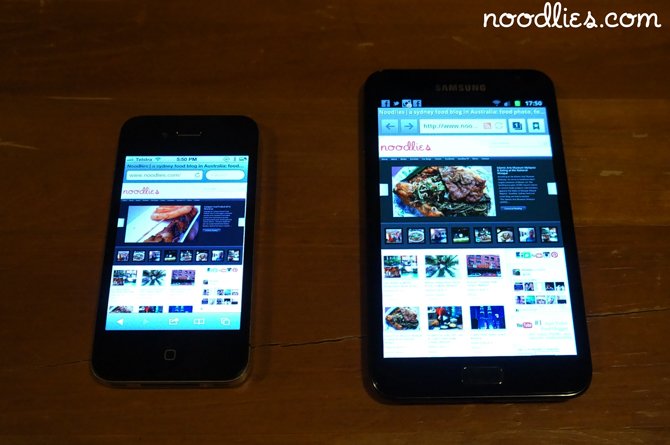 What surprised me the most is how easy it was to read emails and website content on the 5.3″ screen of the Galaxy Note.  After extended use, it's hard to go back to the iPhone's 3.5″ screen, even though the Apple device has a brighter, clearer screen.  In this case though, the almost extra 2″ makes all the difference.  Of course, the screen is much bigger and brighter on my iPad, but I'd have to lug around another device which I'd have to take out at airport security checks.  For emails and surfing on the go, the Note is perfectly good.  For extended online use, I'd power on Junior (Lenovo X220).
My only reservation prior to taking the Note to Malaysia is it's size.  Would it be too big for this tourist to carry around everyday?
The featured noodlies video above probably answers this question best – the Note slips easily into my jeans pocket.  During the trip, most of the time I wasn't even aware it was there.
And photos aren't bad on the Note's 8MP camera either, especially in daylight.
Overall, if you're travelling with a laptop, the Note is a better alternative than taking along a phone and tablet.  You'll travel with one less device at a quarter of the combined weight of an iPhone and iPad.  After a week in Malaysia using the Note extensively, it's a no brainer.
What do you think? Do you own an iPhone and iPad and have you thought about something in between in size that works as both?  Have you used a Note before?  Share your thoughts in the comments section, I'd love to know.
Noodlies, Sydney food and travel blog is supported by Lenovo and Sony.  The Samsung Galaxy Note device is on loan from Samsung.