Flying Air Asia: Sydney to Kuala Lumpur, Malaysia – review
By Thang Ngo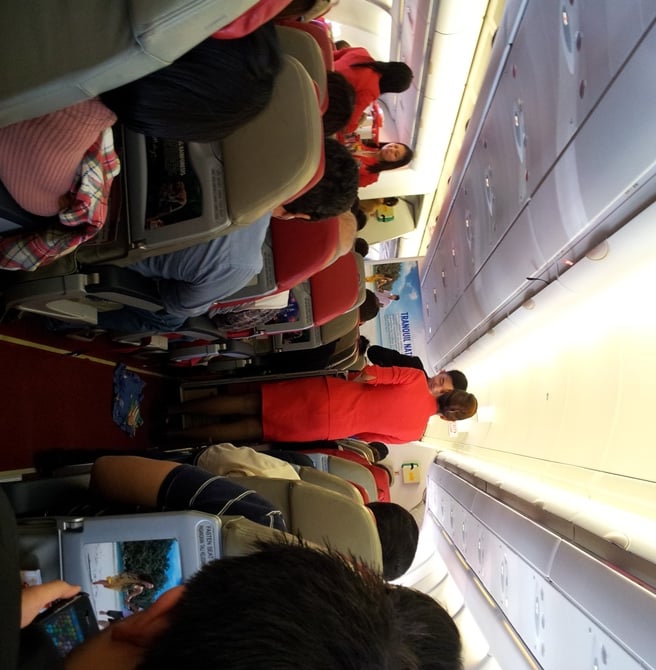 There are three advantages of flying with a low cost airline: price, price, price  – it's about what you're willing to forgo to get low fares.  As noodlies, Sydney food and travel blog found out recently, there's a few tips to making the best of it.
Read on to find out…
The first thing you're likely to notice about the Air Asia brand is that bright, but flattering red corporate colour, selected to represent a young, fun and lively personality, but not so bright that it becomes annoying and brash.  The Malaysian based low-cost airline, which is partly owned by Branson's Virgin group, has a brilliant reputation – winning Skytrax's World's Best Low-Cost Airline award for three consecutive years (2009-2011).  Very impressive for an airline that's just over 10 years old.
Air Asia announced its first service to Australia in August 2007 between Kuala Lumpur and the Gold Coast and soon added other routes: Perth, Melbourne and since April 2012, Sydney.
Noodlies scored one of the special fares to celebrate the launch of the Sydney to Kuala Lumpur service – return for a ridiculous price of just over $A320 including 20kg of checked luggage.  As with most low cost airlines the price didn't include meals, inflight entertainment, and the other 'niceties'.  It was cheap, though.
The Airbus A330-300 was in good nick and felt young, although the carpet was starting to wear out – an obvious casualty of most planes being close to capacity.  The seats were leather and comfy but on the narrower side, if your seat is on the aisle expect to be bumped by flight attendants and other passengers as they pass by.  Our plane was pretty much full which made the environment feel even more cramped.
Service was friendly and efficient, right people with right attitude and training. The female attendants looked stunning in tight fitting red uniforms.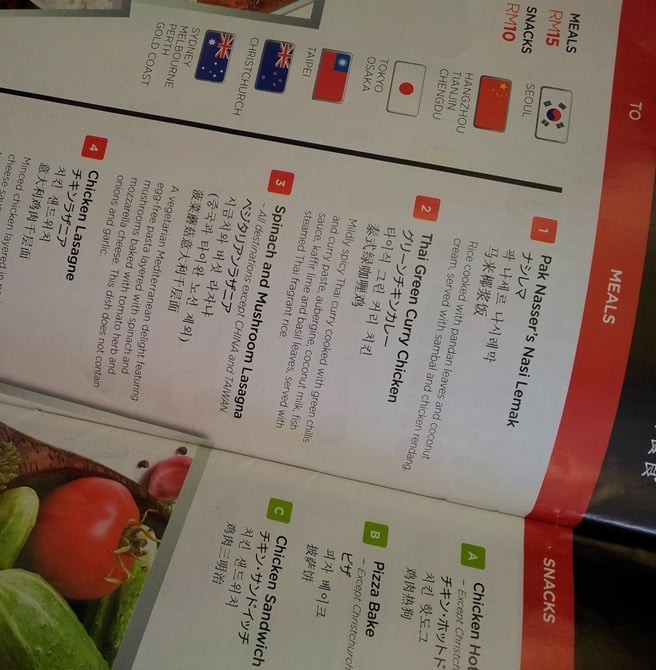 We didn't pre-order any meals for the 8.5hr flight and immediately regretted it.  On a long flight with no inflight what else is there to do but eat?  I'm pleasantly surprised,  the on-board menu had a good variety of meals for RM15 (around A$5) – nasi lemak, chicken lasagne and Thai green curry.  Plenty of drinks and snacks too; Snickers (RM5), Kit Kat (RM4), peanuts, most soft drinks.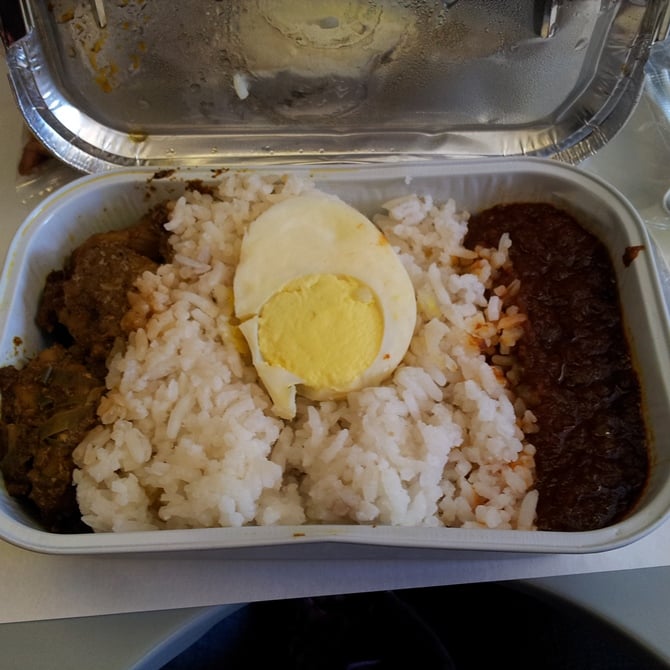 My nasi lemak was ok for plane food.  Though I almost missed out because we didn't pre-order and it took a little longer as the attendant searched for the last few nasi lemak on-board – which wasn't such a good thing because everyone behind me had to wait for their meals.
Which leads me to a few tips that might make an Air Asia flight more pleasant:
Pre-order your meal: service is faster for everyone and you're guaranteed of getting what you want.
Use the online check in, your boarding pass can be sent via email or printed on your PC.
The seats are narrow, if you're bigger build and the plane is full, it could mean an uncomfortable flight.
Watch your elbow and shoulder if you get an aisle seat, narrow ailse means people walking by will bump into you.
Order a 'hot seat' to get more leg room – they're the front of each section – you'll pay extra of course.
You can upgrade to Premium while on-board, it costs about A$200 per person – you'll get a wider seat that inclines to almost flat, but still no meals.
Bring a laptop with music and movies to pass the time.
Buy a taxi voucher before you exit the airport (see below).
When purchasing tickets online, insurance is added to your ticket fare by default, you'll need to hit cancel twice to opt out if you don't want insurance.
Allow extra time, the Kuala Lumpur Air Asia terminal is at least an hour drive from the CBD (see below).
Download their app, it helps you to check in and change your flight if you need to.  The app is super easy to use.
Oh and one other thing to note, Air Asia operates from its own international airport in Kuala Lumpur.  It's about one hour drive from the city and is pretty much not near anything else.  Make sure you buy a taxi voucher from the terminal before going to the taxi rank – taxis won't take you unless you've got a voucher – it's around A$50.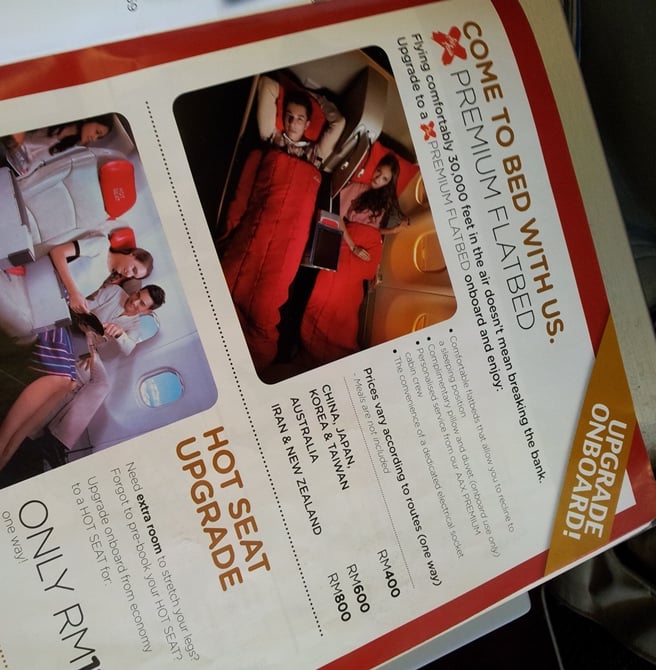 As I said at the outset, the main benefit of flying with a low-cost carrier is price.  And Air Asia is consistently rated as the best when it comes to low-cost.  But understand, it comes a few sacrifices, you'll need to weigh up the pros and cons.  Overall, I think the A$320 price for my return flight was worth it, leaving me with more spending money.  But that was a special price, even for a low-cost carrier.  You'll need to decide what's a right price for you to make up for the compromises.
Air Asia flies daily between Sydney and Kuala Lumpur departing Sydney 10:55am and arrives 5.30pm,  from Kuala Lumpur at 11.40pm and arrives 9:45am.  Noodlies flew on Sunday 17th June 2012 on flight D7 223 and returned on 24th June 2012 on flight D7 222.
This was my international Air Asia flight review, the domestic Air Asia experience was very different (read here).
If you do decide to fly with Air Asia, the tips above might come in useful.
Have you traveled internationally on Air Asia recently?  I'd love to hear about your experiences.
Any other tips to share? Please leave a comment.
Interested in Malaysia?
Check out the Tourism Malaysia website or their facebook.
Noodlies Malaysian posts were done with my super light, compact but powerful Lenovo X220 laptop – I call it "Junior" we're inseparable these days, with thanks to Lenovo Australia and New Zealand.