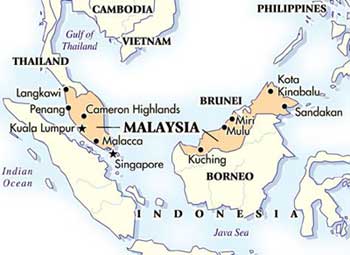 Malaysia is made up of two distinct geographical parts – peninsula Malaysia to the west and the states of Sarawak and Sabah on Borneo Island to the east.  They both sit just north of the equator and are separated by the South China Sea.
Peninsular Malaysia has a border with Thailand to the north and the island of Singapore sits offshore in the south, while Malaysian Borneo shares borders with Brunei and Indonesia.
Malaysia covers an area of 329,758 square kilometres and has a population of more than 27.5 million people. Bahasa Melayu, or Malay, is the national language but English is very widely spoken. Islam is the official religion of Malaysia, however all religions are freely practised
The population mix in Malaysia is a combination of a Malayan majority (57%) and other communities including Chinese, Indian and Indonesian. The multicultural nature of Malaysia is a core part of its history, as Malaysia has always had trade and colonial links to other parts of the world, including the Portuguese, Dutch and British. This rich cultural heritage is reflected in Malaysian life, from festivals and events to architecture and cuisine [source: Tourism Malaysia Fast Facts, map from Doug's Darkworld].
Tourists are attracted to Malaysia for three primary reasons:
Shopping: Tourism Malaysia claims some of Asia's best shopping centres are in Kuala Lumpur (KL) and is the direct result of the national obsession with shopping. Everything from high-end Louis Vuitton fashion to locally crafted clothing.  Mega Sale, the countries largest retail sales event, is held at the end of each year and attracts tourists from around the region.  Lot 10, Suria KLCC in the Petrona Towers, Bukit Bintang all come highly recommended from my Malaysian friends, for more shopping places check out this listing on Virtual Tourist.
Beach and Resorts: Malaysian beaches are found on some of the cleanest, most stunning stretches of coastline anywhere in the world. Soft sand, clear warm water and a predictable climate ensure optimal conditions to kick back and relax, with Langkawi a particularly popular destination.
Food: Malaysia is renowned for its street-level hawker food, simple, fresh and delicious. Dishes like chicken and beef satay, chicken rice, spicy fish salads and fresh noodle dishes of all kinds are plentiful, economical and addictive.  For the past few years, Malaysia Kitchen events around the world have been particularly effective in promoting Malaysian food and tourism, see video below of Florence Tan from Malaysia Kitchen in Parramatta.  Malaysia Food, Travel & Tourism Blog has a good listing of the dishes to try and where to get them.
Noodlies, Sydney food blog is off to the peninsula part of Malaysia tomorrow and will be staying in both KL and Langkawi.  I can't wait.
I'd love your recommendation on:
food to have, including dishes, fruit and drinks
places to visit
'must do' experiences
tips and hints
Please drop your suggestions in the comment section and hopefully I'll get the chance to try it out.
The lovely Jackie from Jackie M Malaysian responded to my shout out for help.  Here are her fabulous recommendations:
When I choose to stay in the confines of the city [KL]… some of my favourite hangouts include the KLCC Shopping Mall located at 1 Jalan Ampang, KL. Huge selection of local delicacies within the food court as well as the a la carte restaurants, including roti canai, murtabak , nasi campur (rice + choice of dishes), laksa, har meen (prawn noodle soup) . Try La Cucur for Malay kuihs (steamed cakes & snacks not unlike the Vietnamese sweet cakes you get in Cabramatta grocery stores) and Madam Kwan's if you're looking for a 'greatest hits' variety of halal street food under one roof, within an upmarket dining environment.
Then there are the myriad of night markets (pasar malam) all over the city, with Petaling Street in Chinatown being one of the most popular if you're after a bargain and some great Chinese food like raw fish porridge and frogs legs.
I always make sure to hunt down preserved/pickled fruits called Jeruk, available everywhere – my favourite being pickled sliced papaya and pickled mango. Then there are fresh fruits like mangosteen, chiku (aka sapota), rambutan, longan, lychee and of course, durian – most of which are available in Australia but are much more affordable in that part of the world.
Most locals (and my family was no exception growing up in Malaysia) happily travel to far-flung places in their quest for culinary perfection; the ones that come to mind that have been around for decades, are
– Satays from the town of Kajang about 30-45mins outside of KL (try Restoran Sate Kajang Haji Samuri at Jalan Kelab, Kajang)
– Yong Tau Foo (stuffed vegetables) from Ampang (try Foong Foong Restaurant on Jalan Besar Ampang); a similar distance from the city

– Nasi Lemak from Restoran Nasi Lemak Antarabangsa at Jalan Raja Muda Musa, Kampung Baru, KL
For souvenir shopping, I like Central Market located at Jalan Hang Kasturi (near Pasar Seni LRT), and Sunway Lagoon is worth a visit if travelling with young kids, for their water park/zoo/amusement park.
What a wonderful and comprehensive list of options, thanks Jackie!
Interested in Malaysia?
Check out the Tourism Malaysia website or their facebook.