A popular feature of the award winning Tropical Spice Garden is its Cooking School, where you'll learn to cook a range of food from resident chefs; Pearly Kee (Nonya), Azizah Osman (Malay), Chef Sugumaran (Indian).
Regular readers of noodlies, Sydney food and travel blog would know that I don't cook.  While, noodlies has been to other cooking classes, I'm usually in a group cooking a 'team' meal.  Here, I had to cook on my own and we had to make a three course lunch. I'm nervous.
Fortunately, I'm did the Nonya Cuisine class with Pearly Kee who also runs here own Penang Home Cooking classes.  With her clear instructions, kind and patient manner, I was able to accomplish a the three course meal that you see below.  Yup, I cooked that!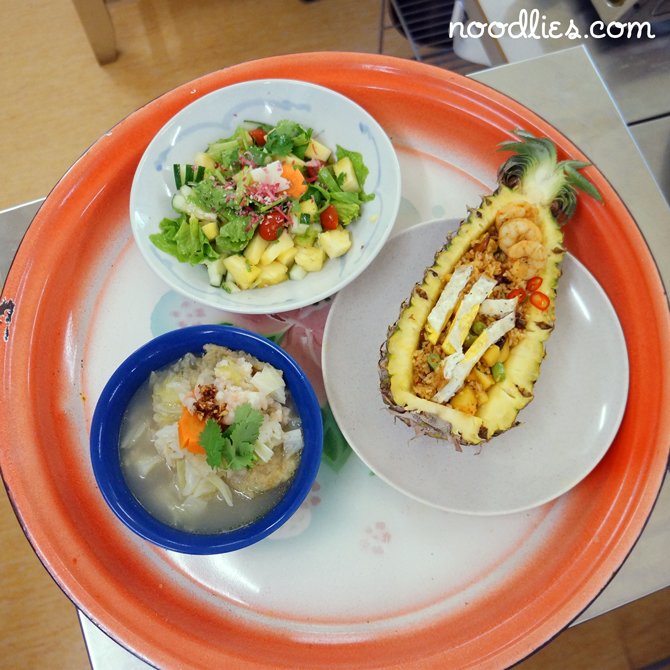 Along the way I learned so many handy tips…
Like how to cut a carrot into flower pieces – see the video below.
Or how to make spiral pineapple slices.  Pearly made it look super simple.
And another favourite of mine how to get evenly fried rice.
With Pearly's supportive words, clear instructions and amazing patience, I was able to cook the following three dishes:
greens with cardamons salad
pineapple fried rice
fish maw soup (for this recipe check out Rebecca's blog here)
And this is what they looked like..
I was pretty pleased with my pineapple fried rice which, even if I say so myself, was very well plated that I'm going to give you the recipe below.
Pearly Kee's Pineapple Fried Rice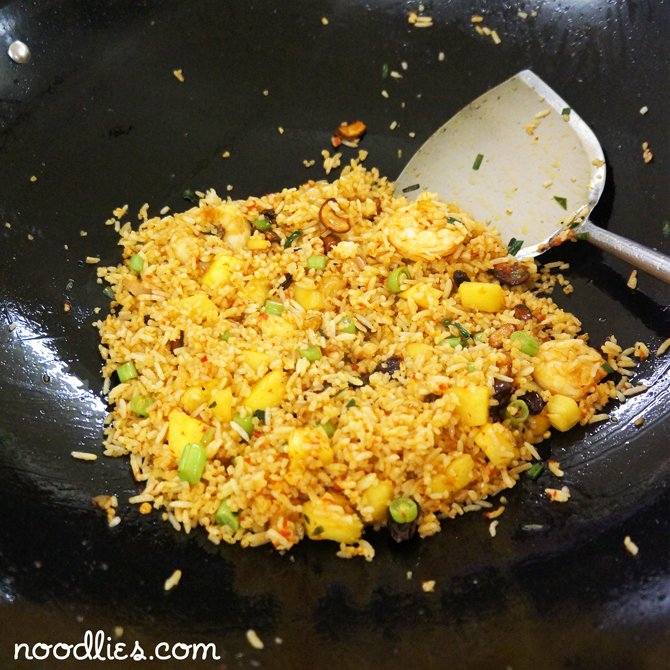 Ingredients
1 pineapple (cut to half with crown in tact)
4 cups cooked rice
8-12 fresh shrimp/prawns
4 tablespoons oil
2 shallots, thinly sliced
3 cloves of garlic
1 red or green chilli
4 tablespoon roasted cashews
1/2 cup peas
1 egg, beaten
1/4 cup currants or raisins
3 tablespoons sambal belachan
2 tablespoons soy sauce
1 teaspoon sugar
3 spring onions, finely sliced
Cooking
In a wok, pour cooking oil on medium heat.  Make scrambled egg with heated oil. Dish out and set aside.
Stir fry shallots and garlic until aromatic. Use flavoured oil to stir fry prawns. Add red chillies and peas.  Add raisins, sambal belachan and cooked rice, stir frying until  it's all heated through.
Add seasonings, scrambled eggs and fry until well done.
Plate with spring onions and toasted cashews as garnish.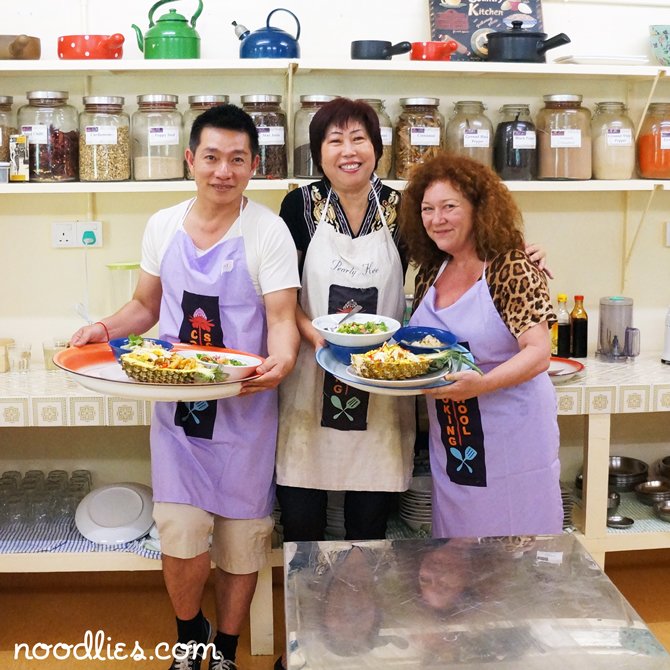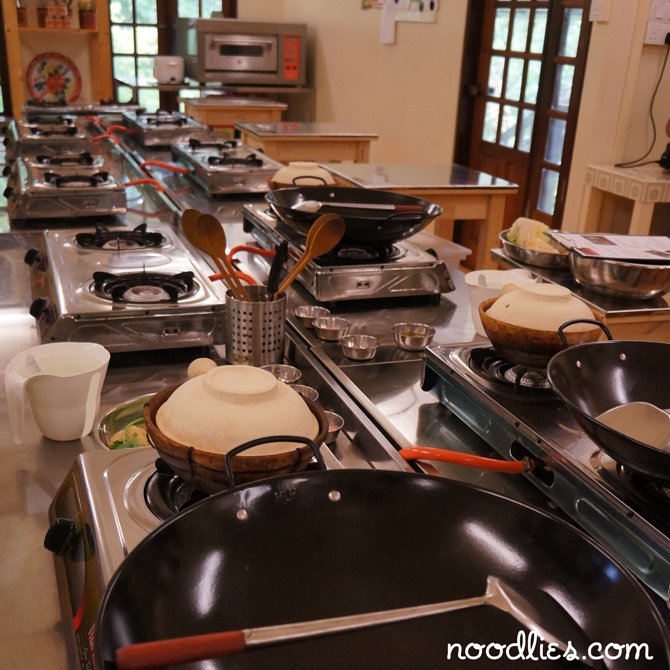 Follow Pearly's twitter, facebook or website for more recipes.
Or book direct from Tropical Spice Garden.
Tropical Spice Garden Cooking School
Lone Crag Villa, Lot 595 Mukim 2
Jalan Teluk Bahang, Penang, Malaysia
Ph: 604 881 1797
This noodlies, Sydney food and travel blog Malaysian experience (#discovermalaysia) was courtesy of Malaysian Airlines, Tourism Malaysia and Tropical Spice Garden.