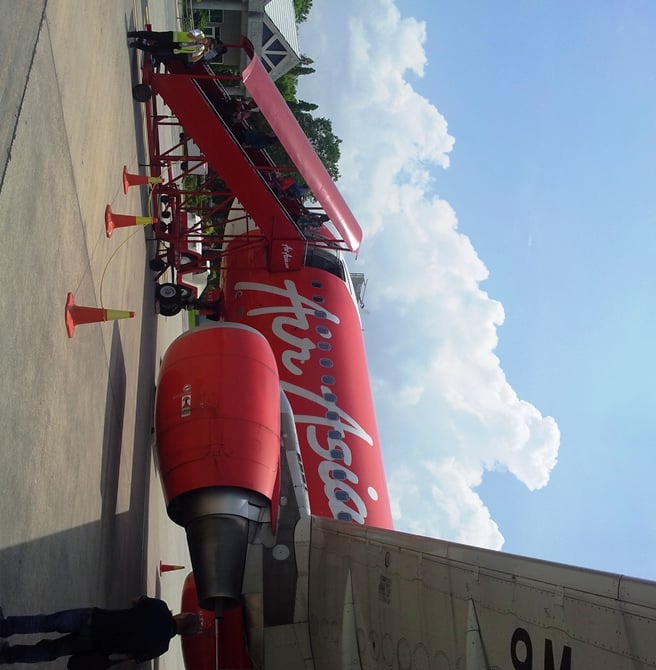 We've gone all Air Asia on this Malaysian holiday, tempted  by low fares and their reputation for being the World's Best Low-Cost Airline three years running.  The flight from Sydney to Kuala Lumpur (KL) was at capacity and cramped, but overall worth the A$320 return fare (read review).
This review is for our Air Asia domestic flight from Kuala Lumpur to Langkawi for a few days of much need rest and relaxation at the gorgeous Meritus Pelangi Beach Resort & Spa. After a frantic 12 months, noodlies, Sydney food and travel blog was so looking forward to lounging at a beach resort.
In keeping with the relaxed theme we booked the noon flight to give us time to leisurely eat breakfast in KL and check out.  The flight duration would be under an hour and we'd be in Langkawi by 1pm, soaking in the beach view from our chalet.
Our taxi left for the airport at 9.30am and we arrived a the airport just before 10.30pm.  I'd booked our tickets online and used the Air Asia smart phone app to check us in at a kiosk.  This was simple, straight forward and took no time.  We headed off to check in our booked luggage.
Here, things went a little weird.
Air Asia domestic terminal didn't have a dedicated check in counter for each flight so everyone queued up in the 10 or so counters that were open. Our choice was more limited as there was only two counters open for pre-booked luggage check in.
The line was 10 deep, but alarmingly each person took an eternity to check their luggage in. By boarding time of 11.20am we were still in line with three people ahead of us.  Luckily we heard an announcement that our plane was boarding soon and passengers who had luggage to check in should proceed to another counter.  Of course, everyone rushed that counter and we had to wait in another line.
This time the queue seemed to move much faster and, after checking in our luggage we ran to the boarding terminal. The Air Asia domestic terminal wasn't well designed; we couldn't go directly inside, but instead had to leave the luggage check in area and enter the boarding terminal through another entrance. We were running by then, only to be frustrated by the security screening queue.  We pushed our way through, took out our laptops, undid our belts, packed everything back up again and sprinted for the terminal.
We got there at 11.45am only to find our plane hadn't started boarding passengers. Relieved and frustrated we sat down to catch our breath.  It should have been such an easy process…
Once on board, the service was fine.  The cabin of the Airbus A320-200 was modern though a little cramped, staff friendly and efficient and we arrived on time at Langkawi.
Here's some feedback for Air Asia via this post and through twitter (Air Asia encourages feedback and questions via twitter):
Each flight should have a dedicated check in counter
It shouldn't take 1 hour and 15 minutes to check in your luggage
Passengers should be able to enter the boarding terminal via the check in counter area, currently we have to leave the check in area and enter the terminal via another door
Check in staff should be able to process passengers much more quickly, it took up to 5 minutes to check in some customers
There should be more than 2 counters open for people with pre-booked luggage if they're servicing every Air Asia domestic flight
Noodlies had planned a relaxing Langkawi resort escape. Sadly, it got off to a stressful start with noodlies and friend sprinting to the boarding terminal.  We expected a no frills service for the no frills price, but in this case, it was more that the check in processes and procedures could have been more efficient.
On this trip, low fares just couldn't compensate for the high level of personal stress endured by noodlies, Sydney food and travel blog.
Interested in Malaysia?
Check out the Tourism Malaysia website or their facebook.
Noodlies Malaysian posts were done with my super light, compact but powerful Lenovo X220 laptop – I call it "Junior" we're inseparable these days, with thanks to Lenovo Australia and New Zealand.