Noodlies, Sydney food and travel blog had a great day today hosting a couple of food bloggers around Cabramatta; Billy (half-eaten) who's visiting from Melbourne and Penny (addictive & consuming) who's recently moved up from Melbs. Penny, I've met before, brought her partner, Henry and friend, Jess.  This is the the first time I've met Billy, although we chat frequently on twitter and I feel like I already know him.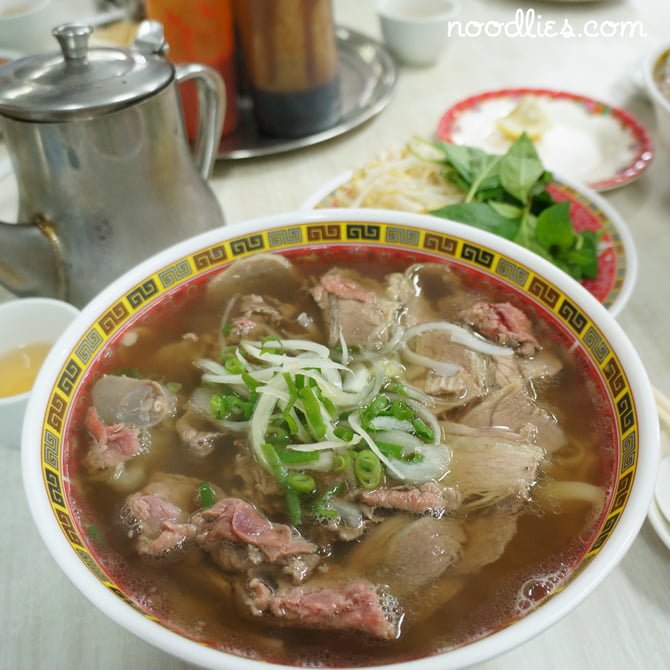 Our progressive Cabra Crawl started with a bowl of special Pho at Pho Tau Bay, winner of noodlies Sydney's Best Pho, 2010.  We all had the special pho and I was particularly keen to see what Penny and Billy thought of it.  You can see their reaction in the featured video above… interesting…
Next was banh mi thit, Vietnamese pork rolls that are now world famous.  I asked our food bloggers "which is better, Sydney or Melbourne?".  Watch the noodlies video above, the response was very interesting…
Next up was shopping.  Penny bought up big at Ngoc Duc, the best Vietnamese takeaway in Cabramatta.  Ngoc Duc sells everything from savoury: banh beo, banh xeo, banh cuon to sweet Vietnamese dishes: che xoi nuoc, che dau, tau hu, to sugar cane juice.  See her Ngoc Duc purchase in the video above.  At Dong Khanh supermarket, she also bought some coc a fruit that is similar to guava, but at the same time very different.  Penny proudly shows off her latest purchase below.
Our caffeine hit was Vietnamese ice coffee from Cafe Nho, where we tried the old Vietnamese favourite, tea infused with coffee – that's when you pour tea over the glass of iced coffee you've just drunk!  It's common practice in Vietnam… and Cabramatta.  That's what a glass looks like below.
Our Cabra Crawl ends with a quenching glass of freshly crushed sugar cane juice from Thu Phung N (they sell cheaper drinks than Thu Phung).
Cabramatta is an amazing foodie heaven, no wonder it won Fav Eat Street in the latest Sydney Morning Herald Everyday Eats, 2012!