Almost 200 tasty dishes, most under $12.50
Noodlies, Sydney food blog loves this humble vegetarian eatery
It's just off the John street main drag and gets very little love from visitors including reviewers and bloggers. But despite the intense competition (there are six vego eateries in town), this Cabramatta vegetarian institution is still going strong for over two decades. The secret might just be their head spinning range of dishes; recently they added another 12 dishes taking the menu count to almost 200, including 24 vegetarian all day yum cha choices, single serve dishes and a-la-carte options. With all but a handful of dishes being under $12.50, this place is also an uber-bargainous delight.
For newbies, the English picture menu makes ordering a breeze. The simple menu is laminated and spiral bound – it's typical of the experience here – honest, simple, no nonsense Vietnamese vegetarian fare. Service is casual and friendly, though slow when busy (during full moon and half moon cycles), expect dishes to arrive in random order. Like most restaurants in the area, tea is free.
Check the noodlies, Sydney food blog featured video above for a close up of the Duy Linh and read on for more food highlights.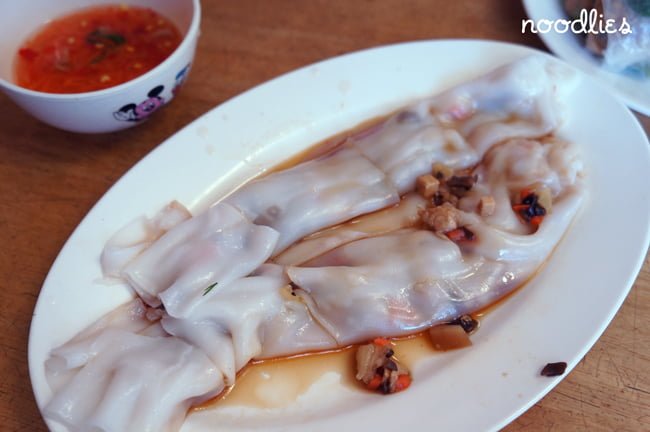 All day yum cha was added several years ago. It hasn't been a run away success, partially because the rest of the menu is so good, why bother with yum cha? There's a choice of the usual standards like siu mai and har gao. Instead of prawns or pork mince, these silky, slippery rice noodles contain small pieces of tofu, mushroom and vegetables.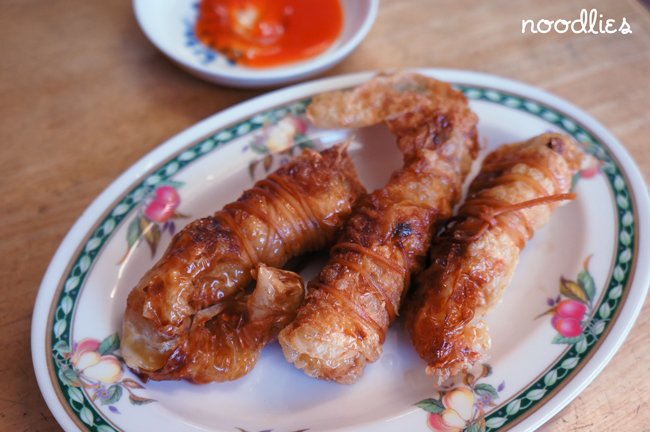 Food at Duy Linh can look disconcertingly like their meat counterpart. From afar it's easy to mistake crispy fried tofu skin for yum cha deep fried prawns. It comes with a dayglo red and thick dipping sauce that's extra hot.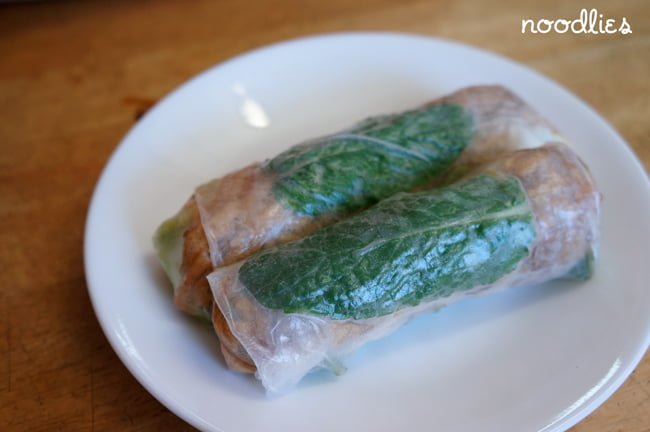 Fresh rice rolls (goi cuon) soak up the limelight but noodlies loves bo bia, another form of fresh rice rolls with thin strips of fried pork skin filling. It's a unique dusty taste with crunchy texture that you'll either love or hate. Here, the vegetarian version manages to both look and taste eerily close to the meat counterpart.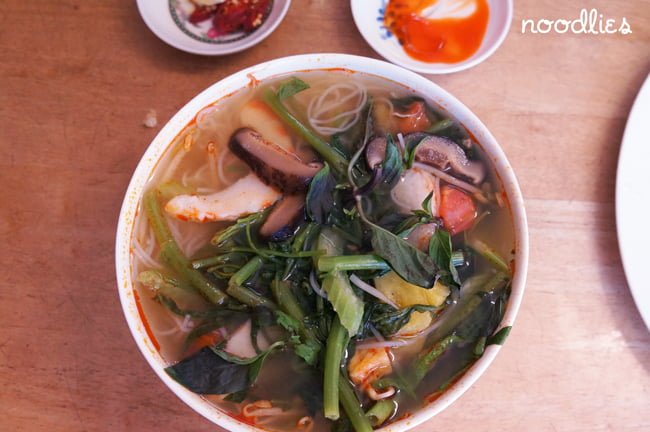 Canh chua is a classic Vietnamese home-style soup, with fish or prawns and sometimes chicken. It's a zesty, sharp taste that comes from tamarind, fresh pineapple, morning glory, basil, elephant ear stem and okra. Given much of the zing comes from non-vegetarian ingredients, it's not hard to see why this dish works so well in vegetarian form. Note the convincing looking mock prawn to the top left of the bowl. This is as good a version of canh chua you'll get in Sydney, vegetarian or otherwise.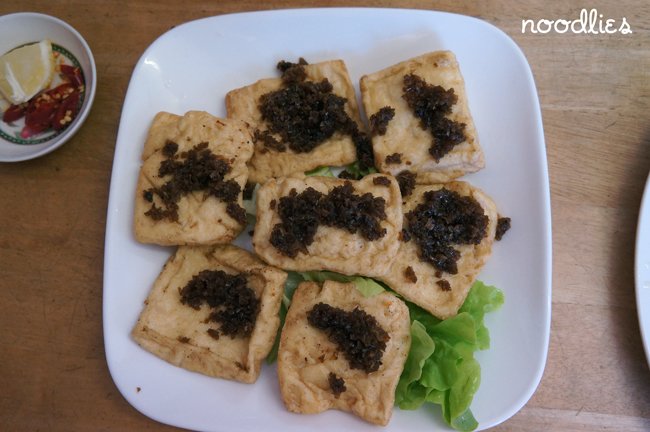 Lemongrass tofu is one of those stand alone vegetarian standards you'll find in temples and vegetarian restaurants all through Vietnam. Finely sliced lemongrass is fried until it's almost burnt, together with extra salt gives the topping a pungent pang that instantly lifts the relatively plain fried tofu squares. You can't claim to be a Vietnamese vegetarian without having eaten this dish many, many times.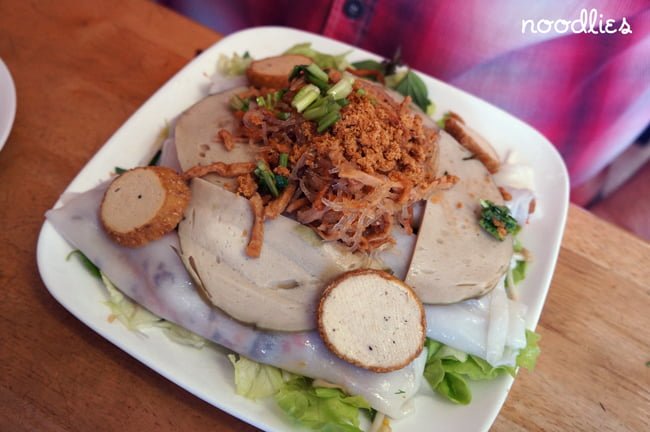 Banh cuon is a breakfast/lunch stand alone dish that consists of rice noodles filled with minced meat, topped with cha lua (Vietnamese pork devon – it's one of the three types of meat inside a banh mi thit/pork roll). The mock cha lua has the same texture and banana leaf fragrance as the meat counterpart – they're wrapped in banana leaf during cooking. It's a recent addition to the Duy Linh menu and a very generous serve for $12.50. You'll need to attack this dish when hungry.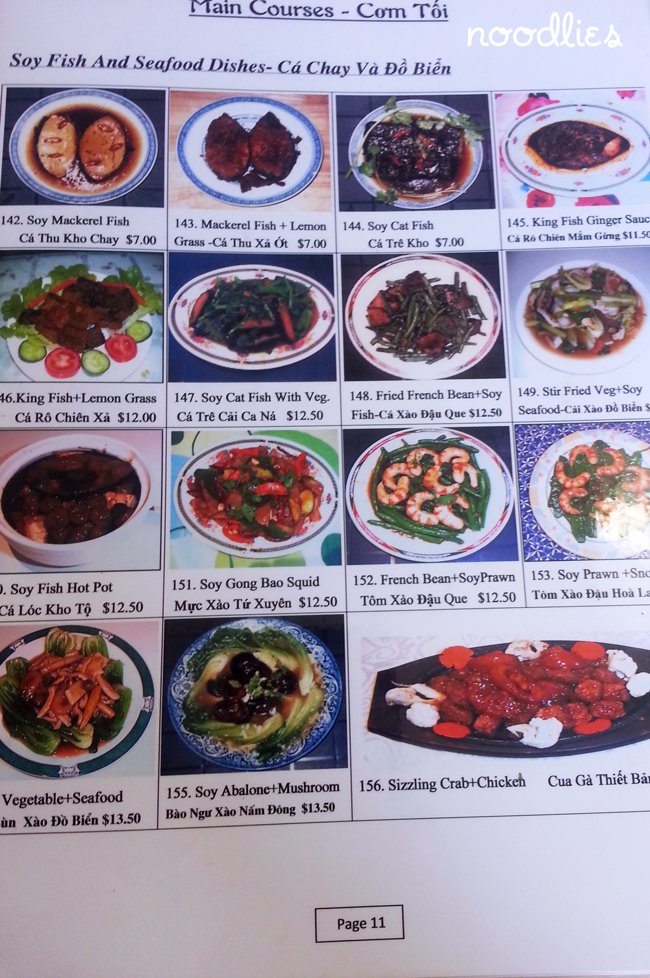 Above is a page from Duy Linh's picture menu – note how closely these dishes resemble the meat counterpart; soy mackerel fish looks like thick fish pieces (top left) and it's hard to tell it's mock prawns in French beans and soy prawns (bottom right).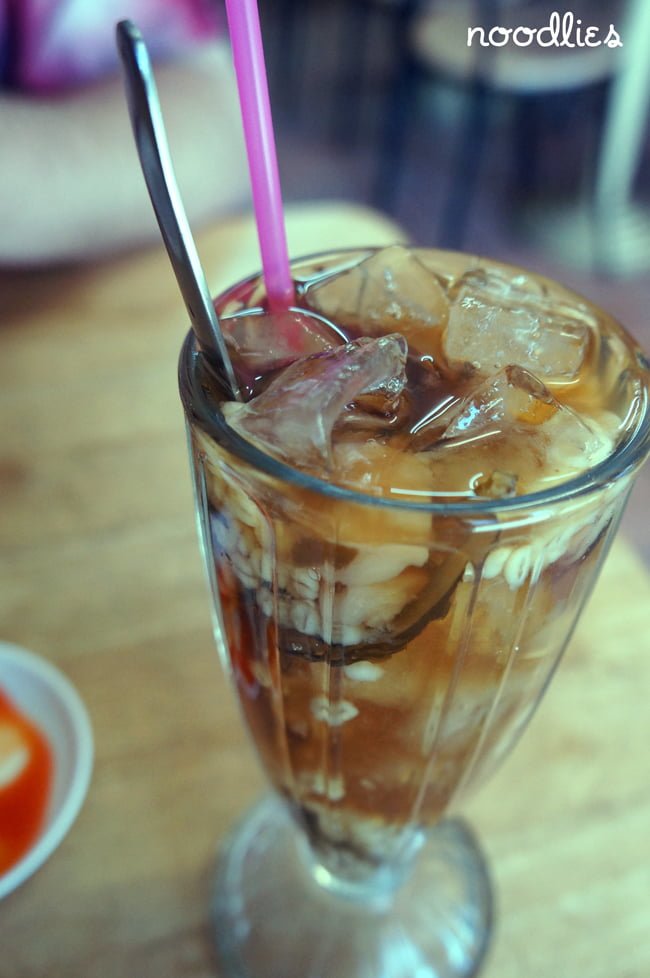 With a copious quantity of sugar, sam bo luong drink/dessert won't necessarily quench that thirst, but this sweet cocktail containing longans, lotus seeds, red jujubes and sliced seaweed will ensure you leave Duy Linh with a buzz.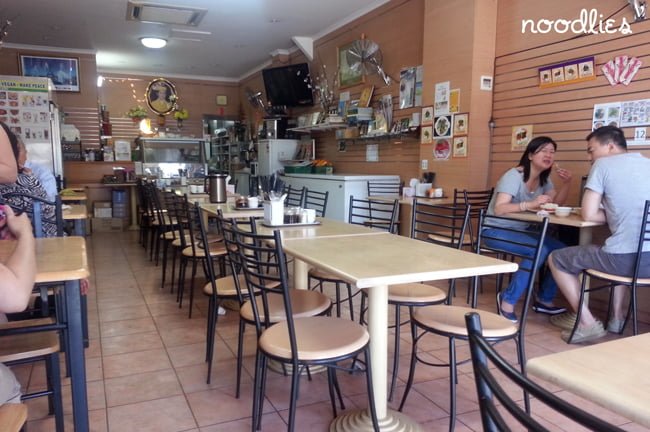 The humble, ho-hum decor is deceptive, this local institution is one of the best vegetarian restaurants in town. Recently hours extended until 9pm (previously 7pm) seven days. While locals love it, being just off the main drag means it's still relatively undiscovered by the rest of Sydney. Oh, and they make a great range of takeaway vegetarian meals for takeaway too, they're displayed at the counter – check out the noodlies video above.
Now that the secret is out, it's your turn for a mouth-watering vegetarian adventure. I'd love to know what you think!
Duy Linh Vegan Restaurant
Shop 10, 117 John St (enter via Hill St), Cabramatta
(02) 9727 9800