Day 1: It's not a cruise without all you can eat.
We were all together for dinner one Sunday in July when someone had a bright idea.
"Let's do a Christmas cruise. It'll be better the annual family BBQ. Grog will be free. And let's agree we won't be doing the Kris Kringle, so no presents to worry about".
We all readily agreed.
Today, the whim became reality. The Overseas Passenger Terminal is crawling with excited cruisers. They come on trains, cabs, Ubers, coach buses and suburban shuttle buses (like us). A colourful, excited bunch of cruisers determined to have a great time. Most are in summer holiday gear, shorts, tees, sunnies, some groups are in matching Hawaiian shirts (why didn't we think of that?).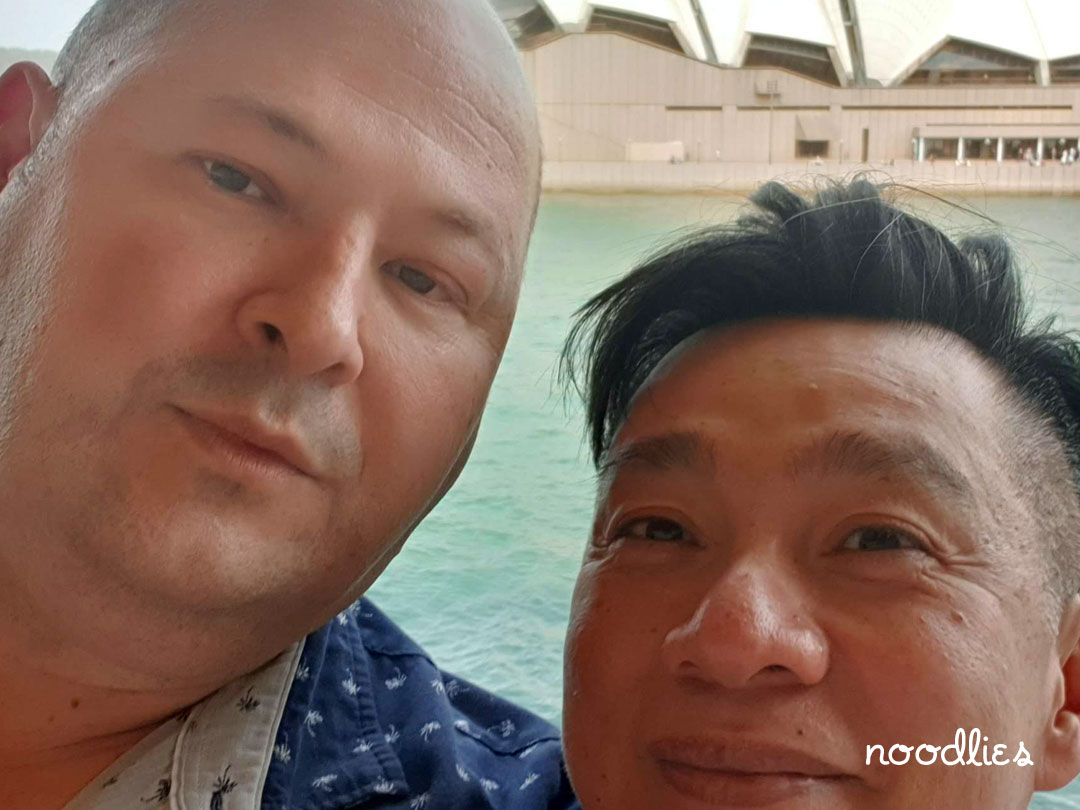 The cruisers are a broad church; pensioners, young families, couples (straight and gay), Aussies, Chinese, Lebanese, Indians and more.
Sure, we're diverse, but we're united in the determination to game the hell from the cruising experience. For around $2,500 per person we get accommodation, food, pool, fitness, games, movies, shows and, tanned and fit staff that treat you like royalty.
That's the basic package. Most pay for add-ons; Classic Soda Package (US$12.99/day) for all you can consumer Coca Cola), Unlimited Dining Package (US$216) that lets you go to more posh restaurants and the holiday maker's dream, Deluxe Beverage Package (US$70/day), the cruiser's Holy Grail, unlimited wine, beer, cocktails (premium alcohol excluded).
Whenever unlimited is featured as a feature, we'll be wanting to eat and drink the hell out of it. We just want to make sure we're getting more value than the mountain of hard-earned cash we've forked out.
It seems like most of the ship bought a Deluxe Beverage Drinks package. Basically, if you have more than six alcoholic drinks a day, you'll come out on top. Day 1, it seems like everyone had more than six, but I'd like to see if they can all last the nine days.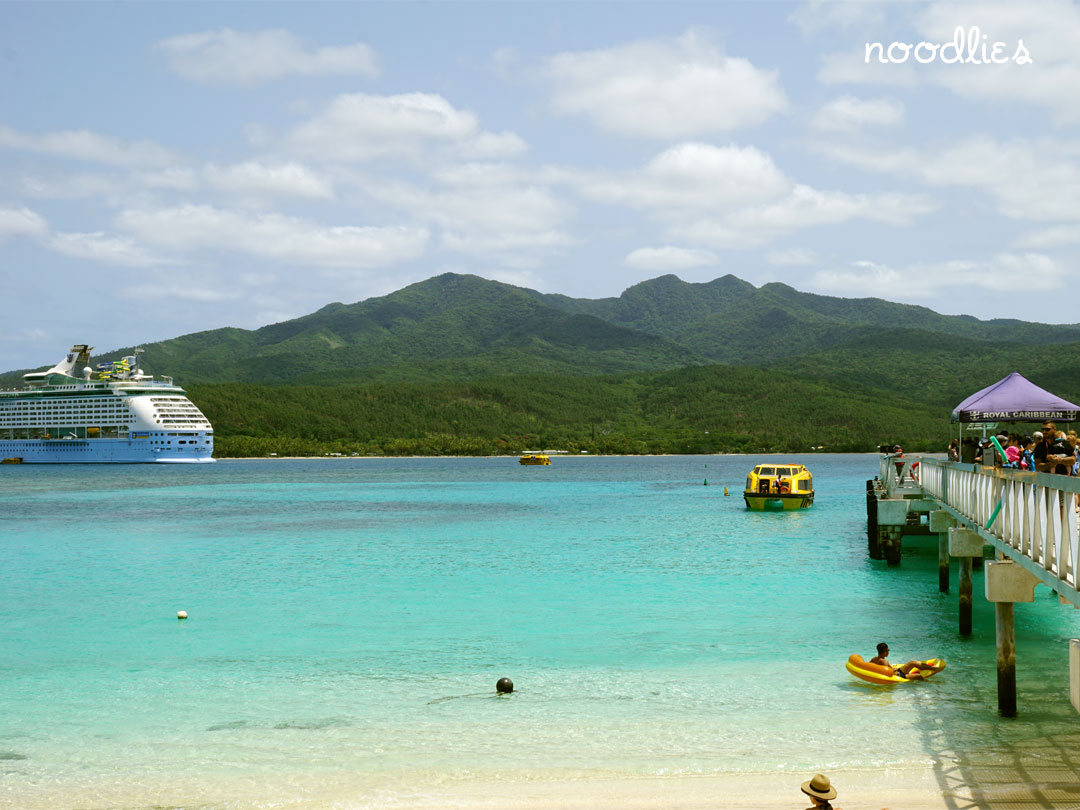 And then there's Windjammer Marketplace. It's the Voyager of the Seas' all-you-can-eat buffet. Open for breakfast, lunch and dinner, Windjammer is the largest restaurant on the ship. Everything here is covered in the cost of the cruise ticket. The layout is circular, you enter to the left and go anti-clockwise. There's a couple of salad and fruit bars, which was sadly neglected by all, except for the watermelon, which was a riot in popularity. No matter how many slices we ate, there seemed to be more.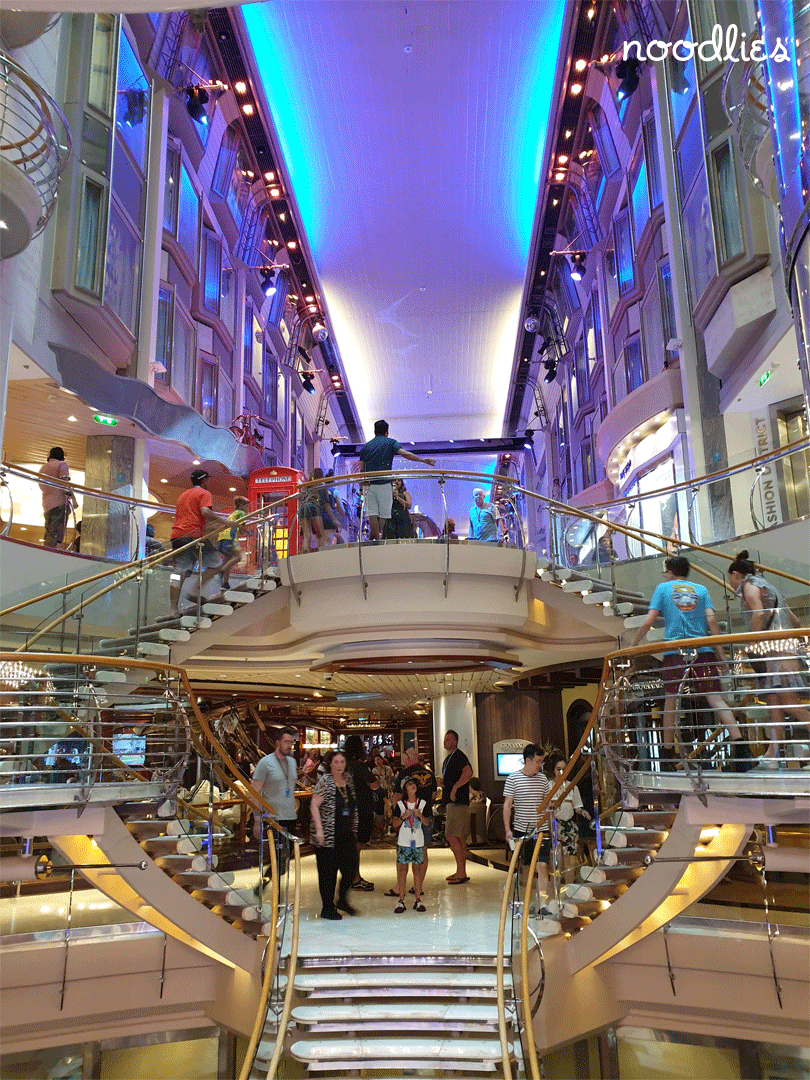 Traditional favs of roasts, pies vegs, mash, corn were plentiful with an equally jaw dropping choice of sauces, HP, tomato, Maggi, sweet mustard in squeeze containers the size of petrol cans. But sadly no hot mustard.
DYI burger with fluffy buns, meat patie, yellow cheese slices and pickles would have been the most popular, if it wasn't for the wlidly seductive and popular slices of pizza; golden and gleaming with streaks of red tomato sauce.
Once you've had enough of unlimited savoury, just switch gear to sweets – cakes and bakes of all sizes shapes and colours. I lost my banana pie virginity on Voyager of the Seas – in a few words, crusty with slippery banana pieces and generous essence.
At random times, bread and butter pudding appears and the crowd goes wild. I miss out each time, only sloppy traces of pudding next to buckets of custard remain by the time I appear on the scene.
Never mind, there's always tomorrow. We're onboard for nine days.