Are you here alone? Can I sit next to you?
Intimate, sensual is the aim, Malaysian food is their game, noodlies, Sydney food blog sidles up.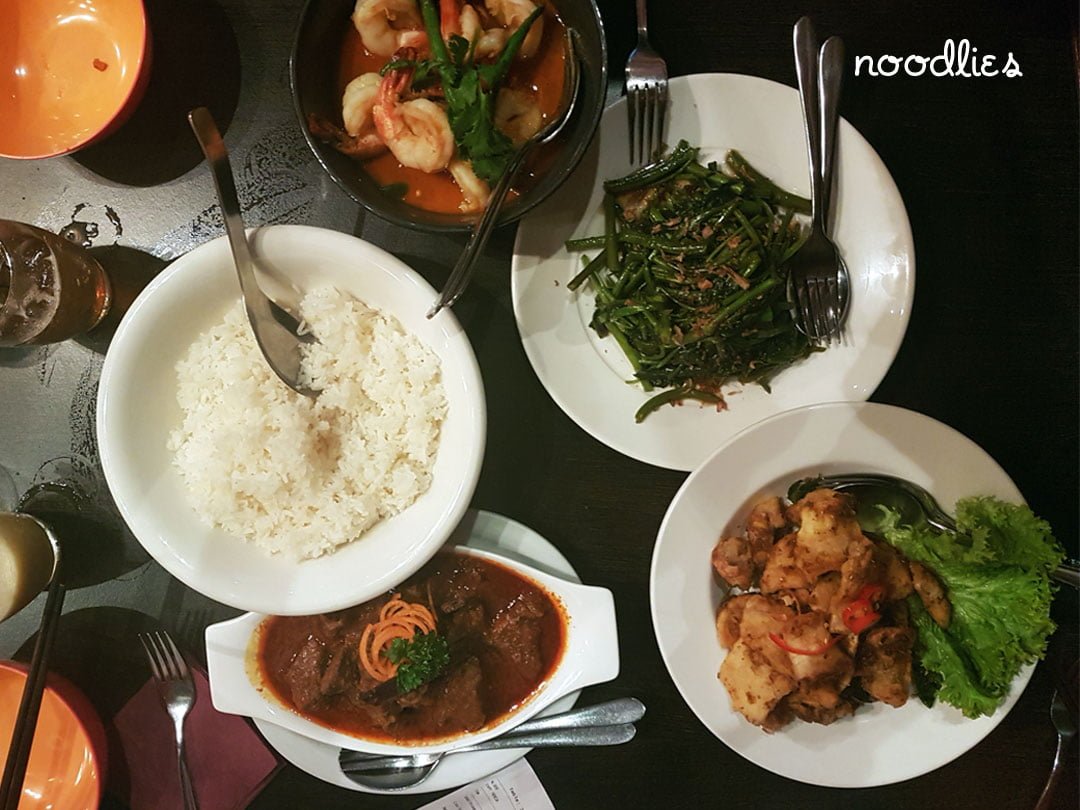 In the photo above is everything I love about Asian food. It's sex on legs (four table legs that is). Communal eating is raucous, messy, colourful – there's noise, movement – a total pretension free zone. For me, the classic Asian meal will have a mix or garlicy stir fry, light vegetables, clean soup and of course steamed rice. These dishes complement each other – a mouthful of flavoursome stir fried meat with rice to start, then a mouthful of soup to wash it all down, or a chopstick laden with vegetables to pull things back.
Beef rendang (bottom left) is the punchy dish of today's dinner, rich, dark sauce that's perfect to spoon over a bowl of puffy rice, slow cooked beef stays together long enough until it hits your mouth and dissolves. If you don't want to start so earnestly, maybe a mouthful of spicy spicy squid (bottom right). Don't get scared by the huff and puff name, it's medium hot at best. It's closer to classic Chinese salt and pepper squid, sans pepper. Here, it's a heady mix of chilli, garlic, curry leaves and fish sauce. If you really want a flavour explosion with your squid, ask for sambal squid – nothing like concentrated chilli and garlic to wake the taste buds. Too much flavour? Pull things back with belachan kang kong (top right) water spinach will make a nice change from concentrated spices, though be warned, there's still plenty of flavour courtesy of chilli prawn paste. Or, point your chopsticks to the assam prawns (top) tomatoes, okras, eggplants and pineapple pieces cooked in tamarind sauce. The tangy and sour will make a nice change.
Before these mains, we started with satay chicken and cissy scallops (below). It feels wrong not to have that street food classic, the chicken pieces were golden and smokey and goes well with punchy satay sauce. The fleshy scallops were steamed and covered with a mild chilli sauce. Seafood lovers will love this hearty starter.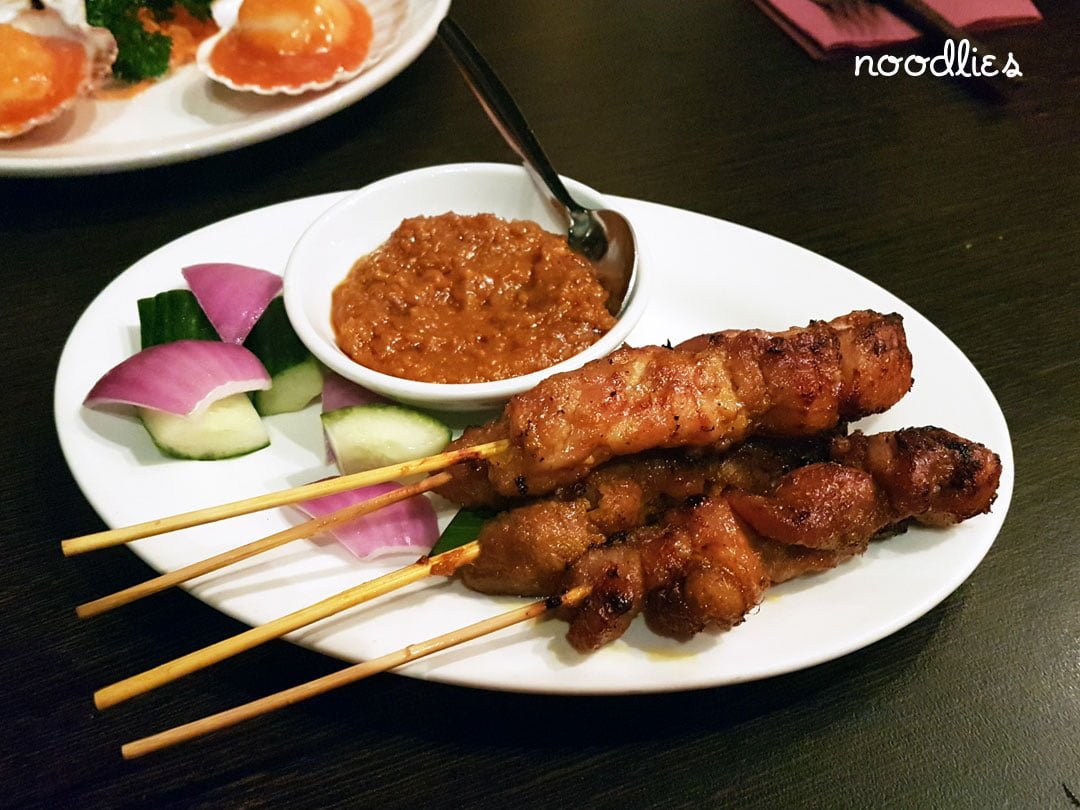 The treat of the night was the medley of Malaysian desserts (below). Chilled durian sesame (top right) was the biggest surprise, a light coloured, cakey dessert served in a Chinese tea cup doesn't exactly attract the eye. Once a spoonful goes in the mouth, it tastes exactly like a piece of durian. Home hearts (bottom) consisted of coconut palm sugar rolls wrapped in pandan crepe. It's an instant sugar hit – the grainy texture filling promised and delivered plenty of interest, it's sensational! But be warned, it's sweet. Oh, that's not to say the remaining desserts were pedestrian; pandan sago (top left) will appeal to punters who love Thai banana in sago coconut milk. Sweet cupid (bottom left) kueh is a thick red and white jelly made with raspberry and coconut, that struggles to hold it's own in this company.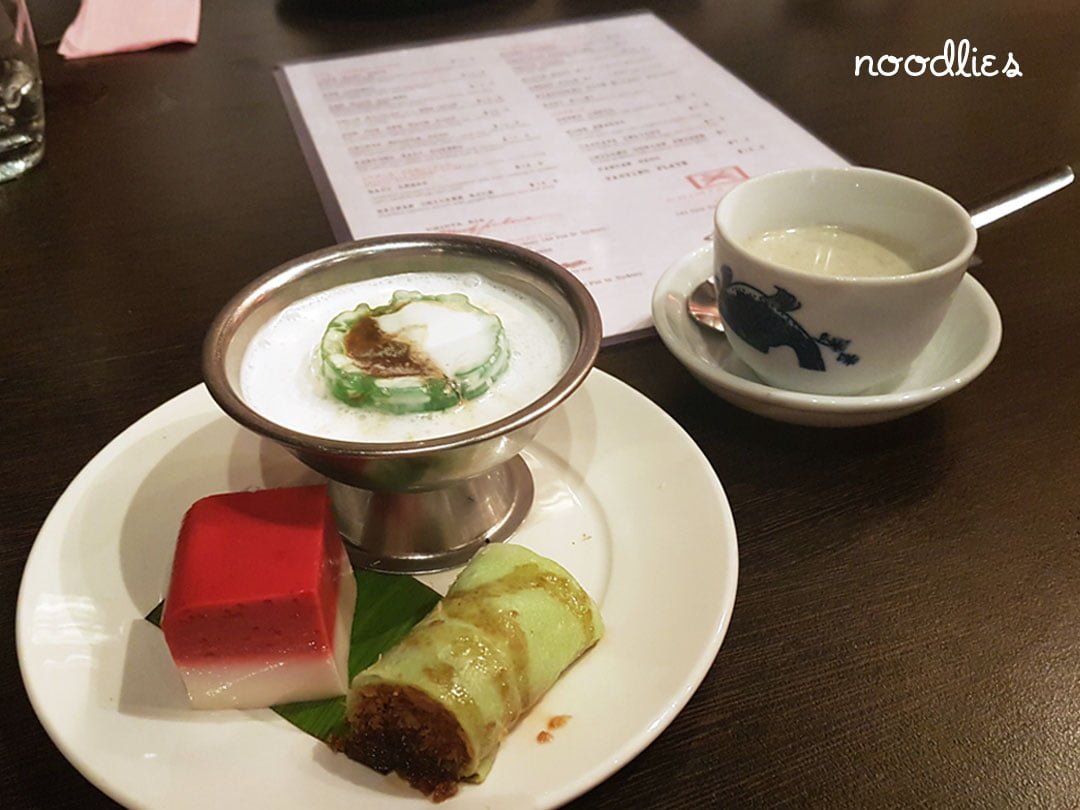 Chinta Ria Mood for Love is charming. It's a shrine to Wong Kar-Wai's, Hong Kong classic In the Mood for Love – Maggie Cheung and Tony Cheung are just so sexy!  They used to project the film in the restaurant, but it's now replaced by a piece of revealing artwork of a back lit, semi naked woman. China Ria Mood for Love aspires to be an intimate, sensual dining experience, warm reds and black tones glowing under down lights set the mood. Though I feel wooden chairs, while comfortable, detract from the soft atmosphere.
It's a shame more food lovers haven't discovered this little sensual nest, but let's face it, Level 6 of Westfield Sydney has never lived up to the original vision of being a fine dining district in the CBD. Even if people think of Westfield Sydney for food, they're likely to stop at the wider range of choices on Level 5.
Your New Year's resolution should be to take it up a level. I reckon it's worth a visit.
Noodlies, Sydney food blog dinned as a guest.
Chinta Ria Mood for Love
Westfield Sydney, 6009/188 Pitt St, Sydney
(02) 8072 8888