Sponsored post.
Can you really make delicious, fresh noodles or pasta in minutes?
Noodlies, Sydney food blog takes the challenge with a Philips Pasta and Noodle Maker.
Not surprisingly, noodlies loves noodles.
Sure, homemade pasta and noodles taste better – fresh ingredients, no preservatives, it's a no brainer, right? I'm getting hungry right now just thinking about it!
The biggest challenge to enjoying homemade pasta and noodles is the time and effort needed. If you don't want to go through all that effort, but still want great, fresh noodles then Philips reckon they have the answer. We cook rice with a rice cooker, maybe the time has come for a pasta and noodle maker? 
But is it really easy to make great testing noodles and pasta in minutes? Watch the noodlies, Sydney food blog video above to find out.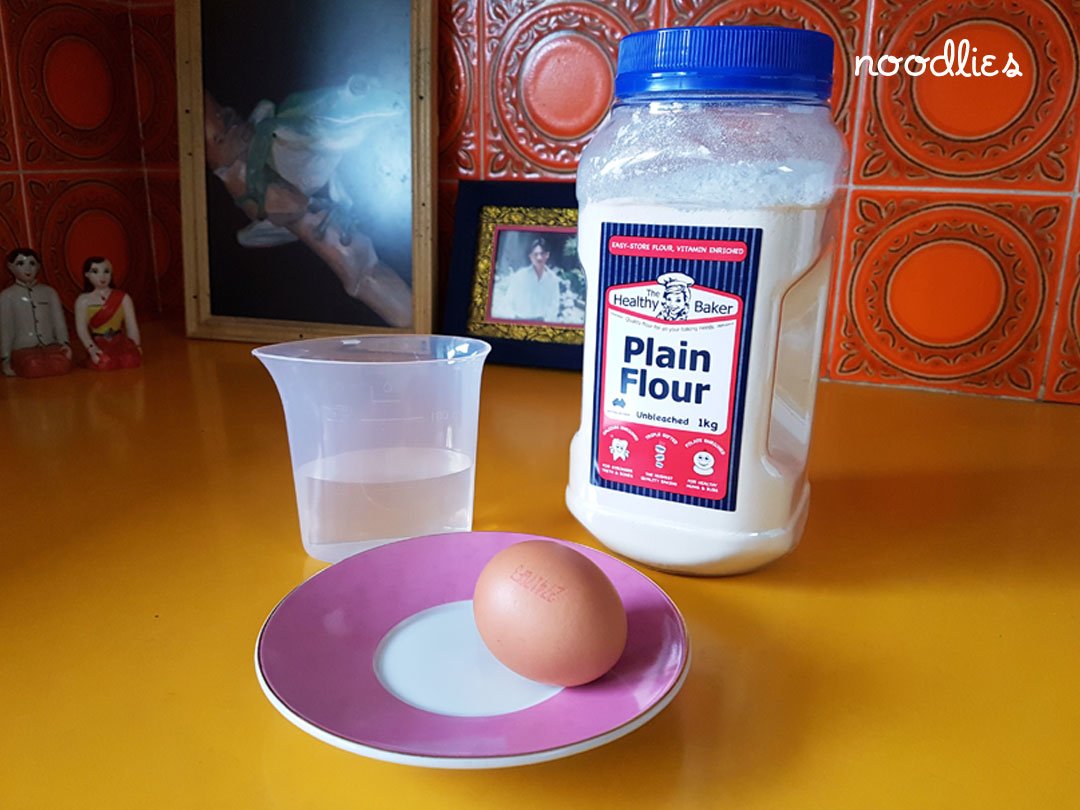 Noodlies recorded our experience of using the Philips unit on a lazy Sunday afternoon. After bingeing on The Real Housewives of New York, we didn't feel like going out for dinner. What to do?!
Well, we do have homemade pasta sauce in the fridge, but no pasta in the cupboard. Wait! We have plain flour, egg and water. What better time to test drive the Philips Pasta and Noodle Maker?!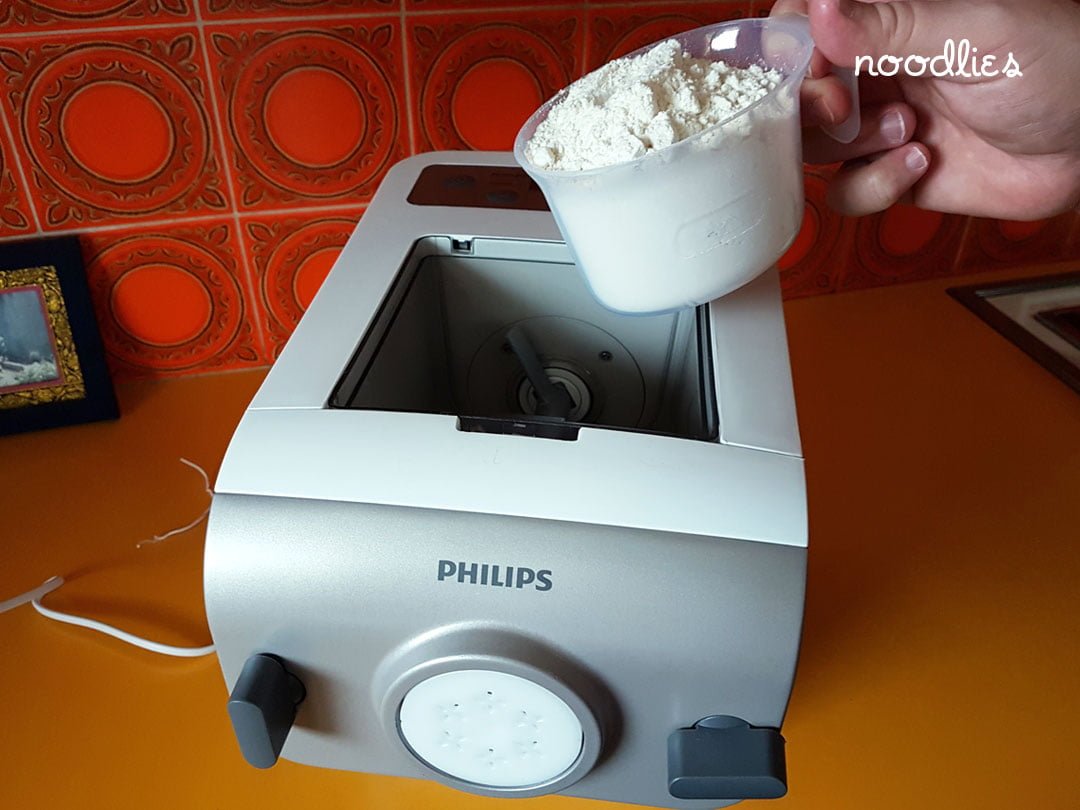 Making spaghetti pasta couldn't be easier with the Philips unit. As you can see in the noodlies video, it's literally a three step process:
Add flour and mixture of

 egg and water

Turn on and select the desired quantity

Wait for the pasta to come out and cut to size
If you follow the instructions, it's fool proof.
You don't even need to have a kitchen scale – cups are provided to help with the correct measurements.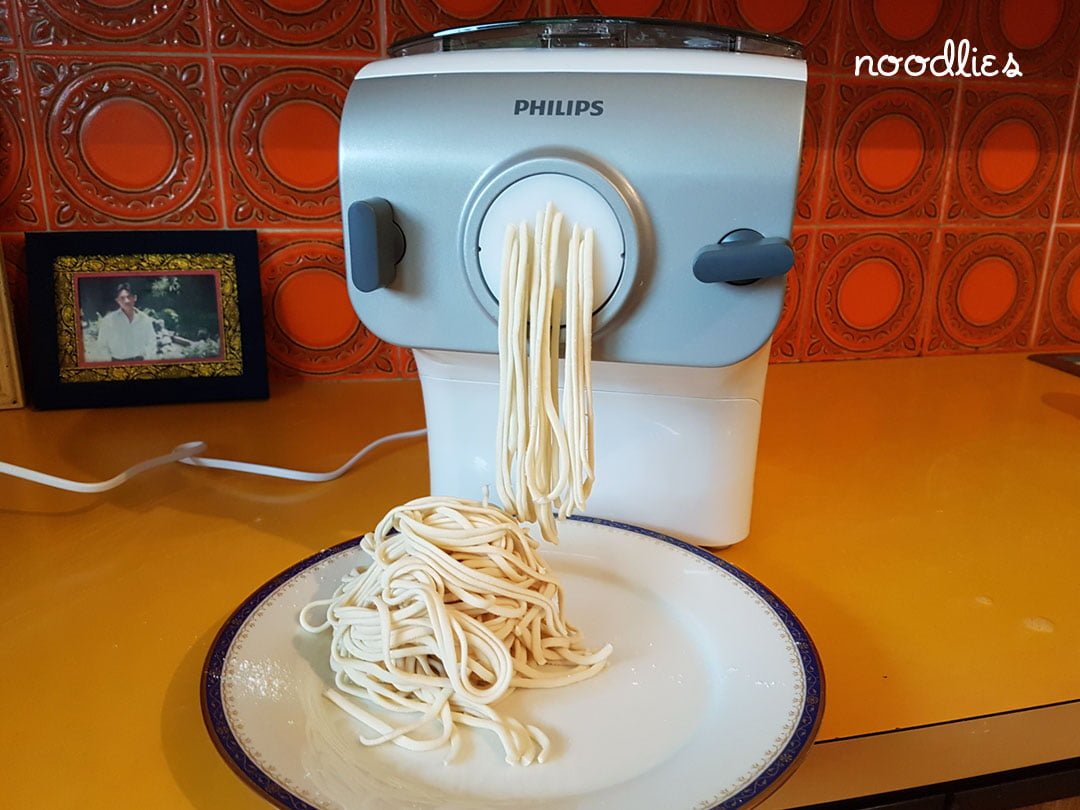 The spaghetti starts extruding within a few minutes, they come out looking even and attractive. It's just like magic, "look mum, no hands!".
The pasta noodle is continuous, so be ready to cut them to your desired length. The texture is just right, not too dry or too gluggy, making these noodles super easy to handle. We pop them straight into a boiling pan.
Voila, dinner is served. Our black cat, Choo Choo loiters in the kitchen the entire time, begging for some pasta.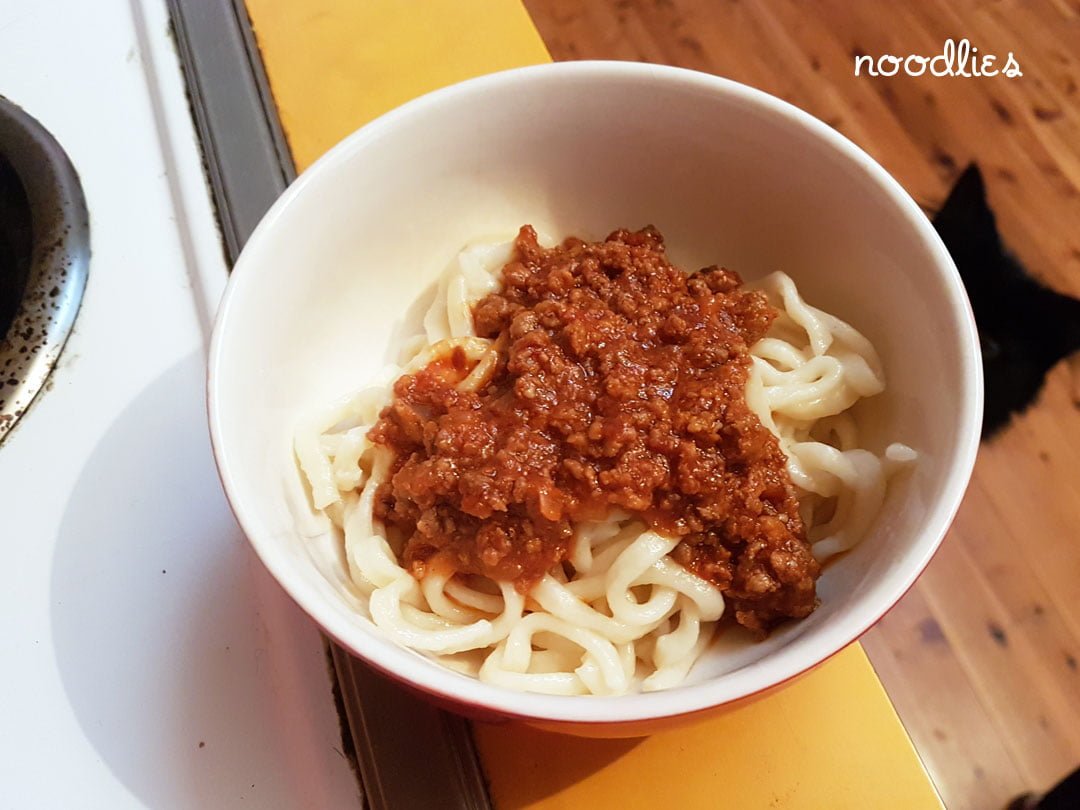 The Philips Pasta and Noodle Maker comes with a range of shaping discs that gives this machine great versatility; round, flat or tubular. Pasta lovers can make fresh penne, spaghetti, fettucine and even lasagna in minutes.
The unit comes with an 80 page colour recipe book. Make a dizzying range of noodles and pasta – wheat, durum, udon, ramen, dumpling sheet, whole wheat pasta/noodle and spelt pasta/noodle. The book includes 25 noodle and pasta recipes to satisfy Western and Eastern palates including pasta primavera, dan dan noodles, miso ramen, beef udon, soba salad with salmon and asparagus, wontons, ricotta spinach ravioli with sage butter and girelle pasta with pumpkin.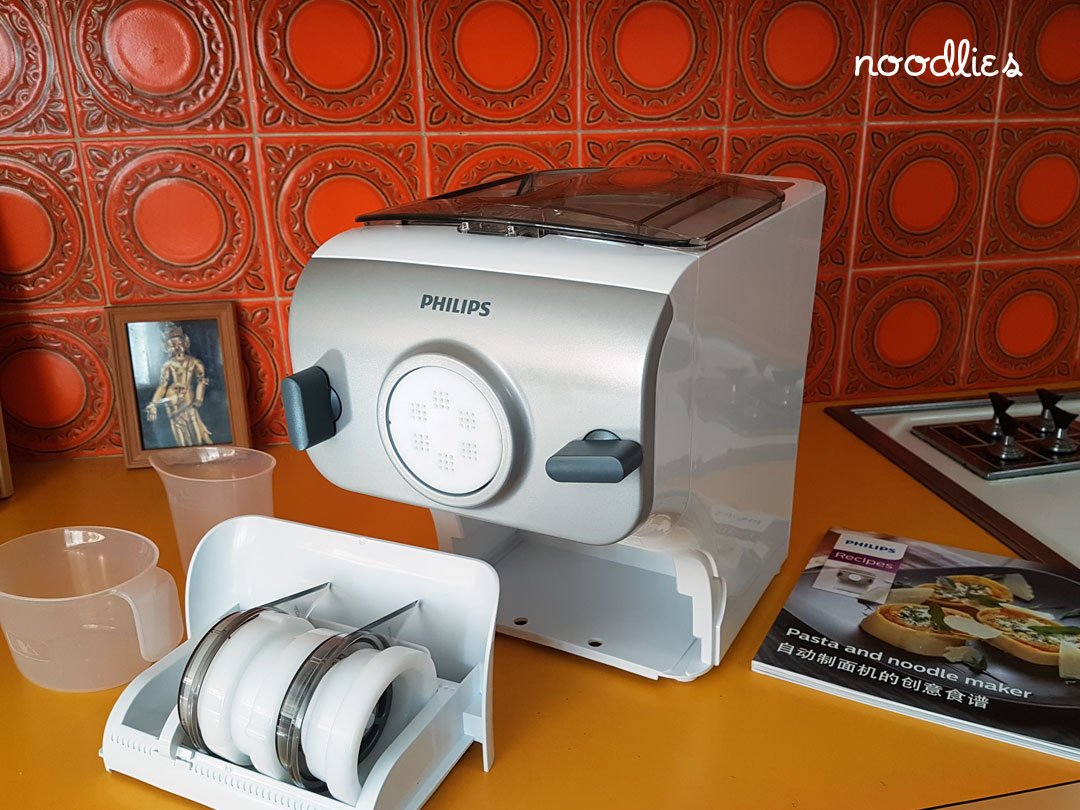 The recipe book is bi-lingual; English and Chinese. That's a plus for those with Chinese relatives who often cook with noodles and could prove an essential new in kitchen companion for them.
When Philips told me that their machine was really easy to use, I needed some convincing – how can something that's so versatile also be fool proof? Since then, I've used it three times and actually, it is as easy as 1-2-3. The video doesn't lie! 
A rice cooker is a must-have unit in our kitchen because we eat a lot of Asian food. If you regularly cook noodles or pasta, the Philips Pasta and Noodle Maker might be just as indispensable for you.
Do you already own a unit? I'd love to hear about your experience.
Do you have a great recipe to share? I'd love to know! 
Try it yourself
Don't miss your chance to trial the Philips Pasta and Noodle Maker with a free and interactive cooking demonstration at the Sydney Night Noodle Markets in Hyde Park, open until October 22, 2017. Just head to the Philips Pasta Noodle Kitchen and register for a 25-minute cooking session and whip up a batch of fresh pasta and noodles to take home. 
Acknowledgement
This post is sponsored by Philips. All opinions contained in this post are noodlies' own and consistent with noodlies' editorial guidelines as outlined in our code of ethics.