It's a shopping frenzy!
Noodlies, Sydney food blog checks our the street food at this Bangkok market icon, where tourists and locals converge each weekend.
"In a city obsessed with commerce, Chatuchak Weekend Market takes the prize as Bangkok's biggest and baddest market" says Lonely Planet, ranking it #4 in the guide's Bangkok Top 10.
"Imagine all of Bangkok's markets fused together in a seemingly never-ending commerce-themed barrio. Now add a little artistic flair, a saunalike climate and bargaining crowds and you've got a rough sketch of Chatuchak" says Lonely Planet.
While it all looks bewildering at first, Chatuchak is arranged in relatively coherent sections:
Antiques, handicrafts and souvenirs
Clothing and accessories
Eating and drinking
Housewares and decor
Pets
Plants and garden
Here's noodlies round-up of the flavours, textures, colour and smell of the street food stalls between section 2 and 24.
Food is typically sold from compact stalls with owners calling out their menu in Thai, it can get raucous, though in typical Thai-style, the competition is furious but friendly.
Grilled food
The aroma of charcoal meat-on-a-stick is instantly hunger-inducing. Pork, chicken, beef, seafood, if it moves it'll be skewered and freshly cooked over volcanic charcoal.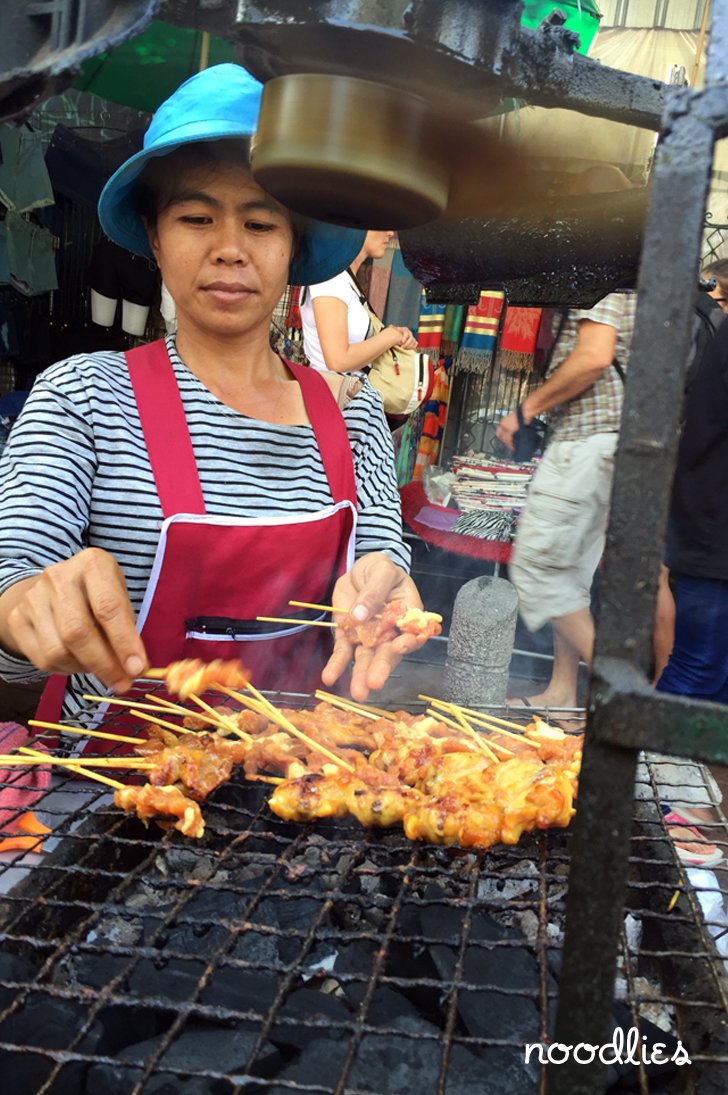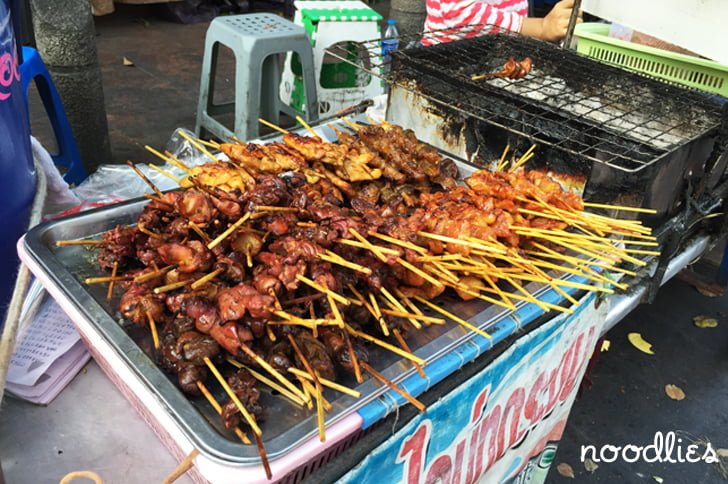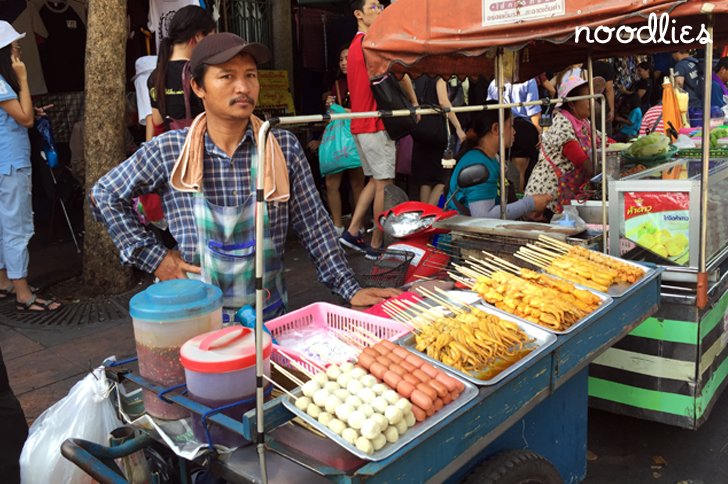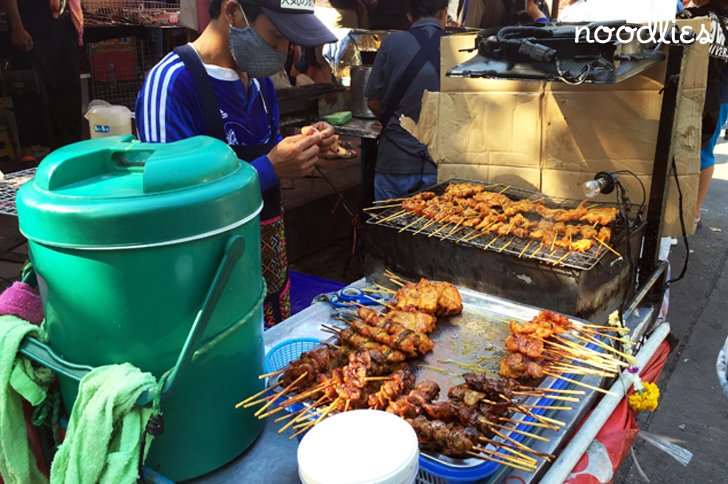 Fried food
The oil boils, quickly turning batter brown and crunchy crispy. Deep friend chicken is particular popular.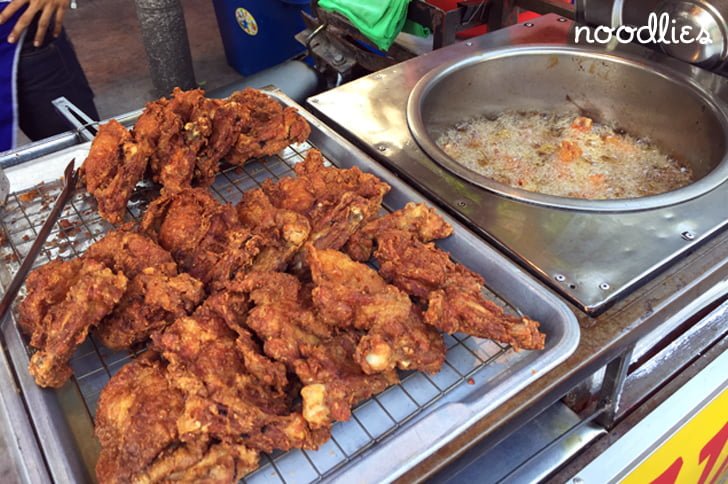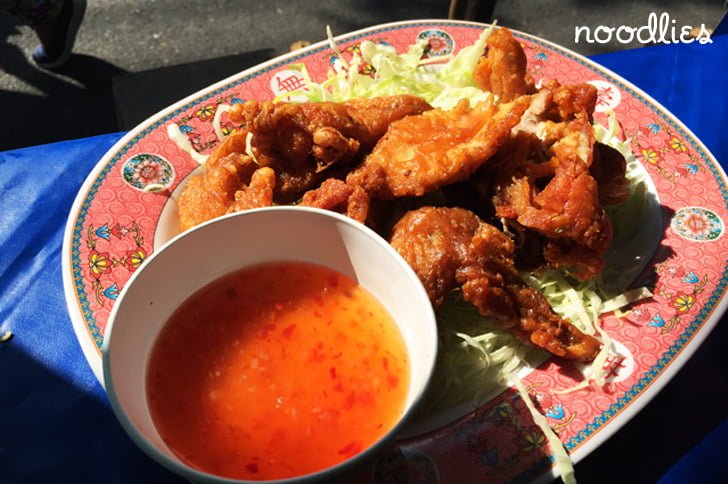 Boiled food
It might sound plain, but these colourful delights get their punchy flavour from spicy Thai sauces.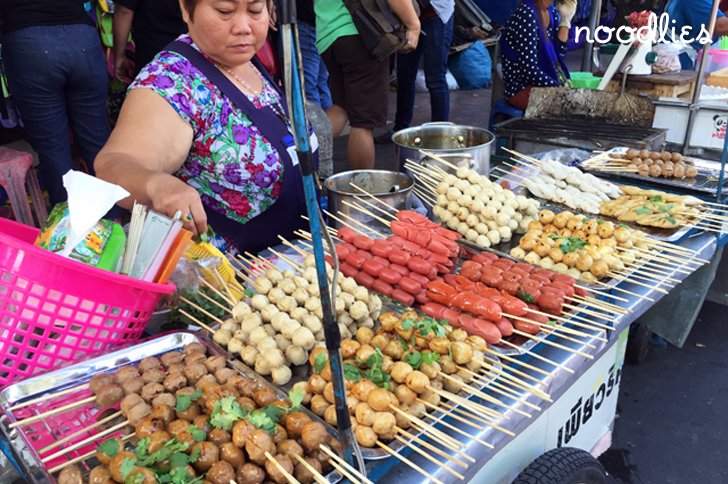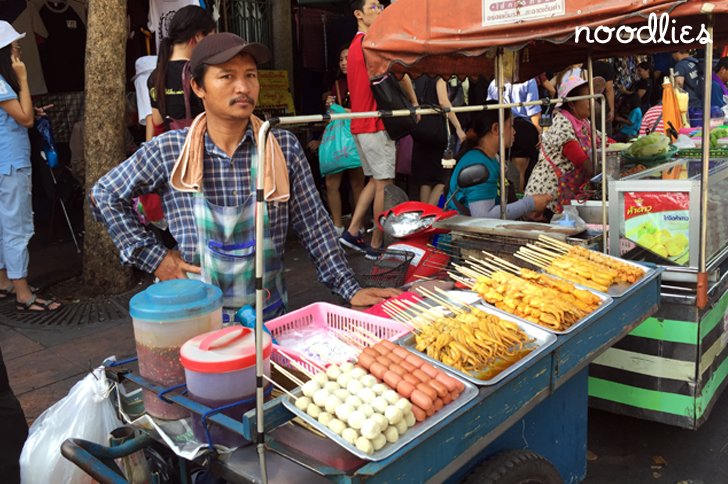 Salads
Ubiquitous and utterly delicious som tum can be had just about anywhere in Bangkok. No two tastes the same, some are sweet, others fiery, some have a strong lime zest while others herby or pungent with fish sauce. If you want a more pungent punch ask for the Lao version.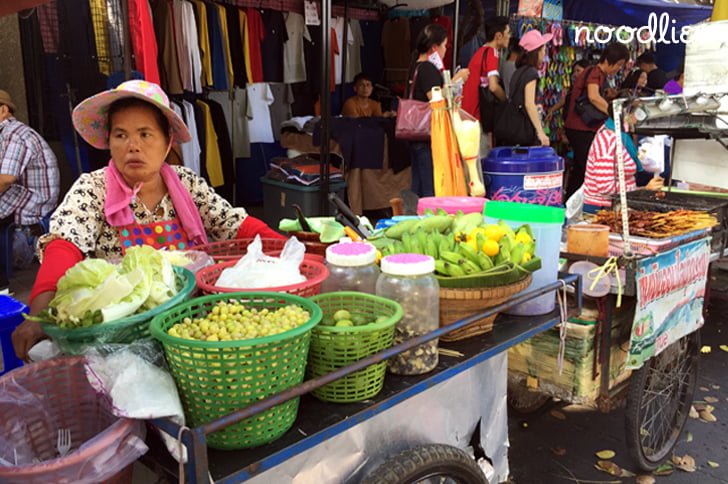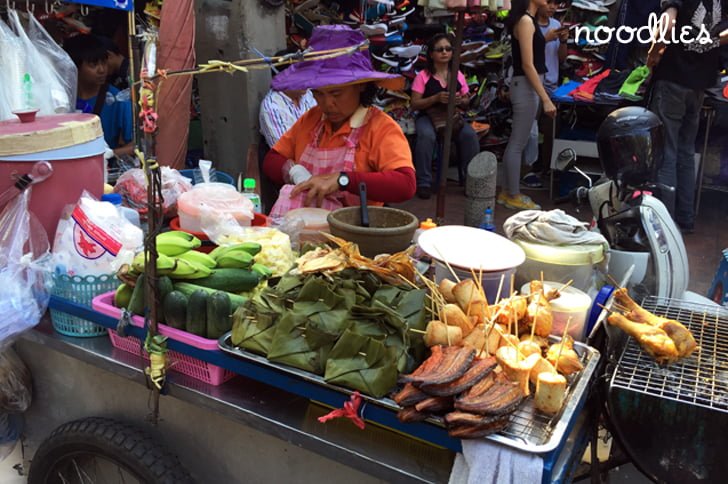 Noodles and soups
Fish ball rice noodle in red soup is particularly popular. It comes with sides of remarkably fresh mints, bean sprouts, cucumber, pickles and sauces for you to add to taste.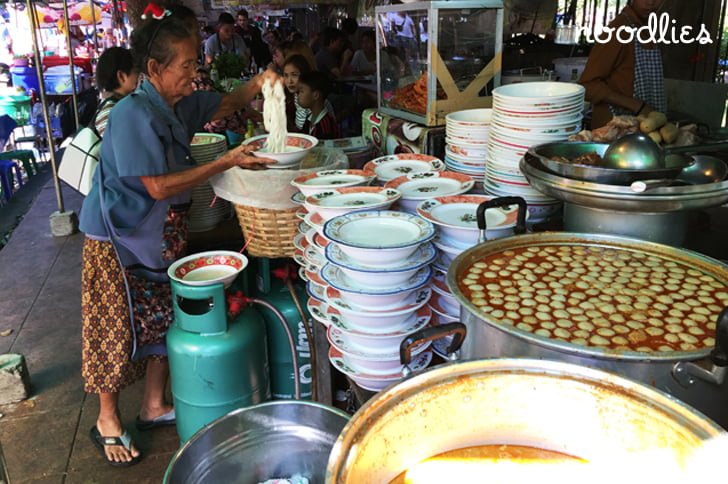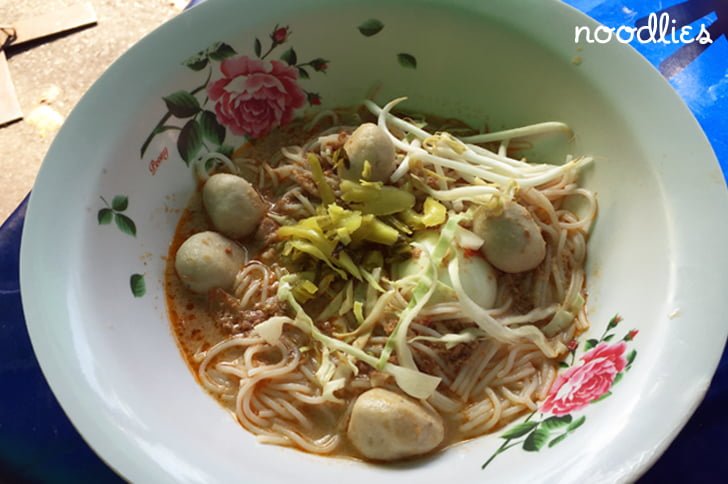 Fruit and desserts
Whether freshly cut seasonal tropical fruit – think jackfruit, guava, papaya, banana, green mango, pineapple and watermelon, or the latest craze sweeping Thailand, and popping up all around south east Asia, coconut ice cream – there's something for everyone.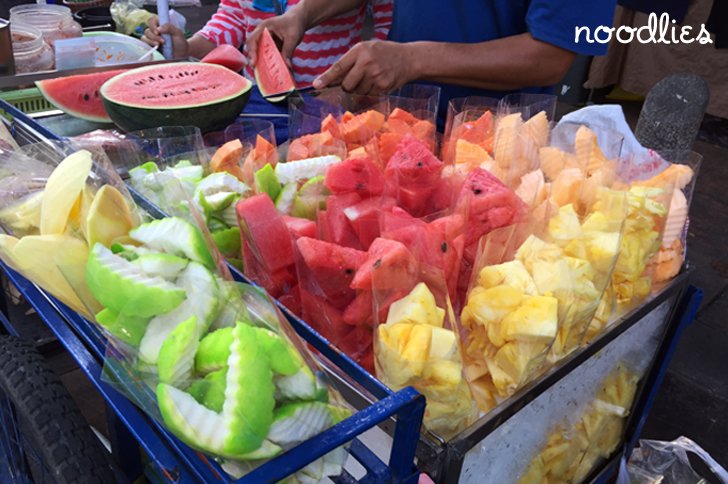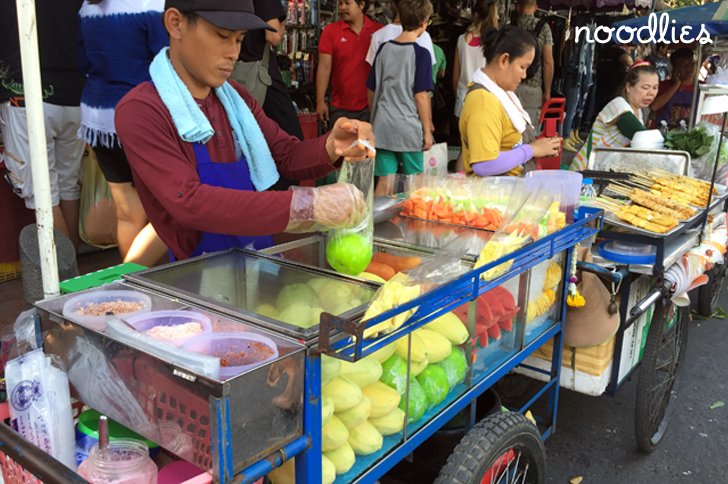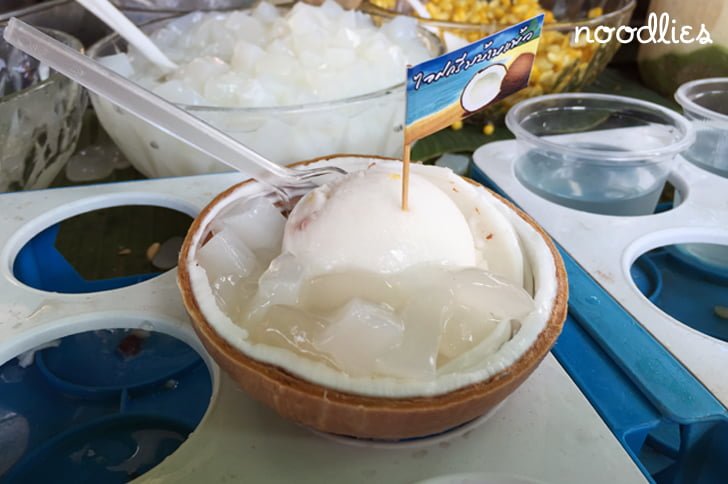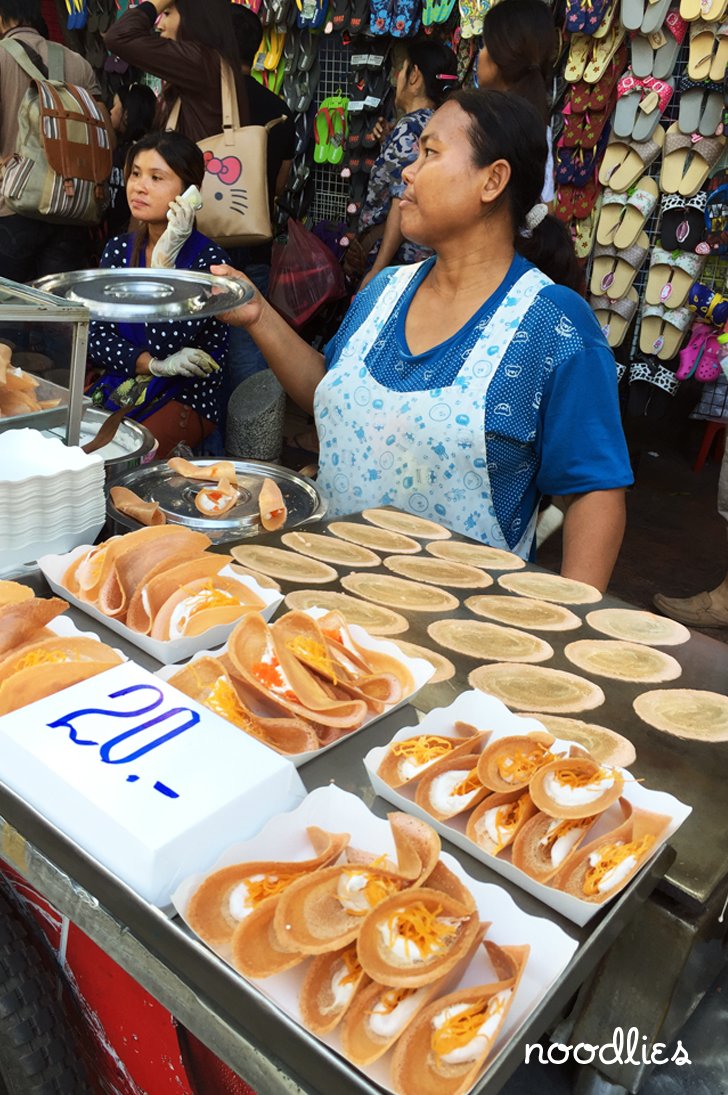 Drink
There's plenty on offer, from bottled water, sugar cane juice, lime and fresh coconut juice.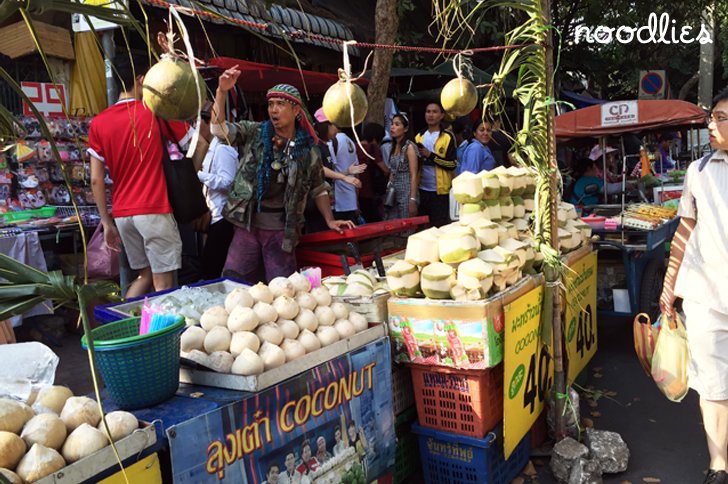 While most come to Chatuchak Weekend Market for the shopping, everyone leaves with a satisfied belly.
Getting to Chatuchak Weekend Market
Best way is by BTS skytrain Mo Chit station or MRT train Chatuchak Park station.