A dessert that will make you green with envy.
Noodlies, Sydney food blog takes a first peek at a new, uber indulgent dessert creation. It's one of many more delicious innovations to come…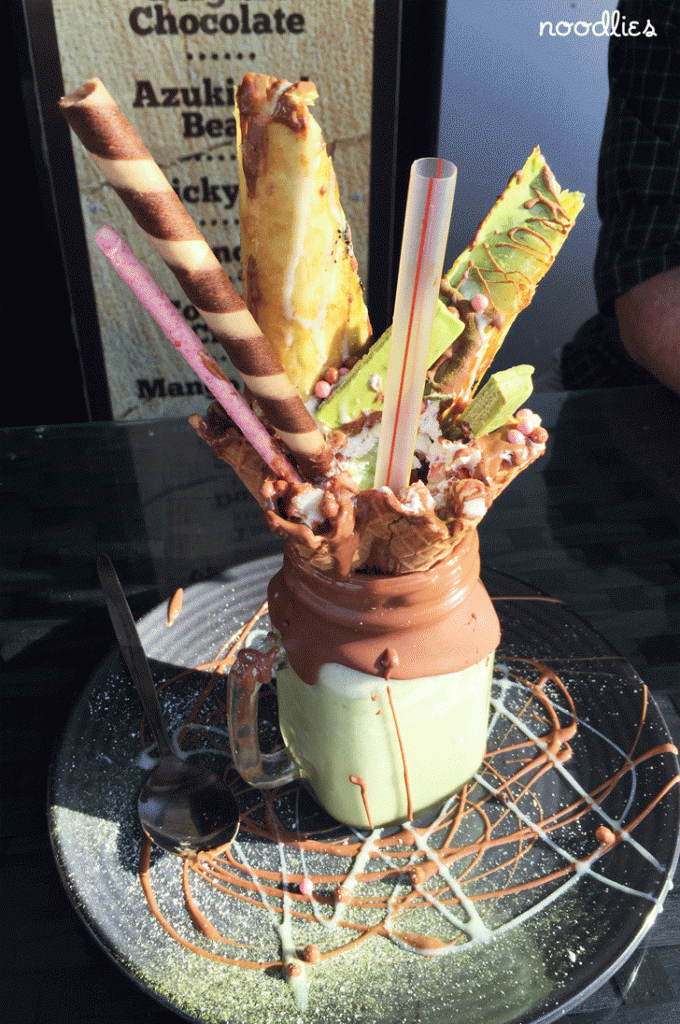 It lands on our table looking like something out of a Carmen Miranda movie; curvaceous body crowned with a bloom of exploding colour. Heads turn, jaws drop, the tables around us instantly regretting their modest orders.
It's appropriate this over-the-top creation has been christened "Green with Envy".
So maybe it's appropriate that Andrew Duong, What the Fudge owner, has christened his latest creation "Green with Envy". Sydney is heads over heels with mason jars filled with dessert drinks, piled mountain high with sugary treats (shares in Chinese companies producing these handled mason jars must be going through the terracotta roof).
Noodlies is one of the first to sample Andrew's latest Asian creation, a loving homage to green tea; a waffle bowl crammed with deep fried green tea ice cream, home made mochi, green tea Kit Kat, strawberry Pocky and fresh strawberries over a mason jar of green tea frappe.
READ: Best restaurants in Cabramatta.
It sits on a large modern plate gorgeously decorated with chocolate and green tea swirls. Take a long, lingering look at it in the noodlies' video above… watch it glisten in Sydney's spring time sun.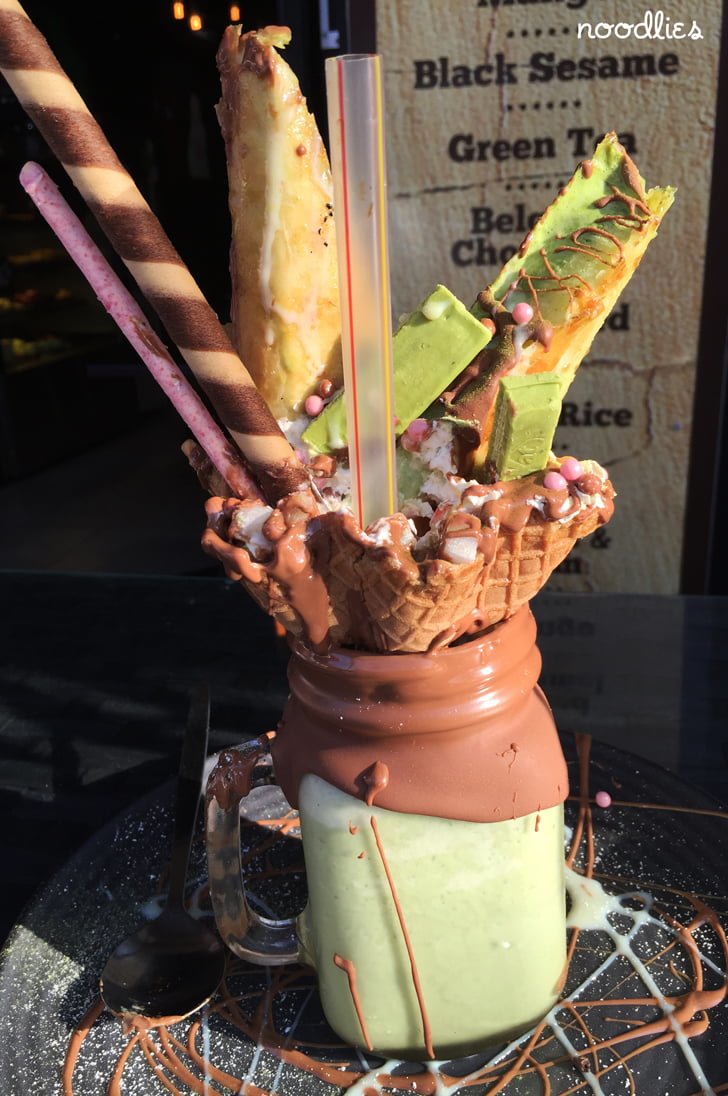 Andrew tells us to grab our large tubular straws and stab through the waffle nest so we can take sips of frappe while we're attacking its contents. Green with Envy isn't an easy dessert for a novice to navigate with a spoon. I quickly abandon that idea and pick at the prize with my hands; the deep fried green tea ice cream comes in triangular wedges (ala Holy Basil and Green Peppercorn) and are totally addictive. Bite past the filo pastry and get rewarded with melty green tea ice cream. The other contents are easier to engage with fingers too, like the softly sweet sticks of green tea Kit Kat and strawberry Pocky sticks.
At first site, Green with Envy might look satanically rich, but the soft green tea flavour manages to pull everything back from the brink. Likewise, fresh strawberries help cut through the sweetness. Don't get me wrong, it's still a rich, belly busting dessert, which takes two of us to conquer, but in the end I don't feel even close to being in dessert coma territory (which might be the case if you get their famous Golden Gaytime frappe).
Andrew is bright and bubbly this afternoon. He's been in the kitchen experimenting with a few more new menu items for Spring (pssst, there's a taro dessert on the way).
His enthusiasm is charming and infectious. I can't wait to try them all.
What the Fudge
Shop 1, 100 John Street, Cabramatta
0401 798 505
Noodlies, Sydney food blog's impromptu sample of Green with Envy is courtesy of the lovely folks at What the Fudge, Cabramatta.