The foodies' bank.
Food as a differentiator in a same-same banking market. Actually makes sense…
When was the last time you were excited about your bank? When you were evangelistic about it to family and friends? If you answered "never", you're probably in good company. These banks can seen generic – same service, same products, same branches, just different logo and colours.
Citi wants to get you excited about their product via your belly. In Australia, they have  carved out a unique food-focussed positioning:
Presenting partner of The Sydney Morning Herald Good Food Month (October)
Citi VIP area for Citi customers at the festival's Night Noodle Markets
Citibank Dining Program: which offers a complimentary bottle of wine at some of Australia's top restaurants for Citi customers
Tonight, Citi is hosting a group of food bloggers for the annual Citi Moveable Feast. It's at The Star, the home of three participating Citibank Dining Program restaurants: The Century, Black and Sokyo.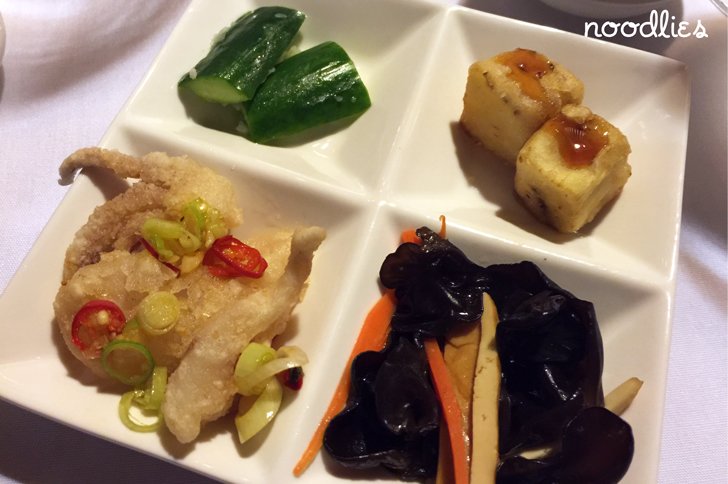 The progressive fine dining starts at The Century, upmarket offshoot of Chinatown's iconic Golden Century. In typical Chinese hospitality tradition, it turns into a three course Cantonese feast in itself. First to the table is a medley of appetisers: black fungus, tofu, cold cut cucumber (not smashed!) and salt and pepper calamari (above).
The highlight of our first stop is a couple of surprises from their dim sum basked. Steamed scallop and prawn sieu mai is a visit to the ocean; an intense seafood burst like a brisk ocean breeze. Steamed mixed enoki and shitaki crystal dumpling comes with a translucent clear skin and surprisingly crunchy, earthy filling.
The final morsel before we progress is a culinary test of sorts. Two steamed scallops, one fresh, one frozen. On the right above is the fresh scallops (in case you're wondering). Fresh and firm it compares favourably with the flat tasting though arguably better looking frozen counterpart on the right.
Matching McWilliam's wines:
2015 Mount Pleasant "Elizabeth" Semillon – Hunter Valley, NSW
2013 McWilliam's "Appellation" Sauvignon Blanc – Orange, NSW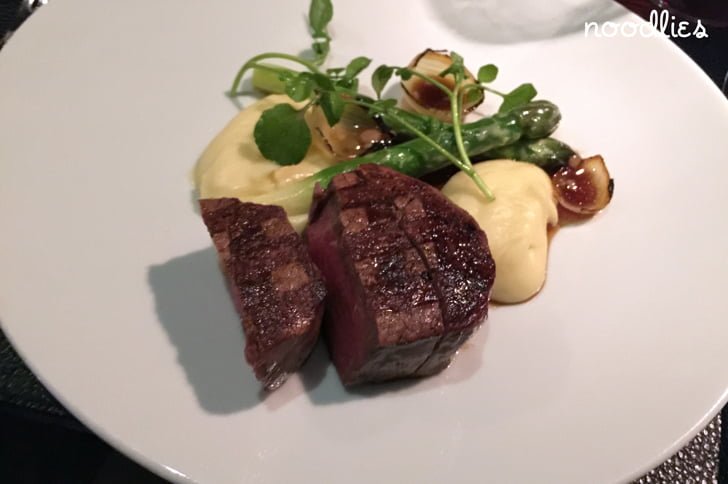 Up the escalator, turn left and we're enveloped in the comfortable cocoon of BLACK by Ezard for mains. Fillet beef makes a nice and hearty contrast to the oriental starters. It comes with smoked potato, asparagus, charred onion and bone marrow jus. The beef has a firm, well seared crust sheltering a soft, pinky medium-rare centre. Perfectly seasoned with salt, don't add anything so you can savour the deliciousness.
Matching McWilliam's wines:
2009 Mount Pleasant "Rosehill" Shiraz – Hunter Valley, NSW
2014 McWilliam's "Appellation" Syrah – Canberra District, ACT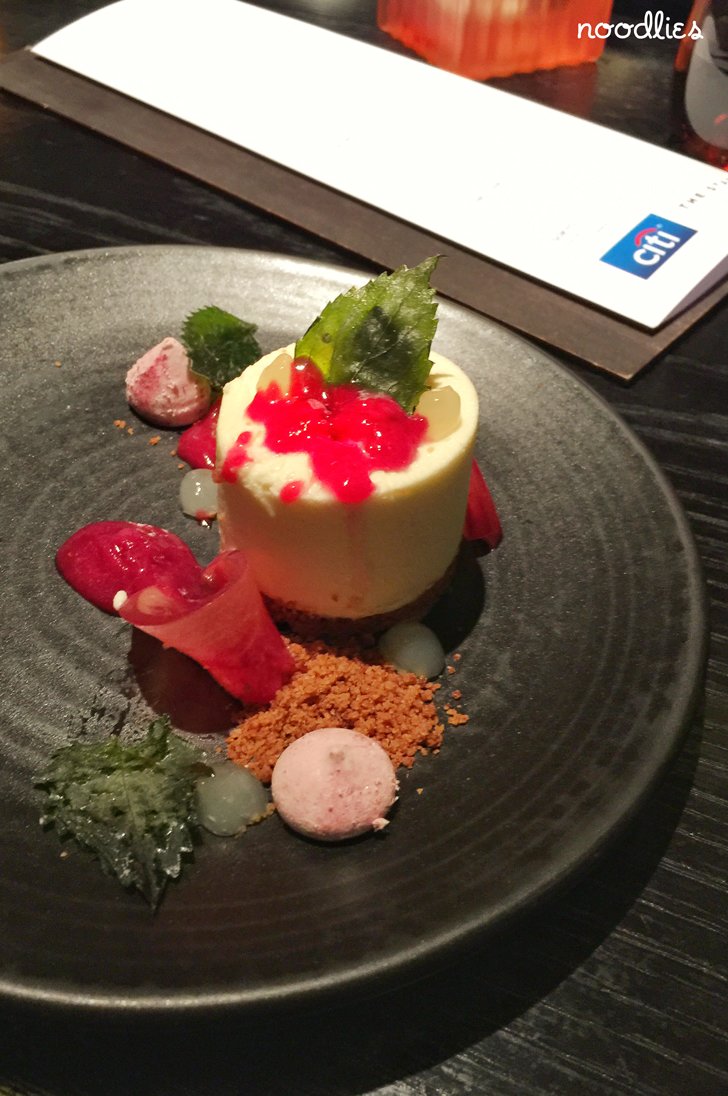 Sokyo's jaw dropping dessert is the final exclamation mark to the evening. Yuzu and white chocolate cheesecake tastes as elegant as it looks. So many delicate elements make up this work of culinary art; blood peach granita, blood peach meringue, dehydrated shiso, ginger bread crumbles, yuzu gel and ginger gel.
Matching McWilliam's wines:
2010 McWilliam's "Morning Light" Limited release Botrytis Semillon – Riverina, NSW
Mount Pleasant Limited Release Aged Liquer Verdelho – Hunter Valley, NSW
Perfectly paced and judicious portions spare us from a food heaven coma by the end, helping us remember each stop and each dish.
If you're a Citibank customer with either a Citi credit or Visa debit card you're already eligible for a free bottle of wine…
The list of Citibank Dining Program participating restaurants is pretty impressive, in addition to the three tonight, choose from Sepia, Bentley Restaurant & Bar,Mejico, The Spice Room, MoVida and so many more.
If you're a Citibank customer with either a Citi credit or Visa debit card you're already eligible for the Citibank Dining Program and a free bottle of wine – there's no additional paperwork.
Noodlies, Sydney food blog reckons Citi can claim to be the bank for food lovers. Oh, and it happens to be my bank.
The Century
BLACK by Ezard
Sokyo
The Star
80 Pyrmont Street, Pyrmont
Noodlies, Sydney food blog dined as a guest of Citi.