Italian in Parramatta, via the middle east and Bondi.
Confusing at first, but there's lots to like about this mega restaurant and bar.
I've been told to turn up for Father's Day dinner with the in-laws "at Bondi Pizza in Parramatta". Is it the mobile reception? My failing hearing?
"You mean in Bondi?" I quizzed.
"No. Parramatta." was the polite reply.
I wasn't given a bum steer. There is a Bondi Pizza in Parramatta, one of many around town. When I turned up a second wave of confusion hits. The decor is, well, it's very Middle Eastern; the huge restaurant is divided into different sections by ornate Arab pattern screens and the place is lit by red baubles. I'm about to walk out to find Bondi Pizza but notice the clan at the bar.
I'm in the right place after all.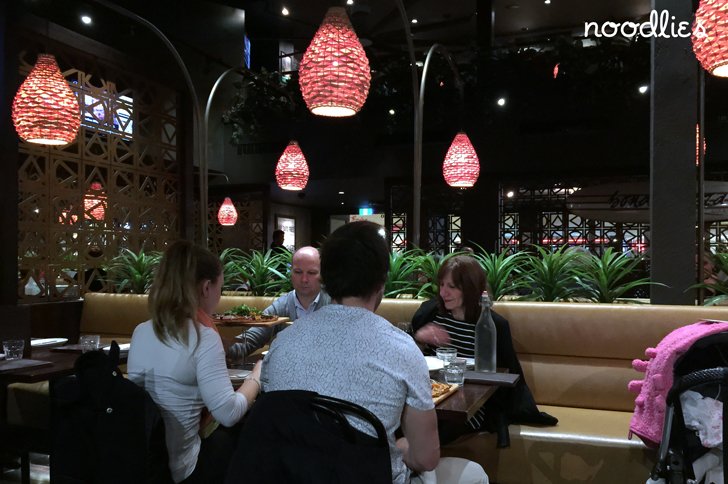 I surrender to the moment. "Let's not over think this, go with the flow mate" I tell myself (I hope it wasn't out loud). The rush of intensity from the garlic bread helps to startle me back to reality. Noodlies, Sydney food blog likes a good, don't-eat-this-on-a-first-date, punchy garlic bread.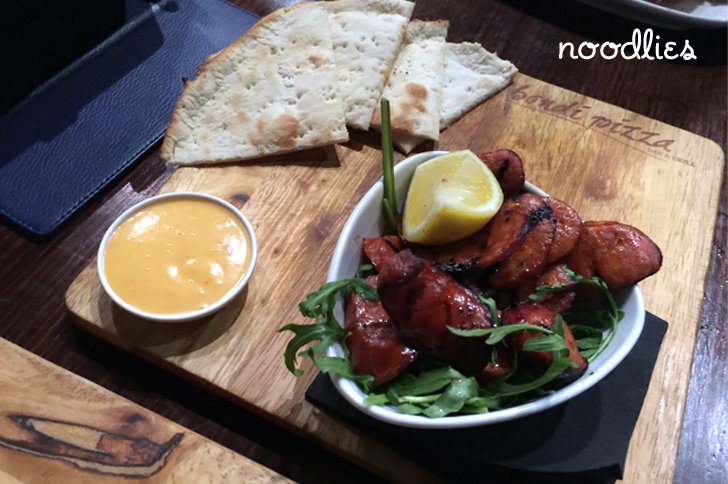 My contribution to the posse's group order is chargrilled chorizo. I think I blurted out "chorizo" to help make the place more Italian. It arrives in a bowl of rocket on a branded wooden board with flat bread and mild mayo chilli dipping sauce. Dry, wet, bread – it all comes together nicely. The clan inhales the dish (or should I say board) in seconds.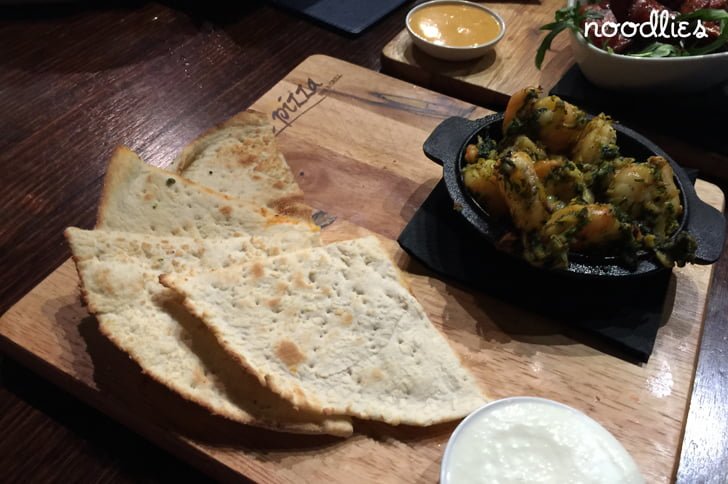 Moroccan sizzling prawns comes a small sizzling pot, each prawn covered in spices and seasoning (ha! Middle Eastern influence). The dish comes with flat bread and cucumber yoghurt dressing.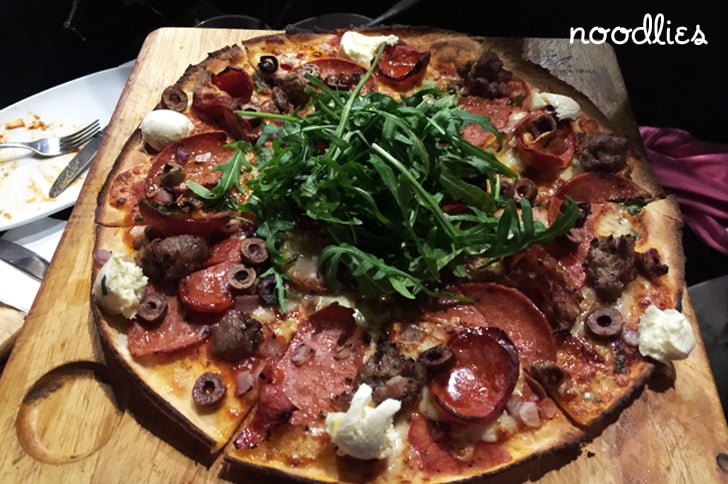 More food on wooden boards, though it probably makes more sense for pizza. Think a crispy, thin crust that's just slightly burnt around the edges and generous toppings. Sicilian pizza (above) is a sea of red and brown with green rocket topping; Italian pepperoni, chorizo, Wagu meatballs, Spanish onion, pancetta, kalamata olives, bocconcini and rocket. There's a drizzle of chilli sauce but if you're a mild child, don't be afraid, it's only a light touch.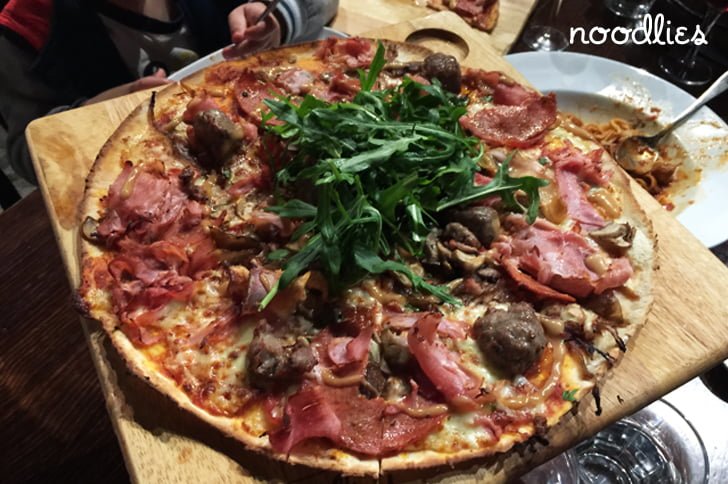 We're obviously protein starved, the Bondi Pizza meat supreme is another vego nightmare: Italian pepperoni, Wagyu meatballs, premium leg ham, pancetta, balsamic onions, mushrooms and rocket – with only a bush of rocket on top for greens.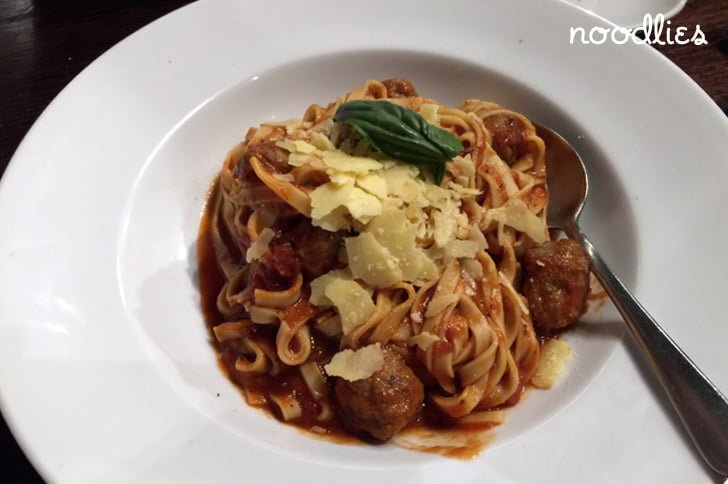 The meatball linguini (yes more Wagyu meatballs) is my favourite dish of the night for its hearty simplicity. Textured meatballs and pasta that's tossed with Napolitana sauce and served with a mountain of shaved parmesan. What's not to like?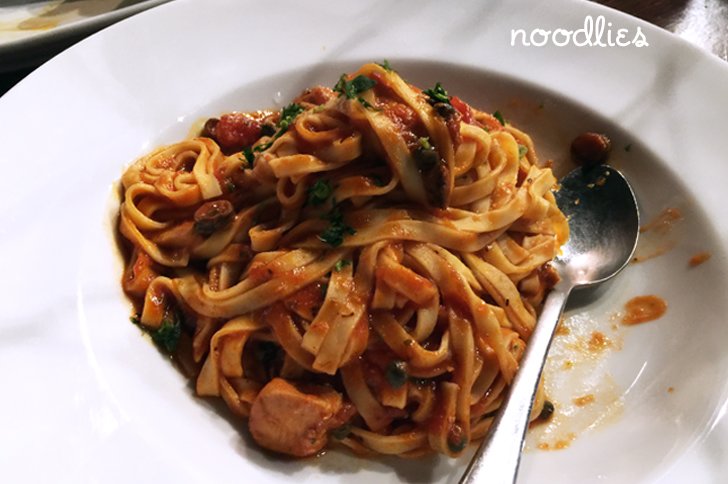 Chicken puttanesca is a little more spicy thanks to kalamata olives, baby capers and a rich tomato sauce that has a hint of chilli.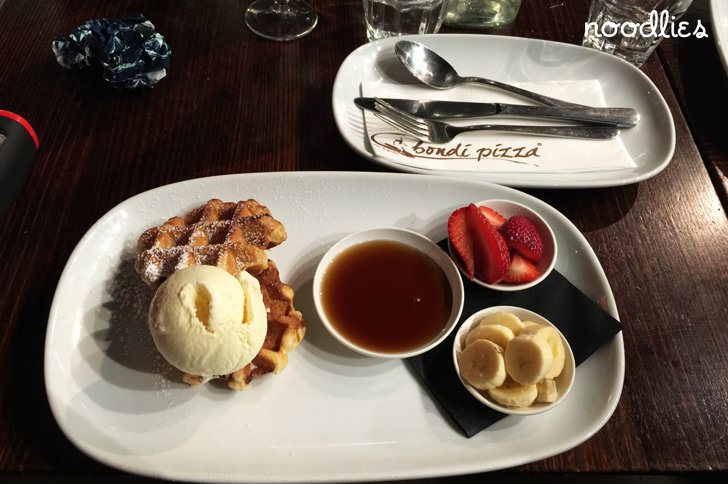 Room for dessert? Heck, yes. Thick, warm waffles with creamy vanilla ice cream and rich maple syrup are kinda naughty. Fresh strawberries and ripened banana are kinda nice. They balance out don't they?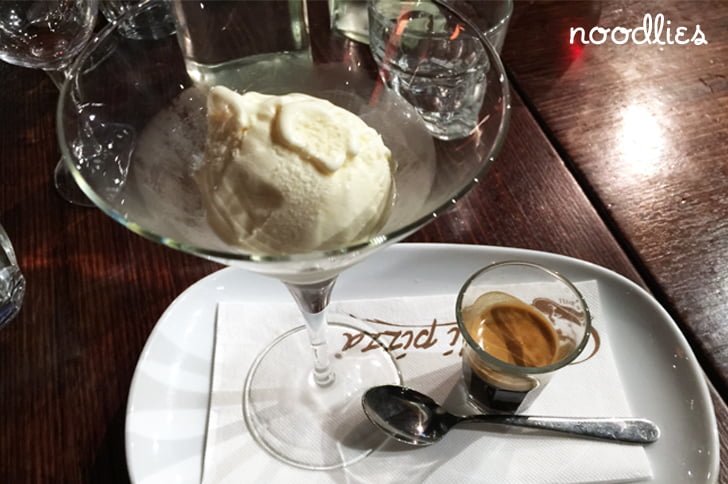 Tonight is a one and a half dessert occasion. Can't ever say no to an affogato before I go…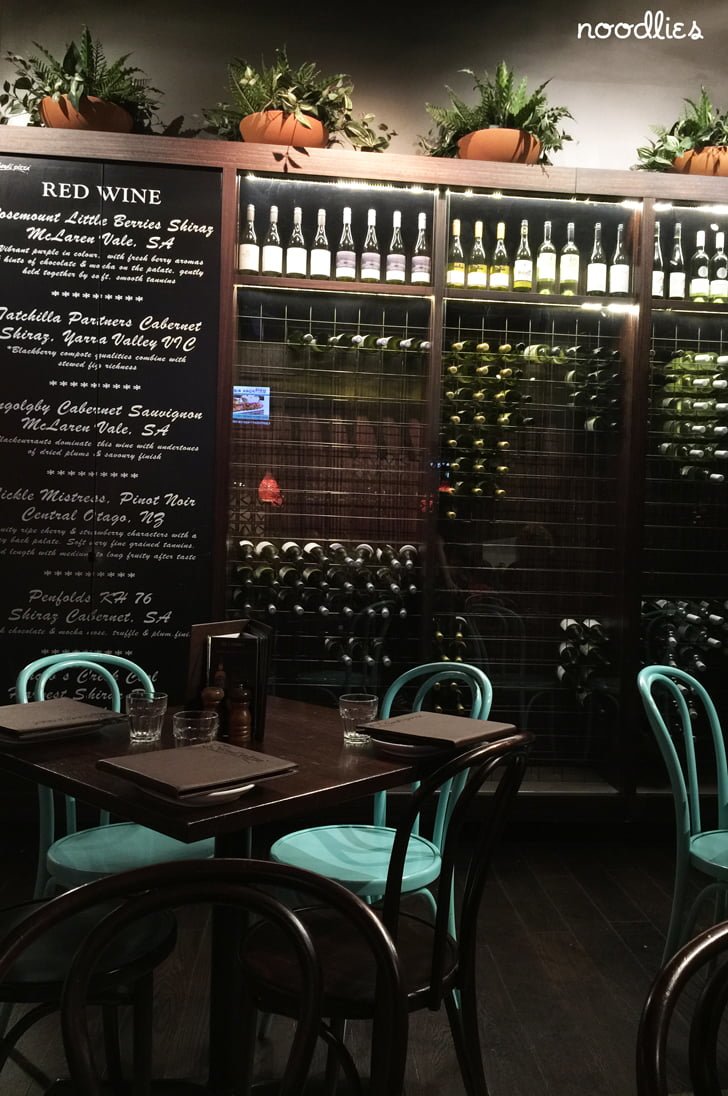 Bondi Pizza is unashamedly big and brassy. It's for big occasions, Father's Day for example. With lots of people and lots of hard surfaces, it gets noisy, so maybe go somewhere more intimate for a romantic dinner. Even when it's close to capacity, food service is efficient, but catching the attention of the waiter in your section can be hard.
Bondi Pizza
320 Church Street, Parramatta, NSW
(02) 9891 9221