China comes to town with a big bang
Noodlies, Sydney food blog checks out this new upmarket Chinese.
By Thang Ngo
China Republic is all about projecting a confident, prosperous China, in Sydney to remind Australians that Chinese are cheap-and-cheerful no more. Located within a stones throw from Chinatown's cheap eats, everything about this $7m, two storey, 1200 square metre, 250-seat establishment is shock and awe.
This place is all China, a four metre terracotta warrior stands guard a the doors, a living goldfish pond is carved along the elevated, brightly lit show kitchen.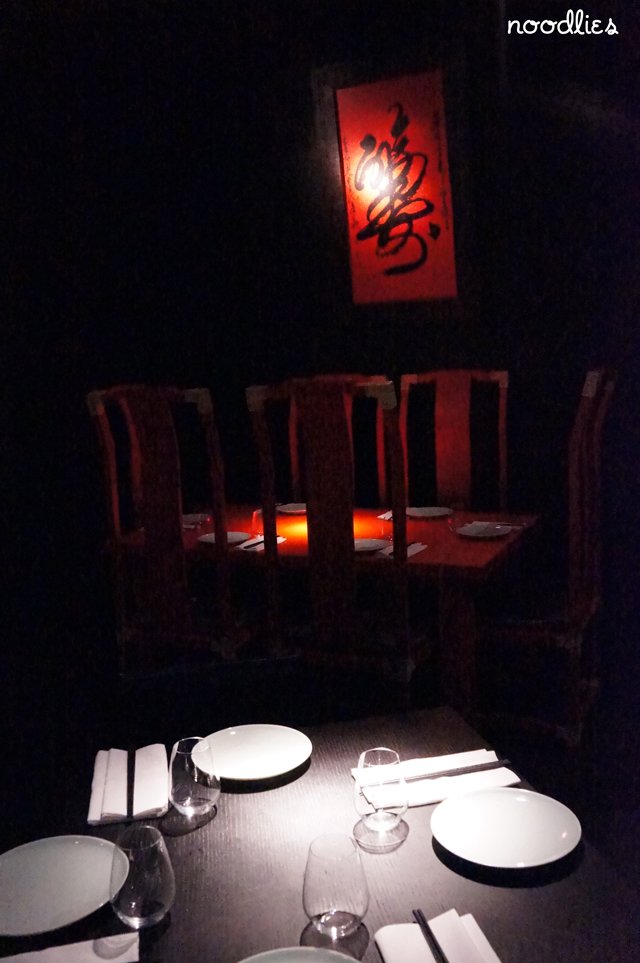 Red plaques, Chinese furniture, bamboo umbrellas abound.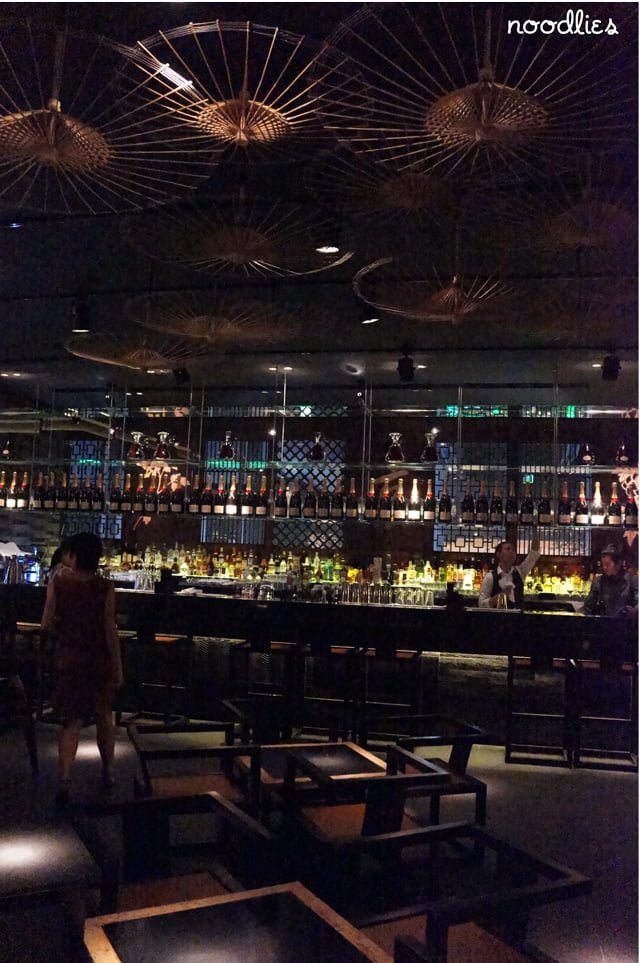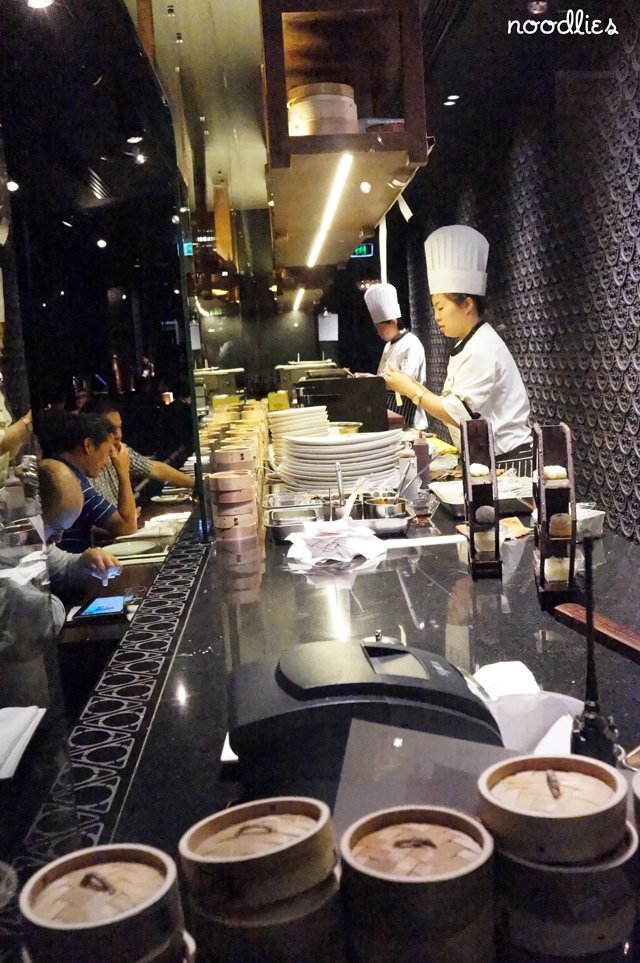 Chinese hierarchy is respected, the higher you go, the closer to god. The second level is even more exclusive, featuring four private dining rooms, each with their own model of the Forbidden City handcrafted from bamboo in an elaborate process that takes two years. The rooms accommodate between seven to 18 guests, each room reflects a different theme and is distinguished by different colours.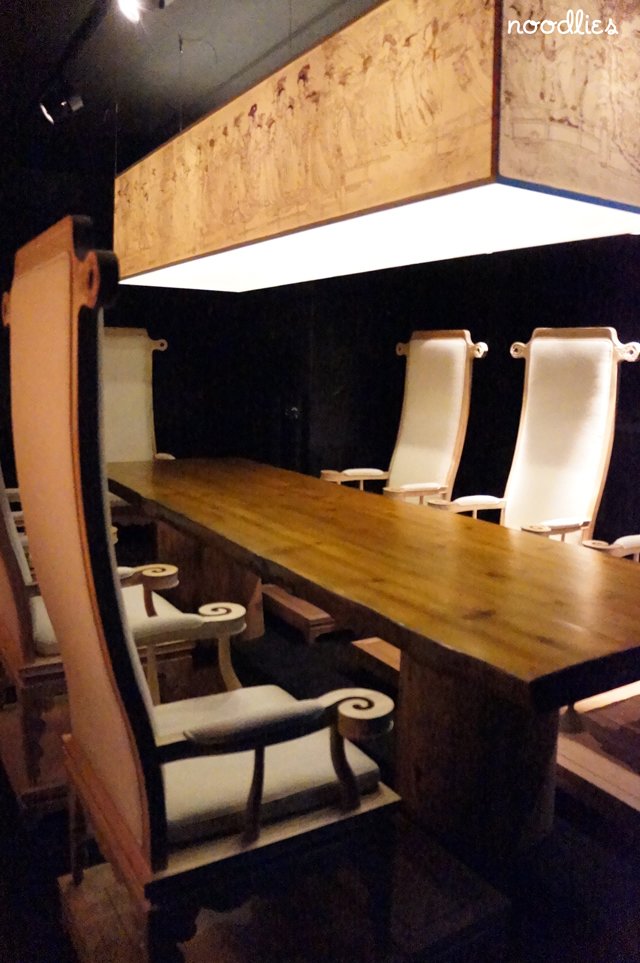 The most exclusive of exclusives is the Emperor's Room (above), where guests dine on a raised podium with throne-like white chairs. This room is only available to VIP members; there are three level of memberships $10,000, $20,000 and $50,000.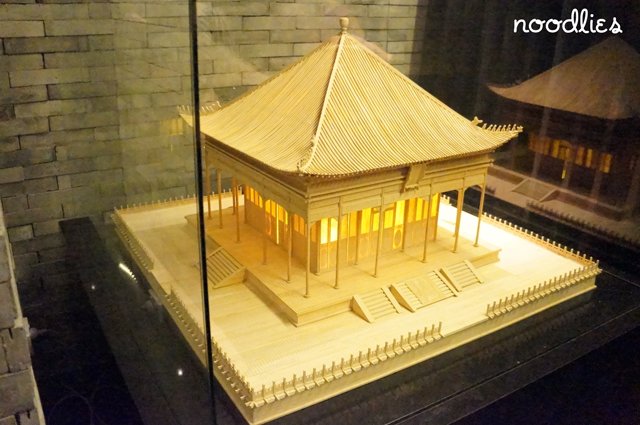 This is prosperous, powerful China at its best. And when you're on a roll why change? Chef Yu is from Beijing and he aims to bring Classic Chinese food to Sydney, he tells noodlies that he's cooking for "everyone – Chinese, Australians and other cultures" and that, if China Republic was in China, he would cook his food exactly the same, though he adds in China, ingredients are more plentiful and he'd serve up more dishes.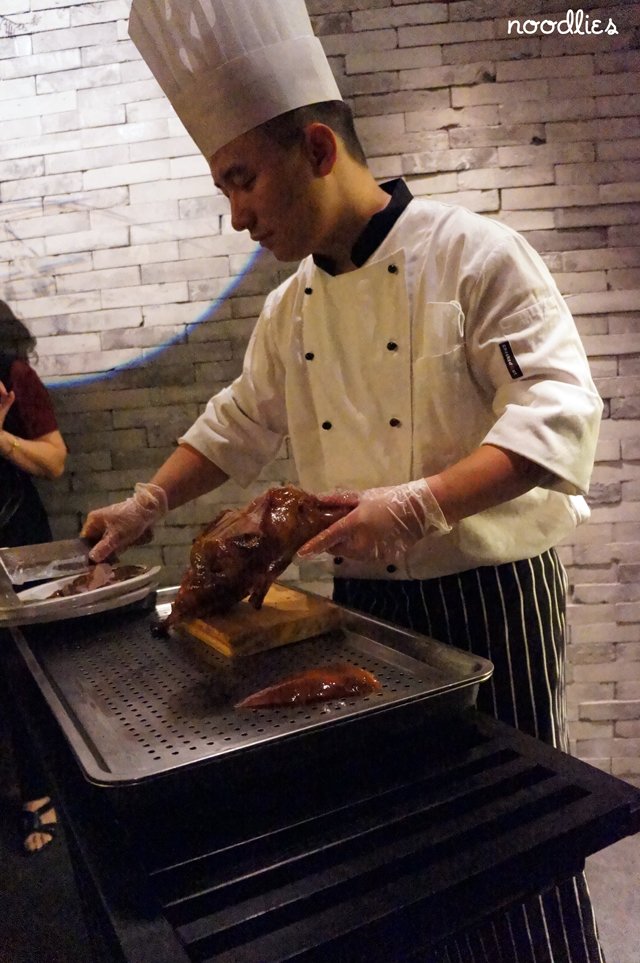 Peking duck is their specialty (I'm hearing that a lot lately), China Republic boasts two purpose built Peking duck ovens. When in full swing they can roast over 20 ducks an hour, more than any other restaurant in Sydney. Big is better. And complicated too, each duck is marinated and frozen for seven days, defrosted for some seven hours before cooking to ensure the skin is shiny, crisp and tasty. Each duck comes with ten sides including flat and fluffy pancakes. For an even crispier skin, the duck can be flambeed at the table (see the noodlies, Sydney food blog featured video above).
The meat is oooh-so tender and retains that unique duck gaminess which noodlies loves. Today, the skin is oilier than I'd like and has lost a fair amount of crisp. The flat pancakes, warm and soft made perfect envelopes but the fluffy pancakes were a little dry inside and difficult to break open.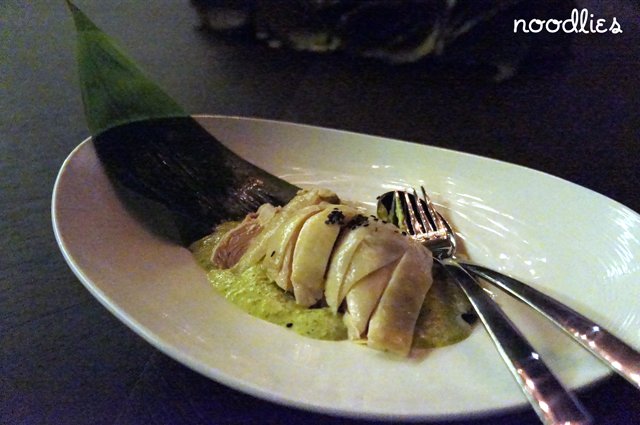 The white cut chicken with spicy lemon sauce is outstanding and my favourite of the night. These strips aren't chunky but had an amazing sturdy, hearty texture, the chook's elegant subtle flavours showcased deliciously by the sauce.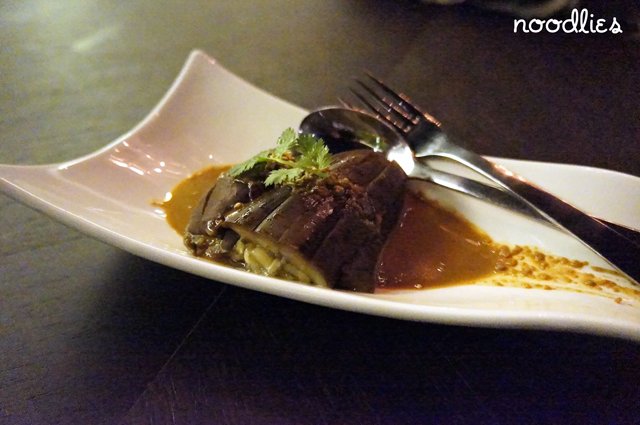 Eggplant and coriander salad with garlic dressing is stunning to behold and live up to the promise, squishy, moist with abundant flavours.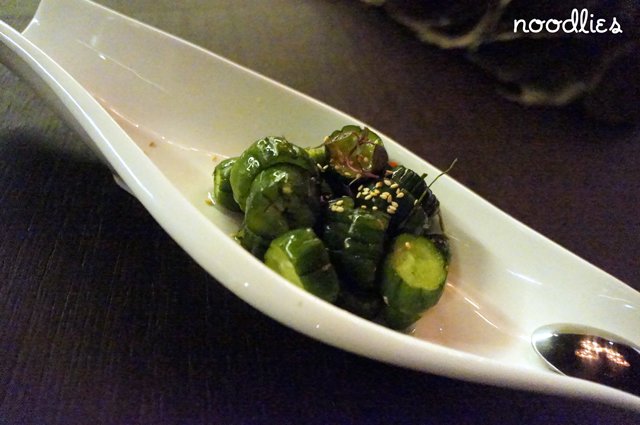 Cold cucumber salad is a dish noodlies always orders at Chinese restaurants. This Beijing style spicy and sour cucumber comes out glistening with plenty of rush, though my preference would be for a colder, crunchier cucumber.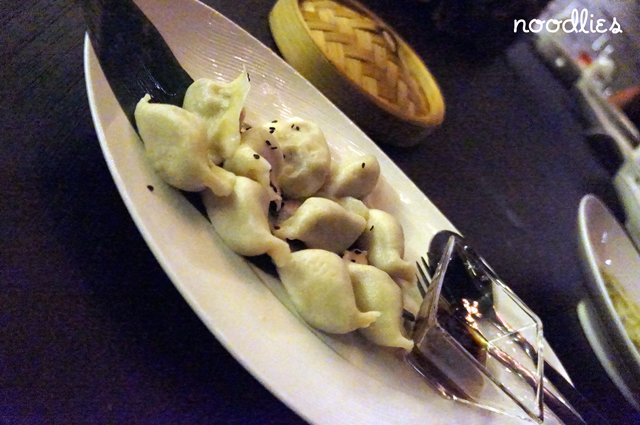 Sure you can get Chinese dumplings for a few gold coins, but these were the surprise of the night. The casing is even firmer and more lively than I'm used to, and I like it. A lot. No juicy squirt, though the drier mince filling packs lots of taste.
Noodlies is a little disappointed, enjoying the conversation and this dish a little too much, I didn't take a picture of the chicken broth and seasonal mushrooms – this is up there as one of the highlights for the night. Simple, yet complex, it's a perfect starter (you'll just have to go there to try for yourselves, dear readers).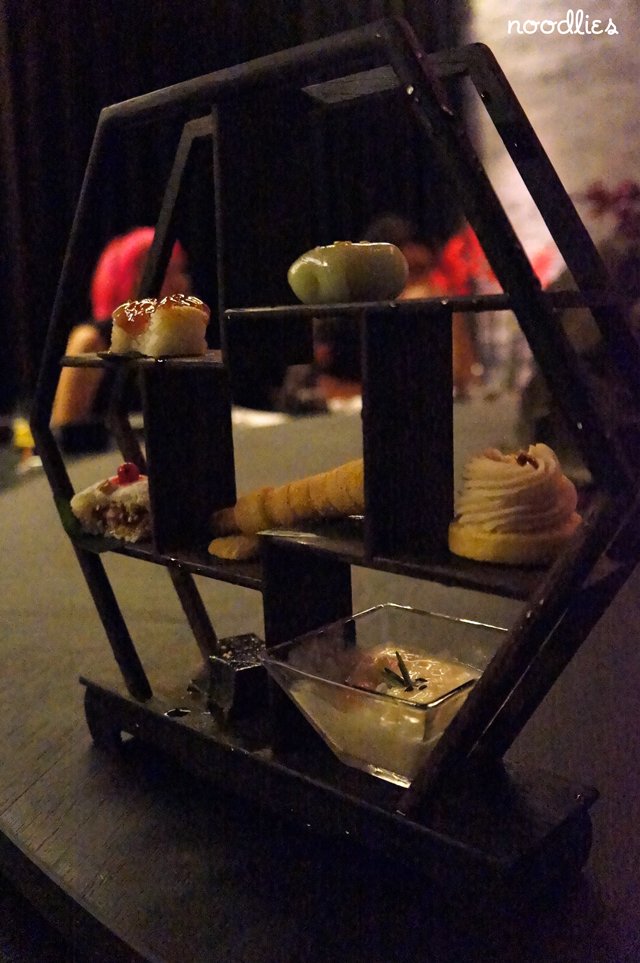 When the dessert platter came, we all gasped; elegant, delicate, intriguing were my first thoughts. And of course, very Chinese. Being a gorgeous Chinese all-sorts may have worked against it, there's just too many to sample, and in end, nothing stood out and I can't recall any hitting the mark.
Chinese upmarket restaurants are opening all over town (or so it seems), swimming against the depressed fine dining tide. How many will survive in years to come? I'm not sure, but given one in three Mandarin speakers in Australia have arrived since 2006 (and many are affluent professionals) China Republic and other pricey Chinese may have a fairly generous safety net.
China Republic
Shop 10, World Square Shopping Centre
Upper level, 680 George St, Sydney
Ph: 02 8081 0888
Noodlies, Sydney food blog and guest dined as guests of China Republic and the lovely folks at the pr partnership.