Here's to the future.
Noodlies, Sydney food blog's first meal of 2015 and Tuong Lai is perfect for so many reasons…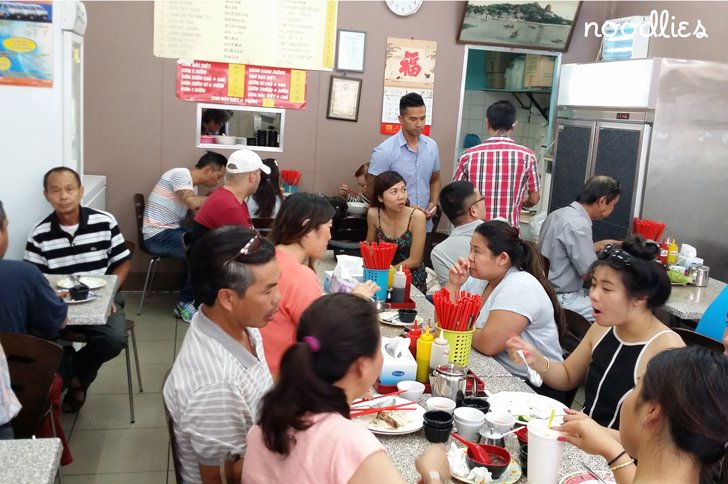 One of the oldest in Cabramatta, this eatery is proudly staying old school. While Huong Xua and Bau Truong proudly display modern logos and a modern makeover, Tuong Lai is doing old-time Cabramatta in full, gritty, no-nonsense authenticity.
It's ironic, because Tuong Lai means "the future".
Tuong Lai is doing old-time Cabramatta in full, gritty, no-nonsense authenticity.
Get past the narrow entrance and it's a small, cramped space just enough for 10 tables. Basic melamine tables, plastic chairs and a simple menu stuck on the plain brown walls. It's a bustling place so if there's a spare space claim it, before you know it, a waiter appears from the crowd to plonk down the obligatory free Oolong tea pot and white cups.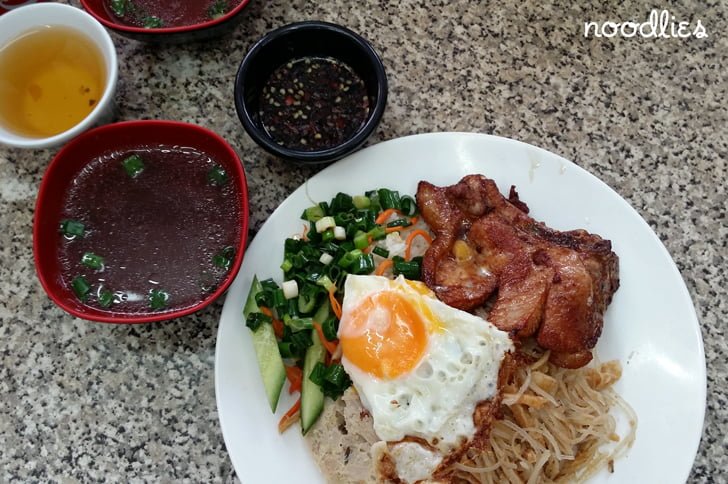 It's the usual fare including pho, vermicelli and rice dishes – Vietnamese fast food. But those in the know, and there are plenty, say the com tam (broken rice) is unbeatable. In fact, noodlies is here because a reader, Justin raves about Tuong Lai. It's his fav in Sydney.
No, com tam is not long grain or medium grain rice. Com tam is made from rice with fractured rice grains. Tam refers to the broken rice grains, while com refers to cooked rice (gao is uncooked rice). The grains are hidden from view courtesy of the colourful toppings.
Sadly, most restaurants in Sydney don't bother with the broken grains…
This dish is a com binh dan (ordinary people's food) favourite. Sadly, most restaurants in Sydney don't bother with the broken grains, and substitute long grain white rice instead. It's not the same; smaller grains engage less with the taste buds, helping you to appreciate the other ingredients. For Vietnamese who eat rice daily, and are only too familiar with long grain rice, it's a completely different texture, which again, help to jolt the senses.
I'm having the special, the equivalent of com tam with the lot. Com tam dac biet at Tuong Lai is a very attractive plate; trung chien (fried egg) catches the eye first, thanks to the whites and runny, shiny yolk. Glistening suon (grilled marinated pork chops) is next to grab the eye. And then it's the meticulously placed bi (thinly shredded pork mixed with cooked and thinly shredded pork skin) that intrigues. Camouflaged in all that colour is cha trung (prawn and pork meatloaf with egg) – to the left of the fried egg above. Finely sliced cucumber, tomato and pickled vegetables are covered in sliced shallots in oil – there's a lot of shiny bling going on here.
Nuoc cham (chilli fish sauce) combines everything and a bowl of plain soup comes on the side to help wash it all down.
How's the com tam at Tuong Lai?
Magnificent. It's not only a glorious dish to behold; vibrant and colourful, every ingredient has been flavoured to work with each other, the chop is not too salty, waiting for fish sauce to lift it, cha is not too fishy, bi is soft and slippery and moist, fish sauce is intense but not overwhelming. Brilliant. No wonder it's won so many fans.
You don't survive for two decades in Cabramatta if your food is not up there. And the folks at Tuong Lai know it. While the others are modernising and glamourising, they're proudly old-school.
For them the future, might just be in the glorious past.
Tuong Lai
3 Belvedere Arcade, Cabramatta
(02) 9727 2650