Is buying Australian your New Year's resolution?
Noodlies, Sydney food blog contributor, Evie Chataway investigates whether it's possible to buy Australian made and save…
Australia Day is just around the corner and maybe you're one of the people pledging to put more Australian products in your grocery basket. But in the current economic climate, combined with the cost of Christmas, is it possible to both buy Australian and save? In this article I've set out to find out just how much more expensive, or cheaper, it is to buy Australian products for your weekly food shop.
What I didn't expect was just how difficult it is to find out whether the food in your basket is Australian or not.
The 'Australian Made' logo
One way to identify products which are Australian is to look for the green and gold Australian Made logo. Administered by the Australian Made Campaign Limited (AMCL), this is a not for profit company under contract from the Federal Government, and a certification trade mark from this organisation comes with a strict set of rules on how it can be used.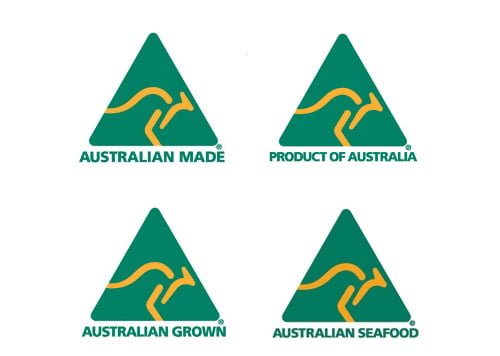 It's worth remembering though that there isn't just one logo, but several indicating just how Australian the product is.
Australian Made
"The product has been manufactured in Australia (not just packed) and 50% or more of the cost can be attributed to Australian materials and/or product processes".
Australian Grown
"All the product's significant ingredients are grown in Australia, and all, or nearly all of the processing has been carried out in Australia."
Australian Product
"All of the product's significant ingredients come from Australia and all, or nearly all of the manufacturing or processing has been carried out in Australia."
Australian Seafood
"A seafood product in which all of the products significant ingredients are grown or harvested in Australia and all, or nearly all, of the processing has been carried out in Australia."
What if a product doesn't have the kangaroo logo?
These logos can help you decipher an Aussie product from a non-Aussie one, but it's worth noting that if a product doesn't carry a logo it doesn't mean it isn't Aussie. If something says 'Made in Australia', 'Australian Made' or 'Manufactured in Australia', under current labelling laws it means that the product must be substantially transformed in Australia, and at least 50% of the production costs have to be incurred here (so exactly the same standards as to obtain the logo 'Australian Made').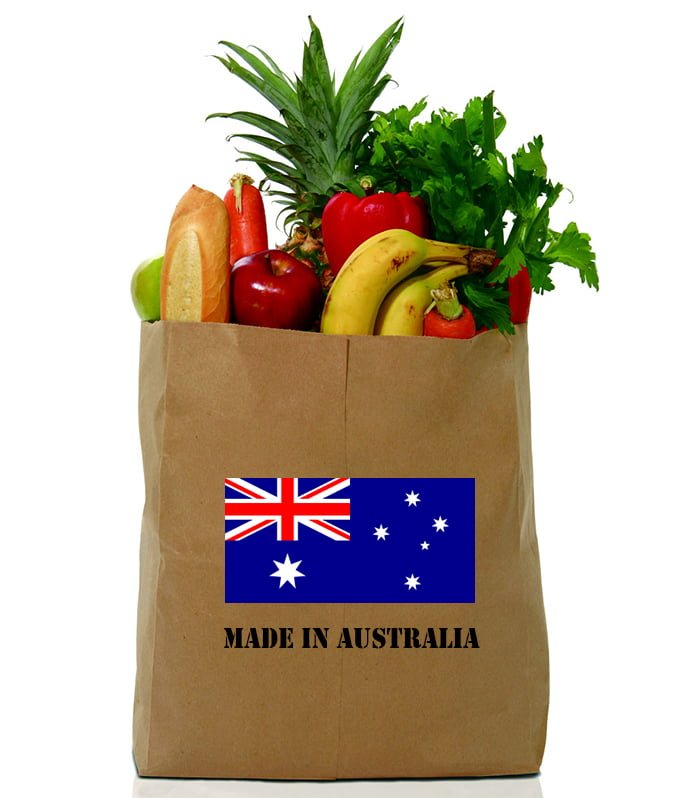 If this claim is false, the Australian Competition and Consumer Commission (ACCC) can take any company to court. You can find out full information on labelling laws by visiting the ACCC website.
Why don't all products made in Australia, have the logo described in this article? Well put simply you have to pay to license it, which of course cuts into the profits.
Australian owned companies
But hang on a minute, there is a lot of talk going on at the moment about supporting Aussie businesses. None of the above logos state whether or not the product you're buying is from a marjority owned Aussie company (let alone 100% owned Aussie company). If this is important to you there is a website which can help called Ausbuy.
It's also worth remembering, just because a company is Australian owned doesn't mean that the product in question will have been made in Australia.
Products with the Ausbuy logo are Australian owned. Ausbuy however doesn't provide an exhaustive list of Aussie companies.  And it's also worth remembering, just because a company is Australian owned doesn't mean that the product in question will have been made in Australia.
Rules for our sample basket
To choose the products for my sample basket I simply selected items I needed to buy that day.  I wanted to pop to the supermarket and quickly pick up the few items I needed, just as I usually would, and discover how much more expensive (or not) it was to buy Aussie, and how simple a mission it would be when time is tight.
To qualify as an Aussie product, all the items I chose had the Aussie Made logo or said Australian Made on the back of the product. I shopped for these items on 7th January at Woolworths in Balmain, and the prices used included special offer prices. My shopping list consisted of: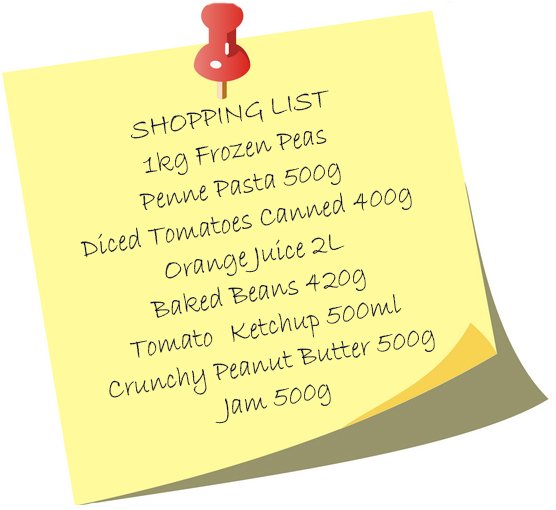 The verdict was good, in fact for some products it was actually cheaper to buy Australian. Woolworth's Select Australian Peas 1kg was significantly cheaper than the Birdseye, which offered 1kg of Garden Peas 'Packed in Australia with imported goods' at $4.39. Birdseye did offer a full Aussie alternative but priced at $4.69 for a kilo, I'd definitely be sticking to Woollies Select brand.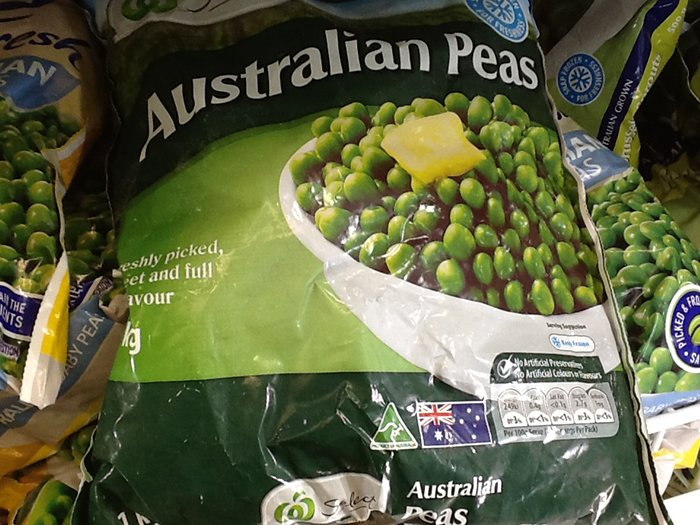 The same goes with Pasta, a 500g of Woolies Select Penne comes in at just $1 on special (usual price $1.29), while Barilla's non-Aussie 500g offering comes in $1.50 on special (price usually $2.35).
Items which were dearer when it came to buying Aussie were the Canned Diced Tomatoes. Woolies Select range offered two options, the Italian Diced Tomatoes, made in Italy and costing $1.49 for 400g, while the Australian Diced Tomatoes were $1.79 a can.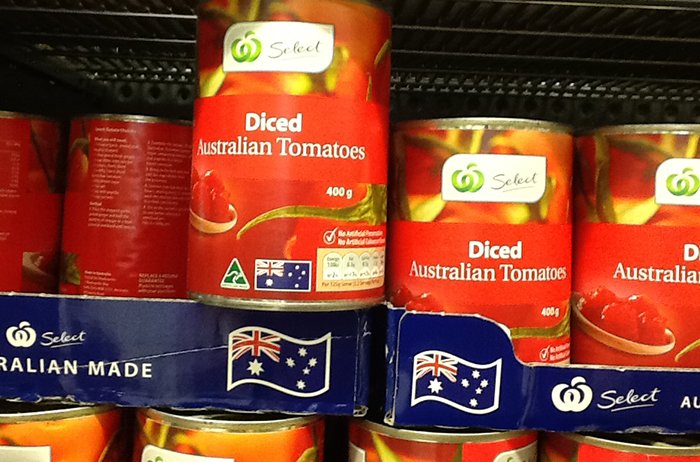 Some items were absolutely even, such as jam. It just depended what fruit you choose. Woolies offered 55% fruit jam at $2.50 for 500g – if you choose strawberry, you were keeping it 'Aussie Made' if you went for Raspberry or Blackcurrant, then your fruit choice would lose you the logo.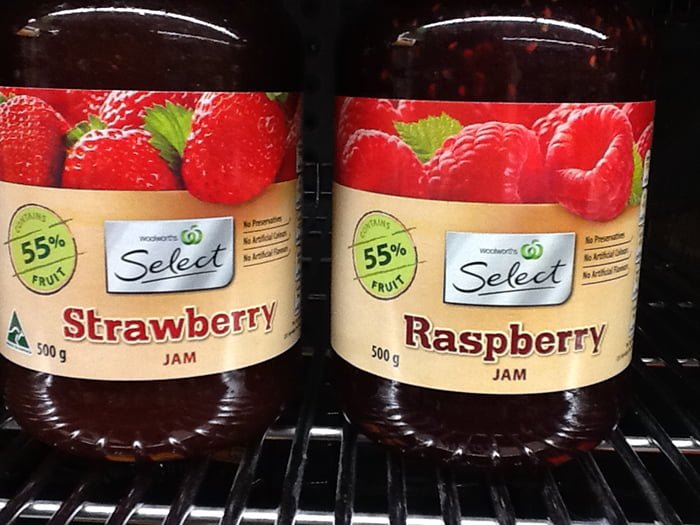 For peanut butter and Orange Juice, there were only Australian offerings on the shelves.
Overall the Aussie Basket cost $22.53 while the Non-Aussie Basket was $24.81.
For products where only Australian made products were available the cheapest product price was selected and used for both baskets.


When looking at Peanut Butter, there was the choice between Woolies own and Dick Smith. Dick Smith is a 100% owned Aussie company and has the Aussie flag waving on the front. It states on the side of the jar it is Australian Owned, Grown and Made. It even has in bold on the ingredients that it uses 'Australian Peanuts'. But I'm confused, does this mean it would qualify as a product of Australia if it signed up for the AMLC logo? I genuinely don't know.
The Woolies offering has the Aussie Made logo on the front which proclaims it as an Australian Product (albeit the logo diverts from the green and gold we're told to look out for and is red, just to add to the confusion). So which is more Australian? The Product of Australia, or the Australian owned company?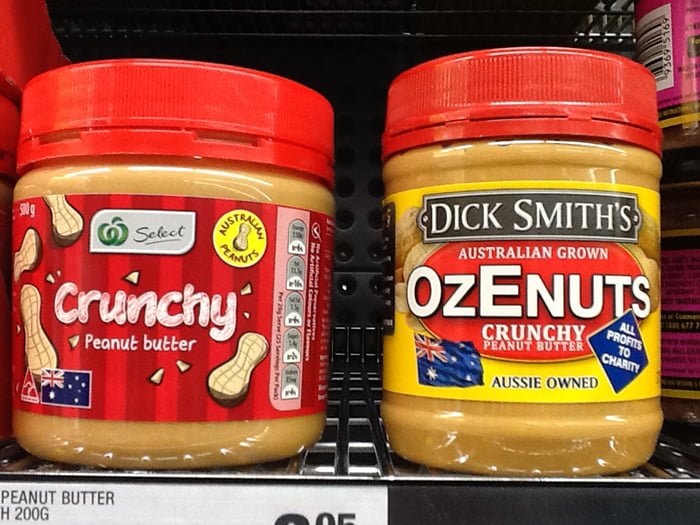 On first glance at the Masterfoods range of tomato sauce, I see one of the bottles has a design on the front of the label in the shape of Australia, I don't think too much of it initially, I assume it is a promotional bottle to do with cricket, or getting in early for Australia Day.
It's only on closer inspection that I realise that one label states 'Made in Australia', the other is 'Grown in Australia'. The Masterfoods Grown in Australia option is the more expensive product in usual circumstances, usually $3.15 against the Masterfoods Australian Made $2.69, however Australian Grown is currently on special coming in at just $2.50.
So which is the more Australian for me to buy?
In short it's not that easy to decide, not least when your time is limited, you want to grab your shopping quickly and get on with life.
Internet food shopping
That said, at least shopping in-store allows me the chance to be confused. If I shop online with Woolies, the main option I get to see if a product is 'Aussie' or not is a decent pack shot which I can enlarge to see if it has the AMLC logo on the front. That's it. In store I was impressed with Woolies. Its own brands offered a lot of Aussie products, most of them clearly marked up with the AMLC logo on the front.
Its advertisements talk about supporting Aussie farmers and producers. But when it comes to shopping online it feels like things are a little behind when it comes to declaring information on products, which is a great shame.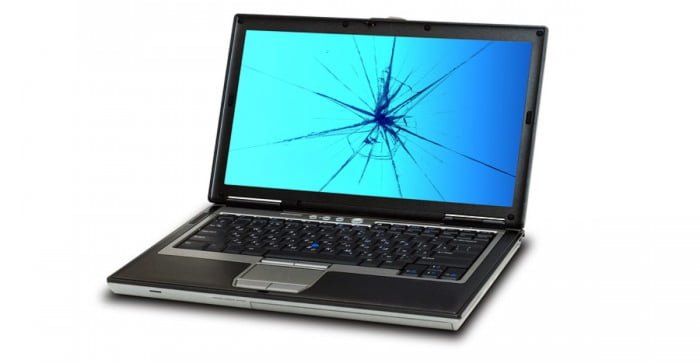 Coles Online Shopping is a little more progressive including details of ingredients, nutritional information and product origin on some items, however there are other products where that isn't stated, making a bit of a hit and miss affair.
Is buying Aussie more expensive then?
It currently looks like you'd save yourself a couple of dollars by shopping Aussie, but ultimately it depends on your shopping basket and a lot comes down to shopping in season and over a year. What is more interesting is exactly how easy it is (or should I say isn't) to shop Aussie. The choices are often subtle, and the ideal example of this is how easy it would have been to pick up a Masterfoods Aussie made ketchup over a Masterfoods Aussie grown ketchup simply thinking one of the bottles was a promotional pack.
So, in summary, it is possible to buy Australian and save money – it's just not very easy.
If the government and the supermarkets really want to encourage us to buy Aussie then they could make things a lot easier. Perhaps a buying guide at the door in supermarkets, or a government app to scan products and show if it's Aussie could be introduced, to assist us consumers who so desperately want to keep it green and gold in our weekly shop.
What's your experience when it comes to shopping Australian made? Do you have any tips on how we can all help to buy local for Australia Day and beyond? Share your thoughts by leaving a comment.