On the Menu
Tiger Tales, Tiger Airlines Inflight, September 2013
By Thang Ngo
World's fare
In Fairfield, in Sydney's south-west, post-WWII Italian migrants live cheek by jowl with Vietnamese refugees, Bosnians, Iraqis, Chileans and Laotians, which makes it the ideal spot for a day-long food tour, says Thang Ngo.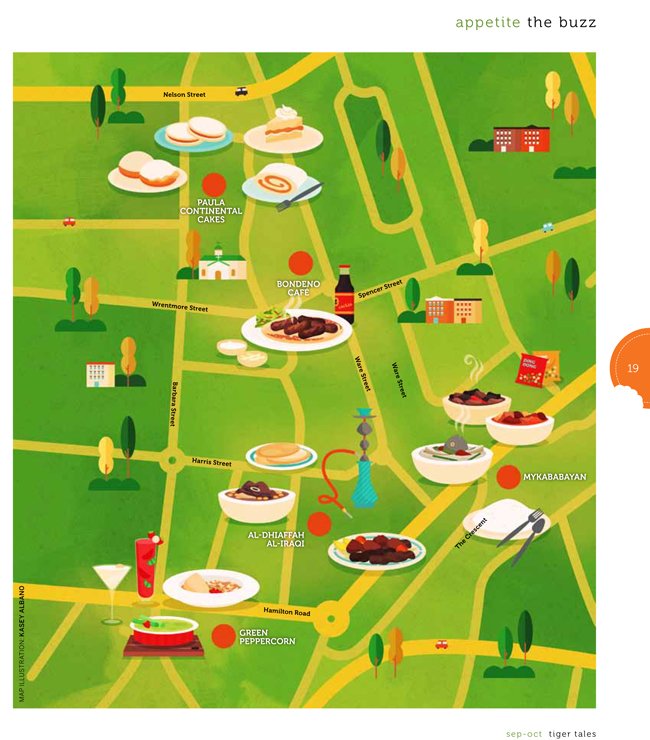 8.30 Breakfast
Bondeno Cafe, 77 Ware St, tel: (02) 9723 0860
Skip the traditional bacon-and egg breakfast for some hearty Bosnian fare. People come from across Sydney for owner Enver Dizdaric's cevapcici, mini skinless beef sausages (with a secret herb ingredient) that are made fresh daily. The sausages are sandwiched between lepinja, white flat bread that's quickly dipped in a rich broth before being lightly grilled to give it a crunchy outer layer, while retaining the soft and tasty centre. The dish comes with traditional sides: pickled cabbage salad, raw onion and sour cream. Go the whole Balkan hog by downing it with a glass of Cockta. It's Slovenia's most famous soft drink, with more of a herbal flavour than tradtional cola and not as sharp a bite as Italian chinotto.
10:30 Morning Tea
Paula Continental Cakes, Shop 2/9 Barbara St, tel: (02) 9726 2379
The Casanovas migrated to Australia from Chile in 1981 and two years later opened a small bakery on Barbara Street. Three decades on, the shop is three times its original size. Daughter Daniela says Chileans love caramel and it's in almost everything they bake. Come in a group so as to sample a wider variety of delicious Chilean treats. Start with brazo de Reina (the Queen's arm), a Swiss roll filled with caramel that's a popular lighter treat, then
graduate to chilenito, whose crunchy biscuit base is filled with a thick layer of caramel. Those with a sweet tooth that's especially tough to satisfy will love the Berlin doughnut bun, which is doughnut pastry filled with custard. One of the richest cakes on offer is tres leche, a three-layer sponge that's soaked in milk, filled with fresh crème and caramel then topped with meringue.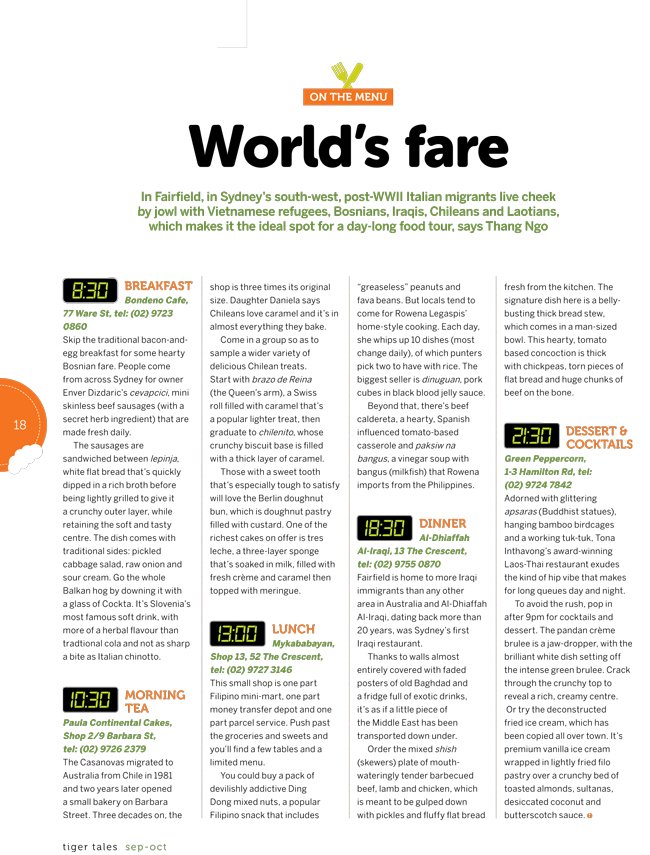 13:00 Lunch
Mykababayan, Shop 13, 52 The Crescent, tel: (02) 9727 3146
This small shop is one part Filipino mini-mart, one part money transfer depot and one part parcel service. Push past the groceries and sweets and you'll find a few tables and a limited menu. You could buy a pack of devilishly addictive Ding Dong mixed nuts, a popular Filipino snack that includes "greaseless" peanuts and fava beans. But locals tend to come for Rowena Legaspis' home-style cooking. Each day, she whips up 10 dishes (most change daily), of which punters pick two to have with rice. The biggest seller is dinuguan, pork cubes in black blood jelly sauce. Beyond that, there's beef caldereta, a hearty, Spanish influenced tomato-based casserole and paksiw na
bangus, a vinegar soup with bangus (milkfish) that Rowena imports from the Philippines.
18:30 Dinner
Al-Dhiaffah Al-Iraqi, 13 The Crescent, tel: (02) 9755 0870
Fairfield is home to more Iraqi immigrants than any other area in Australia and Al-Dhiaffah Al-Iraqi, dating back more than 20 years, was Sydney's first Iraqi restaurant. Thanks to walls almost
entirely covered with faded posters of old Baghdad and a fridge full of exotic drinks, it's as if a little piece of the Middle East has been transported down under. Order the mixed shish (skewers) plate of mouthwateringly
tender barbecued beef, lamb and chicken, which is meant to be gulped down with pickles and fluffy flat bread fresh from the kitchen. The signature dish here is a belly-busting thick bread stew, which comes in a man-sized
bowl. This hearty, tomato based concoction is thick with chickpeas, torn pieces of flat bread and huge chunks of beef on the bone.
21:30 Dessert & Cocktails
Green Peppercorn, 1-3 Hamilton Rd, tel: (02) 9724 7842
Adorned with glittering apsaras (Buddhist statues), hanging bamboo birdcages and a working tuk-tuk, Tona Inthavong's award-winning Laos-Thai restaurant exudes the kind of hip vibe that makes for long queues day and night. To avoid the rush, pop in after 9pm for cocktails and dessert. The pandan crèmebrulee is a jaw-dropper, with the brilliant white dish setting off the intense green brulee. Crack through the crunchy top to reveal a rich, creamy centre. Or try the deconstructed fried ice cream, which has been copied all over town. It's premium vanilla ice cream wrapped in lightly fried filo pastry over a crunchy bed of toasted almonds, sultanas, desiccated coconut and butterscotch sauce.
Noodlies, Sydney food blog's video extras:
Paula Continental Cakes

Al-Dhiaffah Al-Iraqi

Mykababayan