A quiet pioneer that deserves recognition
noodlies, Sydney food blog finds lots to like
Twelve Spices is one of the first local restaurants to go upmarket; concrete wall here, exposed brick there, a deep red feature wall towards the middle with wooden slat feature wall on the opposite wall. It sounds haphazard, but somehow the disparate Surry Hills bling works.
At first the locals were suspicious. This isn't the cheap-and-cheerful ma and pa run eateries that are typical in the area – which would be right because while ma is still in the kitchen, it's the children, the hipper second generation that's really running Twelve Spices. But fears that the glam restaurant would serve up Laos/Thai for the Surry Hills palate and Surry Hills prices were wrong.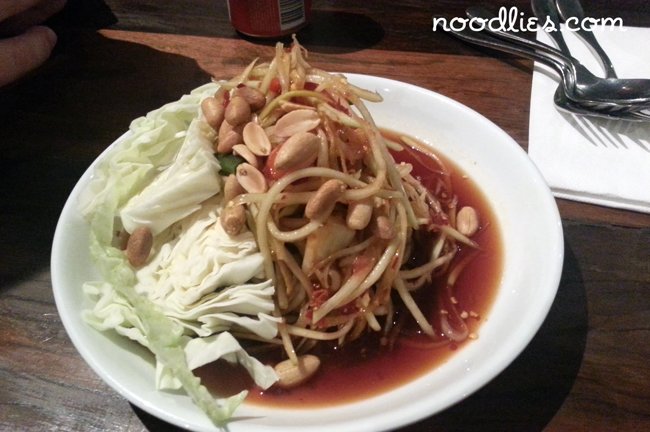 This som tum is the real deal, bouncy fresh ingredients like crispy green mango and uber-fresh mint in an umami rich dressing. Despite being 'medium' our salad had a fiery chilli bite. Twelve Spices does make an obvious compromise for the locals, local Vietnamese that is – you get bowls and chopsticks rather than the standard spoon, fork and plates that is usually used for Lao/Thai food.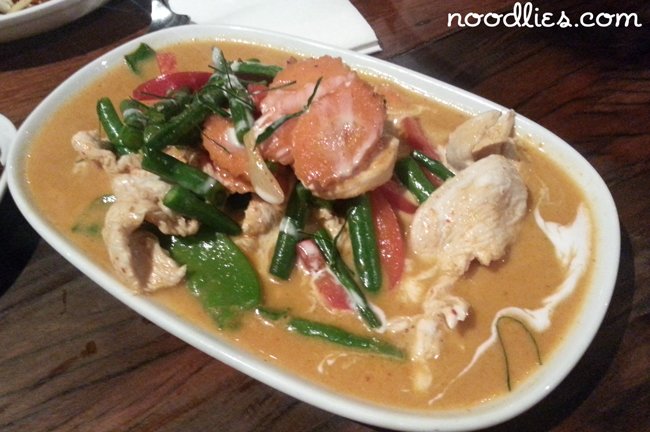 Chicken Penang curry is deliciously inoffensive. That's not a bad thing. Not too thick and not too watery, it's creamy, slightly sweet and, like the som tum, has reasonable fish sauce depth.  It's a generous sized dish and shows you don't have to make the punters cry to be an authentic and memorable.
The waiters are pretty young things in black uniform going about quietly with mercifully, little attitude. They're polite, efficient and food arrives remarkably fast.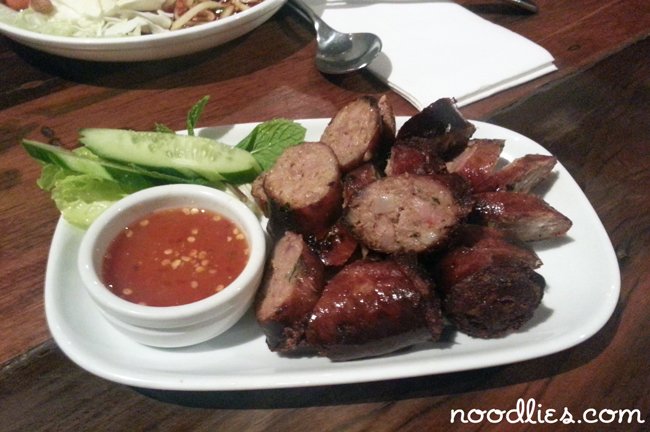 In the beginning, I'd order Lao sausages because it seems wrong to eat at a Lao/Thai place and not order something Lao (though a Lao  would argue Thai standards like larb and som tum originated from their land). These days, I order them because they're utterly fantastic. What's not to like? Delicate little mouthfuls spiced with lemongrass, chilli and garlic. It's a good execution, though I'd prefer the centre to be a little drier.
My watermelon shake comes in a glass jar, yes glass jar, which makes this non-hipster shakes his head.  But I only have praise for the taste, it's really an ice crush –  refreshing, clean and addictive.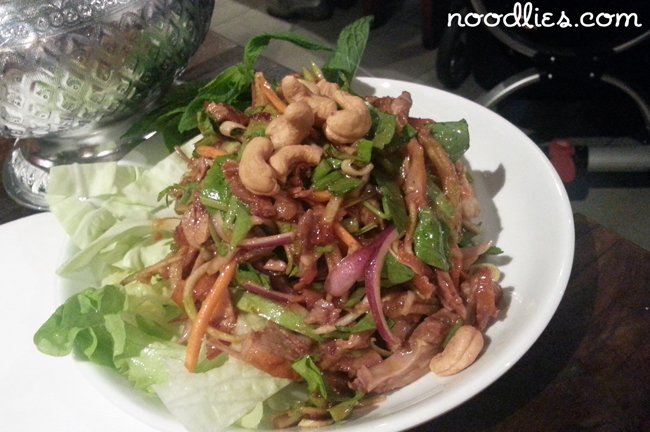 The duck salad is an exceptionally large serving with tender, slightly gamey duck piled all through this salad. There's lots of flavour too: salty, sweet and sour. Too much duck makes this salad heavy going, being on the soggy side doesn't help either.
On a Monday night, the restaurant, located in a small suburban shopping strip, is packed. It's a large restaurant, deep and wide with lots of hard surfaces this place can be noisy, very noisy. Ideal for groups and family, not so good for that first date.
Twelve Spices should be recognised as one of the pioneers of classy Lao/Thai in the 'burbs. You get authentic, uncompromised fine fare. The surprise is their prices, around $10.90 for many mains and $14.90 for the duck salad – in noodlies' books, that's a steal.
Twelve Spices Lao & Thai Cuisine
197 St Johns Rd, Canley Heights
Ph: (02) 9609 6212