Albee Phu has always loved to cook. She had a stall in a food court back home in Malaysia and says she never tires of seeing customers enjoying her food.  When she came to Australia over a decade ago, Albee thought that was all behind her and resigned to a life of nine to five.  Still, she just couldn't shake the cooking bug.  Three and a half years ago, she opened Albee's Kitchen in Campsie, a Malaysian restaurant in the middle of Korean/Chinese/Vietnamese heartland.  It was a risk and in the early days she was kept working at the day job to bring in money to support the restaurant – her night job/business.
Calling her restaurant a "kitchen" sums up this honest, humble eatery.  Outside, it's bright and deliciously tempting, adorned with mouth-watering pictures of just about every Malaysian dish.  Walk in and the space is small, with a cluster of tables and little room in between.  Penetrate deeper and there's a small kitchen that's accessed by two narrow aisles.  Go past that and you'll find two more private areas that hold different sized wooden tables, each room seats around 20 people.  Tonight, noodlies, Sydney food blog is dining in the inner sanctum, with our lovely host, Albee herself.
I try loh bak for the first time in that inner sanctum of Albee's Kitchen.  This dish has many close relations in other Asian countries; it's basically marinated pork mince with various vegetables wrapped in tofu skin that's deep-fried and served with sweet chilli sauce.  It's tasty but not too spicy, from the outset I sense Albee prefers her flavours light.
Curry puff is another dish that has many different variations throughout south-east Asia and India.  Albee's version is, more-ishly delicious; my weakness is boiled egg, I love it in any and everything.  The secret twist in Albee Kitchen's curry puff is the use of sweet potato instead of potato.  Albee says it gives the dish extra depth without the need for added sugar.
It just seems wrong not to try chicken satay sticks at a Malaysian restaurant, or as I like to call it, chick'n on a stick'n.  The chicken is golden with lovely blisters and burnt edges.  The sauce itself is on plain side. When I query Albee, she says staff can add extra chilli – but you need to ask. Dear readers, I suggest you ask, it will make a pleasurable difference.
Albee also showed me how to eat Malaysian satay chicken, check out the how to in the video below.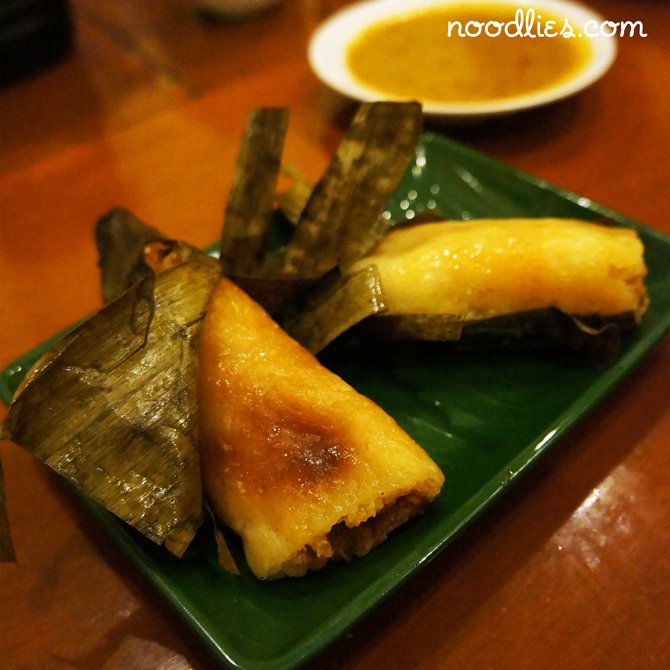 Another first for me is the pulut panggang, it sounds raw and real, and literally translates as "BBQ glutinous rice".  Albee says it used to be a popular hawker dish but is getting harder to find because it takes a bit of effort to make; cooking the rice in coconut milk, frying coconut, dried shrimp, chilli and herbs, then wrapping them all up in banana leaves and cooking over coal.   The creaminess of the rice works oh-so well with the savoury centre. Delicious without being over-powering.
Asam pedas is crispy whole cod in a spicy, sour sauce made with a tamarind (asam) and tomato base.  Devour this dish quickly as the crispy skin soaks in that zesty sauce, extra zing come from fresh onion, shallot and chilli.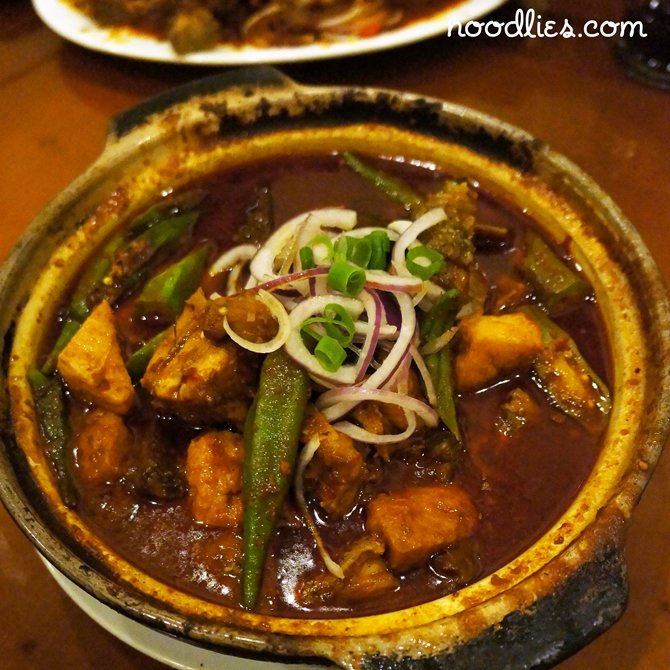 Asam curry fish head is my undisputed favourite dish of the night.  You would normally not order this dish together with asam pedas, but we're particularly hungry tonight and, well, I didn't want to choose.  While the Asam pedas sauce is made with a tomato base, the base for this dish is curry-based.  It's magnificently presented in a clay pot and the dish itself is a stunner; dark, deep sauce with so many different ingredients gives a real depth of flavour.  Fish head might sound challenging, but the head itself is not that evident, lost amongst the many ingredients that includes okra, one of my favs.
Kuih talam is another dessert that has many different variations across south-east Asia.  Here the base is pandan with a sweet and salty coconut head.  Where Albee's Kitchen might be a tad light on flavours when it comes to savoury dishes, their restraint doesn't extend to desserts.  The kuih talam is full flavoured and utterly more-ish.
Tapioca cake (left) has a cute, flaky, indulgent texture and benefits in flavour and in the looks department from the top layer made from palm sugar and coconut. It's my fav dessert of the evening.  The black sesame layered cake (right) is an Albee special, the black sesame is her addition and adds an additional flavour and texture to this dessert.
I'm impressed by the range of Malaysian dishes on the menu, the most popular ones as plastered on the front of the restaurant. But a word of caution, Albee's kitchen is honest, delicious food – but it's not fine dining, so don't expect fancy decor and attentive service.  You're here to eat and leave, longing to come back.
Albee's Kitchen in Campsie has different specials each day of the week, check out their daily specials here.
Albee's Kitchen has recently opened in Cabramatta, it's a smaller kitchen so the menu is limited in comparison.  I've been three times and while each time has been a better experience, I think it's still finding it's feet.
Albee's Kitchen will have a stall at the Campsie Food Festival this year on Saturday, 2 June 2012.  Visit them to try their famous curry puff, chicken satay, laksa, nasi lemak, char kway teow and kuih sweets.
Albee's Kitchen
282 Beamish St, Campsie
(02) 9718 8302
Noodlies, Sydney food blog and guest dined courtesy of the lovely Albee from Albee's Kitchen.  Noodlies, Sydney food blog is a media partner of Campsie Food Festival 2012.