On our way back from Banteay Srei to Siem Reap. we let our tuk tuk drivers recommend a local restaurant.  It's a good thing to do, generally they get fed by the restaurant and commission from the restaurant on our meal,  the restaurants are generally ok, nothing special, but it's the least we can do for the drivers and it's fun to let go and just go with the flow.
Today they take us to the Khmer Culture Club Restaurant approximately half way between Benteay Srei and our hotel in Siem Reap.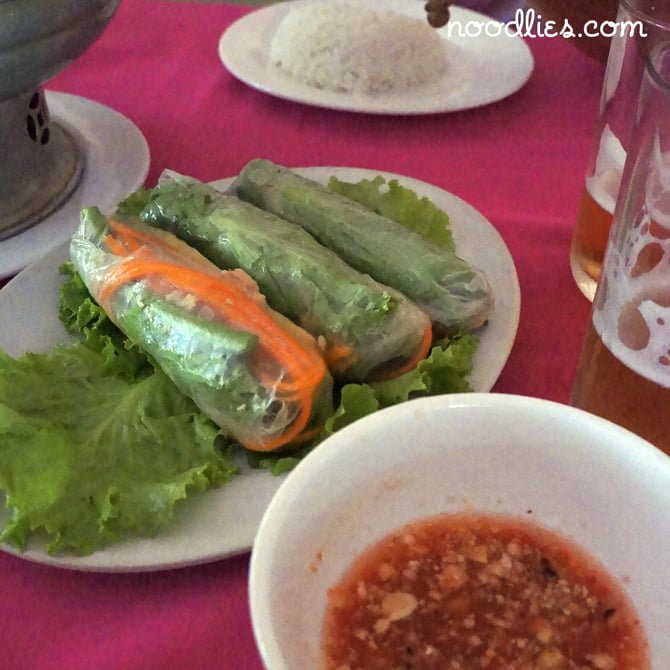 It's around 1pm but we've been up for hours visiting the gorgeous temples at Banteay Srei and surrounds.  We're all hot and thirsty.  Our clan decides on the fresh rolls as a light starter. It appears to be a Cambodian style fresh rolls, a little unusual for me as it contains large lettuce leaves to be dipped in fish sauce –  I'm used to the Viet version dipped in hoisin based sauce.  But these rolls still hit the spot, light and tasty.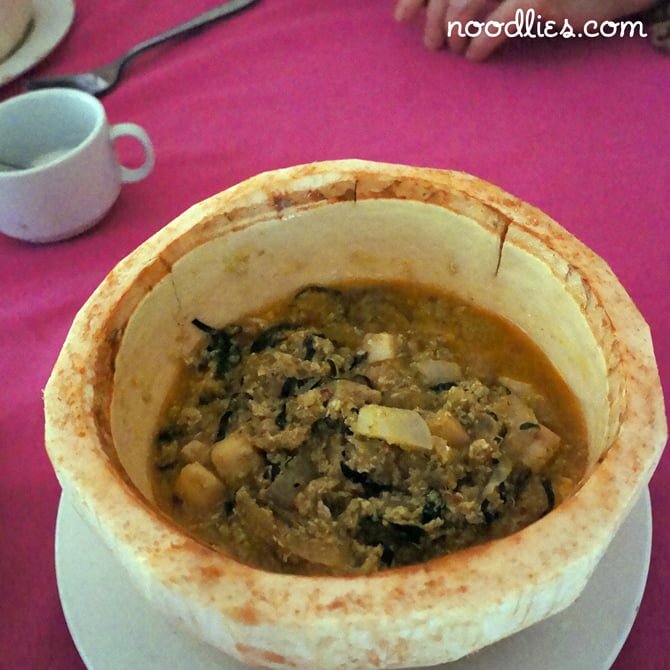 Amok is a popular Cambodian dish, the most popular form is fish cooked in spicy coconut curry.  Today my fish is cubed and the curry medium-spicy and amazingly tasty, aided by the plentiful range of vegetable ingredients.  It's cutely presented inside a shelled coconut.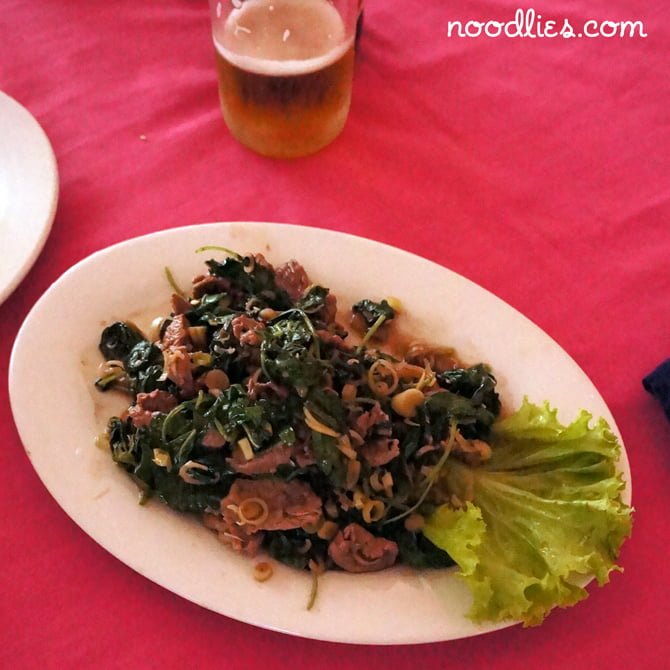 The lemongrass beef is a surprise, tasty and easy to swallow on such a hot day.  The beef is a little on the tough side, but beef in Asia just can't match what we have in the 'lucky country'.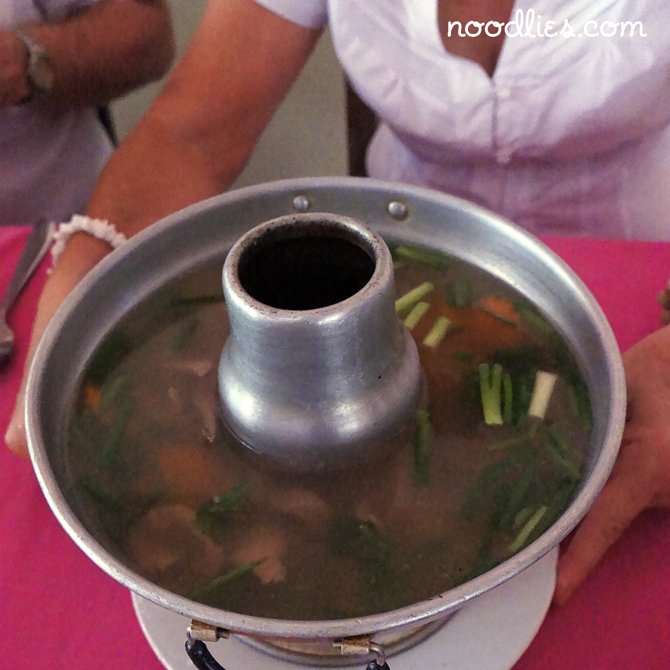 Morning glory soup is actually an enormous hot pot… sadly no morning glory today, so the dish is rendered relatively plain.  But perfect on such a hot day.  Nice to pour over my bowl of rice.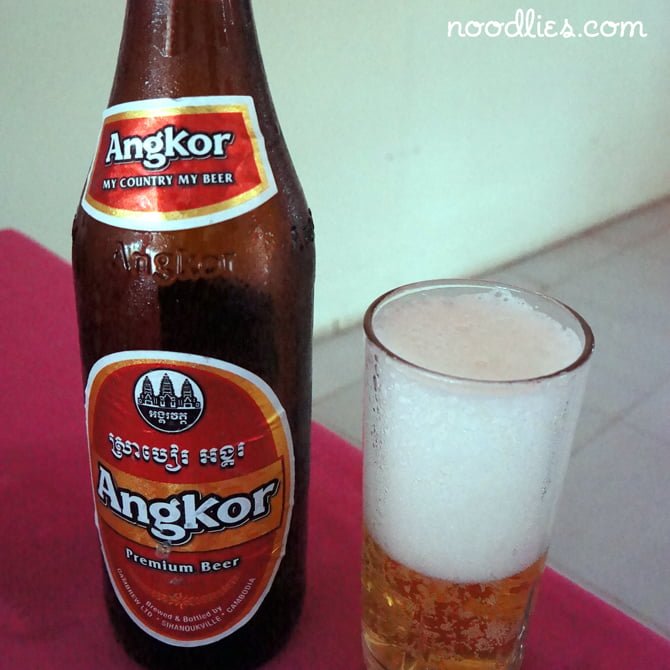 Angkor beer also helps to wash everything down, Asian beers are much lighter which really works to quench my thirst.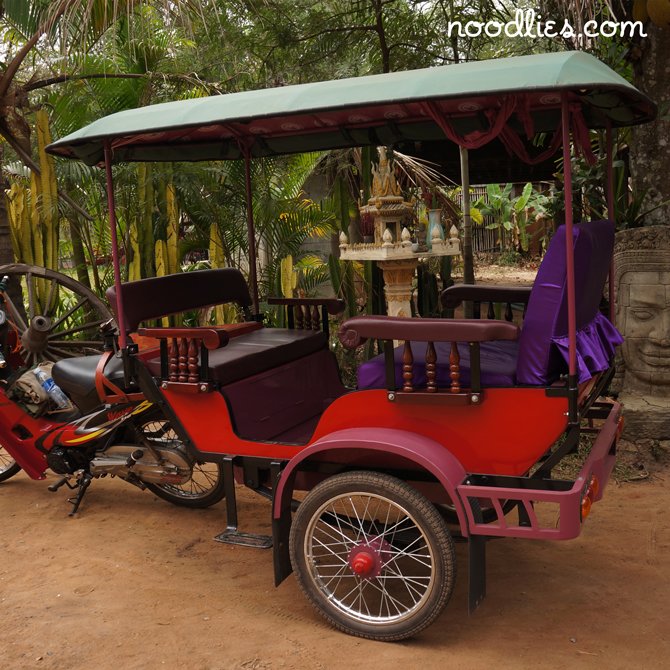 Tuk tuks are sooo cute.. the front of Khmer Culture Club restaurant is full of them 🙂
Khmer Culture Club Restaurant
Somewhere between Banteay Srei and Seam Reap