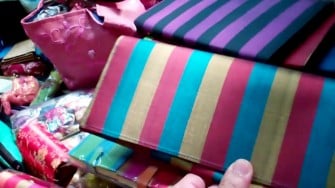 The Russian Market is one of those places you just have to visit when in Phnom Penh.  I'm guessing it must have been built by the Russians and not to be confused with the Olympic Market, which was a legacy of a futile Olympic bid many, many years ago (everyone can aspire can't they?). It's easy to get to, just tell any tuk tuk driver and you'll be there in no time.  It's a traditional stall makets under corrugated iron roof, which can get a tad hot during the day. Noodlies, Sydney food blog was here a year ago and loved it.  The Russian Market is great for souvenirs, from scarves and other woven goods, through to leather wallets and belts, porcelain, even cute carry bags made from used cement, rice and fertiliser sacks – now that's environmentally friendly to the max!
And there's really delicious stir fried noodles made by a lady in the middle of the markets.
A few useful tips, which are applicable to most markets:
go early, it can get pretty hot under the corrugated roof
you can enter via all four sides of the market, make sure you spot something memorable when you enter it will help you find your way out
don't buy until you get closer to the centre of the market, stall holders don't get as much through traffic here and are more likely to discount
don't be afraid to walk away, it's often the only way to force them to accept your offer. Most of the time they'll agree and call you back. If they don't you know you've gone too low and can adjust your offer at the next stall.