Pyongyang restaurant gives you a tantalising glimpse into the fascinating world of North Korea. There are only a few around the world, including China, Thailand and Cambodia. It's a glimpse because you can't take pictures or videos inside.  Adding further intrigue, it's said that these businesses are set up to generate foreign currency for the struggling North Korean regime.
Inside it's cold war inspired: fake wood panelled walls, heavy carved wooden chairs and glassed topped tables contrast with white ceilings, where chandeliers of rose bud clusters beam brightly.  Huge paintings of landscapes and swirling ocean waves take up most of the wall space.  Because the bright lighting is made up of white neons the overall sensation is sharp and cold.
As always the eight waitresses are dressed in identical polyester frilly uniforms in pastel colours, yellow, white and pink (there was blue last time we visited.. not so tonight).  Their jet black long hair pulled back and held with red plastic diamante bows.
Noodlies, Sydney food blog visited just over a year ago in December 2010 and was able to sneak out a few seconds of video from inside Pyongyang North Korean Restaurant (see video above).
Unfortunately, I was unable to capture the mesmerising entertainment which kick off at 8pm each night, consisting of the girls dancing, playing musical instruments; including a spirited drum solo and lots of singing, solo, trios and more, the stirring rendition of the Carpenter's On Top of the World is a particular highlight.
Tonight we had four delicious courses, plus the usual complimentary kim chi:
kim chi chi ke: not strong on seafood flavours, but amazingly fragrant with sesame and garlic.
kim chi stir fried with pork: right balance of pork belly and kim chi which made the dish not too salty or sour.
bulgogi: a tad plain for me, but went well with the accompanying sweet soy sauce.
bellflower kim chi: bellflower is actually a root which looks like ginseng and has an amazing meat-like consistency, several times I thought I was eating pork or shredded chicken.
I wasn't particularly hungry tonight but this meal really hit the spot, definitely better than last visit and one of the best Korean meals I've had in a while.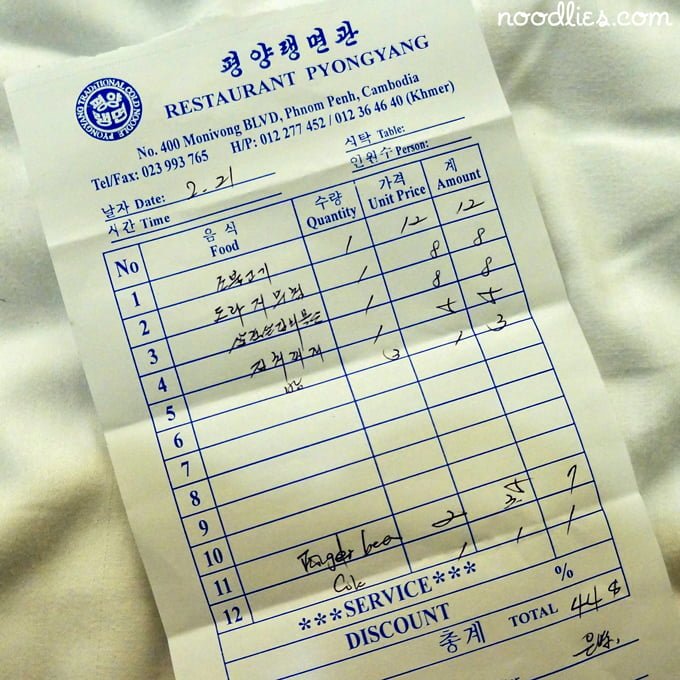 Sadly, noodlies, Sydney food blog couldn't take any pics of Pyongyang North Korean Restaurant during this visit, so you'll just have to imagine how marvellous my experience was by the video from the last time and by this receipt, written mostly in Korean.
Pyongyang North Korean Restaurant is a must for any visitor to Phnom Penh; after all, there's only a handful of places around the world where you can experience North Korean culture outside the country itself.
Pyongyang North Korean Restaurant
400 Monivong Blvd, Phnom Penh
Cambodia