Noodlies, Sydney food blog has had so much interest from recent reviews of Sydney Uyghur Cuisine  and Chinese Noodle Bar restaurants that I've decided to do a quick round up, including the restaurants around Sydney where you could try north west (xi bei)  Chinese and Uyghur food.
Sydney is blessed with such a range of diverse food, now I think we're getting more and more adventurous.  Chinese food in Australia doesn't just mean the red and gold Aussie-Chinese restaurants now banished to the 'burbs and regional towns; here you can still get mouth-watering (well I still find them mouth-watering) sweet and sour pork and lemon chicken.  We've also graduated beyond the fine Cantonese fare that dominates most Chinatowns of old.  These days we're into dumplings, hamd made noodles and much stronger flavours of Sichuan, Shanghai and increasingly north west Chinese food.  Uyghur is an ethnic group in China who live in the north west China region.  The food is Halal given a lot of the population are Muslims.
The North West region of China gets very, very cold so not surprisingly, meat is a major ingredient – lamb, beef, chicken, goat.  The vegetables used are hearty ones too including potato, carrot.  The meat doesn't get much marination, it's the oil, chilli, pepper and strong spices added during cooking that gives the strong, distinctive Uyghur and North West Chinese food taste.  These include cumin, fennel, cinnamon, nutmeg and ginger.
Some typical Uyghur, North West Chinese dishes
BBQ Lamb skewers typifies this style of food where the meat is plentiful, with little marination, letting the chilli, pepper, cumin and other spices to inject strong flavours.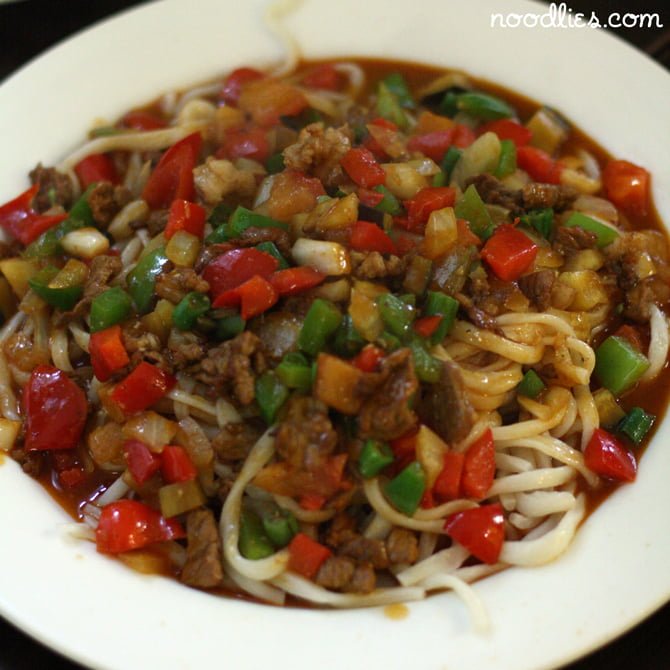 Handmade noodles –  a burst of colours, each with a strong flavour; capsicum, shallots in mild spicy sauce.  The noodles are rough and relatively tough, giving no ground to the sauce, providing great balance to the dish.
Beware, the chicken potato stew servings are huge!  This enormous plate is the small version. And at $18 is a steal.  The noodle here is from the same dough as the soup dish, but here, the noodles are flat and thick with a firm almost crunchy texture.  Cumin, curry flavours abound.
Noodles and dumplings are also popular being nice comfort food during the winter nights.
If this post has giving you a craving for the unique flavours of North West Chinese and Uyghur/Uighur/Uigur food, try some of these restaurants:
Have you had north west Chinese or Uyghur/Uighur food before? Been to any of these restaurants? Are there any other restaurants I should add to the list above?
Post a comment and share your thoughts with us all 🙂