Uyghur is an ethnic group found found in the Xinjiang region, in north west China.  According to officials there are almost 8.5m Uyghur people in the country.  Because it gets extremely cold, Uyghur food is dominated by lots of meat: lamb, beef, camel, goat and relatively easy to grow vegetables like carrots, onion, eggplant and cucumber. These relatively plain ingredients get their kick from strong spices like pepper, garlic and chilli (especially powder).  Because the spelling is phonetic, there are many differing variations to Uyghur including Uighur, Uygur.
Sydney Uyghur Cuisine restaurant, like most Uyghur restaurants, is pretty humble. This one is on busy Cleveland Street, Surry Hills, go past the Lebanese strip and you'll find it on the corner.  It's relatively new, around six months old. Tonight, our gang of three are hungry, so noodlies, Sydney food blog ordered up big.
The tofu salad is simple silky tofu with crispy cucumber in a spicy sauce/oil.  It's a nice starter to get the taste buds in gear.
The cucumber salad is deceptively tasty, with salt, vinegar and plenty of garlic.  Again, crisp, clean taste to prepare us for heavier dishes to come.
The steamed dumplings are pretty standard Chinese fare, except here, the shell is a tad harder and mince filling is drier… no squirting juices today.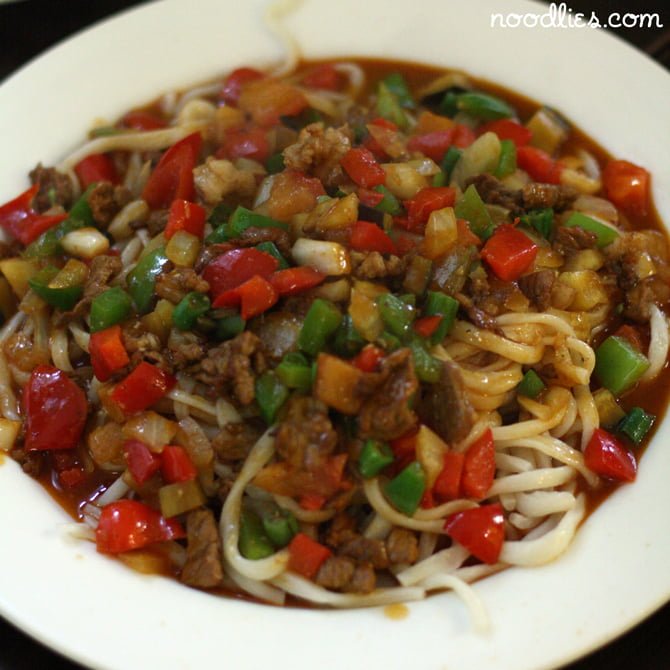 Handmade noodles is a burst of colours, each with a strong flavour; capsicum, shallots in mild spicy sauce.  The noodles are rough and relatively tough, giving no ground to the sauce, providing great balance to the dish.
Fried eggplant is delicious, they're soft, lightly cooked, they become super absorbent of the tasty and dark oily sauce.  The dish is dominated with dark rich colours, together with the oil, it shines.
They're not potato wedges, but fried bread pieces.  The beef and fried bread makes my mouth water.  I like to think of it as an alternative steak and chips. Here the steak is sliced up and the whole thing derives amazing flavour from chilli and other strong spices.
Sydney Uyghur Cuisine
314 Cleveland St, Surry Hills
PS: Don't get this place confused with that other long established restaurant Uighur Cuisine which is located in Chinatown, reviewed here by my friend, the equally well established, John Newton.