Casinos are the first thing that comes to mind for most people when they think of Macau.  For me, it's fascinating for a different reason, it's a place of many different, contrasting influences, a former Portuguese colony, it was handed back to China in 1999, and it's literally a skip from Hong Kong.
Since visiting Macau for the first time in 1999, I've been back there six times, we've explored the main areas of Macau including the Senado square area (of course), Taipa and my favourite, sleepy Coloane, from where you can literally see China.  I fell in love with the place, this is an extract of my post:
"It's our third trip to Macau, we went on a whim the first time but have fallen in love with this crazy, contradictory place.

A former Portuguese colony, Macau was only handed back to China in 1999. So you've got the Western heritage, contrast with Hong Kong influence, which is now mixed with China. There's the indigenous people of Macau and the newer Filipino working population. It's a wild and wonderful mix that sounds strange, but I think it's ultimately very successful."
This mish-mash extends to religions too.  Casinos might be the faith of many visitors, but you'll notice the stunning architecture of many Catholic churches, thanks to the Portuguese. Glorious examples include Sao Domingo on Senado Square, and Sao Laurenzo (St Lawrence) and of course, the St Paul's ruins (facade), destroyed some 400 years ago but this place is probably Macau's most famous landmark.
Then there's the Buddhist influence. Larger examples include A-Ma temple at Barra, A-Ma statue on the hills of Coloane and Kun Lam (Kwan Yin) statue on the lake off Avenida Dr Sun Yat-Sen. But smaller, neighbourhood temples can be found just about anywhere – reminiscent of the house temples in Cabramatta.
When it comes to food, which is a mixture of Portuguese, Chinese, Indian and African cuisines, here are more recollections from my first visit to Macau:
"Food is a mixture of influences too… custard tarts are warm, melt in the mouth sensations which is widely available and utterly delicious. At Lord Stowe coffee shop/bakery in Coloane you get delicious tarts and great old world Portuguese atmosphere.

Pork schnitzel wrapped in a bread bun is another specialty, of the several places we had it, my favourite was at Margaret's Cafe e Nata just off Rua do Dr Pedro Jose Lobo.

But food wise, I'd say my favourite was Wong Chi Kei (see video below) Chinese noodle shop off Senado Square. Since 1946 the place has been turning out egg noodle, both thin and thick in the world's tastiest soup and accompanied by prawn dumplings. We're regular customers every morning, it makes a great breakfast!"
Oh, and honourable mention also goes to the Macau crispy bun at the aptly named, Macau Restaurant, Praca Da Amizade.  Nutritionalists may not recommend this snack, but I can't rave about it enough (video below).
So in this context, when noodlies, Sydney food blog was invited to the launch of the inaugural Macau Food Week at the Four Seasons Hotel, Sydney I jumped at the opportunity.  For the festival, the hotel's restaurant, Kable's will offer traditional Macanese menu for lunch and dinner during the week (14-21st October). They flew to Sydney two chefs from sister hotel, Four Seasons Hotel Macau, Gary Wong and Alex Lim especially for the festival.
The sit down launch (I love a sit down do.. so much more civilised and intimate) was a lavish affair.  Three courses consisting of three dishes each with matching Portuguese wine, including  a delicious vinho verdes.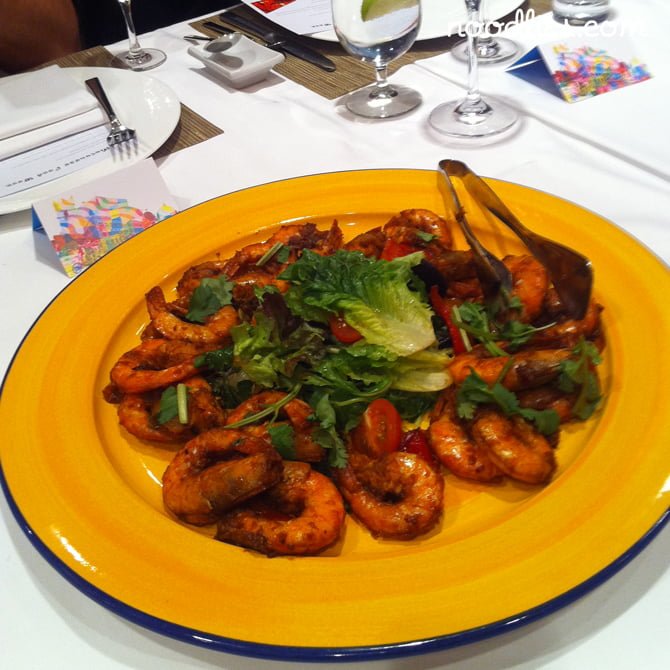 The Macanese prawns with chilli and garlic dish isn't a surprise, the Chinese influence shows here. The prawns are crispy and spicy and served with a European inspired salad.
Bacalhau is for some an acquired taste, but is pretty much a staple in Portuguese cuisine.  Cod fish fritters with marinated olives, tartare sauce is 100% nod to the Portuguese influence.  The olives are greener and tarter than usual, which I'm putting down to the Portuguese love of greener flavours, ala vinho verdes.
Photo's rarely do soup justice and that's the problem here.  the Caldo Verde: Portuguese style potato and kale soup was delicious, creamy and tasty.
Minchi is a dish made up of minced pork and beef, with cubed potato and bay leaf with fried egg.  This dish is pretty accessible, with standard flavours, the fried egg provides contrast in textures, appearance and taste.
African chicken illustrates yet another influence on Macanese food (and Portuguese food).  The skin is crispy the meat marinated in different herbs that surprises, strong but not overpowering.
Bacalhau a Bras (not pictured) – is probalby the most challenging dish of all, not that it's hard to eat but the shredded cod fish sauteed with scrambled eggs offers strong and salty flavours.  One of my favourite dishes of the event.
Sadly I had to leave prior to the end of the lunch and missed the delicious sounding desserts:
Serradura – whipped cream layered with biscuit crumbs
Ginger milk curd
Leite Creme – Macanese egg custard with cinnamon
I have always found Macau fascinating and think the initiative to promote Macanese food and culture is great.  I hope you'll support them by attending one of the following events:
Macanese Food Week, Four Seasons Hotel
14-21 October
Bookings and info: 9250 3306 or online
Macau Festival: food stalls, Tumbalong Park, Darling Harbour
15-16 October 10am-4pm
Info: 9264 1488 or online

noodlies Sydney food blog was a guest of Macau Government Tourist Office and Four Seasons Hotel, Sydney.